Joy
Washington Square Park is NYC's True Religion
The park is New York's greatest, weirdest gathering place, and since the pandemic began to ease up in 2021, it's only gotten weirder, better, and more jubilant.
9:00 AM EDT on July 20, 2022
Late on Pride Sunday afternoon last month, Washington Square Park was buzzing, full of young, beautiful people in bikini tops, miniskirts, jock straps, and various levels of Spice Girls chic waving Pride flags and forming circles to dance off tiny speakers. Two days earlier, the park was the site of a furious meeting of thousands protesting the Supreme Court gutting Roe, but this day, the mood was celebratory. I watched a white guy in his early 30s in full Obi Wan Kenobi cosplay, down to the brown wool cape and jodhpurs in 88-degree weather, make his way through the throng; I thought about how the giant trash compactor scene in "Star Wars" was a good analogy for an encroaching extremist right-wing state, while I was briefly trapped amid a triangle of women twerking, adjacent to a circle of 20-somethings voguing and flexing to club beats emanating from some speaker buried among a crew of people.
Just north of the park on Waverly Place, a DJ in a blond wig spun jungle and house music off the back of a truck to a crowd of thrilled dancers; juxtaposed with a backdrop of stately historic brownstones, the impromptu dance party seemed less like a confrontation of the wealth around it than an intervention, an exhortation to participate in the act of living.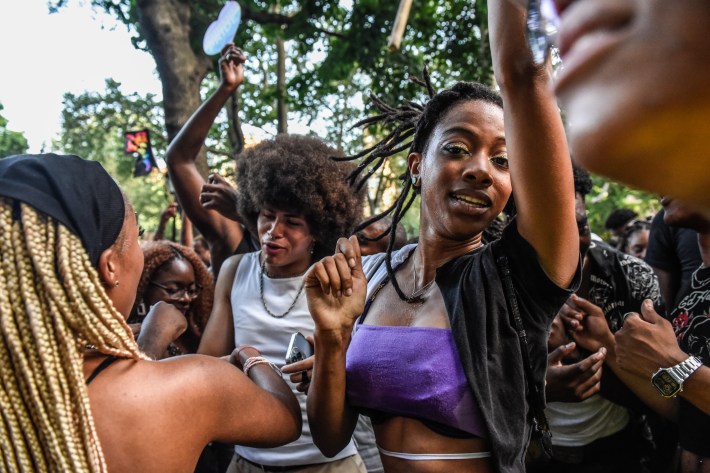 At the infamous fountain, welcoming spouts beckoned sweaty betties typically unconcerned with polite decorum at Pride. Someone stripped nude as six people pushed a guy around in an inflatable hamster ball across the wading pool. Upon closer look, its occupier was sporting a handlebar mustache and dressed in a British military jacket a la Sgt. Peppers; the effect was vaguely steampunk, but also trapeze professional.
A woman wearing a two-foot pet lizard on her shirt like an accessory pushed around a shopping cart, selling nutcrackers in quarter-water bottles; a quartet of shirtless beefcakes danced bachata with one another, güira swooshes soundtracking their love from a baby portable speaker. The vibes were impeccable (though later that night a person tweeted from a hospital bed, indicating that he may have contracted monkeypox from his fountain jaunt).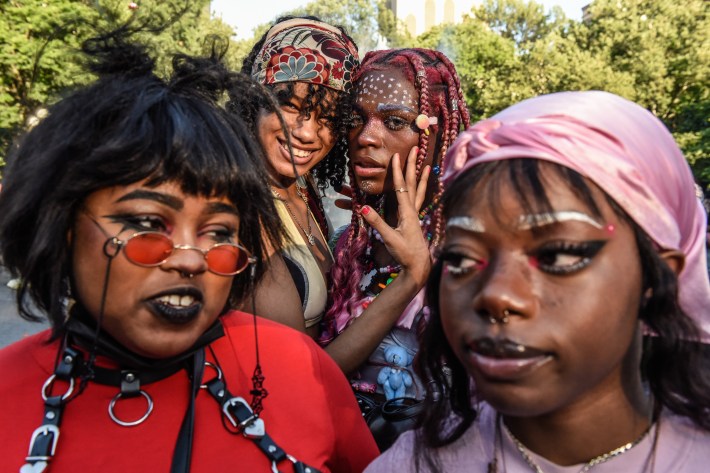 It has been a rite of passage—almost a de facto law, really—for New Yorkers to constantly complain that New York City simply isn't what it used to be, no matter the year, era, or what's happening in underground enclaves. In some ways, in 2022, that'd be correct: rents have blasted stratospherically and half the city is Airbnb-ed; low-income communities of color are being systematically priced out en masse, and it's increasingly difficult for the types of artists and weirdos that have defined the cultural shape of the metropolis for centuries to flourish the way they were able to in the past. 
In other ways, though, it depends on where you're looking. In the past couple of years, public gathering places have been revitalized and flourished thanks to factors like lockdown agitation, widespread community organizing stemming from 2020's Black Lives Matter protests, and, crucially, the low-cost entry fee (Free .99) and an agreement to follow the widely understood if unofficial maxim: Don't be a dick.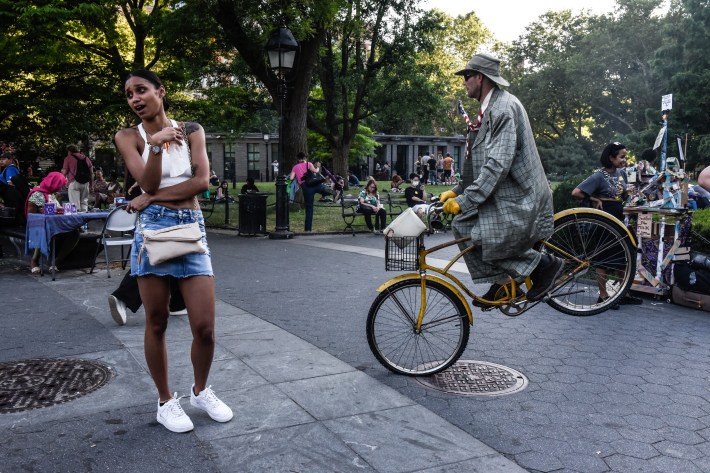 Washington Square Park is New York's greatest, weirdest gathering place, and since the pandemic began to ease up in 2021, it's only gotten weirder, better, and more jubilant. Not even an NYPD crackdown and complaints from wealthy neighbors could constrain the energy of a public square made for the free expression of city inhabitants.
But it's community activism, and Gen Z, that's preserving what's great about its essence—the crackling notion that art could break out at any time; the feeling that anyone is accepted for whoever they happen to be; and even the individual, often DIY style in a fashion city so often over-consumed by expensive labels. We may be hanging onto all of this by the tips of our fingernails, but at least those fingernails are gorgeously adorned, babe.
While the atmosphere can be calm—even wholesome—on any given day, the likelihood of linking up with a truly unique rando is high. One afternoon, I met a tall white man with scruffy blonde hair who was wandering around the park, extolling the virtues of cannabis. A 26-year-old musician and retired subway busker named J.P., he wore a pristine white Tyvek jumper and a homemade sandwich board advertising pre-rolls, flower, and the like, chatting zootedly with anyone who approached and wished to cop a little weed from a guy dressed like a crime-scene cleaner from space.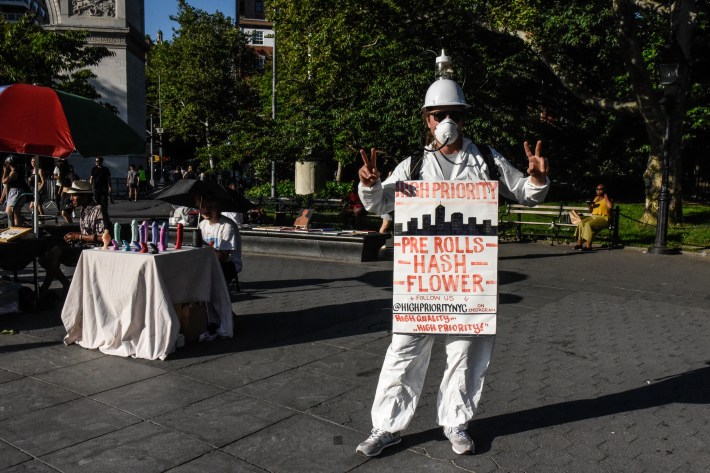 He was a bit of an anomaly—at the lazy hour of 4 p.m., before the sun set and the night vibes hit, the rest of the scene at the park was practically bucolic, with 20-somethings fingering racks of silkscreened t-shirts and perusing tables of handmade beaded jewelry. A trio of recent NYU grads in shimmering purple robes (Go Violets!) snapped photos against the fountain backdrop; shoppers strolled among the vendor tables, eyeing weed, paintings, handmade jewelry, and a couple tables offering dick-shaped candles in a variety of hues. At the park's west end, Washington Square Mutual Aid heaped chicken and vegetables onto paper plates and offered clothing, tampons, and other amenities to anyone who wanted them, as they have every Friday since summer 2021. Under the arch, a crew set up what looked like an inflatable screen for the French government-sponsored Films on the Green series; that night's selection, Jean-Luc Godard's new wave classic "Band of Outsiders," is a tale of renegades and misfits, that was perhaps theoretically a bit on the nose. 
Outfit notwithstanding, J.P. was not unique in a broad sense. Washington Square Park has been a reliable resource for procuring cannabis and other accoutrements since at least 1966, when the New York Times ran the headline "'Beatnik' Detectives Arrest 26 in Narcotics Raid On 'Village.'" And yet in 2022, with New York City having legalized open smokage, on any given day in the park there are at least 20 tables of vendors selling nugs, pre-rolls, edibles, THC beverages, whole cannabis plants, and, for the truly adventurous, homemade THC nutcrackers—clear oblong bottles filled with grain alcohol concoctions and a guarantee of excellence from their proprietor, the gregarious, 56-year-old artist Queen Chiefa 420, a petite boricua from the Bronx who's been selling her wares in the Square for about a year. 
"I'm a lifelong New Yorker that came down to Washington Square Park for anything," she said, but hadn't tried setting up a table until she read about the revitalized market in the New York Post. "Usually I just stay where I'm at and don't go further until someone suggests someplace new." Queen's nutcrackers were aesthetically pleasing—inviting concoctions in glinting beakers—but I was obliged to abstain, on account of being a weed lightweight and for fear of getting looped when I needed to be clear-headed in the process of reporting this story.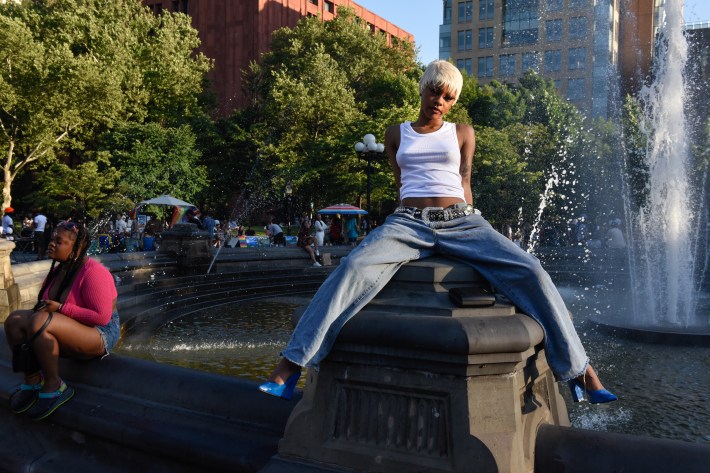 But J.P., as a roving salesperson, had more than his cardboard or a fold-out table to advertise: Jutting atop his head was a white construction hat that doubled as a bong, with a water chamber affixed to its crown, a spot for sticking in a joint or bowl, and two snaky lengths of black tubing that attached to a mask of the sorts construction workers wear, ensuring that no smoke was lost. (Whether the joint, stuck to his crown like an antenna, was wasting precious smoke was another question: "In some ways yes, just due to the physics of it," he said. "It's kind of like a steamroller, if you're familiar with that term.")
The bong hat, made in collaboration with the stylist Ari Serrano, is "a way to mix weed and fashion in a progressive way…a way to smoke a joint through water and walk around and be mobile," J.P. explained. After a demonstration of its functionality—a bubbling contraption delivering the smoke to a tiny hotbox over the lips and nose—he detailed his larger mission: "The potential for self-healing through the endocannabinoid system." He added fervently, "It's more than just a funny hat. I love it and we love it and everybody loves it. But we're also trying to support something deeper."  
Is there any more apt place than Washington Square Park to become the site of a years-long celebration? The history of the park is many centuries and iterations long, its atmosphere dependent on the cultural makeup of whoever is doing what there at the moment. It's been a Lenape gathering spot, one of New York City's first African American neighborhoods, an 18th century burial ground, a funeral procession for Triangle Shirtwaist fire victims, a meeting ground for Greenwich Village's storied folkies, a gathering hub for chess players, the setting for a bougie romance by Henry James as well as a realistic skateboard beatdown in Larry Clark's Kids, the venue for massive campaign appearances by Barack Obama, Bernie Sanders, Elizabeth Warren; the location for countless protests, revelries, and ragers. 
And last summer, Washington Square Park became an allegory for the citywide tensions between the wealthiest New Yorkers and everyone else. As young people, primarily Black and brown New Yorkers, utilized the public space as a meeting ground to release tensions from being cooped up for months, some residents of the multimillion-dollar brownstones surrounding the park demanded silence and decorum, perhaps forgetting they live in the city that never sleeps. Mayor Eric Adams, the former cop swagging his little path towards becoming a Democrat Giuliani, campaigned on alarmism about drug use in the park; a local right-wing tabloid ran a sensationalist article painting Washington Square as a lawless den of iniquity, with a dog-whistle lead photograph of a Black woman smoking a joint on a park bench.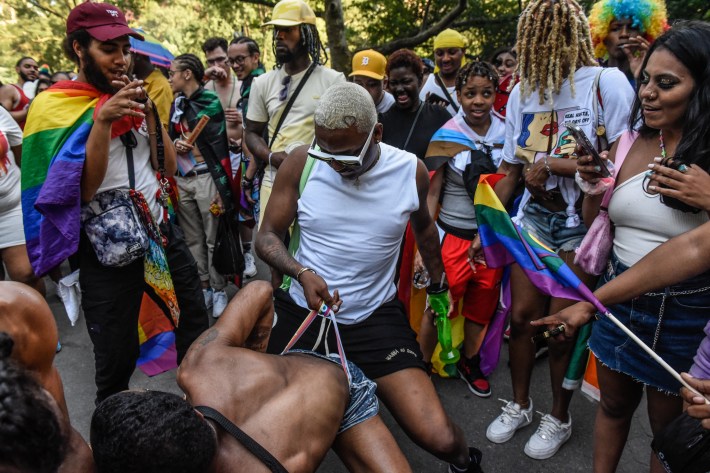 The We Outside Crew, a party collective with an eye toward social justice, had brought in sound systems for pop-up dance parties, playing music like dembow, dancehall, litefeet, and Beyoncé, and combining a desperate need for community post-lockdown with a sense of righteous reclamation of public space. But as park activities got louder—raves replete with sound systems, fireworks, raucous boxing matches, the kinds of shit people who like fun might enjoy—rich neighbors got madder, resulting in the widely publicized cop sweeps and a midnight curfew. 
David "Shaman" Ortiz, a charismatic 29-year-old, was a proprietor of We Outside, and produced the energetic, sound-system raves of summer 2021, until he was arrested last July and the police shut it down. "We threw a couple of parties and long story short, cops didn't like us having amplifier devices without any permits," he said. "But that gave people that outlet. You know, it gave people the fire to come here and be like, 'No, we're going to be here, whether you like it or not.'"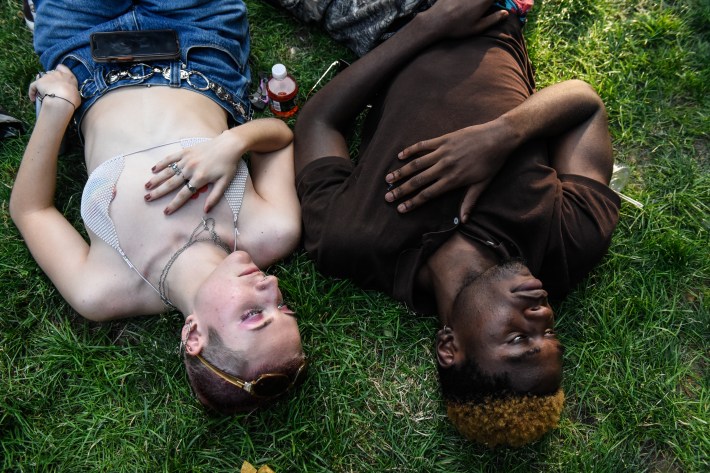 After the cop crackdowns, Shaman and his cohort began attending city council hearings as well as community board meetings. In one particularly heightened meeting last June, Shaman accused the board of "intimidating other community" in the park, and said the "Karens and Kevins" should "go back to Long Island." Since 2021, though, the sound systems have vanished and Shaman says the relationship is slightly less adversarial. "As you see now, there's more of a synchronicity with the law here as well, with public servants, with police," he said. "And now we have open conversations and we're able to be fluid and to be artists in a beautiful place." 
It's unclear if the midnight curfew is still being enforced. The NYPD did not respond to repeated requests for comment, but a representative of the Washington Square Association, the neighborhood group that has been complaining about the gatherings in the park since 2021, wrote that the organization is "working closely with the NYPD, especially given recent incidents with PEP," including a reported beating of a Parks Department supervisor earlier in July. "Public safety and mitigating improper uses of this space are our priorities," a PEP spokesperson told me. "We continue to coordinate with NYPD to maximize coverage and conduct joint patrols. We will continue to adjust our approach as needed."
"Honestly, I think the sweeps have enhanced the community building," said the performance artist Crackhead Barney, another Washington Square Park stalwart known for her fearless on-the-street interviews with rightwingers like Marjorie Taylor Greene and Andrew Giuliani, as well as her work uniform of a bra, underwear, and sometimes, a Trump mask. "If there was no sweeps, maybe Washington Park Mutual Aid wouldn't even exist, because they wouldn't know of the necessity of bringing food, bringing clothing, bringing community, bringing abolition, and saying 'Fuck your rent.'"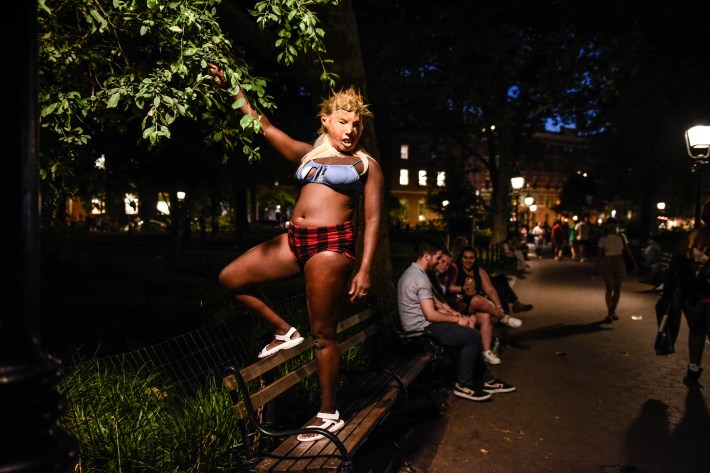 But not everyone agrees with cop-and-community synergy. "Believe it or not, a lot more shit happens when the music isn't playing," said Joker, a kind-hearted abolitionist who is recognizable for painting his face like the Joker every day, and who makes ACAB chalk paintings. He says he has lived in and around Washington Square Park since he was 14, yet he wistfully recalled the summer of 2021. "Every single walk of life in those parties, dancing. You know the Pop Smoke music, how everybody dances and jumps in the crowd and jumps together? You got crackheads jumping with dope fiends jumping with college kids and rich white girls and Puerto Ricans and people who don't speak English coming over like 'Ay! Ay!' People fallin' over each other, helping each other up. It was a beautiful sight."
Joker added, "It's different because there's so much police now trying to control everyone's activities." 
Nearby, a man in his 20s or 30s methodically set up a pair of CDJs and speakers and started playing a house remix of Megan Thee Stallion's "Thot Shit." He lasted about four minutes before two uniformed cops shut him down, likely for violating the rule banning amplified sound without a $45 permit application (subject to police approval). And yet near the film screening, eight or so NYPD officers stood around, gazing at Godard's masterpiece, among a throng of about a hundred people who sat on blankets, squinting to read the subtitles and, presumably, Anna Karina's lashes.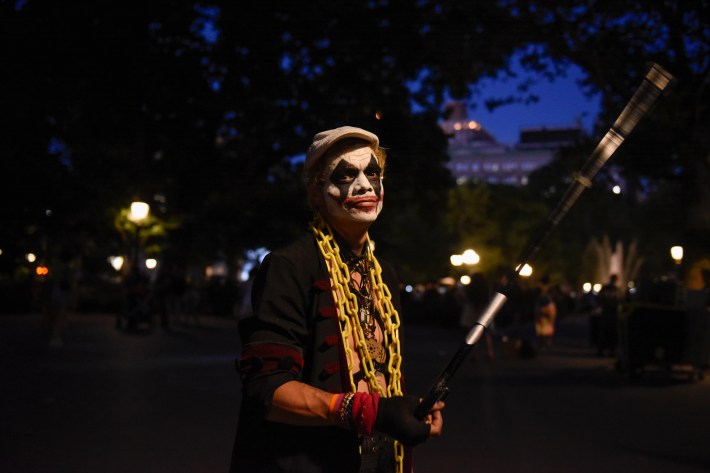 The park isn't a utopia, to be sure. Weed gets a pass but there are certainly other substances floating around and being ingested, and the city has yet to adopt the kind of harm reduction model that might actually help substance users. Fights break out on occasion. But to Shaman, the answer isn't more policing. 
At one point that evening, Shaman approached the officers in order to facilitate a conversation between a Black mother and her two young sons who had, he said, been approached by a known pedophile in the park. (The kids were OK, he told me, if a little scared.) He said he'd ousted the man from the park himself and was speaking with the NYPD about the childrens' safety. It's as if communities can keep themselves safe if given the chance.
"I honestly think this [mutual aid] shit helps the Parks Department out," Barney said of community-led safety efforts. "When you keep these motherfuckers like the drug addicts and the displaced people fed, it maybe makes them cause less trouble and makes your life easier. We need more abolitionists."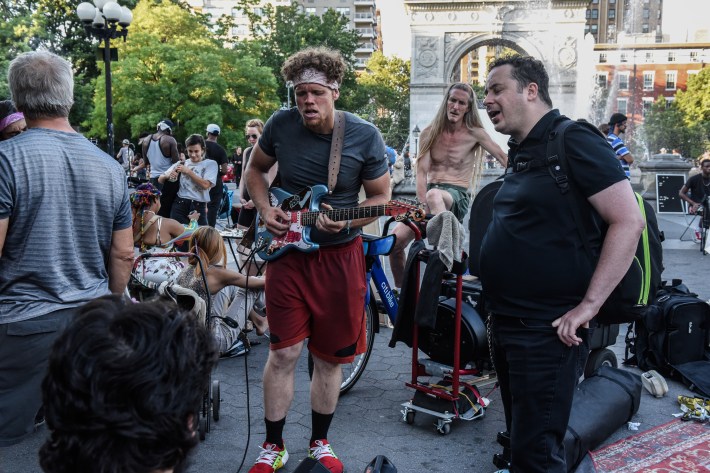 On that Pride Sunday, just before dusk, fireworks would spook the crowd of thousands into a panic, the echo of Oslo and Pulse and countless mass shootings sending everyone racing out of the park. No one was reported to be seriously injured, and by nightfall it had been filled again, a refuge for everyone—vulnerable people, and those less so—seeking to commune. 
"It's love, it's family," said Shaman, describing the tenor of downtown Manhattan's greatest gathering place this summer. "It's more of like, Yo, how you doing? How's your day going? What can we do to make your day better today? How can I help you out? This is the best thing about being part of a community that's outside."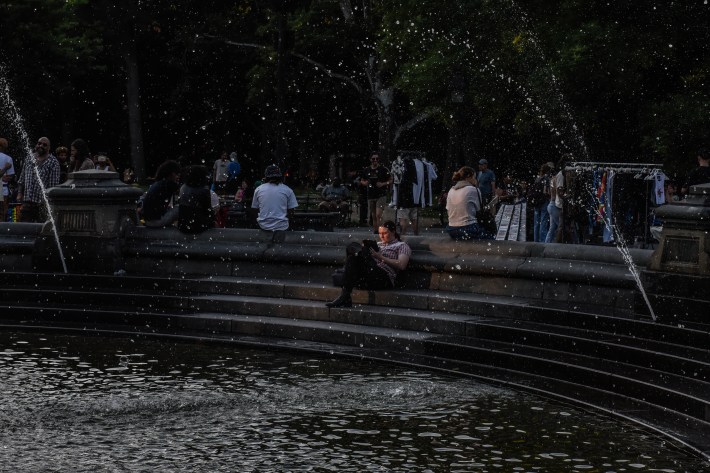 Julianne Escobedo Shepherd is a Xicana writer and editor currently at work on her first book, about growing up in Wyoming and the myth of the American West. She lives in Brooklyn with two cats and a man.
Stay in touch
Sign up for our free newsletter