The State of New York
'This Is Reparations': Can New York Actually Make Legal Weed Work for People of Color?
Damian Fagon, the man in charge of making sure that the state rights some historic wrongs, is trying to find out.
4:50 PM EST on December 22, 2022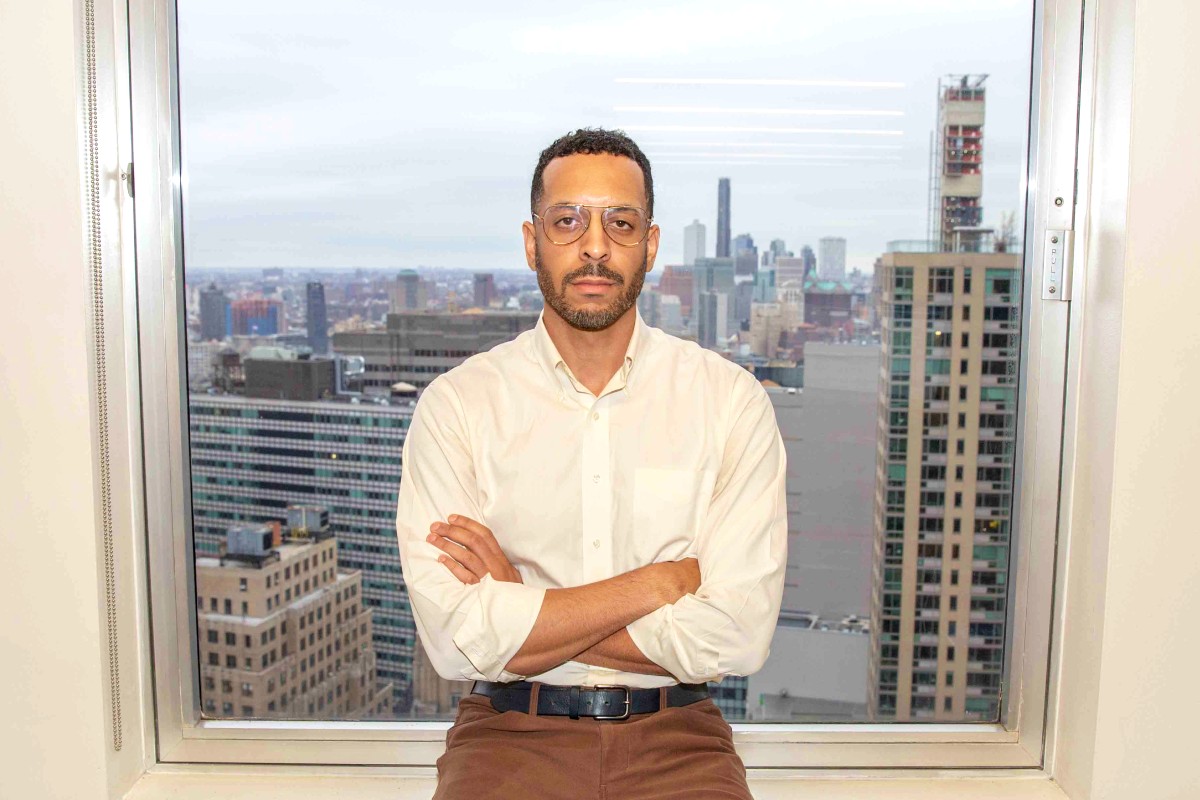 On a recent Saturday, dozens of Bronx residents gathered inside the borough's central post office, its hallways lined with New Deal-era frescos, to learn how the legal cannabis market might transform their neighborhoods. 
They peppered Damian Fagon, the Chief Equity Officer at the Office of Cannabis Management, the state agency in charge of regulating the nascent industry, with questions. How would tax revenue be reinvested in communities? Shouldn't it be easier for people who had been running illegal marijuana businesses to enter the legal market? Would legalization do anything for all of the people in the Bronx who had over the years been stopped and strip-searched by the cops? The six-foot-five Fagon sat crammed into a small chair, his aviator-style glasses sweeping around the room as he tried to assuage the skeptical but hopeful crowd. 
"I'm hearing these stories, and you can literally hear people's voices cracking as they talk about this stuff," Fagon said after the meeting. "You can hear the hurt, sometimes rage, for what their communities have had to go through."
Fagon's job as OCM's Chief Equity Officer revolves around two goals: creating an equitable marketplace for people who were previously incarcerated over marijuana convictions, of whom the vast majority are Black and brown New Yorkers, and making sure the bulk of licenses go to small- and medium-sized businesses, not big corporations.
But the odds are stacked against him—there's a reason that most social equity initiatives in the U.S. related to cannabis have failed. Fagon and his colleagues have to somehow find ways to, if not fix, then get around the broader financial and regulatory landscape, which is one that tends to reproduce inequality rather than reduce it. (Just one example: Most banks do not issue small business loans for cannabis operations because the drug is still illegal on the federal level, making raising funds to start a business nearly impossible unless one already has access to private capital.) 
"It's scary because this plant isn't going to solve a lot of the structural issues that exist in places like the South Bronx, it can't, fundamentally," said Fagon. "But we can definitely make life better."
That's the hope. But the state's delayed roll-out of its legal marketplace has been chaotic, to say the least. People who've received licenses are getting frustrated, growers are worried they're going to lose their product, and questions still remain about just how equitable New York's market can be, in a business that favors the wealthy and well-connected even more so than other industries.
"It's very draining," Fagon said, referring to the fact that social equity cannabis initiatives have failed in most states. "I go to therapy."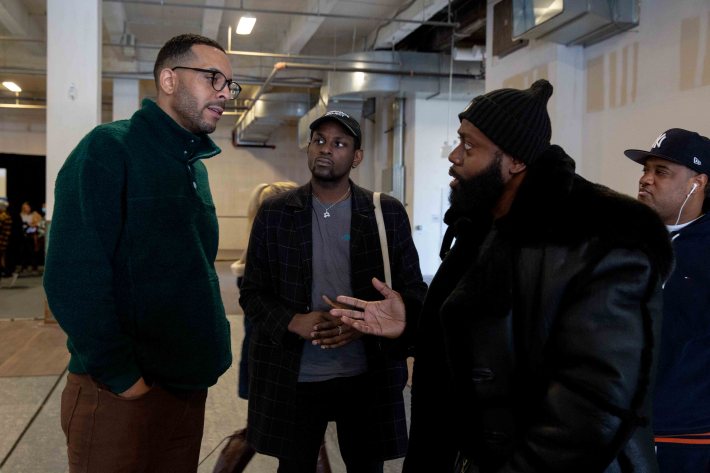 Growing up in Washington, D.C., Fagon saw the effects of agricultural policy on everyday life; as a child, he attended protests against the World Bank and the IMF, and at the same time, witnessed his family's orange farm in Jamaica struggle to compete with subsidized U.S. citrus growers. 
That didn't prevent Fagon from making a few of his own, largely unsuccessful, forays into farming. In 2019, Fagon cultivated ten acres of hemp on a Hudson Valley farm, only to find that the market was oversaturated with hemp-derived products, like CBD. COVID-19 then shut down many of the stores he planned to sell to. 
Still, Fagon, who prior to joining OCM was involved in international development efforts with castor farmers in Jamaica and coffee exporters in Guatemala, believes New York's legal cannabis market can right historic wrongs. "If you're gonna say one thing that led me towards this work, it's Ta-Nehisi Coates's article on reparations and how U.S. policy in the 1950s directly influenced economic outcomes today," he said. "This is reparations work. This is the only kind of reparations work being done like this in the country."
New York state has learned from the social equity missteps made by states like California—unlike in California, New York gave the very first licenses for retail sales to previously incarcerated individuals or their family members. The state also promised ready-to-go storefronts for the first 150 equity-based licenses, along with a $200 million social equity fund to serve as a bank for the small business owners, all efforts meant to take away the largest hurdles for starting a cannabis company: money and real estate. 
But, as is unfortunately common in New York politics, the policy pie started spilling its insides before it finished baking. The Dormitory Authority of the State of New York, or DASNY, the agency in charge of raising the $200 million and securing turn-key storefronts, dropped the ball. The agency chose Social Equity Impact Ventures, a team that includes NBA Hall of Famer Chris Webber, sneaker and apparel entrepreneur Lavetta Willis, and individuals from the investment banking firm Siebert Williams Shank, to raise the cash for the fund. So far, there is no proof that any money has been raised from private donors, or that DASNY has secured any of the promised properties. (DASNY is now stonewalling reporters who are asking questions about the fund.)
The failure to secure capital and real estate has rattled many of the first justice-based license recipients, who wonder whether they'll be able to open their stores before general licenses are issued in the summer of next year.  
"The license awardees, the number one thing we heard is, 'When are we going to get our locations and what funding support is coming,'" said Desmon Lewis, co-founder of the Bronx Community Foundation, which partnered with the Bronx Defenders to host the event in the South Bronx and helped applicants fill out paperwork for licenses. "People are worried, we have to keep it real."
DASNY did not comment on the social equity fund, but told Hell Gate it was still working with license holders to secure storefronts. Hell Gate also reached out to a representative for Chris Webber's cannabis brands, who did not respond to our questions.
Whether the team behind the fund failed to raise the cash out of negligence or because private investors aren't interested is unclear. Fagon blamed the state's early fumbles partly on forces out of its control. "There's a very small group of people and funds that invest in cannabis businesses," he said. "They're interested in ownership, they're interested in control. They're not interested in lending money."
When it comes to raising funds for justice-based initiatives in general, a lot of it is "smoke and mirrors," Fagon said. He noted that it is common in the cannabis industry for fund managers to make big promises they can't deliver on, in order to scuttle competition and keep their own brands alive. "Ultimately, a lot of the ghosts of this industry have yet to be exposed."
In response to DASNY's failure to procure storefronts for license holders, Fagon and OCM revised some of the state's regulations in mid-December, relaxing rules around opening stores to allow the first license holders to open up warehouses for delivery orders before storefronts are operational.
The decision was in the works as a "contingency plan for months," one source told Hell Gate, in case DASNY failed to secure real estate locations and capital. And it met another need—the state's marijuana farmers are sitting on almost a billion dollars-worth of product that they need to get out the door before it goes bad. Many farmers were counting on stores being up and running by the state's original timeline. Governor Kathy Hochul had promised twenty brick and mortar stores would be open by the end of 2022, but according to sources, right now there are slated to be fewer than five.
"A lot of policymakers like to sit back and watch. For us, if one thing doesn't work, we are thinking about options A, B, and C," said Fagon, who has personal relationships with a number of the farmers. "We can put some people in some rough spots, like the farmers right now who have a ton of products, they're all broke. They need to start selling the product that we gave them the license to grow."
Fagon says if DASNY can't raise the funds, his team at OCM will have to go on a fundraising tour, petitioning Albany, socially responsible investors, and credit unions to help OCM scrape up enough cash to get the social equity businesses off the ground—a necessity if New York is to prevent what happened in California. 
While raising capital is currently the number one challenge on Fagon's mind, there are other issues that fill his schedule, from creating policy that bars tech companies from harvesting consumer data to shutting down illegal weed-peddling operations.
Earlier this month, OCM and law enforcement agencies pulled $2.5 million of illegal cannabis off the street while issuing 300 civil violations and more than 30 criminal court summonses.
Shutting down these weed bodegas is an unfortunate necessity, according to Fagon; their existence threatens the success of legal operators. But the crackdown also threatens to put many people of color who have opened gray market operations out of business.
That tension is often on the forefront of Fagon's mind. "One thing that keeps me up at night," Fagon said, "is that right now, today, there's more Black and brown equity in the unregulated cannabis industry than there may be [in the regulated industry] 10 years from now."
At the event in the South Bronx, Fagon met Tavian Crosland, 37, one of the more than 600 people who had applied for a mentorship program that Fagon created to help growers and dealers enter the legal market. When Crosland introduced himself, Fagon's eyes lit up; he remembered reading his application. 
Crosland said he was okay with the hectic legalization process. "The roll-out has been slow, but it's better that it's slow and right than rushed and wrong. In states like California, it's a race to the bottom," Crosland said. "It seems like New York is trying to do something different."

Wes Parnell is a freelance reporter and photojournalist covering all things NYC. He previously produced podcasts and covered crime for the New York Daily News.
Stay in touch
Sign up for our free newsletter