Cultural Capital
The First Night at Baker Falls
Nostalgia reigns at a new East Village nightclub.
2:39 PM EDT on July 24, 2023
Two Saturday nights ago, a line was forming outside of what looked like a vacant storefront in the East Village, but those waiting on line were a bit greyer than the surrounding neighborhood's typical Saturday night crowd. It was the first-ever concert at Baker Falls, the East Village's newest venue, located in the former home of the storied Pyramid Cocktail Lounge. But the inside wasn't quite ready just yet, according to Baker Falls's proprietor Nick Bodor, and staff were still scrambling to put on the finishing touches. 
The Gen Xers grumbled about the increasingly long wait; one guy with a crown of frizzy gray hair, dressed in an orange T-shirt with the anti-folk musician Jeffrey Lewis's name across it, left to get French fries and came back; as he munched, he questioned whether the club would open its doors, that night or ever.
Nearby, a leering, youthful partier in a backwards cap wordlessly approached the line with his fist out for a dap. I obliged him, after the clean-shaven, white-haired white guy in glasses who was standing next to me looked at him stone-faced and didn't budge. When the bro departed, I asked the guy who had refused the younger man's invitation what brought him out that evening. Was he here to check out the venue or for the show? He said he had once lived in the neighborhood and had driven in from upstate. He wanted to see Lach, the headliner and anti-folk pioneer, but he was mostly curious to see the new venue in the spot where he had once partied in the East Village in the '90s.
Baker Falls, as Bodor told me, aims to recapture not only the spirit of the '80s and '90s downtown scene but the whole vibe of the Pyramid itself. Bodor is also partnering up with the Knitting Factory, which closed its Brooklyn venue last year. The Knitting Factory—originally a Manhattan venue—will book acts in the performance space at the back under the title "Knitting Factory New York at Baker Falls." But can Baker Falls both recreate New York's past and house its future?
When the doors did finally open, the line moved quickly. Bodor, who also owns downtown spots like Library Bar and the former Cake Shop, sees himself the steward of a historic venue. "If you had walked into 101 Avenue A over the last 40 years, I wanted you to have that feeling," he said. "It's the same 30-foot-long bar, it's the same stage where Nirvana's first show on the East Coast was, in 1989."
Once inside, the aforementioned white-haired gentleman gave me the ticket he got for his daughter, who couldn't make it; I offered to buy him a drink at the bar, but he declined, saying he was coming up on an edible. In the back, a baby-faced worker erected an impromptu seating section for those with mobility issues, ladders hung in corners, and doors had holes for door knobs. 
At Baker Falls, Bodor envisions the past and future mingling, and wants the venue to be the kind of place where a Basquiat-esque artist can share space with a middle-aged art dealer or a "cool 65-year-old attorney." The first evening instead had the cozy air of a college reunion, with anti-folk scenesters hugging each other warmly. At times, the odd Zoomer popped their head in, curious about what was going on, before moving on to whatever else they were doing on Avenue A. 
Inside, revelers found a recreation of the Pyramid's old coat-check room, which Bodor said he rebuilt after he learned through his research that a performer called Wendy Wild once famously held court there. "Everybody loved Wendy the coat-check girl," Bodor told me. Saturday night was too humid for outerwear, but a young woman was in the little room selling Baker Falls T-shirts and hot sauces with custom bottle caps. Bodor hopes to call the section "Wendy Wild Sundries."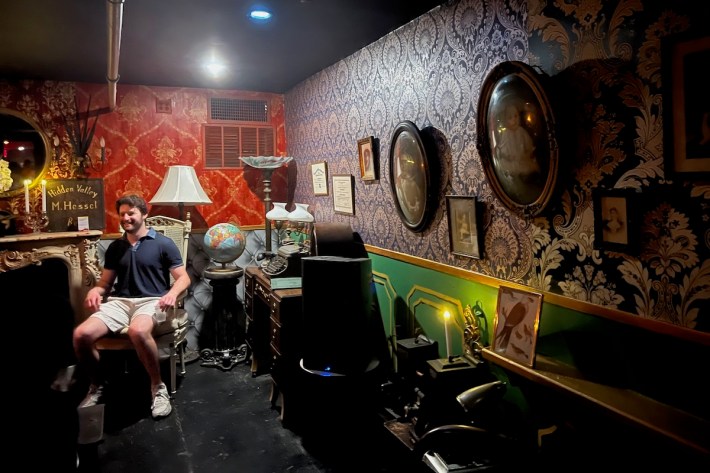 "Nick really wants it," said Jake, a former tech worker who was tending the bar downstairs. He told me he met Bodor via a Craigslist ad. The basement has a vibe that Bodor described as a "decrepit manor house in the woods." Later, I saw Bodor introducing Jake to the band Highly Effective People, who were going on right before Lach, and explaining to him that these guys are legendary, and they've been around a long time, and they drink for free. Upstairs, Jake's friends tried to get in, but had to regroup when they realized the door only accepted cash. Edible dad and I smiled at each other, and Highly Effective People took the stage, bassist and vocalist R.B. Korbett warning the crowd to "gird your loins, say your prayers," before launching into wailing post-punk. 
It definitely felt like a rock club, a description that Bodor balks at. "Is that what you got from that?" he questioned me, sharply, a few days after the opening, before allowing it wasn't exactly inaccurate, if incomplete. "I call it a cafe, happy hour, performance venue and late-night rock 'n' roll dance party."
At a talk a few days earlier for his recently published book, "This Must Be the Place: Music, Community and Vanished Spaces in New York City," the author Jesse Rifkin described the Pyramid Cocktail Lounge in its last days as a "theme bar where the theme was itself." But Bodor says he doesn't plan to run Baker Falls on nostalgia alone. 
"I'm trying to get people off the screens, I'm trying to get people to seek out things," Bodor told me. Later that week, the indie rock band Sunflower Bean was slated to perform. The group's lead singer Julia Cumming had her own downtown connection—her parents were in a band, Bite the Wax Godhead, that performed downtown in the '90s, and Julia herself had been performing in Bodor's venues since she was a child. 
On opening night, I spied the phrase "downtown is a state of mind" scrawled across the sandwich board outside Baker Falls. Avenue A was mostly full of revelry and pounding bass and TikTok influencers and summer associates ignoring panhandlers. But in the midst of all that, Bodor had carved out a recess for Lach, back in town from Edinburgh, Scotland, where he now lives, to strum his guitar and recreate a scene of downtown's recent past, audience included. We'll see if it can last in downtown's present.
Adlan has written for The New York Times Magazine, The New Yorker, Pitchfork, Study Hall and more.
Stay in touch
Sign up for our free newsletter