Cultural Capital
Love All: More New Yorkers Are Discovering the Joy of Tennis
Fitness, fashion, fun, if you can stand the wait for a court.
2:12 PM EDT on August 15, 2022
"These are the prime courts," said Walter Odom, a Fort Greene Park tennis attendant. It was a beautiful Thursday in July and the six courts next to us were filled with players, most of them in their 20s and 30s, grunting and whacking the ball. A small crowd had gathered to watch the game or wait for a turn.  
In the 32 years he's worked for the Parks Department, Odom has cleaned up baseball fields, playgrounds, and the Coney Island boardwalk, but "I had to earn tennis," he told me. Now he's working in the neighborhood where he grew up. The courts have gone through a lot of changes since Odom was young. Once, they were seasonal courts: In the fall the department would take down the nets and turn them into a playground. They became a permanent fixture in Fort Greene Park in the 1990s. But in the past few years, and in particular since the COVID-19 pandemic began in New York, they have become increasingly popular. New York City's Parks Department issued over 25,000 tennis permits in 2021, up from around 21,500 in 2019. People line up early in the morning to beat Odom to the courts—he arrives at 7:00 a.m. with a sign-up sheet.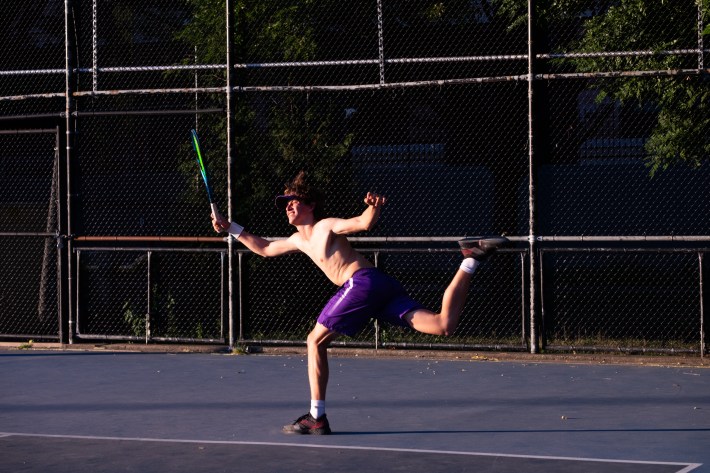 Mikal Cook, who helps run a burger place and works in advertising, had just finished playing for the day. He began playing tennis when he was three, but got back into the game more seriously during the pandemic: "You couldn't go to bars or anything, so it was a nice way to hang out." Five days a week, he wakes up just before the sun rises to stand in line for a spot on the courts.
The game is thriving all over New York. In Riverside Park, at the only public clay courts in the city, I asked a retiree named David how he got back into the game after years of not playing. "Are you recording this? I'll keep it clean," he said. "There's an app [to meet people to play]. So I lined up a lot of different people, maybe 15 different people…I like it to be a social event. I like to play with people I like. It's a nice outing."
Cook and David are two of the many New Yorkers who turned to tennis during the pandemic to kill some time, get some exercise, or make some friends. But beyond the game itself, the tennis scene in New York has morphed into a bona fide cultural phenomenon, boosted by creative types with flexible schedules and some lingering familiarity with the sport.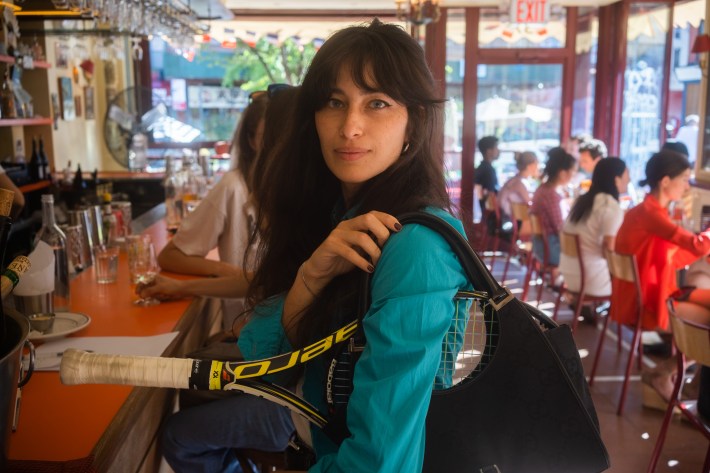 "It's sexy," said brand consultant, writer, and podcast co-host Chris Black. "Part of the appeal to the sport is that there's a look to it, and it's a pretty cool look." And it's true that there's a lot about tennis that's visually appealing—straight lines and bright colors abound.
"I was talking to this woman who was wearing Eckhaus Latta on the tennis courts," said Caitlin Thompson, founder of the glossy tennis and culture mag Racquet. "And that to me was like, 'Oh my God, tennis is fully official.'" That woman in the high-end retailer's outfits was Eliza Ryan, a producer and curator who has long helmed Warm Up for MoMA PS1. Ryan and Thompson have since become friends and fairly frequent hitting partners.
Thompson, along with her co-founder and producing partner David Shaftel, might be at the forefront of this movement. They founded Racquet in 2016 with a mission to bring high-quality tennis journalism to hardcore fans. Quickly, though, they realized they were serving a different population than they'd assumed. 
Soon after they began Racquet, Thompson and Shaftel started hosting events at the Ace Hotel. They'd distribute their magazines to guests, and in exchange the hotel would throw them parties. There, they met many of their early subscribers. "We kind of assumed they were hardcore tennis people like us. But they weren't," Thompson said. "They were like creative directors, or people who were young professionals who didn't necessarily play—or even watch—tennis." But a magazine like Racquet, Thompson noted, thrives in New York because "it's the center of a really strong writing tradition, and access to creators is a fingertip away." Predictably, the tennis trend is spilling from the courts where New York's cultural elite play into the wider fashion world. Over the last two years, tennis culture has escaped the court's lines; its fashion has been the subject of a lot of trend reports. 
"I see people wearing tennis skirts everywhere in Dimes Square," Ryan said. "And I don't think they're going to play tennis."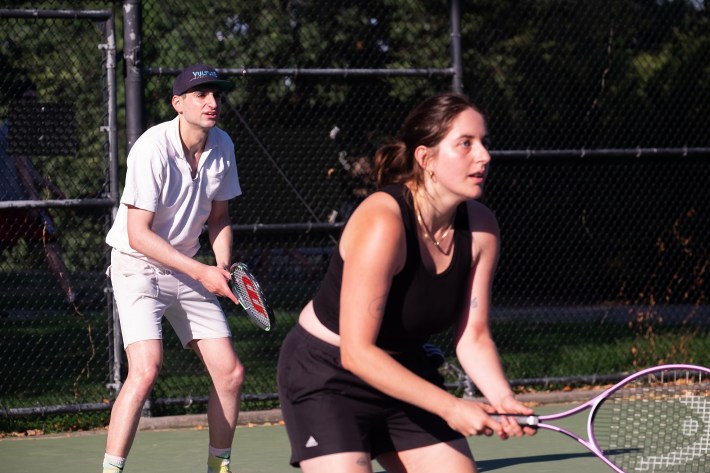 Racquet has been moving beyond its quarterly magazine, collaborating with brands like Adidas and Reigning Champ. Black and Jason Stewart, the hosts of the "bicoastal elite" podcast 'How Long Gone' worked with Palmes this year to release tennis-inspired merch. In the promotional materials, Black is reading the New York Post while they're playing in Los Angeles, "which I think is nice to juxtapose with the sport of tennis, which I think some people see as a little bit snotty," he said. 
The country-club reputation doesn't come out of thin air—tennis courts are fairly expensive to maintain well and take up a lot of space. In New York, the public courts vary in quality based on whether there's a local tennis association that helps with maintenance in addition to the Parks Department. But Thompson referred to the city's tennis scene as "democratized" "You play on these public courts," she noted. While the City does charge $100 for a season pass, "the [private] clubs here are so unbelievably lame and expensive," she said. In East River Park, where she used to play regularly until the courts closed for renovation late last year, Thompson described "a really interesting mix" of Russian immigrants giving "intense" lessons, musician friends like Dev Hynes and Porches, and "bankers playing hooky"—as well as, of course, "folks coming from a creative profession who have time during the day to sit on the bench and wait to play."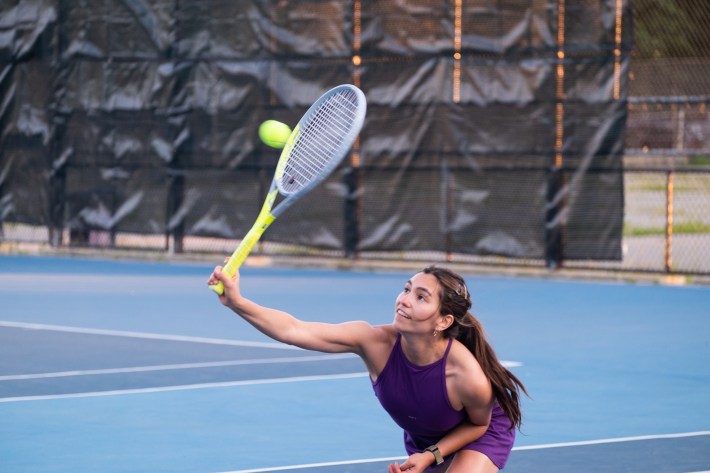 Some connect class dynamics to the sport's traction: "Part of the reason why it's becoming popular among younger people right now is that there's a bunch of downwardly mobile people living in Brooklyn who took tennis lessons as a kid," said one of the founders of Club Leftist Tennis, a wink-heavy newsletter and Twitter account dedicated to promoting tennis for young, left-wing (mostly) Brooklynites. 
The tennis scene isn't all young taste-makers and musicians, though. David told me why he keeps playing. 
"Exercise, the river, nature," he said. "I don't go to Central Park much, it's too much of a scene. I like the clay, it's softer on the joints."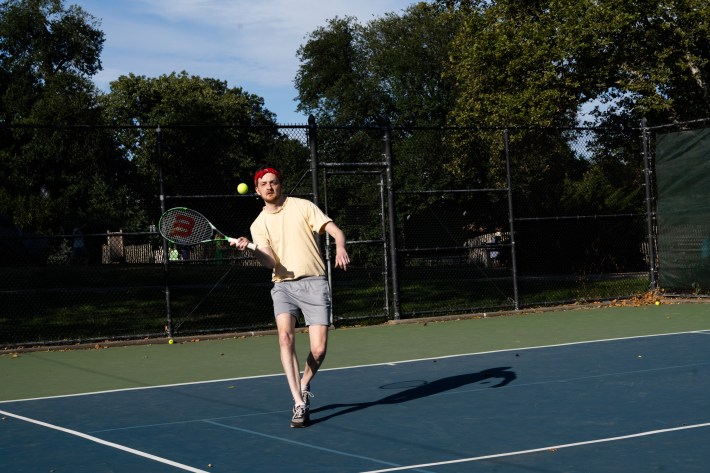 Calder McHugh is a writer currently working at POLITICO Magazine. He grew up in Manhattan and is now based in Brooklyn.
Stay in touch
Sign up for our free newsletter