Cultural Capital
How a South Brooklyn Synagogue Became a Legendary All-Ages Punk Venue
On Saturday nights, Beth Ahavath Sholom transformed into a place where all were welcome to mosh.
4:18 PM EDT on September 28, 2022
Today, the Bensonhurst corner where Bay Parkway and Benson Avenue meet is unremarkable: beige brick, ground-floor medical offices and condos above. There's nothing to indicate that 20 years ago, the lot would've been occupied by Temple Beth Ahavath Sholom, a sleepy Reform synagogue with a membership in steady decline since the 1950s. Well, sleepy until the weekends, when its grand stone steps swarmed with teens—talking, flirting, and waiting to descend into the basement ballroom to dance and mosh to their favorite punk, ska, and hardcore bands. Because on Saturday nights, Beth Ahavath Sholom transformed into the Punk Temple, an all-ages, DIY rock venue that, for a few years, became the beating heart of the South Brooklyn punk scene. 
While the Temple booked national acts, like Sugarcult, Taking Back Sunday, and pre-"Hey There Delilah" Plain White T's, its main purpose was to provide a space for local kids to hang out and play music. "You got a kick out of being like, 'I'm standing in a fucking temple,'" remembers Kevin Devine. Today, Devine tours the world as a solo artist, but in the early years of his career he played the Temple with his band, Miracle of 86. While Devine came of age in the '90s Staten Island punk scene, Miracle of 86 was able to straddle two sides of the late '90s, early 2000s New York music world: the Lower East Side and Williamsburg-centered indie rock movement, helmed by bands like The Strokes and the Yeah Yeah Yeahs, and the more hard rock and punk-focused South Brooklyn and Long Island circuit, which orbited the Bensonhurst club L'Amour, and Long Island VFW halls where teens threw pop-punk shows. Devine remembers a stark contrast between those scenes. The audience at the Temple, he says, was "these excited kids, wearing some weird Mountain Dew t-shirt and baggy pants." Meanwhile, in Williamsburg, "it was entirely about who was cool and who wasn't."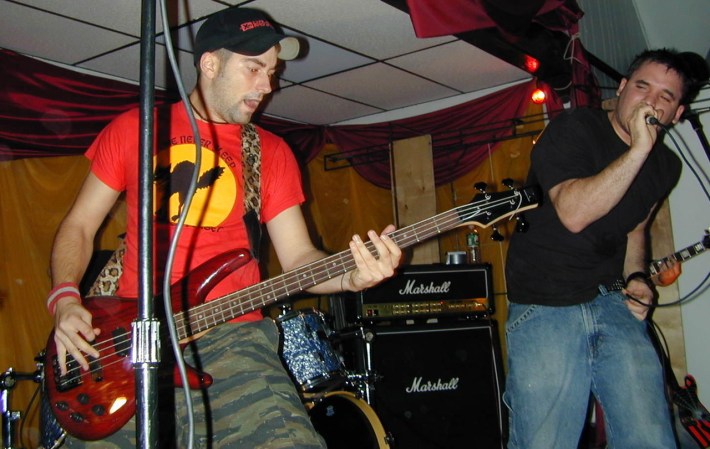 The venue got its start when Jordan Cooper, then a 19-year-old Kingsborough Community College student, was looking for a venue to play with his band, Friendly Fire. His dad knew some people on the Beth Ahavath Sholom board, and figured that as a Reform synagogue with a woman rabbi, they might be open to letting some kids mosh in their ballroom a few times a month. "They said sure, $350 bucks, rent it out," Cooper says.
Cooper held the first Temple show in early December 1998. There were eight bands on the lineup, including his, and about 120 kids showed up. To get the word out, he hired a "street team" of local kids, who distributed fliers in exchange for free entry, and listed the Temple on Book Your Own Fuckin' Life, a DIY venue directory. After about a year of losing money running monthly Temple shows—between renting the space and sound equipment and paying the bands—Cooper joined forces with a couple Brooklyn College kids he'd met on the subway after a NoFX show, Loni Berman and Sid Kaptsenel. "They wanted it to continue, and they said, 'Why don't all three of us lose money together?'" 
With their help—along with a rotating crew of local kids and musicians—the Temple began hosting two shows a month, averaging about 250 kids. Berman, who was interning at a record label at the time, focused on booking, while Kaptsenel ran the door, and Cooper headed up the whole operation. The Temple started drawing more out-of-town acts and even made enough money to buy a sound system, all while charging only $8 a ticket. Of course, it was never about the money, or even the quality of the music. Even if your band was "pretty fucking bad," Cooper says, the approach was: "Are you from Brooklyn? You play punk? Ska? Pop-punk? Hardcore? You play here." 
Shows usually started around 5:30, and ended by 10; nosy parents who wanted to scope the place out got in for free. Cooper and his friends wanted to make sure that 13, 14, and 15-year-old kids (and their parents) felt comfortable. "That's how I got into music," Cooper says. "We had venues for 21-year-olds. Where did the kids go who were 15, who would love to go to shows in the city but their parents won't let them?" Sure, there was some drinking and some making out in dark stairwells, but the kids were generally respectful of the venue and its rules. "It was like, we're all in this together," Berman says. 
Writer Jaya Saxena grew up in the East Village and started going to the Temple when she was 15, initially to see her favorite band at the time, 5 Cent Deposit. The Temple, she says, "made me attuned to what informal community looks like. I knew that by the nature of all of us saying, 'Yes, this space is important to us,' if I fell down, someone would have helped me up. If I was dehydrated, someone would have brought me water."
While the synagogue setting—and its gray linoleum floors and "green room" made out of room dividers— was certainly part of the venue's charm, it also came with some quirks. For one, Elroy, the temple's elderly groundskeeper. "He looked like a cartoon of an old sailor, like if Popeye let himself go," Kaptsenel says. "The first few years we were scared of him, because he'd curse at us. But once he realized that we weren't going to vandalize the place, he warmed up a little bit." And then there was the evening in 2002, which has become Temple lore, when a senior bingo night displaced a Sugarcult show. The Temple crew ended up moving all of the equipment into the courtyard so the band could play. Saxena still remembers it. "People were climbing on the apartment building [next door], it was nuts." The cops showed up, and shut the show down—but not before letting Sugarcult play two more songs.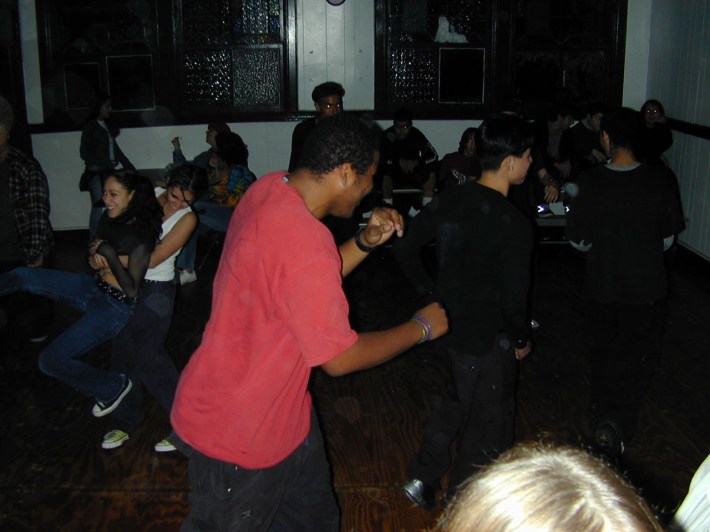 About a year later, the Temple's luck, or Beth Ahavath Sholom's goodwill, ran out. In 2003, they booked Leftöver Crack, an Alphabet City punk band with a bigger audience than a lot of their regular acts, and a reputation for getting venues shut down. More than 500 people showed up, and the corner of Benson and Bay Parkway was flooded with a crowd of rowdy kids. "Their fans were coming in from the city or wherever, and they didn't know what we were doing. It was just another place to go see this band that they liked," Kaptsenel says. The fire department showed up, and gave the Temple a citation for being over capacity. According to Cooper, the synagogue's response was essentially, "if we see you run another show here, we're going to padlock the doors." Near the venue's end, the Temple crew knew the synagogue was trying to sell the building. And just less than two years after their last show, it was purchased by a real estate developer and demolished. (Though strangely, the old building can still be seen on apartments.com.)
In the decades since the Temple closed, its legacy has endured around South Brooklyn. Last August, Temple alum and music producer Jerry Farley hosted a pop-punk show at Coney Island Brewery, featuring Up For Nothing, whose members met at the Temple, and Mephiskapheles, a ska band that used to book the Temple, too. Bensonhurst Councilmember Justin Brannan used to play the Temple; Berman remembers Farley knocking on his door while canvassing for Brannan, and recognizing each other from their Temple days. Kaptsenel recalls the strangeness of bringing his mom to a doctor's appointment in the building that now occupies the Temple's old footprint: "I used to stand here taking tickets, and now I'm waiting for my mom to get an X-ray." Cooper has since moved to Kentucky, but says that he'll get several emails a year from Temple kids sharing their memories. 
"I mean, we had Tony. He was 50 years old, he stage-dived, he had a mohawk. And there were 16-year-old kids who considered Tony one of their best friends," Cooper says. "If you're cynical and jaded, you'll say humanity can't be like that. For four and a half years at that venue, it was." 
Lauren Vespoli is a freelance journalist based in Brooklyn. Her stories about New York City have also appeared in The New York Times, Curbed, and GQ.
Stay in touch
Sign up for our free newsletter