OnlyFins
Fish Day at Summons Court
Our columnist meets some fishers caught in the Department of Environmental Conservation's dragnet.
3:30 PM EDT on May 27, 2022
Welcome to OnlyFins, New York City's freshest column devoted to fishing the city's polluted waters.
On a recent Wednesday, I arrived in the early morning hours to the courthouse at 1 Centre Street, where I encountered a middle-aged Chinese man—let's call him Mr. Liu—who showed me two crumpled up pink summons slips issued to him by a New York State Department of Environmental Conservation police officer.
As Liu told it, he had been fishing on his rickety boat off the shores of south Brooklyn with two friends about two weeks ago, around noon. They were catching striped bass, or "stripers"; Liu had planned to keep one, but his friends, who were Fujianese, had kept more, above the allotted one per person daily limit. ("Fujianese people are braver than Cantonese people," he told me.) As they pulled up to the dock, there was to his surprise a DEC police officer waiting for them. According to Liu, his two friends, who were more vigorous, younger men, ran away, leaving Liu to face the DEC cop alone, and with the fish his friends had caught. He told me that all he wanted to do was to take his one fish—admittedly, undersized—home to his apartment in Chinatown to eat.
Liu (he asked me to use a pseudonym, out of privacy concerns) is a long-time fisher, and grew up fishing in Guangdong province before immigrating to New York City in 2009. ("The fish taste better in Guangdong than in New York," he told me. As for striped bass, they're not his first choice for eating: "Porgy tastes better.") He fishes instead of gambling. "Cantonese people like gambling too much!" he said. "As you get older, fishing makes you happy. If you don't fish, you're not happy." He was aware of New York's laws around striped bass, and this was his first time being ticketed. "New York's laws, you can only keep one. What can I do," he sighed. He was worried about having to pay a hefty fine. "I don't have that much money," he said. "I'm going to be broke." He smoked as we both waited for the doors to open at 8:30 a.m.  
Every second and fourth Wednesday of every month is what I've started calling "fish day" at summons court. It's a world that few know about, unless you've been caught in its net. It's on these days that everyone who has been ticketed by the DEC in Manhattan or Brooklyn—whether for illegal fishing, like Liu, or illegal dumping—shows up to the Lower Manhattan courthouse complex, mixed in with New Yorkers who've been cited for, say, violating open container laws or for disorderly conduct.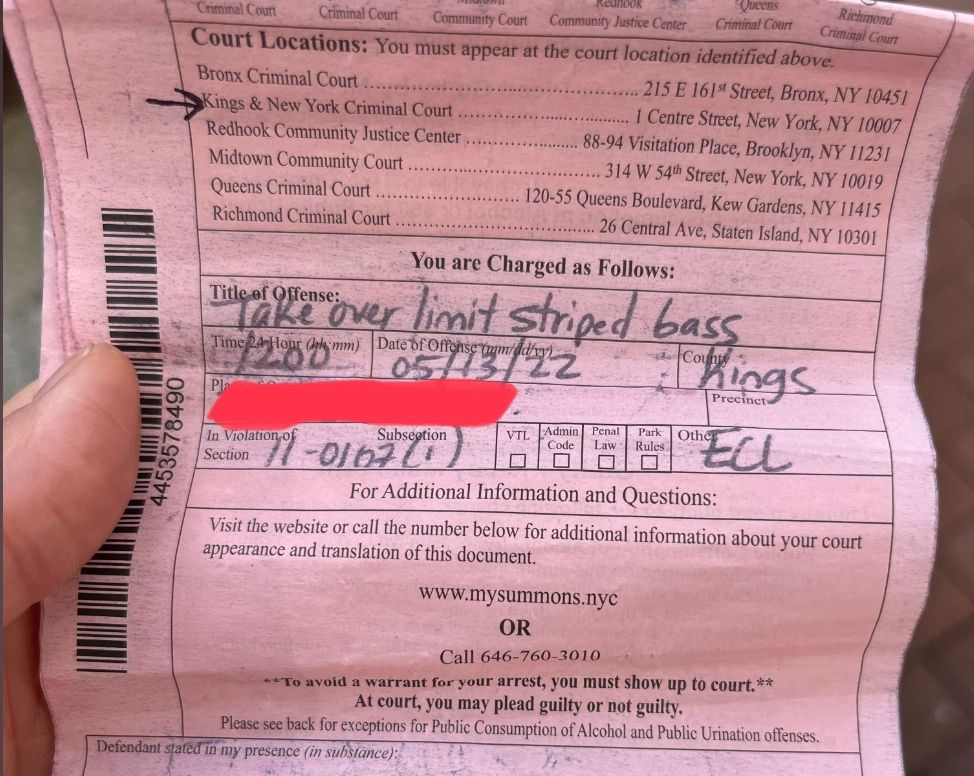 On fish days, according to one attorney I spoke with who regularly represents clients at summons court, the courtroom is filled with, as he put it, "mostly Asian American defendants from Chinatown," who are there largely for DEC fishing violations. When we spoke, that attorney described a recent day in court where he represented a man caught in what he described as a "sting operation" in Chinatown, one in which an undercover DEC officer had approached his client as if they were a customer interested in purchasing what appeared to be an illegally caught striped bass. Later on, that undercover officer saw someone else buy the fish; they moved in and, according to him, violently arrested his client. "These are exactly the same tactics that cops use in a buy and bust, all over a fish," he told me.
All of this—the aggressive tactics, the racial makeup of the people ticketed by the state agency—made my eyebrows shoot up. Is the DEC targeting Asian American fishers, who admittedly are likely breaking the rules? As a woman of Chinese American experience myself, I am all too familiar with how gleefully some of us ignore laws we think are dumb—but are we truly the vast majority of offenders, in a city full of fishers?
I had had my own run in with a DEC cop in upstate New York, just a few months prior—I was fishing with two friends on a reservoir, when we were approached by a man in a dark green uniform. He asked to see my fishing license and my DEC permit, both of which I showed him, and it was only somewhat begrudgingly that he let us go. Had he targeted me and my two friends, neither of whom were white? In the vast pantheon of law enforcement agencies throughout the state, the Department of Environmental Conversation and its law enforcement officers, known as environmental conservation officers, or ECOs, are never put on the same level as, say, the NYPD, if they're even thought of at all. But perhaps we should give them more critical consideration—after all, on the DEC's official website, the more than 300 environmental conservation police officers stationed throughout the state are described ​​as members "of the thin green line," a telling nod to how they see themselves and their role in enforcing the state's laws.
And in New York City, the laws they tend to enforce are the fishing laws. According to a press release from the DEC, in April alone in New York City and the surrounding area, ECOs had "issued 88 tickets for 146 unlawfully taken striped bass," leading to fines of more than $11,000. DEC said it had conducted operations in or near city waterways as varied as Pelham Bay, Little Neck Bay, East River Park, Jamaica Bay, Great Kills Harbor, Battery Park, Coney Island Beach, and Rodman's Neck. When I reached out to the DEC for a breakdown of their illegal fishing enforcement actions in New York City by race and location, the DEC's Jomo Miller wrote, "Unfortunately, I cannot provide the specific details on enforcement that you requested in terms of number of citations for illegal fishing in New York City by county etc." Miller added that "while tickets for illegal fishing is one of the more common tickets written by our Environmental Conservation Police Officers, their incident recording system does not break that information down by violation."
So I wanted to see exactly how fish day at summons court operated with my own eyes.
Mr. Liu and I entered the courtroom on the 16th floor; shortly after we arrived, an older Chinese man in worn hiking boots, camouflage pants, and a faded '80s-style ski jacket sat down on a nearby bench. He was also here for illegal fishing; for him, it was his second ticket. "I can't afford to pay a fine," he told me, showing me a letter he brought stating how much he received every month from Social Security—$630.50—which he said was his only source of income.
The courtroom slowly began to fill up; at one point, as we all waited for the judge to arrive, I noted that the only white people in the room were the court officers and the attorneys. (As the New York Times' Brent Staples wrote acerbically about summons court in 2012, "New York is a multiracial city, but judging from the faces in cramped courtrooms, one would think that whites scarcely ever commit the petty offenses that lead to the more than 500,000 summonses issued in the city every year.")
Issa Kohler-Haussman, a professor at Yale Law School and the author of the 2018 book "Misdemeanorland," has written that it is through these low-level summonses that "the penal state extends its governance capacities to significant numbers of individuals who are neither formally sentenced to a punishment nor convicted of a criminal offense." This punitive system of social control extends over our entire city, from the subway turnstiles to our streets to, yes, our waterways. Nowhere has this been more apparent than in the NYPD's love of broken windows policing, a discredited practice that our new mayor would very much like to bring back in full force. Despite some recent reforms, which turned common violations from criminal offenses into civil ones, getting that pink summons slip is still a major headache, requiring one to spend hours in court. (To paraphrase Kohler-Haussman, the process itself is the punishment—not to mention the likelihood that you'll have to pay a not-insignificant fine.) In 2017, the City settled a class-action lawsuit that charged the NYPD with issuing hundreds of thousands of baseless summonses over an almost-ten year period. As for whether or not the NYPD is continuing to issue bogus tickets—well, on the day I was in the courtroom, several issued by the NYPD were speedily dismissed.
Shortly before noon, Mr. Liu was summoned to meet with a court-appointed attorney. The lawyer had conferred with the DEC police officer who had ticketed Liu, a fresh-faced blonde with her hair neatly wrapped in a low bun, who gave off an air of no-nonsense efficiency. "They're willing to do one fish on each ticket, so that's $650 total," the attorney told Liu, before dropping a bombshell: Liu had been under surveillance. "The State has strong evidence, because they videotaped you doing the same thing the day before," he told Liu. He discouraged Liu from going to trial, which would likely end up with him paying an even bigger fine: "That doesn't sound like a good idea to me. Because these guys are good. They're not New York City police, they're New York State environmental police, so they're trained pretty well."
By now, Liu was engaged in heated conversation with his court-appointed interpreter. "There's no defense to having fish over the limit," his court-appointed attorney said, somewhat listlessly. (This was, I assumed, not his first turn around the sun at fish court.) Finally, Liu gave his assent—he would pay the fine, over a period of two months.
As we walked out of the courthouse, Liu was resigned to his fate. But he would continue to fish, he told me, before whipping out his phone and showing me a WeChat fishing group he was part of, with more than two hundred members. We exchanged phone numbers, and he invited me to join him one day. "If you ever want to go fishing," he said, "just call me."
Prior to Hell Gate, Esther was a senior politics reporter at Jezebel and a columnist for the New Republic.
Stay in touch
Sign up for our free newsletter