Cultural Capital
At NYC's NFT Convention, the 'Only One Place to Go Is Up'
HODLing on with the true believers at New York's NFT convention.
2:56 PM EDT on June 27, 2022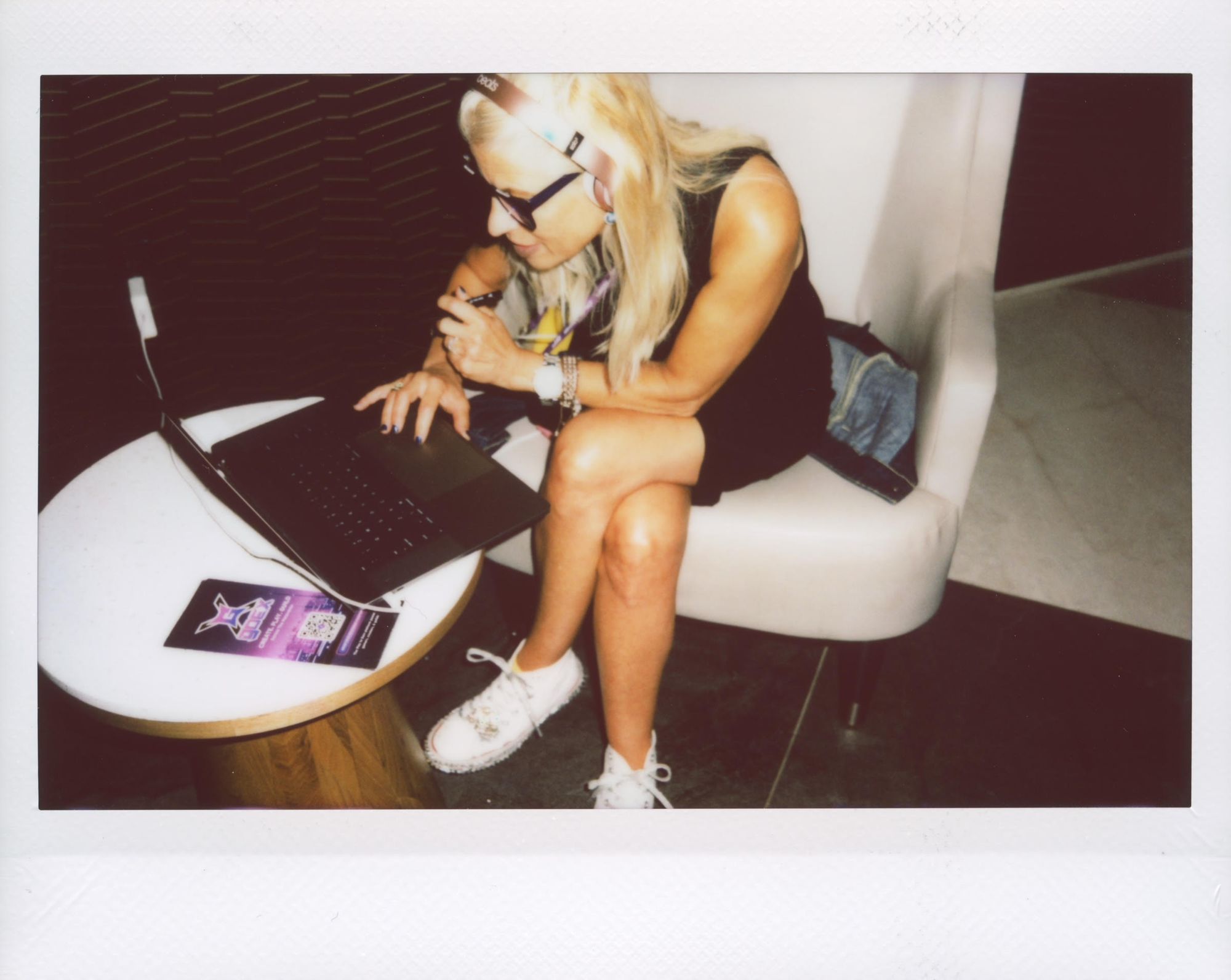 On the sidewalk outside the New York Marriott Marquis, the rapper DMC started to draw a crowd. The iconic member of Run-DMC, who sported a black tee with a Rolling Stones logo in rhinestones, was at the physical epicenter of a supposed social and cultural movement—NFT.NYC, the digital asset world's answer to a Midwest insurance convention, was taking place at the Times Square hotel. Many celebrities had embraced NFTs, and the question on many a passerby's mind was whether DMC would get into the game. Someone in the crowd asked: Are you in the NFT space?
"I haven't done anything in the NFT space," DMC said affably. "That's a great question!"
"What does 'NFTs' mean to you?" the questioner pressed.
"Confusion. Lack of respect for art," he said. "I probably had about 49,000 people come to me when this NFT thing started telling me about 'NFT NFT NFT NFT.' My thing is this: First of all, What's the purpose? I don't want it to be a money grab. Now, money is good, but I don't want it to be a money grab, because I'm an artist. Everything that I do is sacred."
"If DMC does an NFT, it has to change something. It has to bring attention to something, and it also has to do what museums do: Put artistic creativity on the forefront," he continued. "I think the monetary value of an NFT should be last on a list."
He added, "I'm going to get into the NFT space very soon, but it has to be right."
Was he here for the convention? "No. What convention?" he replied. The NFT convention, I said.
"That's really funny! No. Where?" Right here, I said. "When?" Right now, I said.
"There's a NFT convention here?" he said, turning to walk off with a smile.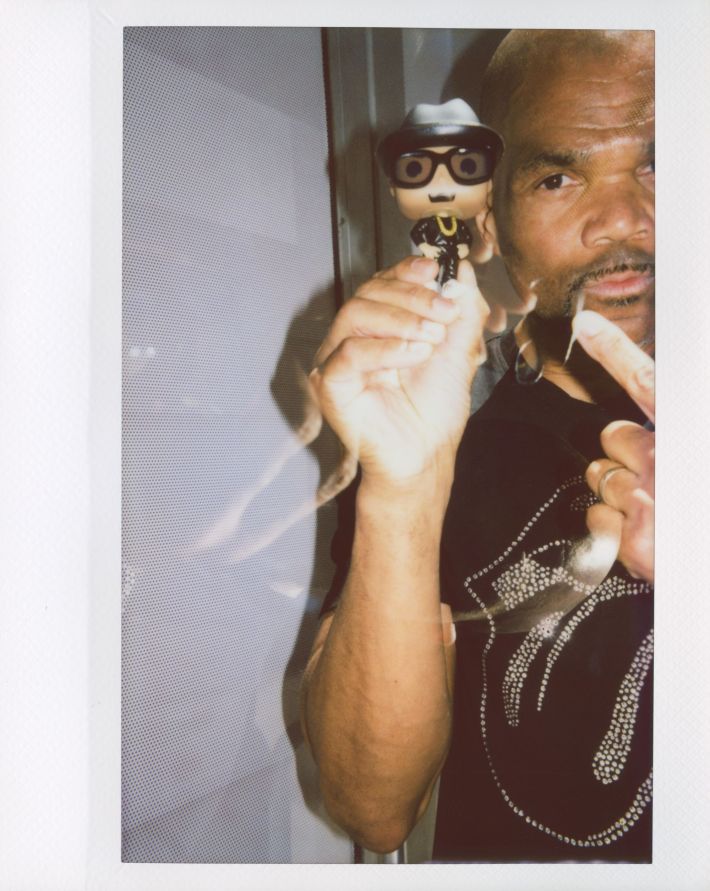 Although DMC wasn't sticking around, thousands of attendees—15,000 people were registered—fanned out across seven official venues in Midtown (including Margaritaville Resort Times Square) and countless unofficial "satellite" events and parties citywide, to promote their various projects and learn more about a supposed Web3 boom. Tickets started at $599 and ran up to $2,000; box lunches were served.
It was hard to figure out who was going to be where when, but the high-profile speakers included appearances by Spike Lee and French Montana at Radio City. (Montana feted the release of his NFT on Sunday night, before the convention, and his notable guests included Rowdy Rebel and crypto enthusiast Mayor Eric Adams.)
"Since 2018 we've been committed to NFTs and the builders (well before anyone cared!)," organizers say on the convention's "about" page.  The founders, Jodee Rich and Cameron Bale, have been figures in the NFT world for years. For those, like me, who are new to the "space," NFT stands for "non-fungible token." Forbes describes them as a "digital asset that represents real-world objects like art, music, in-game items and videos." You usually buy them with cryptocurrency, and their appeal as investment tools is that they're one-of-a-kind, or one out of a limited number of copies.
NFTs have been having a moment, but of late the moment has not been a good one. While 2021 was a banner year for NFTs, the 2022 convention comes at a time when the value of these much-touted digital assets—and the cryptocurrency with which they're traded—are plummeting. So, I was curious: Are attendees genuinely optimistic despite what some see as an inevitable crash? Or, are they cynics trying to mine whatever's left in a soon-to-be digital ghost town? I had a self-directed question, too: Was I an asshole? Maybe these were mostly normal people who wanted a small slice of the American pie?
Inside the Marriott on Wednesday, I met Aaron Williams, 38, who described himself as a "musician by trade and also a social media guru." This was his first NFT NYC convention, he said. "I'm going off into tech right now, so NFTs and crypto."
Williams, who has already dropped several music NFTs, wasn't sweating the volatility in NFTs and crypto: "I'm not too concerned, because I understand the cycles and once you understand the cycles, then you won't get that heart attack every time your wallet drops, you know." Williams's enthusiasm was matched by his sartorial ebullience; he sported a black jacket with dashes of cobalt, red, yellow, and white stripes.
But he has his eye on a different reality, if one I didn't fully understand: "I'm building my own metaverse in the background, so one for social media which [is] this dimension," said Williams. "And I'm going to build a social media metaverse for my music."
In the swag room on registration day, people pocketed as many stickers and QR-code bearing cards as possible. The hottest destination, for many, was a stand with wearable tech. Many appeared to lose interest when they realized that the pieces of flair weren't free; the metallic necklaces, replete with charms that appeared to be a small Zippo lighter, cost $100 a pop.
The charms had a chip inside. "What the chip does is it scans NFTs on your phone. or any other enabled device, and you can use it as a business card, you can use it to show off your NFT collection, you can use it as a portfolio, and you can reprogram them whenever you want," a sales rep said. "So, it's super cool. The first one, the first time you scan it, it comes with a free NFT as well." If you bought one for the promo price, you could get a free hat. I asked for a business card. He didn't have one, but suggested transferring information from his phone to mine. My phone case was too thick. I said I'd go to the website. This type of confusing interaction was frequent at NFT.NYC. People would say things, and I would try to understand, but decided to just roll with the jargon when it was clear I never would.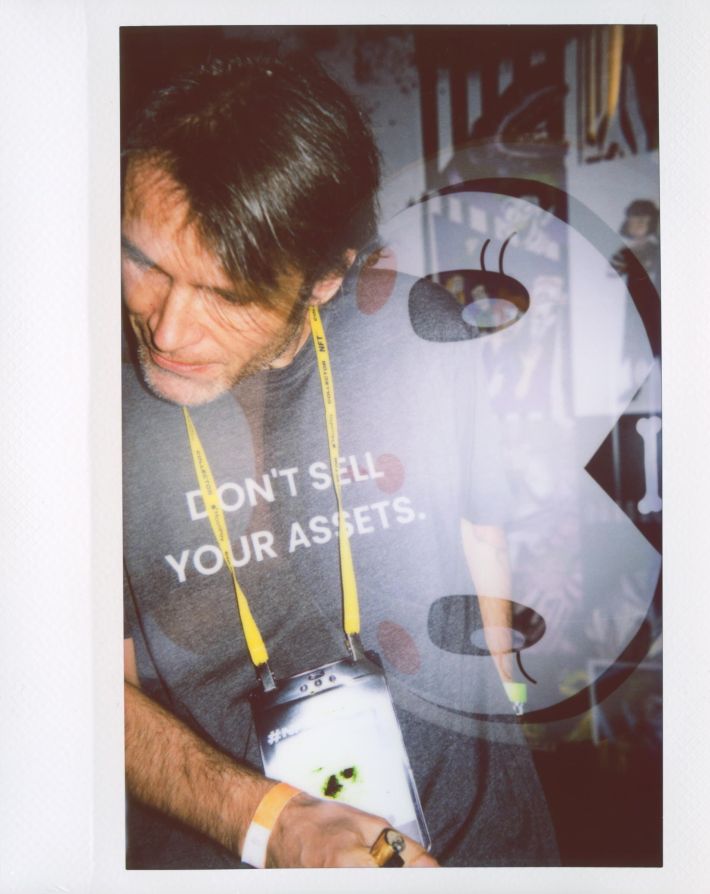 Paul Silkoff and Aaron Kendrac, who were standing on the sidewalk outside the Marriott on Tuesday, knew each other online first and met in person at the convention. They sported blue caps with yellow lettering that read: "Free NFTs here." Silkoff, a 52-year-old landscaper from Connecticut, wore a black shirt that read "ASK ME HOW THIS NFT CAN MAKE YOU MONEY" with an image of what appeared to be a wine-drinking cartoon bull. Kendrac, a web developer from Staten Island, sported a white shirt with a cartoon man in a farmer's hat, that read "ASK ME HOW FARMAGEDDON farm CAN MAKE YOU MONEY." The shirts were Kendrac's idea.
The NFT Silkoff was promoting could get a person rewards in an online poker room. Farmageddon is a platform that appears to be a place for putting crypto. Neither man was super worried about what was happening in the crypto and NFT markets.
"As a crypto investor, it basically makes me just want to buy more, because the price is so good on everything," said Silkoff. "If you believe in it, that it's gonna come back, there's only one place to go is up, because it's pretty much at the bottom."
Did he go all in, I asked? "I don't generally invest more than I can afford to lose, so I don't use mortgage money or food money or anything like that, you know, towards crypto or NFTs," he replied.
Silkoff was once a blockchain skeptic himself, he said, but he's not making that mistake again.
"Years ago, my brother told me I should go get Bitcoin. And I told him, 'Why would I spend money on something you can't hold in your hand and see?' And now, I know why," Silkoff said. "It's just a learning curve, and a lot of people just need to come around."
Stay in touch
Sign up for our free newsletter