The Cops
Good Luck Trying to Hold New York Prosecutors Who Have Sent Innocent People to Prison Accountable
Public officials went to unconstitutional lengths to silence people talking about prosecutorial misconduct, a federal court found this week.
6:08 PM EDT on June 16, 2022
Last May, a group of New York City law professors filed 21 complaints against Queens prosecutors to a committee of the state's court systems that handles allegations of professional misconduct by lawyers.
The misconduct they were pointing to was serious. In the case of Charles Testagrossa and Brad Leventhal, the two former prosecutors were found to have improperly withheld evidence, leading to a wrongful conviction that sent three men to prison for 24 years. But despite a judge declaring they had indeed committed serious misconduct, the state database shows both lawyers as having a flawless conduct record.
Because they were worried that the grievance committee might just bury their complaints, and because they were trying to make some noise around the issue, the law professors then posted the grievances to a website where anyone could see them.
The group's decision to go public made some powerful people very upset—and kicked off a legal battle over prosecutorial accountability in which officials have taken some embarrassingly unconstitutional positions in their efforts to shut the professors up.
For the better part of a year, Queens District Attorney Melinda Katz and New York State Unified Court officials, as well as their legal representatives in the New York City Law Department and in the office of Attorney General Letitia James, have been, in letters and in courtrooms, making the following argument: If you know that a prosecutor ruined someone's life through egregious professional misconduct, and you file a complaint to the secretive state organ that is supposed to address that misconduct, you're not allowed to talk about that complaint; and if you do tell people about it, it's perfectly constitutional for public officials to threaten you, and for the secretive state organ to punish you by revoking your right to find out what, if anything, it did with your official complaint.
This week, a federal court confirmed that Katz, the Law Department, and James are completely wrong about that, ruling that a regime that props up prosecutorial abuses by silencing even the mention of them is an unconstitutional violation of peoples' right to free expression. The decision comes as a blow to the systems inside prosecutors' offices and within the court system that shield bad prosecutors.
Unlike other lawyers, prosecutors can't be sued for misconduct. Indeed, when a bipartisan coalition of New York lawmakers attempted a few years ago to create an oversight body to address prosecutorial misconduct, the District Attorneys Association of New York, a sort of trade association for prosecutors, filed a lawsuit arguing that the existing mechanism is working just fine, and successfully killed the proposed oversight commission.
It often does work just fine, if by "fine" you mean a system that generally lets prosecutors who engage in misconduct avoid any accountability. The law professors who filed the complaints were concerned about just that—the relative lack of consequences for prosecutors in New York who break the law or rules of professional conduct in their efforts to convict people—and pointed to the voluminous evidence that prosecutors who break the rules to send people to prison have very little to worry about when it comes to oversight or consequences. Prosecutorial misconduct is handled by the same body that hears complaints about storefront lawyers who overbill their clients: a court-appointed committee in each judicial department, consisting of lawyers and non-lawyers who consider accusations of misconduct and can impose penalties up to and including the suspension or revocation of a law license.
These grievance committees are incredibly opaque, relying on a section of New York's judiciary law, 90(10), which makes most aspects of lawyers' discipline proceedings secret. While substantiated cases of misconduct are made public, the court system won't disclose even anonymized information about how many complaints it receives about prosecutors, making it impossible to determine just how many allegations of misconduct are quietly buried.
A ProPublica examination of years of court decisions found dozens of cases where judges threw out convictions after finding that prosecutors had engaged in harmful misconduct, but could only find one instance in which a prosecutor had suffered any consequences from their office or a grievance committee.
The law professors knew that the people most directly affected by unchecked prosecutorial misconduct—criminal defendants and their lawyers—aren't well-positioned to bring formal complaints about it themselves, because they and their clients have to worry about retaliation from prosecutors and the system that protects them. But as law professors, they were uniquely positioned to raise the issue.
The path to this week's federal court decision has been a dramatic one. After the group made their complaints public, James Johnson, then the Corporation Counsel for the City of New York, a position which among other duties acts as a lawyer representing the City's District Attorneys, wrote a letter to the grievance committee. In the letter, Johnson accused the law professors of "an orchestrated campaign to upend the attorney grievance process to advance their stated goal of holding prosecutors accountable."
In doing so, Johnson said, the law professors had violated section 90(10) of the state judiciary law, which states that virtually everything surrounding misconduct complaints against lawyers be shrouded in a veil of secrecy.
Johnson copied the law professors on the letter, but warned them that it was a secret letter, and if they showed it to anybody, they'd be breaking the law all over again.
"The whole thing felt like a threat," Steve Zeidman, a professor at CUNY Law School and one of the people who brought the grievances, told Hell Gate. "He was saying we were breaking the law, and that if we did it again, there could be consequences for us. We all felt threatened. It was chilling."
Shortly after Johnson's letter, the chief counsel for the grievance committee told the law professors that even though they had filed the complaints, and therefore would ordinarily be entitled to know how the grievance committee adjudicated those complaints, in this case, the grievance committee was cutting them out of the process. It wasn't going to tell the law professors anything.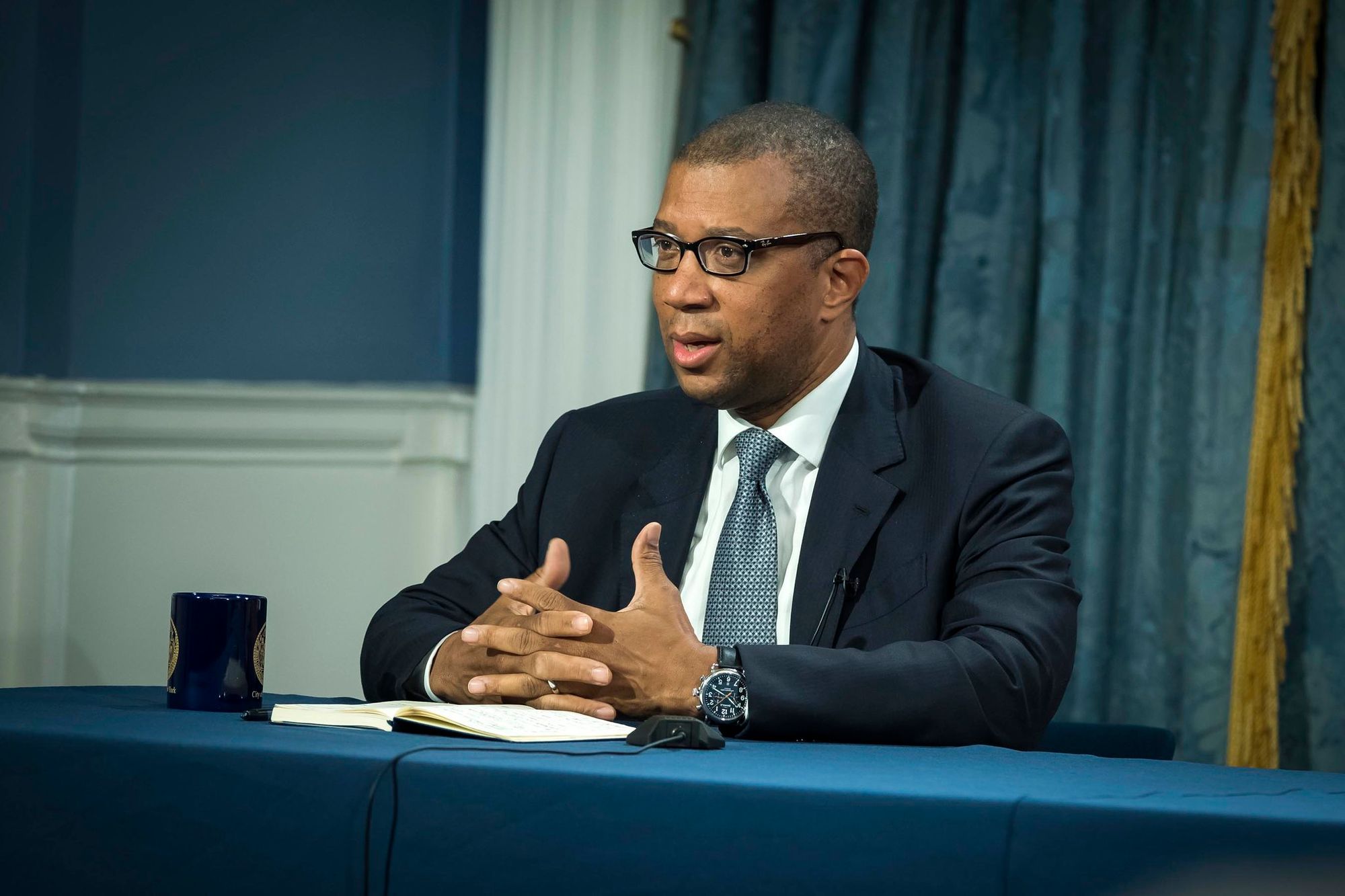 The law professors then sued in federal court, arguing that if the judiciary law was going to be interpreted this way, it was a clear violation of their constitutional right to free speech. "New Yorkers deserve better than public officials who engage in a campaign of intimidation and retaliation against those who would seek to address prosecutorial misconduct in this State," they wrote in their lawsuit. "New Yorkers also deserve to know what wrongs these public officials have committed, and are committing, in their name. The First Amendment demands not only that harassment of the Plaintiffs must stop, but also that any further disciplinary proceedings of the accused prosecutors be open to the public."
Melinda Katz, represented by the NYC Law Department, and the Grievance Board, represented by NY Attorney General Letitia James, argued that the lawsuit should be thrown out, claiming that federal courts have no business telling New York how to run its grievance procedures.
The court dismissed those arguments last month, agreeing that the law professors aren't trying to interfere in the state's grievance process—they just want to be allowed their constitutional right to talk about the grievances they've filed without fear of punishment.
In Monday's decision, the court went even further, ruling that the law professors had suffered a real injury, and that if it turns out the grievance committee cut them out of the loop of their own grievances because they publicized them, that would indeed be grounds for a lawsuit.
Perhaps concerned that the federal court might rule the entire law imposing secrecy on grievance proceedings unconstitutional, the Grievance Committee lawyers conceded in recent legal filings that the law doesn't actually forbid people from publicly discussing grievance complaints that you've filed. That's all well and good, the court ruled yesterday, but saying that now "does not resolve the concern that the New York City Corporation Counsel sought to halt and punish the publication of the grievance complaints under the auspice of upholding Section 90(10)."
Reached for comment, a Law Department Spokesperson offered the following statement:
"We agree that prosecutors who engage in misconduct should be held accountable and we respect the First Amendment. Here, the Corporation Counsel was simply trying, in good faith, to comment on the matter and provide context. Corporation Counsel thought it was important for committee members to know that the professors were engaged in a broader and very public campaign involving multiple grievances sent en masse to various committees."
That is very much not how the federal court saw the situation. When the top lawyer for the City of New York, representing the Queens District Attorney, told the law professors they were breaking the law, the court wrote, "a government official used Section 90(10) in an effort to prohibit the publication of grievance complaints publicly filed by the complainants themselves, an action this Court finds contrary to the First Amendment."
The Queens DA's Office and a spokesperson for the New York Unified Court system declined to comment.
Where does the case go from here? The Law Department spokesperson told Hell Gate that the Department is "reviewing the court's decision and determining next steps."
Zeidman says he and the other law professors are doing the same. The court has given them part of what they wanted: a clear statement that using the law to punish them for sharing their grievances was an abuse of their constitutional rights. But they still haven't been reinstated by the grievance committee as the people who are entitled to know the outcome of the grievances they filed more than a year ago. And it remains an open question whether section 90(10) of the state's judiciary law is unconstitutional as written, or only as applied by the public officials trying to silence people who call attention to prosecutorial misconduct.
For now, Zeidman said, Monday's decision is a victory for transparency. "We have to be able to talk about this issue," he said. "The grievance committees are very good at disciplining a lawyer who steals a client's money. But for a lawyer who breaks the rules to send someone to jail for years when they shouldn't be there, there are no consequences. It shows what the system values, and we're not going to be frightened off from shining a light on that."
Nick Pinto served two tours as staff writer at the Village Voice. His reporting has appeared in The New York Times Magazine, Gothamist, The New Republic, Rolling Stone, The Intercept, and elsewhere.
Stay in touch
Sign up for our free newsletter