Eternal City
Meet Zoe Anderson Norris, the 'Nellie Bly You've Never Heard Of'
Norris, who dubbed herself the "Queen of Bohemia," exposed the injustices of post-Gilded Age New York City—by going undercover.
11:12 AM EST on February 28, 2023
At two o'clock on a Saturday afternoon, the waiting room in the Salvation Army's women's shelter on the Bowery was already packed, for cots that wouldn't be given out until the evening. The stranger took a seat and began chatting up the regulars, some of whom had been enduring this daily ritual for nine years. She'd need 15 cents for the night, which she claimed she didn't have. Could she volunteer instead, going from bar room to bar room, collecting contributions with a pail? An old woman laughed. They only wanted 16-, 17-year-olds girls, she told the newcomer, ones who were young enough to charm the pocket change out of drunken men. 
"If you want to join the Salvation Army and get help from it," wrote Zoe Anderson Norris after she returned to her apartment on East 15th Street, "don't be penniless and footsore and weary of a Saturday afternoon. Wait until Monday." 
Norris had gone undercover for the first issue of the East Side, her bimonthly magazine that took aim at the scoundrels of her time: the city's robber barons, sweatshop owners, and charities that lined their own pockets while the poor went hungry. 
From 1909 to 1914, New Yorkers could pick up the East Side at bookstores like Brentano's, in department stores, and at subway newsstands. Its readers got undercover investigations, theater reviews, rants, poetry, and even restaurant recommendations, all penned by Norris, who gave herself every title on the masthead, including "Poo Bah," "Circulation Liar," and "The Whole Shebang." Now, the whole shebang, along with other artifacts from Norris's remarkable career, will be on display at the Grolier Club in the exhibit "To fight for the poor with my pen: Zoe Anderson Norris, Queen of Bohemia," running from March 2 through May 13.
"She's the Nellie Bly you've never heard of," said Eve M. Kahn, Norris's biographer and the curator of the new exhibit. Like Bly, the 19th-century investigative journalist who once checked into an asylum for the New York World, Norris exposed injustice by going undercover, joining a lineage of muckraking reporters. "There was a whole 'stunt girls' thing, that George Plimpton thing where 'I'm going to go out and try to be a football player,'" said Kahn.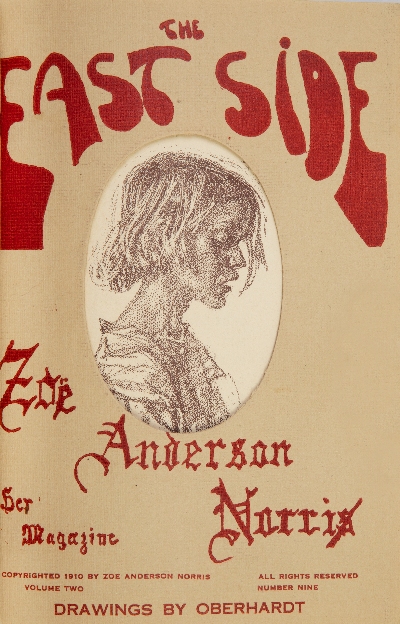 By the time Norris founded the East Side, she was a twice-divorced grandmother in her forties who routinely shaved a decade off her age. As a housewife in Wichita, the Kentucky-born Norris had dealt with her first husband's infidelities by churning out tales of hardworking and self-sufficient women led astray by handsome cads for women's magazines, stories that could have been prototypes for Lifetime movies. She also embarked on a career in journalism. Irked by the stereotype that Southerners were lazy, she hiked Pikes Peak wearing thin slippers, and sold an account of her adventure to the Philadelphia Inquirer. She soon became one of the most popular writers of what were then called "sketches" in American newspapers. 
"She was really social," said Kahn. "She was radiantly beautiful. She was incredibly witty." All of which stood Norris in good stead when, after divorcing her philandering husband, she set out for Europe with her teenage daughter, staying for two years and writing about the epic parties thrown by American millionaires at the 1900 World's Fair in Paris. On the steamship back to the U.S., she ventured down to the furnace room for an account of how the other half made such voyages possible—and reported that a young stoker had died at her feet. (For Norris, the line between fiction and fact could be quite thin. Did she really witness a young man die? When you read Norris, you just have to decide to go with it.)  
Returning to the States, she moved to East Harlem, briefly remarried, and achieved a split-second of literary fame in 1902 with her novel "The Color of His Soul," about a socialist orator whose abandoned teenage mistress dies in childbirth. Days after publication, her neighbor, the socialist orator Courtenay Lemon, threatened to sue, and Funk & Wagnalls pulled the book. (One headline about the kerfuffle read, "Threat to Pretty Girl Novelist.")
In New York City, she continued her journalism career. Once, while on assignment for the New York Times, Norris walked the perimeter of Manhattan, writing of the disparity between those who lived in the mansions of Riverside Drive and those who toiled in the city's slums. (She was hit by an automobile during her walk—"Felled to earth by the arrogant wheels of the children of the Rich!" she wrote.) Galvanized by income inequality, and, according to Kahn, "plagiarized and harassed and stiffed by editors," she was ready to run her own show.  
Norris pawned her remaining jewelry and moved to a seventh-floor walkup at 338 East 15th Street, out of which she would run her magazine. At the time, the neighborhood was teeming with European immigrants crammed into tenements. "She becomes one of the few women to live in the slums by choice," said Kahn. "She saw family tragedies unfold, and she saw little kids washing the windows while dangling from the fire escapes."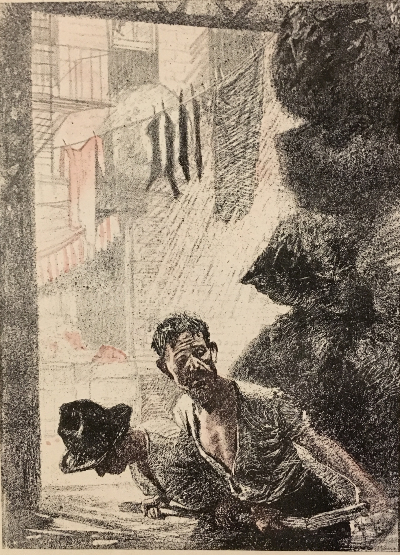 She found an illustrator, William Oberhardt, who was willing to be paid in comped theater tickets. And she went out in disguise. After seeing immigrant women, as she put it, "beaten and banged about and thrown off" a 14th Street streetcar by a conductor, she boarded one shrouded by a shawl, pretending that she spoke no English and clutching the wrong transfer. She got an accordion and a pair of blue glasses to see how much she could make as a blind busker—$1.50, it turned out, more than she made from the magazine. (Not bad for someone who by her own account couldn't play much more than "My Old Kentucky Home.") Her conclusion? "An accordion player may make a fine living on the lower East Side even, where the poor help the poor and the blind lead the blind." 
Her reports in the East Side remind us how little has changed. She excoriated the police for beating a homeless man sleeping on a park bench; blasted demagogues who blamed immigrants for every societal ill; and railed against the destruction of a neighborhood to make way for the original Penn Station, calling that Beaux-Arts masterpiece "a mausoleum, the grave of many homes." She questioned why developers continued to build in an already overbuilt Midtown, her descriptions of which sound eerily like post-pandemic New York: "Ride along Broadway and count the empty stores….Go into those skyscrapers of my Magic City and see how many empty offices there are. More than half."
But her greatest nemesis was what we now might call the nonprofit industrial complex. She took particular aim at "the Charity Organization at 22nd Street and 4th Avenue"—that would be the Episcopal Church's Mission House, the building recently coveted by the notorious grifter Anna Delvey for her "foundation." By Norris's calculations, the charity doled out a pitiful $10 a year per needy family, while their 156 employees earned an average of $846 a year. In a subsequent issue, she visited the families of women who had died in the Triangle Shirtwaist Factory fire, reporting on how little they had actually received from the Charity Trust. And she bemoaned how little sweatshop conditions had changed. "How quickly we forget!" she wrote. "One hundred forty-six little factory girls burned to death, but no amelioration of the condition of those who survived."
Time and again, Norris railed against deadbeat husbands who'd found loopholes for avoiding alimony—like moving to New Jersey. But while we might call her a feminist today, she was no suffragist, given her skepticism of elected officials and her belief in the need for immediate action. "She thought that suffrage was a waste of time," said Kahn. "She said, 'We have kids starving and freezing to death. We can't wait around to elect men who will remedy these problems.'" By nature, Norris was resistant to labels. "This is no time for Isms here on the East Side," she wrote. "We need help now."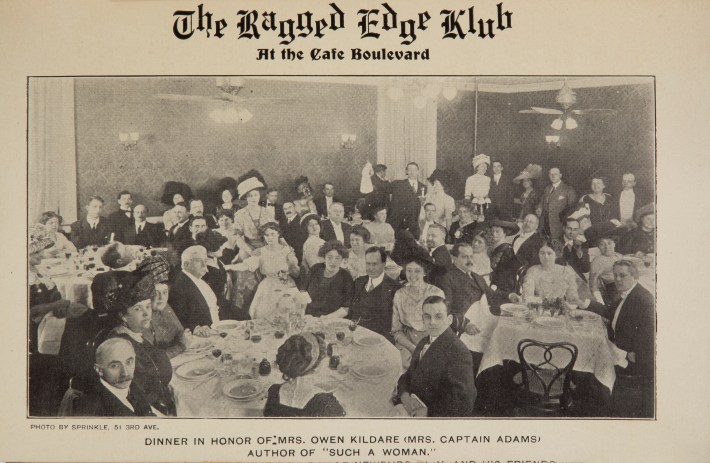 While running her one-woman publication, Norris still found time to blow off steam. A ten-dollar donation to the East Side got not only a lifetime subscription, but admittance into her Ragged Edge Klub, whose weekly parties, often at restaurants on a stretch of the East Village known as Little Hungary, were notoriously raucous. The members of the Ragged Edge Klub "were famous for being able to inhale spaghetti and cigarette smoke simultaneously," said Kahn, "and they danced between courses like dervishes." Norris proclaimed herself "the Queen of Bohemia" and would grant new members a royal title (the humorist Will Rogers's wife became "Lady Betty Rogers of the Bronx"). The group's remarkably diverse members included Black poet James D. Corrothers, Native American writer John Milton Oskison, and Lebanese American activist Ameen Rihani. 
In what would turn out to be the last issue of the East Side, Norris recounted a dream in which her dead mother returned to take her away to "the Land of the Lillies" where she would finally learn "why some lead the lives of butterflies and the others go barefooted, why the world is a fairy palace for some and a prison for others, why every sort of animal from man down must prey upon some other animal, the cat upon the canary, the dog upon the cat, the man upon the woman." Days after she mailed out the issue, she was dead of heart failure, at the age of 53. "The news that the 'Queen of Bohemia' had predicted her own death made headlines in hundreds of newspapers nationwide," noted Kahn. For all her accomplishments, it was this that brought Norris national attention. 
That attention soon faded. Why, today, is Norris so little known?
"She had friends who might have written about her, but served in World War I and returned traumatized and stopped being writers," said Kahn. "She had a bunch of friends who were raging alcoholics—if they had lived longer, would they have written more about her?"
But her writing remains. In one early issue, to the right of the masthead, Norris wrote, "If You Want To See What She Is, Start Something." And start something she did.
Ann Lewinson is the author of "Still Life with Meredith" and has written for ARTnews, the Boston Phoenix, the Kansas City Star, the Rumpus, and many other publications.
Stay in touch
Sign up for our free newsletter