Eric Adams
Eric Adams Short-Circuits NYC's Dubious Journalism Talent Show
Inert Circle.
6:38 PM EDT on May 2, 2022
Since 1923, New York City power brokers and the reporters who cover them have gathered to "roast" each other for charity. This is done in a way that may cause the casual observer to chuckle uncomfortably and then wonder if this kind of familiarity, more than mere collegiality, is actually a clue into why things are the way they are.
It's called the Inner Circle Show, perhaps betraying the wistful ambition of bygone access journalists to huff the mayoral air. Here's what it looks like: The reporters get up and sing goofy songs about the mayor for a few hours. The mayor, having been humorously reminded of his flaws and foibles (it has always been a "he"), then takes the stage to make fun of the reporters. A good time for a good cause. Thus has it always been, a tradition handed down from Room 9 hacks immemorial, a tradition embraced or at least endured by mayor after mayor. But! Not Mayor Eric Adams!
According to the New York Post, Adams shattered this happy arrangement on Saturday, skipping the part of that evening's Inner Circle performance that centered on him. When he did show up (with SNL's Chris Redd), he made weirdly personal jokes about some reporters who cover him, including one that involved an unscripted psychosexual reference to nipples at the end of a gag that basically boiled down to calling a reporter who asked him about releasing his tax returns a "baby."
From the Post:
On Sunday, the mayor insisted the jabs were good, clean fun.
"Listen, this is satire," he said. "I had so much fun last night! People joked at me, I joked at them."
After arriving to the show late and missing the first and second acts, the mayor cracked other self-deprecating jokes after taking the stage around 11:20 p.m., including about his frequent use of the word "swagger."
Henry Goldman, a former Bloomberg reporter and 23-year-member of the Inner Circle, called the mayor's tardiness "really bad form."
"It's not just rude. There's people that paid a lot of money to honor the mayor—they came here as a gesture of respect, etc.," he told The Post. "He botched it."
There's a lot to unpack here: first, City Hall reporters being surprised and upset that the mayor, who is Eric Adams, did something unexpected and delightfully effective, if extremely self-serving, at a gala that was entirely aimed at making fun of Eric Adams for doing unexpected and self-serving things.
Then there's Adams himself saying out loud in response, "This is satire." It's almost certainly a reference to his extremely non-satirical quips. But in the right light, it could also be seen as an arch meta-comment on what he was doing at that very second: See how I just completely sidestepped your question about the weird shit I said last night and am presently cloaking it in your own argument for why I was supposed to show up and listen to your corny-ass jokes in the first place? Yeah, this right here is satire.
But let's review what "this" is.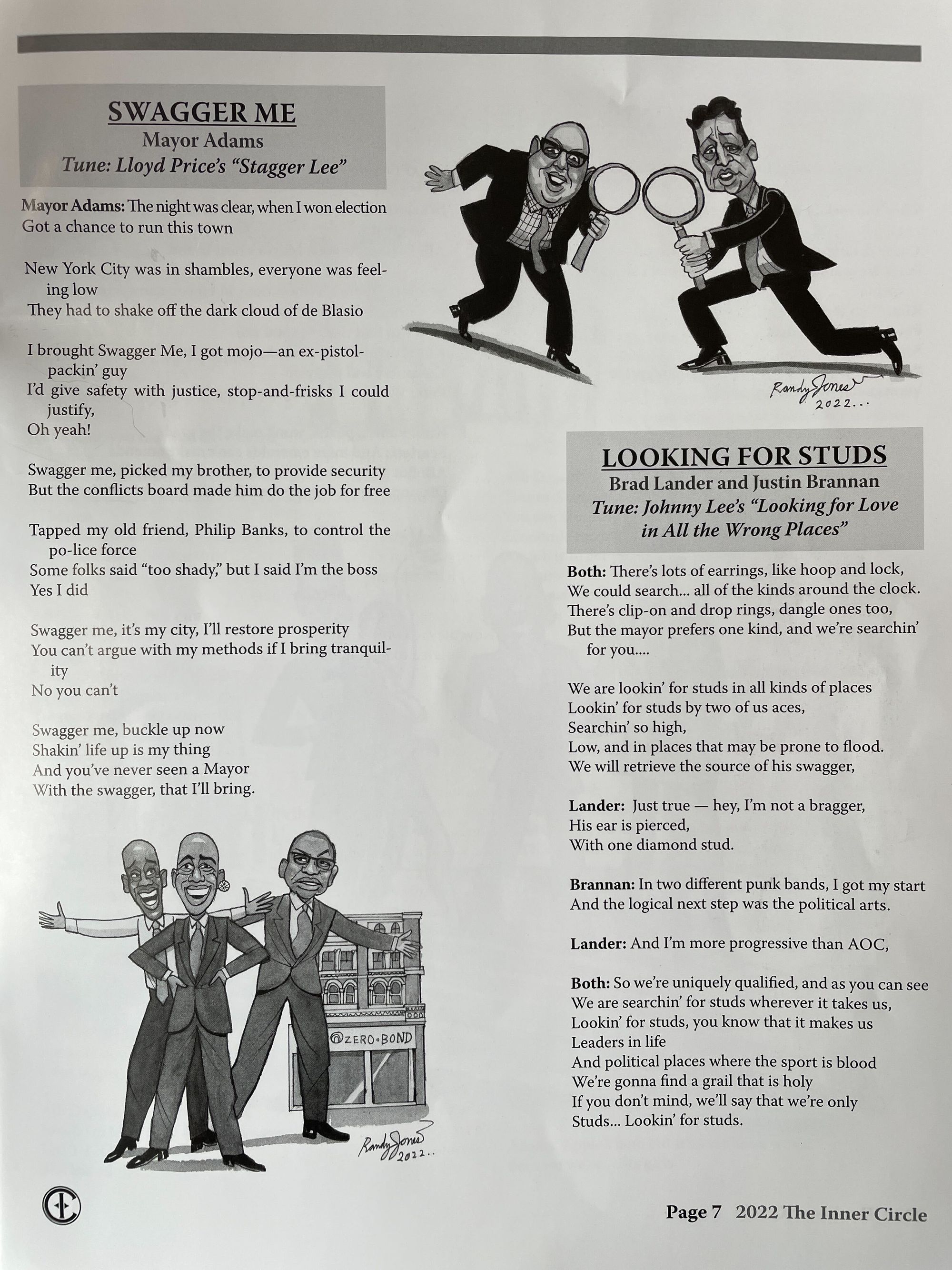 The cheap seats for the Saturday night Inner Circle performance cost $800, so I attended the dress rehearsal on Friday for $25. The Ziegfeld Ballroom was packed with good-natured City employees, buzzed by a generous BYOB policy and eager to see their bosses portrayed on stage (with varying degrees of success) by journalists. The vibe is like if your work colleagues held a happy hour talent show in a Sheraton. I arrived with a six-pack of Modelo, bracing myself for a performance like 2019's, which I found to be unwatchable. (This may be because a stellar live band doesn't translate over YouTube, but is probably because the jokes and routines were truly awful.)
To my surprise, the plot was solid: Mayor Adams (played gamely by WPIX-TV's James Ford) loses his stud earring, and therefore, his "swagger." To get it back, he and his staff must travel across all five boroughs to find it, bumping into political luminaries (Justin Brannan! Brad Lander!) and bold-faced members of the administration (Adams's five female deputy mayors and his police commissioner sang a tune called "Six Girls") along the way.
There were some clever deep cuts—I counted two jokes about how slowly the School Construction Authority and the Department of Design and Construction perform their work—and truth be told: I giggled a little. Former Health Commissioner Dr. Dave Chokshi showed up in a cute video PSA to warn us all of the hazards of the Inner Circle. People stood and cheered after the final musical number, set to Ace Frehley's "New York Groove."
But Mayor Adams is mistaken. This is not "satire." Inner Circle humor is basically the niche political equivalent of SNL humor: people blandly narrating reality, but in funny voices set to groovin' tunes. Notably, the politicians treated most harshly, and therefore in the funniest way possible, are currently out of power: Bill de Blasio and Andrew Cuomo.
And this is fine, for a fun event, paid for by regular folks! But Friday is just the rehearsal. The main attraction on Saturday night is sponsored by Con Edison, the Real Estate Board of New York, the Police Benevolent Association, Tusk Strategies, Grubhub, and a variety of other powerful and monied interests that these reporters routinely cover. (Also, inexplicably: Casa Belvedere, Staten Island's only Italian cultural foundation located in a historic landmark atop Grymes Hill.) This is real cash—the most recent 990 I could find from 2017 states that the event raised $515,000.
Turning blood money into good works is what charities do, but in this way, the Inner Circle acts a lot like your classic fraternity/sorority: They throw massive, bitchin', expensive parties (Sixteen kegs? Fuck you, 25 kegs! Put the ice luge over there!) and whatever's left gets donated. Per that 990, 2017's show cost $486,000 to stage. Minus organizational expenses and debts, the group donated a paltry $10,000 to charity. (Perhaps relatedly, the Inner Circle Inc.'s Charity Navigator rating is "failing." We reached out to a current member of the executive committee about this year's haul and will update if they respond.)
You would think that the bulk of this money would go towards funding a journalism scholarship at CUNY, or something related to the profession these people clearly cherish. Instead, this relatively small amount of cash goes to…a grab bag of charities that are chosen by the reporters. My personal favorite: a group formerly known as the Society for the Preservation of Long Island Antiquities.
The rehashed musical bits (Billy Joel moratorium: When?), the excruciating puns, the tables full of powerful people drinking booze paid for by a utility that tripled some New Yorkers' electricity bills…it's all pretty strange!
A humble if unoriginal suggestion from a fellow traveler: Change this Inner Circle thing!
After all, by refusing to actually engage in the occasionally funny, deeply bizarre, superficially sketchy, 100-year-old pantomime, Mayor Adams has given the City Hall press corps an opportunity to rethink the entire proposition. Go ahead, Inner Circle, get your swagger back.

Chris is an editor at Hell Gate. He spent a decade working for Gothamist, and his work appears in New York Magazine and Streetsblog NYC.
Stay in touch
Sign up for our free newsletter