Eternal City
The Tacky Weed Bodega Aesthetic Is Actually 'Old-School' NYC Vernacular
"They're like outsider art in regards to visual branding," one professor told us.
2:56 PM EDT on March 20, 2023
There are a few literal telltale signs that a store in New York City sells gray market cannabis: a neon weed leaf here, a graffiti-style mural there, or a business name that includes words like "lifted," "puff," or "vibez." Most likely, a combination of all the above. It's an aesthetic summed up by a Curbed report from last year as "street-art juvenilia with a stoner twist and an adolescent raunchiness." It feels like storefronts decorated in this flashy, trashy style are everywhere, multiplying by the hour, especially in nightlife hot zones like Bushwick and the East Village.
At first glance, it's extremely obvious what this signage is supposed to convey: Unlicensed cannabis, for sale, here! But why telegraph that through visual gags like weed leaf propellers or a mural of the Jetsons and the Monopoly Man in the same blunt rotation? What do they mean? And how do they fit into the NYC streetscape?
According to Edward Snajdr, an anthropology professor at the John Jay College of Criminal Justice and co-author of "What the Signs Say: Language, Gentrification and Placemaking in Brooklyn," New York City's cannabis gray market has birthed a chaotic visual vernacular unlike any other—and it's been able to flourish in the absence of big corporate cannabis chains.
"If you go to California, or if you go to Colorado, and you want to go to a dispensary, a lot of what you see there in that industry from a cultural point of view, and from a linguistic point of view, it's been medicalized—lab-based and health-linked, upscale," he said. "With these storefronts here, it's a different vibe, a different culture, a different approach."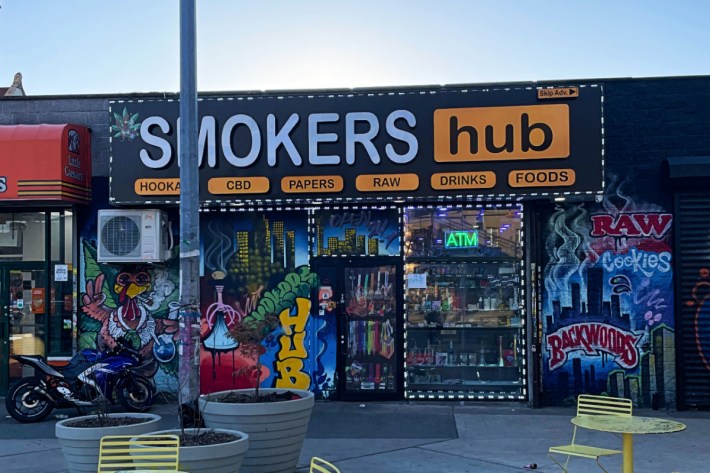 Scott Santoro, an adjunct professor at the Pratt Institute who teaches graphic design and visual branding, told me these signs get the job done in terms of pushing product—at the expense of sophistication. "They look like a kid's internet café or something, kind of obnoxious," he said. But he admitted they had a sort of appeal: "They're like outsider art in regards to visual branding." 
All of these storefronts feature the kind of branding that's banned from licensed cannabis retailers in New York, though to be fair, the list of what is permissible is short.
Legal dispensary signs may only include the business name, address, hours of operation, and a phrase like "adult-use cannabis dispensary." State regulations prohibit outdoor signs for licensed dispensaries from having "a licensee's logo, symbol, or any images, including, but not limited to, depicting cannabis, cannabis products, or the imagery or action of smoking or vaping." Colored lights are also verboten.
If that wasn't enough, the outdoor displays cannot be "attractive to individuals under 21," which means that cartoons, bubble letters, neon colors, and "symbols, images, characters, public figures, phrases, toys, or games that are commonly used to market products to individuals under twenty-one" are also illegal. Most of these storefronts break a comical number of these rules.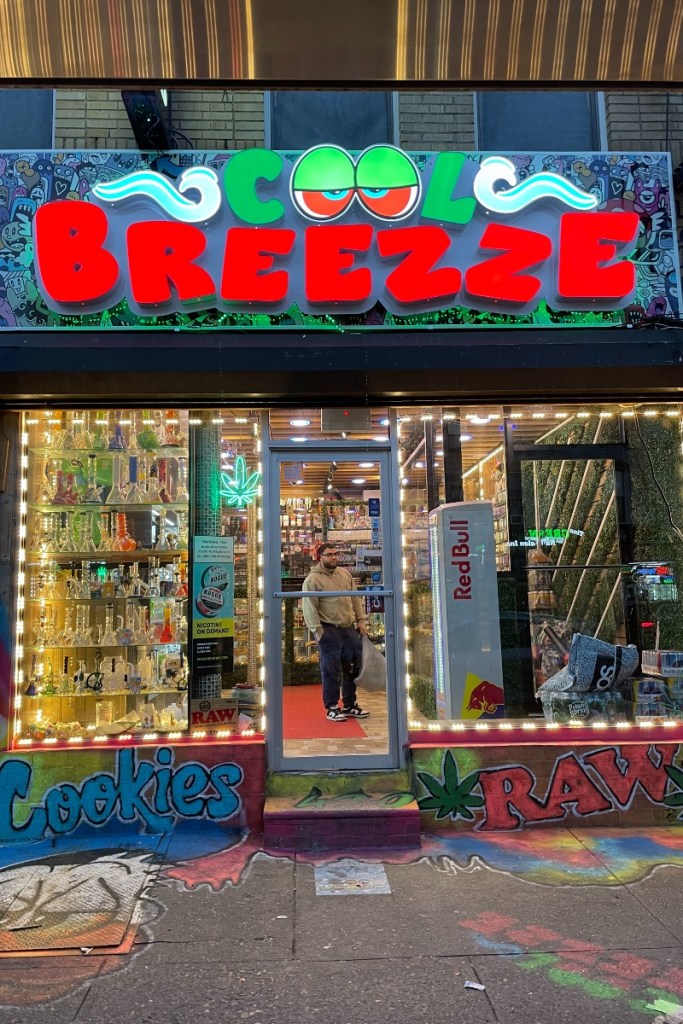 To Santoro, these storefronts lack the artistry of Victor Moscoso's psychedelic rock posters, which used the coded language of neon hues and a curvy, borderline-illegible typeface to tip San Francisco's in-the-know young people off to concerts that were bound to be an LSD- and weed-heavy good time. They might use a similar color palette, but besides some playful typography—like the eyes that form the Os in One Love Smoke Shop's COOL BREEZZE marquee, or SMOKERS hub's obvious riff on Pornhub—Santoro doesn't see a lot of deeper meaning in the way these retailers are marketing themselves. "Boneheaded, but creative nonetheless," he said. 
Snajdr has a more romantic perspective. He told me that the lack of subtlety in weed bodega storefronts is its own message—one that's accessible, exuberant, and reminiscent of a bygone era in New York City small businesses. When I sent him the photos of the weed bodegas featured in this article, he immediately clocked them as examples of what he calls the "old-school register" of shop signage in New York. 
In "What the Signs Say," Snajdr and co-author Shonna Trinch define "old-school" signs by features like big, bold lettering; plenty of words; misspellings and non-standard English; and ancillary signs advertising things like ATMs or lottery tickets. He contrasts these kinds of signs with "new-school" signage that features cryptic, one-word monikers, tiny text, and intricate fonts—markers of gentrifying businesses.
"Old school is a model of openness and inclusion, and what I would call promoting sincere diversity," Snajdr said. "It doesn't play or make fun of anything. It's not insider-ish, even though you may not exactly understand it—other features on the signage will help you understand what's going on. That's not really happening in a lot of these gentrifying and upscale businesses." He pointed to the work of architectural photographers James and Karla Murray as a celebration of old school signs—and, sure, SMOKERS hub might not look like Ray's Candy Store or Peter Pan Donuts at first glance. But viewed through Snadjr's lens, I see the similarities in how they're delivering their message.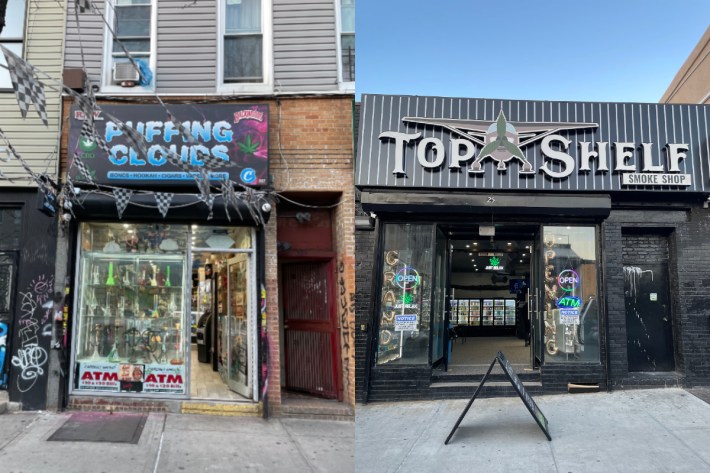 Snadjr pointed to specific details in each weed bodega sign that reflected this old-school sensibility. There's the "boncs" instead of bongs and dual ATM signs at Puffing Clouds; the laundry list of what's for sale in SMOKERS hub and Blasted Convenience and Smoke Shop; One Love Smoke Shop's massive lettering; and the sandwich board in front of Top Shelf, which Snajdr said date back to the 19th century.
"What you're showing me is there are new businesses in town embracing this old-school style register," he said. "It's great to see that this vernacular, this way of putting language on the street, is coming back. They have chosen this style, maybe to mimic the bodega. But they also are celebrating this register and paying homage to it." (When I asked Fley, a man in a Rick and Morty letterman jacket working behind the counter at One Love, what he thought about his store's sign, he told me that "it looks cool" and that "you can see the magic on it.")
What both experts agreed on is that it's unclear what stricter regulations and an increase in licensed dispensaries will do to the way these gray market retailers look. While Snadjr told me he thinks the shops' aesthetic has the potential to endure, Santoro said he thinks weed bodegas could go the way of the pornographic video stores that used to populate Times Square—shuttered, with any holdouts having their vulgar imagery defanged and replaced with something more subtle and family-friendly. 
"Maybe five years from now, [weed bodegas will] have a different look that people will understand as the visual code that says, 'Oh, yeah, this is a place that I can buy pot,'" Santoro said. "But right now, it's all in your face, no subtext." In other words—we should enjoy this artistic resurgence while it lasts. 
Stay in touch
Sign up for our free newsletter