Locked Up
Why Is the Head of NYC Jails Endorsing a Debunked Fentanyl 'Myth'?
An alleged fentanyl poisoning happens in the midst of a debate over whether to ban physical mail in NYC jails.
3:14 PM EST on January 24, 2023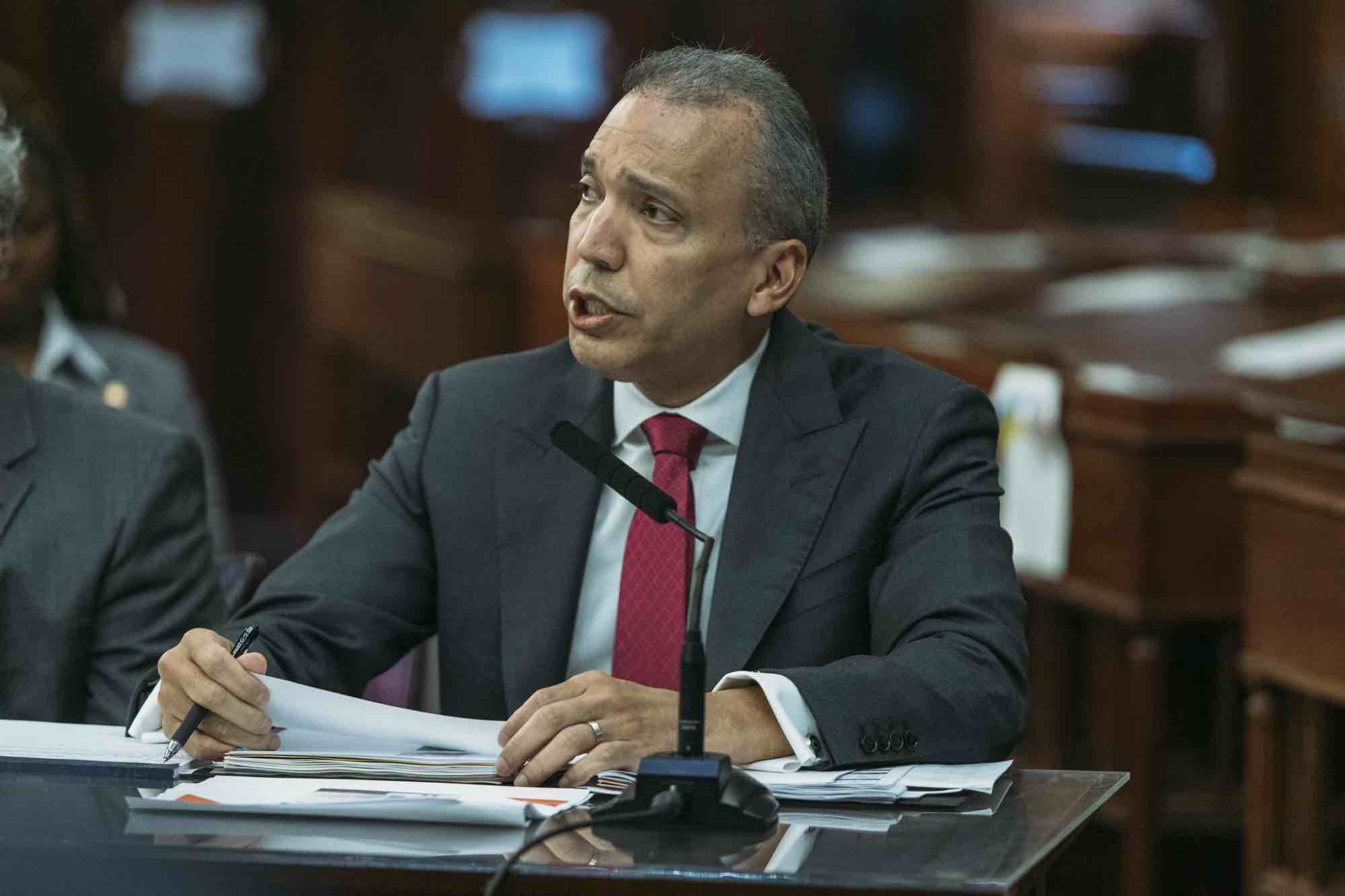 For months, the head of New York City's Department of Correction, backed by the powerful union that represents correction officers, has been calling for a ban on physical mail in the City's jail system, claiming that it's necessary to stem the flow of contraband and drugs like fentanyl.
Instead, DOC Commissioner Louis Molina says, letters from relatives and drawings from children should be scanned by a third-party vendor paid by the City, and then viewed by their recipients on a tablet issued by the vendor. 
"The Department recognizes the importance of incarcerated individuals receiving letters from their loved ones and friends," Molina wrote in a letter outlining his position last November, "but receiving fentanyl-laced materials is not a protected right." (Emphasis his.) "Paper is literally soaked in fentanyl and mailed in to those in our custody."
Attorneys for the incarcerated, free speech organizations, councilmembers on the criminal justice committee, and the comptroller of New York City have all pushed back on Molina's proposal, arguing that digitizing mail is inhumane, expensive, and fails to address the root cause of how contraband gets into City jails. The CITY reported last year that the number of drug seizures in City jails soared to more than 2,600 from April 2020 to May 2021, all while visitors were banned from the facilities; less than a third of those seizures came from the mail. Earlier this month, the DOC conducted a surprise search of workers on Rikers Island and allegedly found a correction officer attempting to smuggle in a bottle of "liquid cocaine."
This is the context for this press release sent out over the weekend by the Correction Officers' Benevolent Association, which claims that last Friday, an officer opening mail was sickened after being exposed to a letter containing fentanyl. "Despite wearing several layers of gloves, her hands went numb, and she went to the clinic, where she was administered Narcan," COBA president Benny Boscio says in the release.
"This is exactly why our agency must immediately cease the distribution of paper mail for inmates and move forward with the plan to switch to paperless mail scanned on tablets," Boscio says, adding that lawmakers who oppose this change "put our officers' lives in danger."
In a phone call, a COBA spokesperson declined to provide Hell Gate with any documentation to verify the incident, or to make the officer available for an interview, but said that they had seen the incident report themselves. 
"Were you in the hospital with her, while she was suffering from these effects?" the spokesperson asked us. "COBA was there."
It's a puzzling situation, because medical experts agree that it is essentially impossible for someone to fall ill or overdose on fentanyl simply by touching it or breathing it in. 
"This is a myth. This is a misconception," Dr. Silvia Martins, the director of the Substance Use Epidemiology Unit at Columbia's Mailman School of Public Health told Hell Gate. Dr. Martins added that even without gloves, the risk of getting sick from handling fentanyl is "very, very low," and that it would take breathing in an extreme quantity of fentanyl to feel what is considered a therapeutic dose, let alone one that would require hospitalization.
We asked Dr. Lewis Nelson, director of the Division of Medical Toxicology at Rutgers New Jersey Medical School and University Hospital in Newark, New Jersey, how much fentanyl would need to be on the piece of mail to prompt illness. "I mean, tongue in cheek, the answer is infinite, because it can't happen," Dr. Nelson replied.
"I would venture to say that if you took that fentanyl and rubbed it on a part of your body, you would not be able to get enough into your body to get you sick," he added.
In a statement, City Councilmember Carlina Rivera told Hell Gate that "the details given by the union related to fentanyl exposure are misleading, and contradict findings on the toxicity of fentanyl through touch by researchers published in peer reviewed journals."
Rivera, who is the chair of the council's criminal justice committee, added, "Prohibiting the physical delivery of mail and packages would be a drastic change that would further strip people in Department of Correction's custody of their rights and humanity."
Comptroller Brad Lander also told us that given the evidence presented, "I do not find this report credible."
"The Department of Correction must strengthen efforts to prevent drugs from coming into our jails to keep both staff and people incarcerated safe. But denying people incarcerated their physical mail from loved ones will take away an important connection to the world outside without making anyone safer," Lander said in a statement.
One person who did find it credible: DOC Commissioner Louis Molina.
"This dangerous incident reinforces the importance of digitizing our mail processes, like over 140 other correctional facilities across the country, including New York State," Molina told Hell Gate in a statement. "We must use all tools and strategies available to stem the flow of illegal drugs into our jails, including expanding the use of body scanners, increasing the use and enhancing the abilities of our Canines to detect fentanyl. I will not allow outsiders opposed to these and other sound correctional practices to impede me from keeping staff and detainees safe." 
Molina's concern over contraband seems to be selective. One of his first moves upon taking over Rikers was to ask to reverse an eight-year-old rule barring staff from wearing cargo pants, instituted after an undercover investigator was able to smuggle in drugs and alcohol using the extra pockets in cargo pants.
The DOC said that the fentanyl poisoning incident is under investigation, but did not provide any documentation on it, and did not answer our questions about whether they believe it is possible for someone to be sickened by touching or breathing fentanyl. City Hall did not respond to our question about whether the mayor believes it either. Nor did the City's Health Department.
The group that is charged with independent oversight of the City's jail system, the Board of Correction, is expected to take a vote on the mail ban at their meeting next month. (When asked to comment on the COBA claim about fentanyl exposure, a BOC press officer told us to "please visit our FOIL page to submit requests for information.")
Officers suddenly falling ill while being in the presence of fentanyl is a national phenomenon that some psychologists have suggested is part of a "mass psychogenic illness." Federal law enforcement agencies, including the DEA, have spread the misconception in the past; a survey of New York law enforcement officers published in 2020 found that 80 percent of them believed that "briefly touching fentanyl could be deadly."
Dr. Nelson said that law enforcement officers suddenly falling ill in the presence of fentanyl could be compared to a powerful placebo effect.
"In other words, the power of suggestion that this is a toxic material that inculcates and infiltrates its way into our into our understanding of what's going to happen to us," Dr. Nelson explained. "This is a normal human response to a stressful situation."
Dr. Martins said that rather than amplifying the union's claims about fentanyl exposure, "the administration should be providing training interventions to correct these false beliefs."
She added, "I think it adds to the large body of misinformation that is spread out nowadays, regarding any health issues where people might have strong opinions."

Chris is an editor at Hell Gate. He spent a decade working for Gothamist, and his work appears in New York Magazine and Streetsblog NYC.
Stay in touch
Sign up for our free newsletter