Eternal City
Henry Hill Slept Here: My Journey Through the 'Goodfellas' Locations of NYC
The tour's locations capture a relatively ungentrified slice of deep Brooklyn and Queens, where mobsters once reigned like kings, hijacking and stealing and paying off the cops...And now it's all over.
5:43 PM EST on November 30, 2022
As far back as he can remember, Brian Cicioni always had a fascination with gangsters. As an Italian American kid growing up in eastern Pennsylvania, he sucked up mob movies like "The Godfather" and "A Bronx Tale" the way other kids watched "Saved by the Bell." "I've always had an interest in subcultures, like organized crime," Cicioni says. "I was interested in people that were reckless, and weren't as cautious as me and my parents."
In 1990, when Cicioni was 10, "Goodfellas" came out. He watched the electrifying Martin Scorsese film, which chronicles the Mafia glory days of real-life gangster Henry Hill, and was entranced. It became one of his favorite films. 
"I could watch 'The Godfather' once or twice in a row and then not watch it for another five or ten years," Cicioni says. "But 'Goodfellas'—I feel like I could watch it every month and I wouldn't get sick of it. You notice something new each time."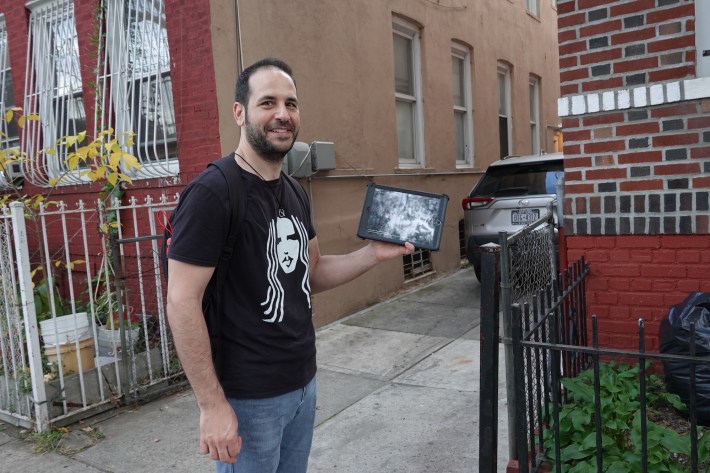 Thirty-two years later, Cicioni is helping fellow fans notice new things by taking them to locations from Scorsese's masterpiece. Cicioni, a travel writer and licensed New York sightseeing guide, spends his weekends leading the world's first "Goodfella's Tour of New York City," which visits a mix of "Goodfellas" filming locations and real-life haunts once frequented by Hill and his fellow wise guys. A three-hour trek through working-class Brooklyn and Queens, the tour caters to film buffs and morbid-minded tourists more interested in seeing the spot where Johnny Roastbeef's body was found (cue the "Layla" coda) than the Statue of Liberty. It's offered via Airbnb, where, as Cicioni proudly notes, it has received only five-star reviews.
A travel fanatic who's visited 55 countries and done "hundreds of walking tours" around the world, Cicioni moved to New York in 2008 and earned his sightseeing guide license in 2017. The following year, he developed the tour from years of obsessive research into New York mob history. He didn't just study "Goodfellas" and read the book, "Wiseguy" by Nicholas Pileggi, upon which it's based; he thumbed through Hill's own books—shameless attempts to cash in on his underworld fame—and scoured the web for shooting locations. He even subjected himself to the late Hill's many drunken appearances on "The Howard Stern Show." ("Once in a while, he actually says something you can use," Cicioni says.)
Over the years, Cicioni estimates he's given the "Goodfellas" tour between 50 and 100 times. "People are just blown away by how New York's not all skyscrapers and brownstones," he tells me over dinner at Neir's Tavern, the bar that served as a location for the post-Lufthansa Christmas party scene. (I half-expect Robert De Niro to stroll in any minute and start hectoring me for buying a pink Cadillac.) 
"Goodfellas" is an iconic New York movie, but not in the way that "When Harry Met Sally…" or "Ghostbusters" are iconic New York movies. There are no scenes at Katz's Deli or the New York Public Library, no glimpses of touristy Manhattan meccas. "Goodfellas" unfolds in the grittier underworld of the outer boroughs—mostly Queens—as well as Long Island, where Henry and Karen lived until Henry's 1980 drug bust and subsequent entry into the Witness Protection Program.
Cicioni's tour is hardly comprehensive. Given the time constraints, far-flung locations like the now-defunct Goodfellas Diner in Maspeth (where Jimmy gets the bad news about Tommy) or that strip mall in Staten Island (where a coked-up Henry flees the helicopter) must be excluded. Instead, they are thoroughly chronicled on Cicioni's blog.
But the tour's locations do capture a relatively ungentrified slice of deep Brooklyn and Queens, where mobsters once reigned like kings, hijacking and stealing and paying off the cops. Ray Liotta voice: And now it's all over.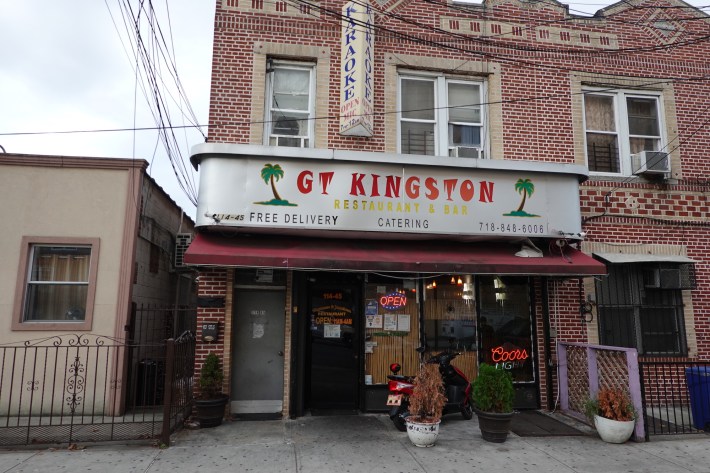 In early November, several weeks before Scorsese's 80th birthday, I meet Cicioni in Gowanus, Brooklyn, to take the "Goodfella's Tour of New York City." (I paid the listed price of $59. Fans should also expect to use three or four subway swipes during the tour itself; there's lots of walking, but this is not, strictly speaking, just a walking tour.) 
"I like to consider this tour an opportunity to see sides of New York that you would never see on your own," Cicioni, who is 42, tells me. "Unless you're an explorer like me."
As we stand across from the BQE, Cicioni asks if I know which scene was filmed on this block. Sheepishly, I admit I don't. He whips out an iPad and queues up Karen's paranoid meeting with Jimmy. Of course! This is where Karen peered into those grimy storefronts, thinking she was about to get whacked. Cicioni's technique of holding his iPad aloft so we can compare the scenery then versus now lets me see how much grittier the neighborhood once was.
Other neighborhoods have changed in subtler ways. In the 1950s, East New York, where Hill grew up, was a working-class Jewish and Italian neighborhood. Today, it's a predominantly Black and Latinx community. As we wander around the area, Cicioni points at a nondescript white and green house. That was Hill's actual boyhood home.
Across the street is a seemingly empty lot, blocked by a fence that warns "NO PARKING" in menacing spray paint. This, Cicioni explains, was once the legendary cab stand that served as a hangout spot for Paul "Paulie" Vario and his Lucchese-affiliated crew—where Hill got his first taste of mob life. Its proximity to the Hill house is revealing: Young Henry could have peered out his bedroom window and seen the mobsters puffing on cigars.
The tour is full of such revelations. In South Ozone Park, Queens, we loiter outside a Caribbean restaurant and karaoke bar. It doesn't look like a morbid spot, but this was once the site of the real Robert's Lounge, the saloon owned by Jimmy (Robert De Niro in the film) and frequented by the wise guys. "This was Jimmy's headquarters," Cicioni tells me. Its basement was a cemetery of grisly mob history—there, Tommy (played by Joe Pesci) allegedly murdered and buried Spider, the doomed bartender played by a young Michael Imperioli.
The spot's proximity to JFK helps explain how Jimmy had so many inside guys aiding him with airport heists. And half a block away is a small house that once belonged to Tommy's mother, memorably portrayed by Catherine Scorsese as a doting Italian mama. No wonder her house was the go-to spot for procuring a shovel to bury Billy Batts.
Airport workers still populate the neighborhood today. On a local bus, we overhear two JetBlue employees chatting about Robert's Lounge. "There are lots of bodies buried there," one tells the other, pointing outside. Cicioni pipes in and starts telling them about his tour.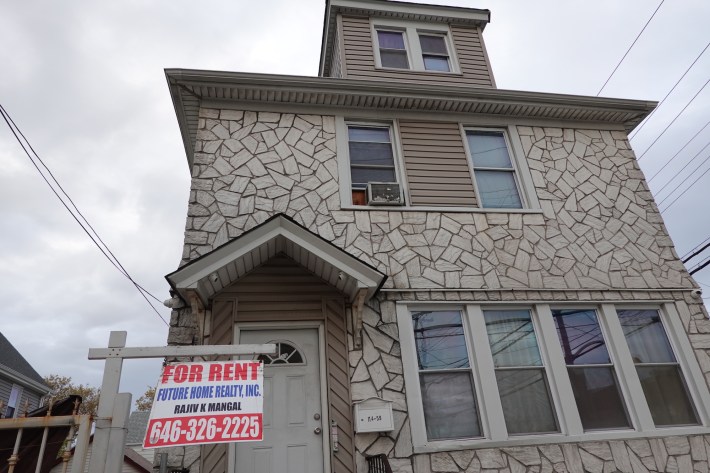 Cicioni is a chatty and knowledgeable guide, regaling me with interesting tidbits from his research: Did I know Frankie Carbone was a composite character? And that Paulie was meaner and less grandfatherly in real life? He's a fount of mob trivia, and not just the "Goodfellas" kind, mentioning locations of famous mob hits here or hangouts there. When we pass a high school, Cicioni mentions that the Gotti brothers went there. When I mention that I live in Harlem, he informs me that I live near where Sonny beat up Carlo in "The Godfather."
Cicioni is so friendly that he's become chummy with the owner of one of the stops on the tour: the house in Queens where the real "Stacks" Edwards (played by Samuel L. Jackson) got whacked after the Lufthansa heist. "Maybe every three tours, he will actually come out and tell the story," Cicioni says of the landlord. "We're friends on Facebook now."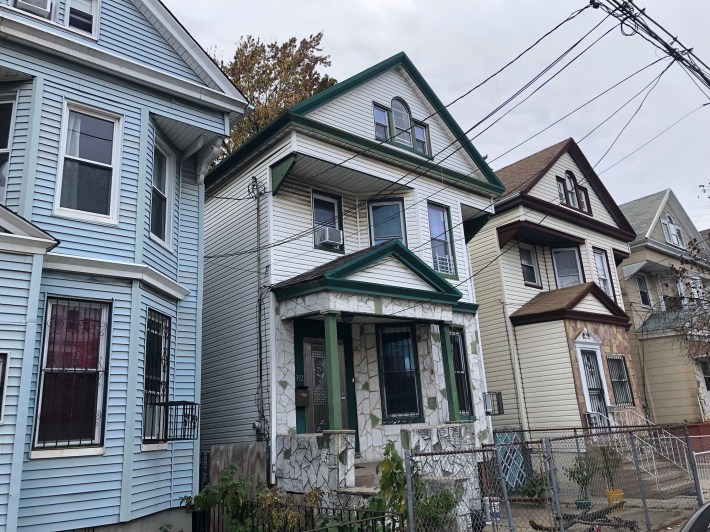 Brian Cicioni didn't plan on creating a "Goodfellas" tour. 
His initial idea was a tour of "Godfather" locations. That proved impractical. "The Corleone compound is in Staten Island," Cicioni says. "Sonny beat Carlo up in East Harlem. Barzini got shot in downtown Manhattan. You can't do these in one day without a van."
He mulled over a "Taxi Driver" tour instead. But "Goodfellas" seemed more interesting. "I knew the story more. Plus, it was based on reality," Cicioni tells me as I wolf down french fries at Neir's Tavern, our final stop. "On this tour, I'm able to mix the movie and the book." (Cicioni currently leads one other tour, a Ramones tour of New York City.)
Cicioni says he's met the most interesting people imaginable while leading the "Goodfellas" tour. "I had a judge from Cairo who was obsessed with the Henry Hill case. He asked me a lot of legal questions, where other people are just like, 'Hey, where did this happen?' I've had people do this tour as part of a honeymoon. I believe they had a "Goodfellas"-inspired video at the wedding."
Cicioni has had more women on the tour than you might expect. Then there was the time he had a bachelor party full of dudes. "I had a group of seven, and only one or two were fans. That was a little rough," he admits. 
Of course, these are morbid sites, places where lives were destroyed and real people murdered, and it feels a little tacky to treat them as tourist fodder. Just as Scorsese is sometimes accused of glamorizing the lives of violent scumbags (presumably by people who skipped the last hour of "The Irishman"), Cicioni could be charged with commodifying the city's bloody past.
Yet the city itself does little to commemorate or mark its violent Mafia history, which means the responsibility falls to well-researched tour guides like Cicioni and his competitors, of which there are several (you can take the Gangsters and Mob Tour of Little Italy and Chinatown, the Rise and Fall of the NY Mafia Tour, and others). New York remains a town full of grisly mob history sites that have never been properly marked and thus are invisible to most residents. And with local politicians desperate to ward off GOP-fueled fantasies that New York City is a cesspool of crime, it's hard to imagine this will change any time soon. 
Of all the stops on the tour, only Neir's Tavern, a long-established historical site whose rich past far precedes the 32-year-old movie, outwardly acknowledges its connection to "Goodfellas." That's an understatement: The bar's walls are plastered with "Goodfellas" memorabilia and cast photos. There's an illustration of Joe Pesci emblazoned with the words "Funny how?" The menu includes offerings like "Neir's Famous Goodfella Burger Deluxe," and at least one cast member (Christopher Serrone, who played young Henry) is known to pop in on occasion. This joint is a veritable shrine to "Goodfellas," much as Tom's Restaurant in Manhattan serves as a mecca for "Seinfeld" fans.
But once the tour is over, I leave the bar and walk out into a city full of mob history it would rather ignore, immortalized by a movie that is impossible to forget. 
Zach Schonfeld is a freelance journalist and writer based in New York. He was formerly a senior writer at Newsweek. His first book, "Ghetto: Misfortune's Wealth", was published by the 33 1/3 series in 2020
Stay in touch
Sign up for our free newsletter