Locked Up
Erick Tavira Went to the Hospital Seeking Treatment. Instead He Died on Rikers Island
For the 17th person to die in NYC jails last year, a plea for medical help was answered with a fateful arrest.
10:13 PM EST on January 10, 2023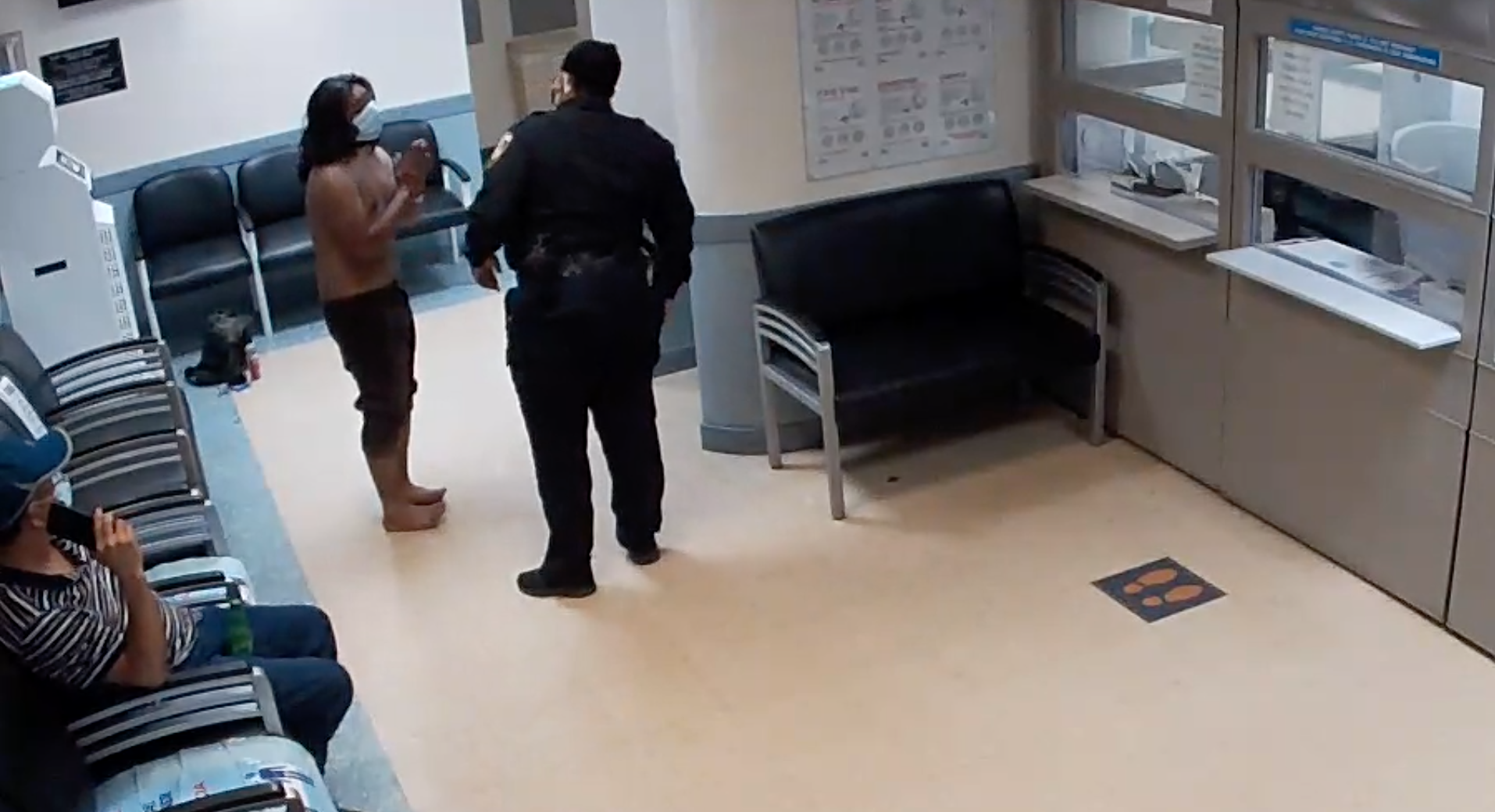 When 28-year-old Erick Tavira hanged himself in a cell on Rikers Island in October, he became the 17th person to die while in New York City custody in 2022. Coverage of the incident focused mainly on the fact that Tavira had died while being held in a housing unit for people considered a danger to themselves, where guards are supposed to be watching closely. Less attention was paid to why and how Tavira had ended up jailed in the first place.
Previously unreleased video of Tavira's first encounter with police, which occurred in June of 2021, illustrates the way that police involvement with people contending with mental illness can be counterproductive, setting off cascading consequences that take people further from help and safety. In Tavira's case, after police initiated a physical confrontation with him in a hospital waiting room, he was arrested, taken from the hospital where he was seeking help, and arraigned on charges of assaulting an officer. A week later, released under supervision but never having received the medical treatment he sought, Tavira was again arrested, this time for allegedly attacking a teenager.
These new charges were bail-eligible, but without the previous open case, they wouldn't necessarily have sent him to Rikers. In the minds of Tavira's surviving family, without that initial aggressive intervention by police officers when Erick was attempting to get medical assistance at a hospital, Tavira would not have been sent to Rikers, and might still be alive today.
Two months after Tavira died, Mayor Eric Adams gave an interview attempting to explain why he wants to send more people into detention and mortal danger on Rikers Island. Adams framed the punishment of Rikers in stark moral terms. "Being placed in Rikers means that you are a bad person," Adams told The CITY. "No one is going to Rikers because they stole an iPhone, in a store somewhere. You're going because you are a violent offender. And that is why you're there."
The mayor's assertion that only bad people are on Rikers is complicated by the fact that the City's island jail complex is in large part a warehouse for people with mental illness. And with Adams implementing a plan to further involve police in the detention of people with mental illness, even when they don't pose a danger to others, the story of how Tavira came to find himself on Rikers in the first place bears examination. Tavira's family sees Erick's experience as proof that police are not equipped to help people in crisis. "He was doing what you're supposed to do, he was trying to get help," Tavira's mother Haydeth said. "But the police didn't care about that, they only knew how to arrest him."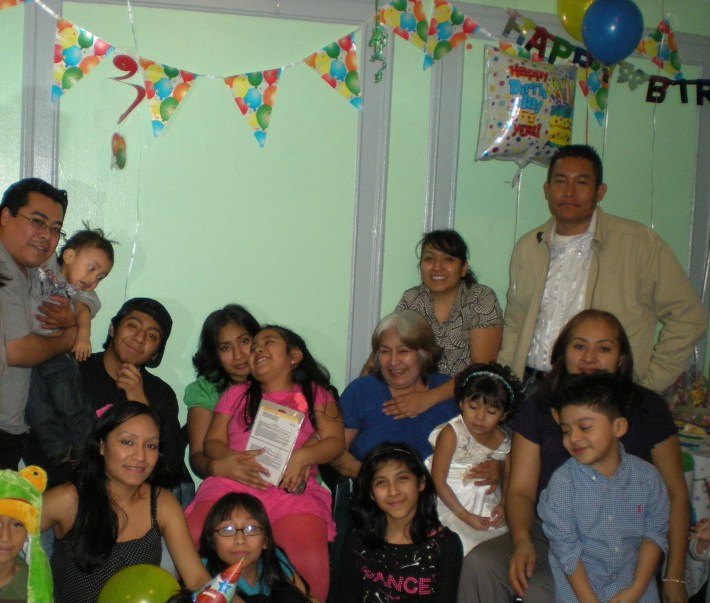 Erick Tavira was born in the Bronx in 1994, into a close-knit Mexican family. His mother's sister Marysol Tavira was the first to come to New York City, arriving from the Mexican state of Guerrero in 1989 at the age of 17. In the city, she found work as a housekeeper and a waiter. In time, she brought her sisters to join her: Rosa Morquecho, Sandra Garcia, and Erick's mother, Haydeth Tavira. 
Erick was a happy child, as his mother and aunts remember him. He liked football, soccer, and hockey. He liked to write poems. He played guitar and piano, and took part in programs run by the Fresh Air Fund and Big Brothers Big Sisters of America. As he grew older, though, he developed a temper. Hadith found him therapy for his anger issues. At 17, he had an episode of severe paranoia, which eventually led to a diagnosis of schizophrenia and bipolar disorder. Erick worked as a dishwasher for a time, but his mental illness made it difficult. He got on disability and was assigned a social worker. 
Erick was beloved, but the challenges of his illness and the extreme difficulty of navigating the bureaucracies that serve New Yorkers with mental illness meant that Erick sometimes spent weeks or months out of touch with his family. He was conscientious about protecting them from his mental illness, his mother and aunts said. When he felt an episode coming on, he would check himself into the hospital, and avoid his loved ones.
On June 6, 2021, Tavira was homeless, and living in a shelter on Randall's Island. Surveillance videos from that day show Tavira entering the waiting room at the Metropolitan Hospital in East Harlem. Tavira, dressed in cut-off shorts and a sleeveless undershirt, seems distracted and agitated, at times looking up from his intake form to scan the waiting room. He's given a bracelet, and sent to wait in one of the chairs. As he waits, other patients pass through the room, check in at the desk, and move on. Tavira appears to grow restless, talking with another patient and returning to the check-in window, seemingly to press the urgency of his case. Twenty-four minutes after Tavira's arrival, he appears to speak with a hospital police officer stationed at a podium across the room. (The Health and Hospitals Police Department is a New York City police agency that manages security at the City's hospitals and is administered separately from the NYPD.) Tavira becomes even more agitated; he points his middle fingers at the officer, stands, and removes his undershirt. The officer approaches and speaks sternly to him. Tavira pleads with her, holding his palms together and gesturing around the room.
A second officer gets involved, a man with close-cropped gray hair. They step away, then come back to Tavira, who is sitting again and appears to be on a cell phone. The male officer looms over Tavira, then grabs him. Tavira tumbles out of the chair, falling to the ground and struggling with the officer. The officer grabs Tavira by his long hair. Tavira lands several blows on the officer. After a few seconds, the officer wriggles free, and with his colleague, gets Tavira face-down on the linoleum and handcuffed. Soon, half a dozen police are in the room, standing over Tavira, before picking him up and marching him, shirtless and barefoot, out of the room.  
Asked about the incident, NYC Health and Hospitals, which runs Metropolitan and the Hospital Police, did not answer questions, citing patient confidentiality, but did provide the following statement: "Our hospital police work on the frontlines at all of our facilities to create a safe environment for both patients and employees and we appreciate their work. All hospital police receive comprehensive training, including how to de-escalate difficult situations."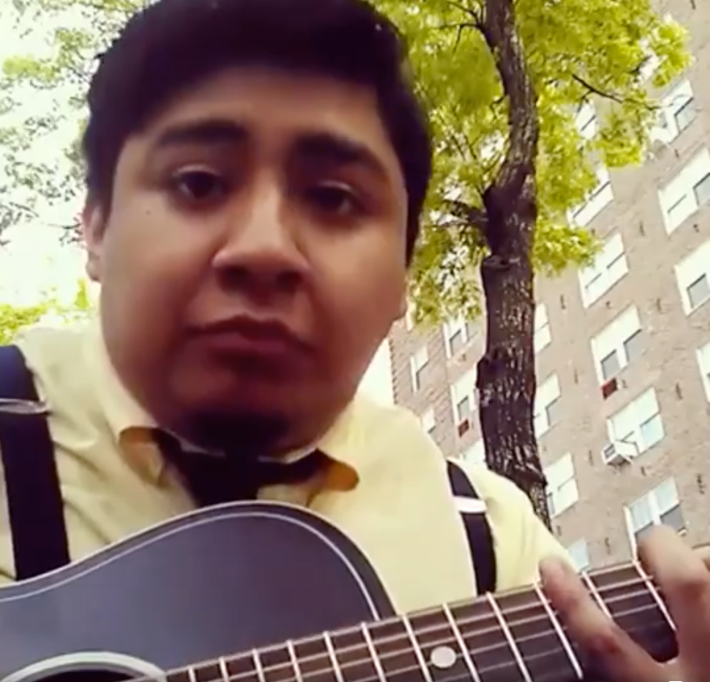 Tavira didn't initiate the contact with the cop, but he did punch him. He was arraigned in Manhattan criminal court and charged with assault in the second degree—a Class C felony. Tavira's assault charge would have been a misdemeanor but for the involvement of the officer, which made his charges eligible for a judge to set bail. But, perhaps because this was his first contact with the criminal justice system, Judge Herbert Moses granted him supervised release
Tavira had narrowly escaped the worst possible outcome: seeing his effort to get mental health treatment as he felt the onset of a schizophrenic episode turn into a trip to Rikers Island. But the moment in which he saw the episode coming and still felt capable to seek help had come and gone, and he still hadn't received treatment. His arrest, booking, and arraignment had eaten up precious time, and he now had good reason to fear what might happen if he sought help again at a hospital. 
How Tavira spent the next few days isn't entirely clear, but it seems he was still in the midst of a schizophrenic episode six days later, when he was arrested again, this time for starting a fight with a teenager he believed to be a member of a gang. Tavira was soon back in court, again in front of Judge Moses, and now facing charges of strangulation in the second degree, attempted second-degree assault, endangering the welfare of a child, and assault in the third degree. 
These charges were also bail-eligible, but while he might have had a chance at getting supervised release if they were his first charges, Tavira now had an open case dogging him. The Manhattan District Attorney's office asked Judge Moses to set a $20,000 cash bail. State law requires judges to set bail at the last restrictive level necessary to ensure a person will return to court, but Moses set Tavira's bail at $20,000 cash, or alternately, a $40,000 partial surety or bond. It was an amount the homeless Tavira clearly could not pay. He was soon sent off to Rikers, where he joined thousands of others with mental illness.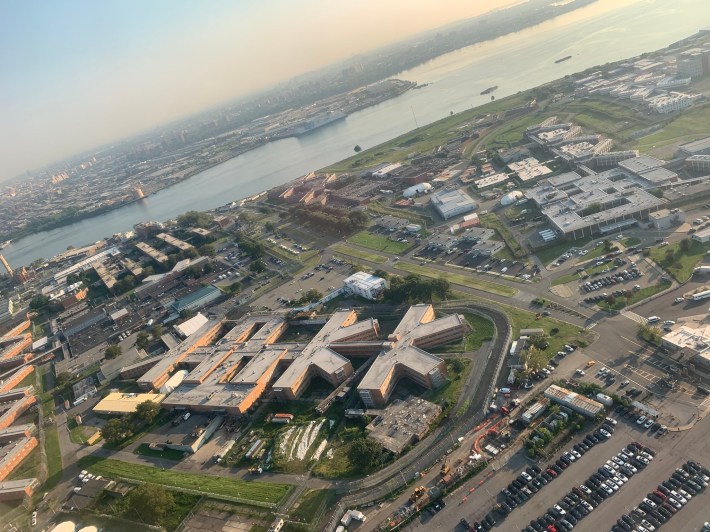 All of this happened without the knowledge of Tavira's mother and aunts. "He was ashamed," his mother Haydeth Tavira told Hell Gate. "When he called me from jail, he said, 'Mommy, I did something bad. I don't know what I did.'"
Over the next months, Tavira went through ups and downs, his family members said. Sometimes, he went off his medication. Sometimes, guards did not take him to scheduled medical appointments, a commonplace occurrence on Rikers. But in their conversations with him last year, as summer lapsed into autumn, his family says Erick didn't seem despondent or a danger to himself. His public defender was working to get him accepted into a program at the Osborne Association, and to persuade prosecutors that this would be a better place for him than a cell on Rikers. 
Then, on October 22, Tavira, who was being held on mental health observation unit at the George R. Vierno Center, used a bedsheet to hang himself. How guards allowed this to happen on a unit where they were supposed to monitor him closely remains unexplained. (A Board of Correction report on his death has not yet been released.)
When Haydeth Tavira got a knock on her door the next morning, she assumed it was NYCHA staff coming to make another inspection of the problems in her apartment without doing anything to fix them. But the people at her door wanted to talk about Erick. When had she last spoken to him? Yesterday, she said. What had they talked about? the people at her door wanted to know. The questions felt aggressive to Haydeth, like she was being interrogated. Her mind raced. Had Erick been released, somehow? Was he supposed to be at the apartment? I'm supposed to wait for his call today, she told them. "They said, 'well, I'm sorry, he died this morning,'" Haydeth recalls. "They said, 'If you want more information, this is the number you can call. We can't say anything else.'" Haydeth, in shock, slid down to the floor in her hallway. The people from the Department of Correction left. 
Tavira's family has filed notice of its intent to sue the Correction Department for Erick's wrongful death. But they believe the roots of his tragedy predate his arrival on Rikers. When they watch the surveillance video from the Metropolitan Hospital Center waiting room, they see Erick's hands joined together in supplication. "He was actually begging," said his aunt, Sandra Garcia. "He was saying, 'Please, I'm telling you, I need my medicine.'"
"It's very hurtful, because he went to the hospital because he was trying to do the right thing, he was trying to get help," Rosa Morquecho, another aunt, told Hell Gate. "The police—they work in a hospital! They should know better how to deal with people with mental illness. They should have better training, instead of getting physical and trying to provoke him."
Erick's experience with the police has given the Tavira family strong feelings about Mayor Adams's controversial initiative to empower the police to involuntarily commit people they deem to be both mentally ill and unable to care for themselves, even if they don't pose an evident threat to others.
"It's not a good idea, because this is specialized knowledge, how to tell what someone needs, what's in their mind," Garcia said. "Doctors have this training. Police have a very different training. They know the law, they don't know medicine."
Rather than using police to get mentally ill people out of sight, Tavira's family members told Hell Gate, the mayor should be making it easier for people who need mental health treatment to receive help. "We went to so many offices, so many appointments," Haydeth recalled, of the first years after her son was diagnosed with mental illness. "And they always said, 'Oh, no, you should go to this other clinic, there is a different program.' But they don't take time with the person, with the individual, to find out what they really need."

Nick Pinto served two tours as staff writer at the Village Voice. His reporting has appeared in The New York Times Magazine, Gothamist, The New Republic, Rolling Stone, The Intercept, and elsewhere.
Stay in touch
Sign up for our free newsletter