Fresh Hell
While Politicians Use Asylum Seekers to Score Points, NYC's Mutual Aid Groups Are Actually Helping Them
City government has taken a backseat to the efforts of volunteers, who are trying to help migrants navigate New York's shelter system and land on their feet.
4:33 PM EDT on August 10, 2022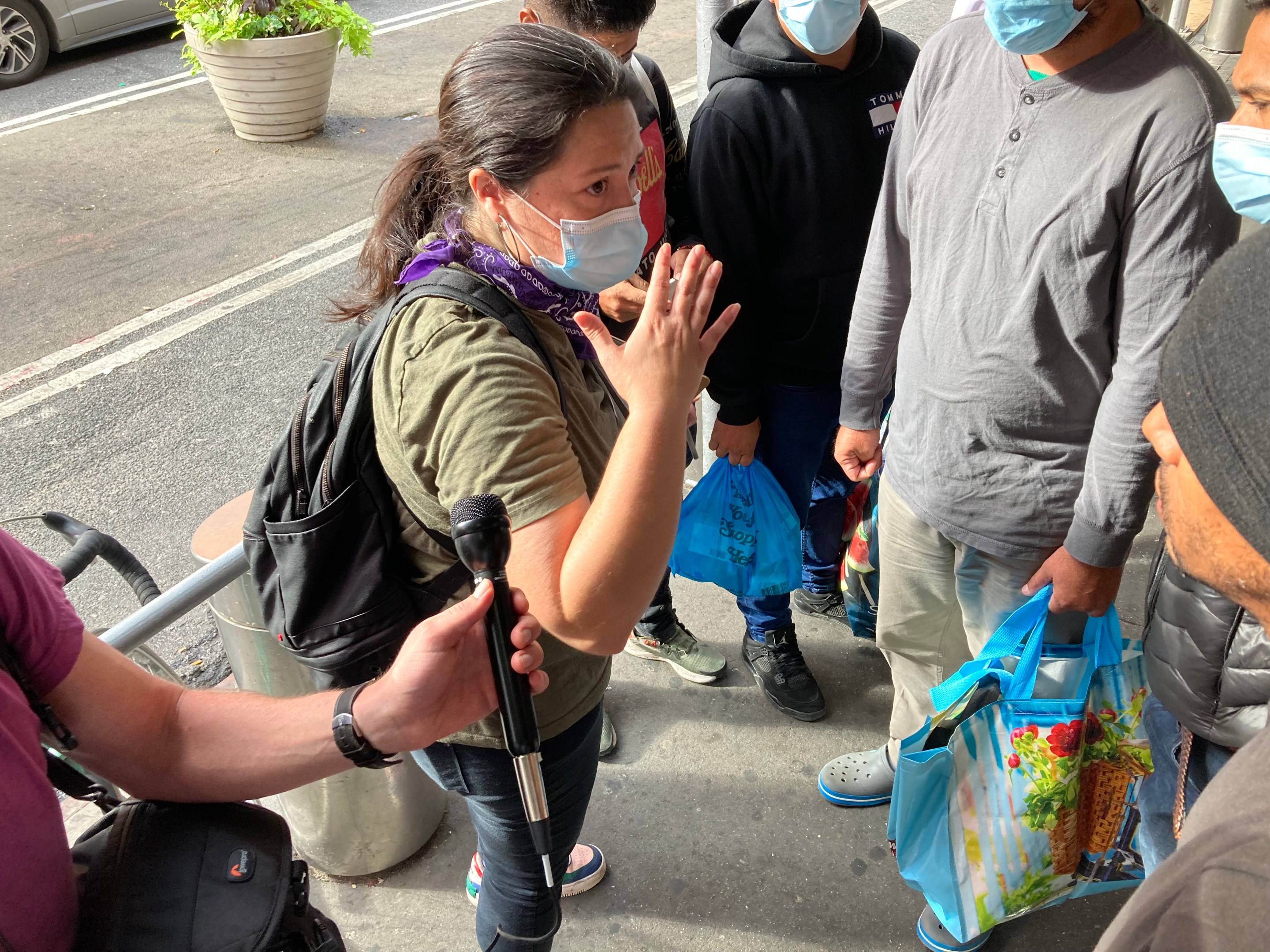 It's 6:30 in the morning outside of the Port Authority Bus Terminal, and Ariadna Phillips of South Bronx Mutual Aid is going over final preparations with her group of over 15 volunteers. She's explaining where homeless shelters are, where a possible respite space has been set up if people can't get into a shelter, what vehicles they're taking to get there, and who to send where. But as she's telling me this, Port Authority police are asking her group to remove a table they had set up with clothing and food. 
In just a few minutes, a bus sent from Texas by Governor Greg Abbot will arrive at the Port Authority. It will be filled with dozens of migrants, many confused as to how they ended up in New York in the first place. Their confusion makes sense: The buses are part of a cruel escalation by Abbott as an influx of asylum seekers cross the southwest border. Now the governor is sending buses to liberal cities like New York and Washington, D.C. in an effort to overburden their social services—and turn public sentiment against the thousands of asylum seekers who cross the border each year. 
"New York City is the ideal destination for these migrants, who can receive the abundance of city services and housing that Mayor Eric Adams has boasted about within the sanctuary city," Abbott said in a news release last week. "I hope he follows through on his promise of welcoming all migrants with open arms so that our overrun and overwhelmed border towns can find relief."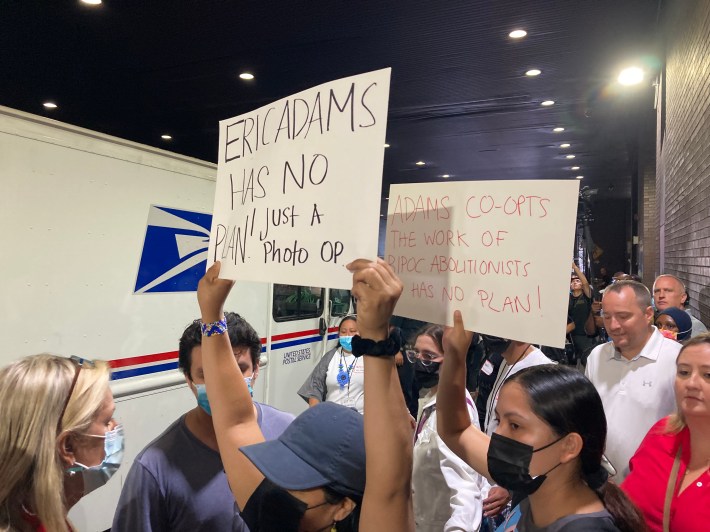 Phillips, along with other volunteers from mutual aid groups across the city, has been at Port Authority several times over the past several months, whenever they hear a migrant bus is coming, to make sure Abbott's cynical plan doesn't work. They've been greeting asylum seekers and trying to make sure they make it through the City's labyrinthine shelter system. Right now, officials aren't letting the mutual aid groups inside the bus depot, preferring to keep them outside and away from the City's official welcome.
"Ultimately, this is what our tax dollars pay for, to make sure that people have shelter. That's not happening. So if there's no other plan, like there hasn't been right now, that's where we come in," Phillips told Hell Gate. 
The conflict surrounding the buses full of asylum seekers might seem like a duel between headline-seeking elected officials: In one corner, there's Texas's Abbott, who is spending hundreds of thousands of dollars to bus migrants to the northeast. In the other, there's Mayor Eric Adams, who has said that "our goal is every asylum seeker that comes to New York, we are going to get them shelter and support that they need." But the mutual aid groups and nonprofits do the important work of helping migrants land on their feet. There's a large vacuum to fill: The City itself has only provided minimal resources. 
"These migrants are coming here with nothing, no phone, their personal papers taken from them by ICE. They were essentially trafficked here to New York," said Sergio Tupac Uzurim, a member of the NYC ICE Watch network, which was among the aid groups out on Eighth Avenue." We're here to make sure they're okay. We know the mayor has no intention to actually house these people. He wants to hand out a meal, and then send them on their way." 
When the buses arrived around 7:30, the arriving asylum seekers were shuttled past a throng of cameras into a cordoned-off part of the Port Authority, where the City's Office of Immigrant Affairs had set up a welcoming area. There, people who needed medical attention, had questions about how to get to their next destinations, or were just looking for some food or clothing could get help. But much of that work is being done by volunteers, and most of the food and clothing has been provided by mutual aid groups and other volunteers.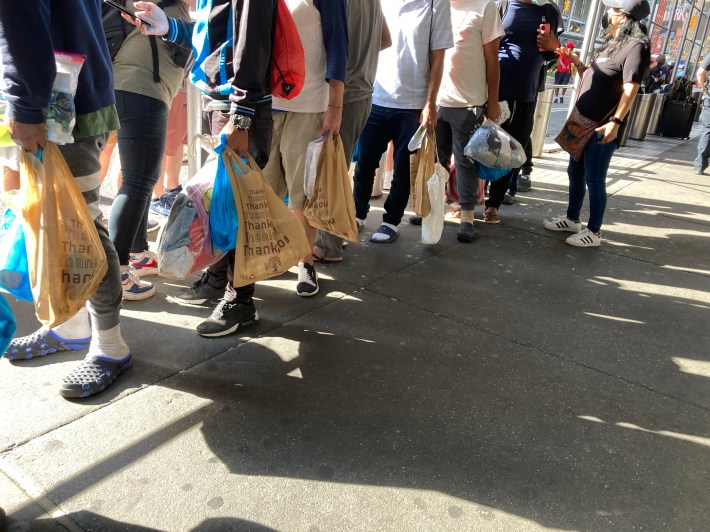 Many asylum seekers, when they arrive, aren't in good shape, according to Manuel Castro, the commissioner of the City's Office of Immigrant Affairs.
"We had to provide medical attention to at least eight [asylum seekers], they were all exhausted from the trip. Many said they didn't have enough to eat or drink. They were very hungry and thirsty," Castro told Hell Gate.
Still, the cordoned-off area was a far more robust effort than when the city welcomed the first official busload of migrants on Sunday. At the time, City Hall co-opted a table set up by mutual aid groups, many of whom have been critical of the Adams administration's handling of the City's shelter system. But Adams himself was part of that photo-op: Organizers said they saw him handing out food prepared by the same groups now banished from the bus depot on Wednesday morning. 
On Wednesday, the process still leaned heavily on these mutual aid groups. Once City workers and volunteers made sure the asylum seekers were not in need of medical care, the new arrivals were taken out of the Port Authority and handed off directly to Phillips and other volunteers, who then helped them get safely into the City's shelter system—or, at least, get out of Midtown on a chaotic summer morning unscathed. 
One of those asylum seekers was Gustavo Mendez, 40, who fled Venezuela due to its deteriorating political situation. For the past 12 years, he said, he's been a technician at a television station in Caracas, and would like to continue working in that field in the United States. Like many asylum seekers traveling overland to the country's southwest border, Mendez had to traverse the deadly Darien Gap between Colombia and Panama, before crossing the Rio Brava into Texas this past Saturday. 
"Everyone was always very nice, they were very respectful," Mendez said of his time in both U.S. Border Patrol custody and his two-day bus ride to New York from Texas. He has no family in the United States, and had no plans to settle down in New York City before Texas put him on the bus, but he said he's interested in staying here. If he can't find a job in television production, he'd be just as happy to be a chef. 
Many of the over 100 migrants who arrived on three separate buses on Wednesday came from Venezuela, although the Office of Immigrant Affairs reports there were also people from Ecuador, Colombia, and elsewhere in Central and South America among those who arrived from Texas. 
Jose Martinez, 33, is also from Venezuela. He fled after serving in the country's military. "Fuerte," is what he told me, when describing the trip through the Darien Gap.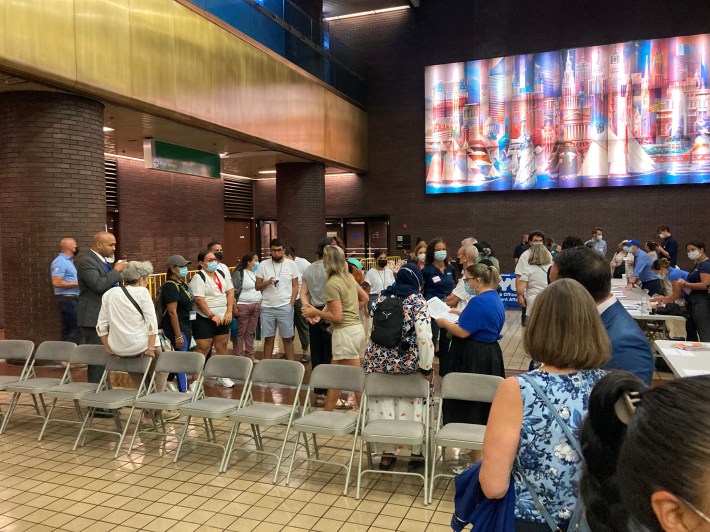 He said when he got on the bus on Monday, he had no idea where it was going. Martinez was traveling with his brother, and as with Mendez, mutual aid groups were helping them get to an intake shelter so they could have a place to stay until they found work.
The Office of Immigrant Affairs had arranged for some free Uber credits that members of the mutual aid groups could use to help ferry people. But on Wednesday morning, those credits weren't working smoothly, as the line of people along the sidewalk in front of the Port Authority could attest. Still, volunteers eventually escorted over 100 asylum-seekers—single men and women, as well as a few families—to shelters or a respite site where they could arrange for housing. 
On Tuesday, the City Council held a hearing about the influx of asylum seekers into the City's shelter system, and how the City could improve its response. There have been reports of recently arrived migrants sleeping in city parks, or shelters separating families because couples had no proof of marriage. Castro, the Immigrant Affairs commissioner, told the City Council that the agency needs more resources to help provide the services that are currently being offered by mutual aid groups—having City employees or contractors help provide safe transportation to shelters, and connecting migrants to social services they might need during the months and years it will take for their immigration case to wind its way through the crowded immigration courts system. 
"We want to increase our capacity," Castro told Hell Gate on Wednesday morning. "We need the resources to support these asylum seekers when they arrive and also [when they] maybe want to get to other destinations."
But right now, the Adams administration seems intent on securing federal funding to resource this type of migrant assistance, and with the City Council mired in a battle over schools funding already, the prospects for additional support seem limited. The administration has also canceled important new shelter capacity projects, further straining the City's response. Compared to the coordinated governmental and nonprofit response in border cities like San Diego and El Paso that are accustomed to welcoming asylum seekers, New York's system is threadbare. 
By 10:30 a.m., the arrival area in the bus terminal had been disassembled, and the migrants were either on their way to shelters, reunited with family, or onto another destination. With Abbott insistent on continuing to send asylum seekers to the city, more mornings like this one are imminent. And the City's shelters are already at capacity. 
Phillips, whose group wants the Adams administration to open up thousands of vacant apartments across the city to newly arrived asylum-seekers, told Hell Gate they'll be out there regardless of whether the City decides to step up its funding. 
After seeing the last asylum seekers off into a waiting cab, she told me, "We want a coordinated government response to happen, but we're always going to be here." She added: "No one's going to take care of us but us." 

Max Rivlin-Nadler is a co-publisher of Hell Gate. He's reported for Gothamist, The New York Times, Village Voice and NPR. You can find him walking his dog, Stiva, or surfing in the Rockaways.
Stay in touch
Sign up for our free newsletter