When you walk down the steps of the 7 train, it's hard not to be impressed by the regal stadium the Mets play in. Citi Field is gorgeous in the way National League parks are—it's rooted in history; the Jackie Robinson Rotunda is fit for a museum. In contrast, the Babe Ruth Plaza at Yankee Stadium is fit for a hospital. The Mets stadium isn't quite soullessly futuristic, nor is it clinical. Citi Field sports a Shake Shack and a beer collection fit for an ambitious bar in Brooklyn. There's not a bad seat in the park—the blue wall that stretches through the park feels like a motif to the colorfulness of it, the joy that is supposed to be baseball. It's a park that asks you to not only watch baseball, but enjoy baseball. Compared to the calculated and boring precision of Yankee Stadium, you know why the Mets are the lovable losers that every New York transplant picks for their team. Going into Tuesday night's game between the Mets and the Yankees at Citi Field, the fans were a reflection of their two stadiums. A Mets fan of color joined me as I walked. "Even Yankee fans know our park is better—we do it differently here," he told me, excited just to pass the threshold.
If there is a difference between the two fanbases, it's in how they enjoy things. The Yankees expect to win—if the team doesn't win the game, Yankees fans want their money back. They're invested in the complicated and sometimes reductive viewpoint that George Steinbrenner had: "If the Yankees don't win, it's a failure." Mets fans, however anxious or disillusioned they might be, come to see one thing—their hometown Mets play. While I have my doubts on whether this is just a shtick, or really a true way of life, I without a doubt respect the fact that they're primarily into having a good time. The same can't be said for Yankees fans, sadly.
Some fans don't see a huge difference between the two groups. When I asked one about the demographics and antics of the two fanbases, and maybe how the Yankees skew a bit whiter and wealthier, he told me, "It's not fair to some working-class Yankees fans. We have a ton of fans of color in the Bronx. Both fanbases have their share of assholes and good people. Both teams have cool players and uncool players." Then there are others, who just consider Mets fans to be downtrodden people, uniform in their shame. "It's all about the Yankees, baby! The Mets are losers," said a Yankees fan in a road-gray uniform (hop on the field, start playing, see what happens). He had tattoos reminiscent of a "Prison Break" character. Both fanbases are representative of their shared New York culture—loud and boisterous, immediately distinguishable as a New Yorker from any passing conversation.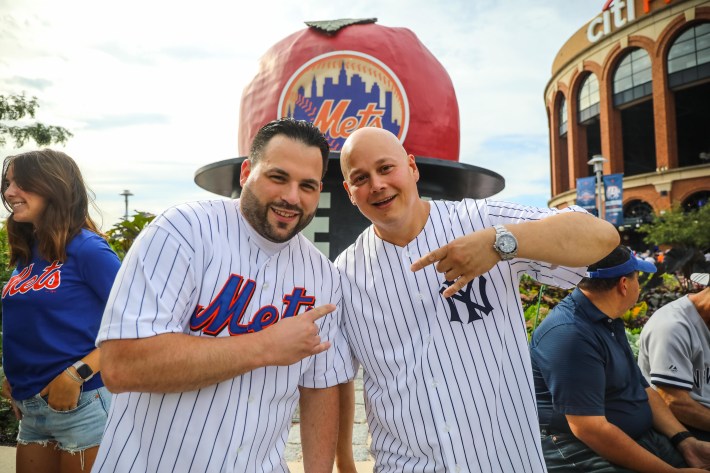 The Yankees entered the game as a juggernaut. This season, they've had a ton of success against American League East teams. But there is an unpredictability in interleague games like Tuesday's. Each team isn't quite familiar with the other one and even the scouting that takes place in "Moneyball" can't combat how unwieldy interleague play is. That evening was the first night the Yankees were playing against a team like the Mets, and it showed. The Mets just played the match-ups better, while the Yankees almost certainly have the better team. 
At this point in the season, the Subway Series is meaningless, at least when it comes to the rankings. While a win would help either team, a loss or two wouldn't do much to sink them. This is a televised event for family bragging rights. It's an event for the tabloids disguised as a big game. The Yankees, who were without Giancarlo Stanton, were on their heels for the whole series, but that still doesn't speak to the quality of the two teams. 
As for the Metropolitans themselves, they're actually a good team this season. In previous years, when star closer Edwin Díaz did something like fumble a ground ball aimed right at him, the skies would have turned stormy and sinister and the Mets would have collapsed like Mr. Big on an exercise bike. But this team is made of tougher stones. Díaz is pitching like Billy Wagner did in his prime, with an overpowering fastball/slider combination that Joey Gallo had no chance of hitting. In game one, after Aaron Judge and Anthony Rizzo gave the Yankees an early lead, the Mets weren't bothered. They came back smashing the ball like it was a piñata. Pete Alonso, their best power hitter, drove in a run. Starling Marté, who gave the Yankees fits in both games, hit a solo home run. Buck Showalter mixed and matched perfectly. Any manager can write a lineup card for a televised game, sit back, and let the game play out, but Buck is a manager whose teams play the way he is—tough and disciplined.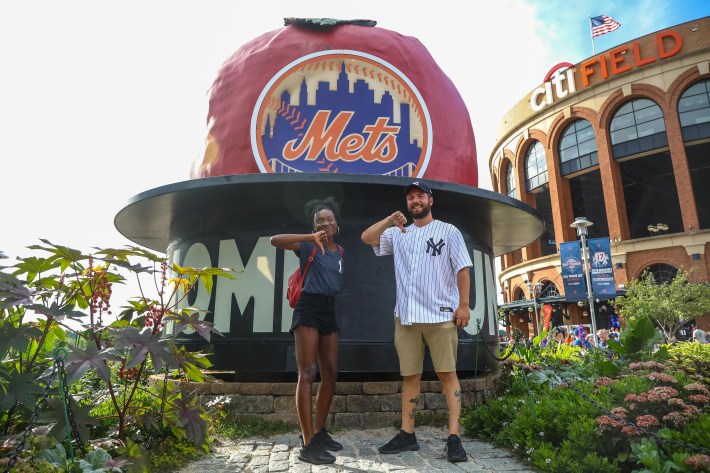 Still, despite the Mets winning both games, the final scores felt beside the point. [Ed. note: Spoken like a true Yankees fan.] On the way back from the first game, two separate things happened that felt connected. The first was a man who fell—he collapsed on his back from either the heat or the euphoria of a Mets win. He was in agonizing pain in front of a Yankees fan who said, calmly but not without concern: "Sir, are you okay?"
Nobody else checked on this man on the ground. New Yorkers are infamously unbothered by the commotion around them, and for a while, it was only this Mets fan and Yankees fan. I pondered this while I myself moved past them and kept walking. Everyone's just trying to get home safely, this humid, messed-up summer. On the train, a few Yankees fans had the dignity to muster up some chants for their team. Seated in front of me was a brown-skinned Mets fan who couldn't have been more than ten years old. He chanted, "Booo the Yankees! Let's go Mets!" It was romantic and endearing—the kind of act that makes you remember who you were as a kid. It felt like New York City. 
The Subway Series might be just another game for the players. But for the fans, it's a night for tribalism within a larger collective. It's a night for the aspirational city supposedly built on mixed identities, and a moment in time where joy, in short supply, is at hand.
Jayson Buford is a lifelong New Yorker, a diehard Knicks and Yankees fan, and someone who has been searching for Rocawear jackets to bring back into the mainstream.
Stay in touch
Sign up for our free newsletter