Cultural Capital
Power, Racism, and Kosher Hot Dogs: Yankee Stadium in 2022
To love baseball is to be annoyed, or even dismayed, by its whiteness.
6:39 PM EDT on May 24, 2022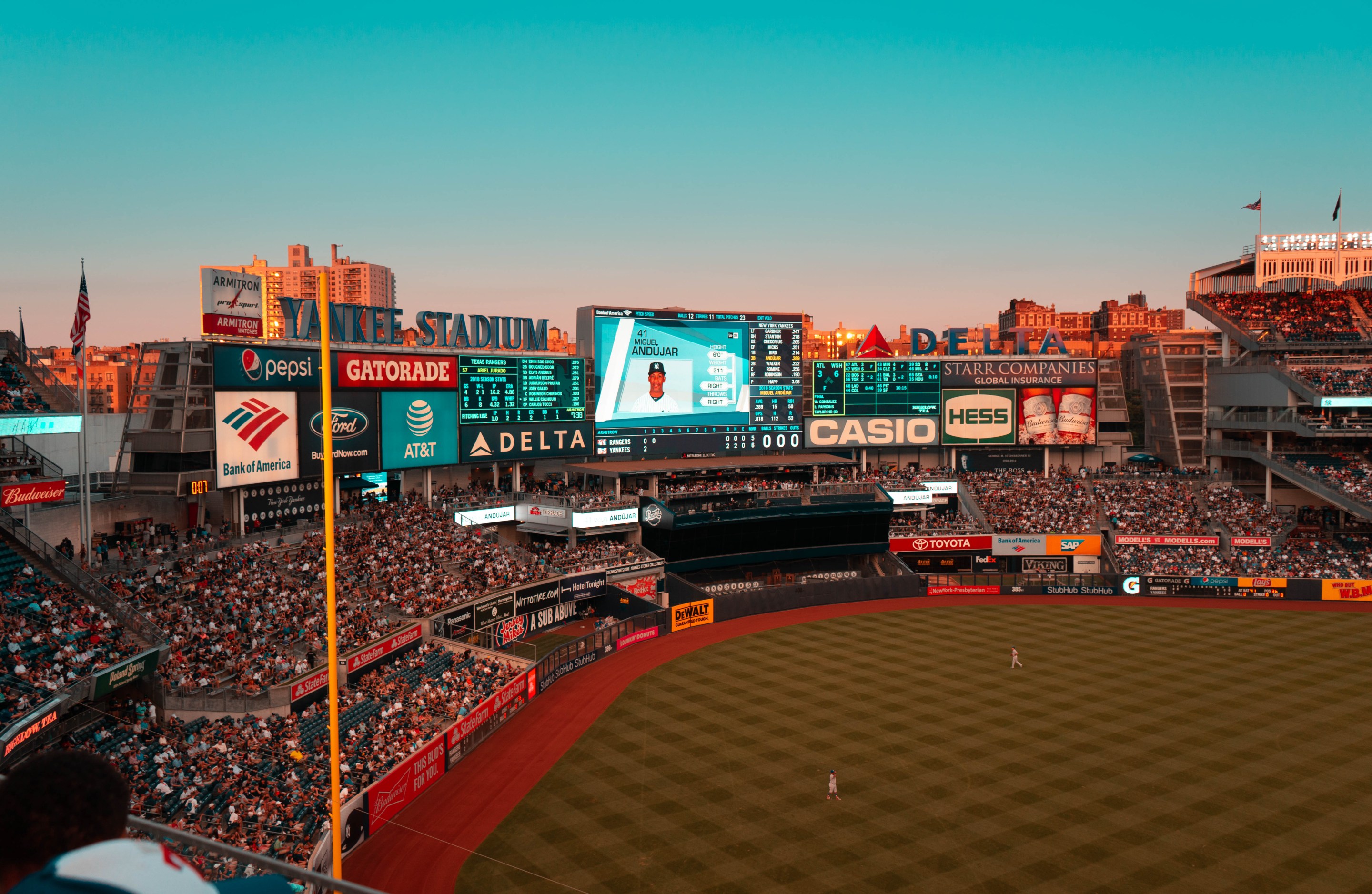 You never know who you're going to talk to when you're walking to your seats at the Yankees game. You just let the conversation come to you. "I don't think Donaldson should have been suspended," a man with a chinstrap mustache, looking like a Lone Survivor extra, told me. He was not a fan of Josh Donaldson's spurious one-game suspension from Major League Baseball.
Donaldson, who looks like who you'd find in the dictionary under "prototypical asshole baseball player," told White Sox Outfielder Tim Anderson—a Black man—"what's up Jackie?" last Saturday in a win against the White Sox at Yankees Stadium. The Lone Survivor extra explained that, in an interview two years ago, Anderson called himself the new Jackie Robinson. In that sense, chinstrap went on, "Donaldson was just talking shit. Everyone is sensitive."
Donaldson claims it was all in jest, but one look at Donaldson, and his track record of beefing with everyone who might have their head screwed on straight, belies any non-confrontational intent. Even Aaron Judge, who's trying to steer far, far away from controversy as he navigates towards possibly the biggest Major League payday ever, thought Donaldson went too far. At last night's game, against the doormat Baltimore Orioles, Donaldson was on Yankee fans' minds. On the Metro-North train, Luc, 15, told me he felt that Donaldson "said something racist, despite the context, and it was right to suspend him." Luc showed me that the kids might be all right after all.
In the first inning, the daunting and testosterone-filled right-center-field bleachers, which used to be oafishly charming and are now too MAGA-adjacent for comfort, started an idiotic "Free Josh Donaldson" chant. Their cries quickly faded, perhaps because of the relatively-quiet Monday-night-in-May baseball crowd. It's hard to believe this is the same stadium that graduated Taylor Swift and company a few days ago. Yankee Stadium—the house that George Steinbrenner and city taxpayers built—is still full of Yankee fans that ought to be put in an asylum alongside other New York misfits like Travis Bickle, Dave Kleinman from Carlito's Way, and Sonny from Dog Day Afternoon. Encountering white boys at the baseball game is not for the meek or polite. I was one of three Black people in the bleachers section and one of those three was holding an American flag. (I have a feeling that guy isn't going to be discussing race with me any time soon.) Going to a game with the glory of Syosset and Scarsdale is often repulsive, off-kilter, and if you do laugh, it's under your shirt so people don't see that you find them a little bit funny.
I've been going to the ballpark since I was wetting the bed. Yankee Stadium is sometimes rowdy, but it isn't dignified and deafening like the Old Stadium was. The old one was a coliseum in the Boogie Down—a place that haunted opposing teams with an air of inevitability before Schilling's bloody sock was able to reverse that curse. The Wiz sign, the cathedral-like arcs, and the "Black Seats" were distinct features in a park that functioned as a majestic dump. Memories and historic wins are what made the old park lovable. This new park is more beautiful aesthetically, but it proves that the best part about a stadium is not the architecture, but the vibes, and the vibes at the new Yankees Stadium are saturated, but not with glory. The current Stadium attempts to be tasteful and sometimes it gets there—I'm enjoying the new food this year. If any Yankee fans are like me and don't dig the white man's swine, then the Kosher Hot Dog near the left field foul pole will have you saluting the Jewish fans that line up in front of you. "This is a new location! They haven't lost at home yet since I been here," the Kosher hot dog vendor told me with the score tied 4-4. I had two of those Hebrew Nationals, cheese fries, a burger, and the new Chopped Cheese. The Chopped Cheese isn't bad—it's eight dollars, which means it better be at least average. And the whole set-up reads like the Yankees hired someone who started watching Desus & Mero on spec. If you were actually Bodega Hive, you'd keep a culinary invention like a Chopped Cheese in the bodega, B. Every ballpark is dealing with the downsides of a capitalist hellscape that make pastimes feel like amusement parks. But when you are the Yankees—the winningest organization in North American sport— it starts to be overwhelmingly pedestrian when you're in that park. This year's team, which is doing it with Aaron Judge, Giancarlo Stanton, and a devastating bullpen, is attempting to recapture the glory of the old ballpark. The jury's still out.
Still, baseball is a beautiful live sport. An asymmetrical smile is what happens when I think of the sunset sky glowing from behind the stadium lights. Every image you see in a baseball movie is genuinely how it is in real life. The glistening light will be so sparkling that it'll fog your glasses. The night sky gives you ease. It's a calming sight. Summer is here. Gone are the windy days and the scarves. Now, there are T-shirts, sunglasses, and white women in white pants and Fila sneakers. Looking up at the sky at Yankee Stadium, I was reminded of why baseball was always the sport of the working class before the game became too expensive for kids to play. There's nothing like kicking back and watching time pass through the prism of innings.
Aaron Judge, who the Yankees should pay a lot of money to (and incredibly might not!), started the first-place Yankees on the right foot with a missile of a home run. Last year, the Yankees were pushed into a one-game playoff with the Red Sox after losing too many games to the listless Orioles during the regular season. This year, they've been pummeling them. But maybe the early-season good vibes of the Yankees are gone, brushed aside by the racist Donaldson incident. The Orioles, with a bunch of guys that shouldn't be on a Major League roster, beat the Yankees ace (who also happens to hate Josh Donaldson). Now, maybe the baseball Gods punish the Yanks for a while because of this. The tide is turning and maybe last year's disappointing and aggressively mediocre team is back. I don't deny that woo-woo could exist in other forms. Life is made for people who are blessed with the belief of the unproven. But, I don't think this to be true here. Baseball games used to be played on plantations. President Ronald Reagan, the inventor of crack cocaine, once stopped a televised World Series game to tell old Baseball stories. The Baseball Gods weren't marching in the George Floyd protests in spirit. Malcolm X is wondering why we're even watching our Diamond-shaped activity. The long arc of the fly ball does not bend towards justice.  To love baseball is to be annoyed, or even dismayed, by its whiteness.
The Yankees lost 6-4. As I was walking down the ramp, there wasn't any screaming or bottles that were thrown. Fans were restless because the Yankees should never lose to the Orioles, but everyone was relatively well-behaved. As I left the Bronx Cathedral, I felt an ambivalence in seeing the normalcy of Jerome Avenue. As the street flooded with Yankee shirts, caps, and lowly NYPD officers, I couldn't help but notice that baseball was back like it never left—an event full of no color and unsophisticated men who show apathy towards the glaring issues of the sport. Baseball is timeless, often for the worst.

Jayson Buford is a lifelong New Yorker, a diehard Knicks and Yankees fan, and someone who has been searching for Rocawear jackets to bring back into the mainstream.
Stay in touch
Sign up for our free newsletter