Staying Alive
'We Want More Than Just Empty Promises': Why Montefiore Nurses Are Preparing to Strike
Nurses say they are burned out, and patient care is suffering. Hospital management says they are unable to "operationalize" the nurse's requests.
11:49 AM EST on January 6, 2023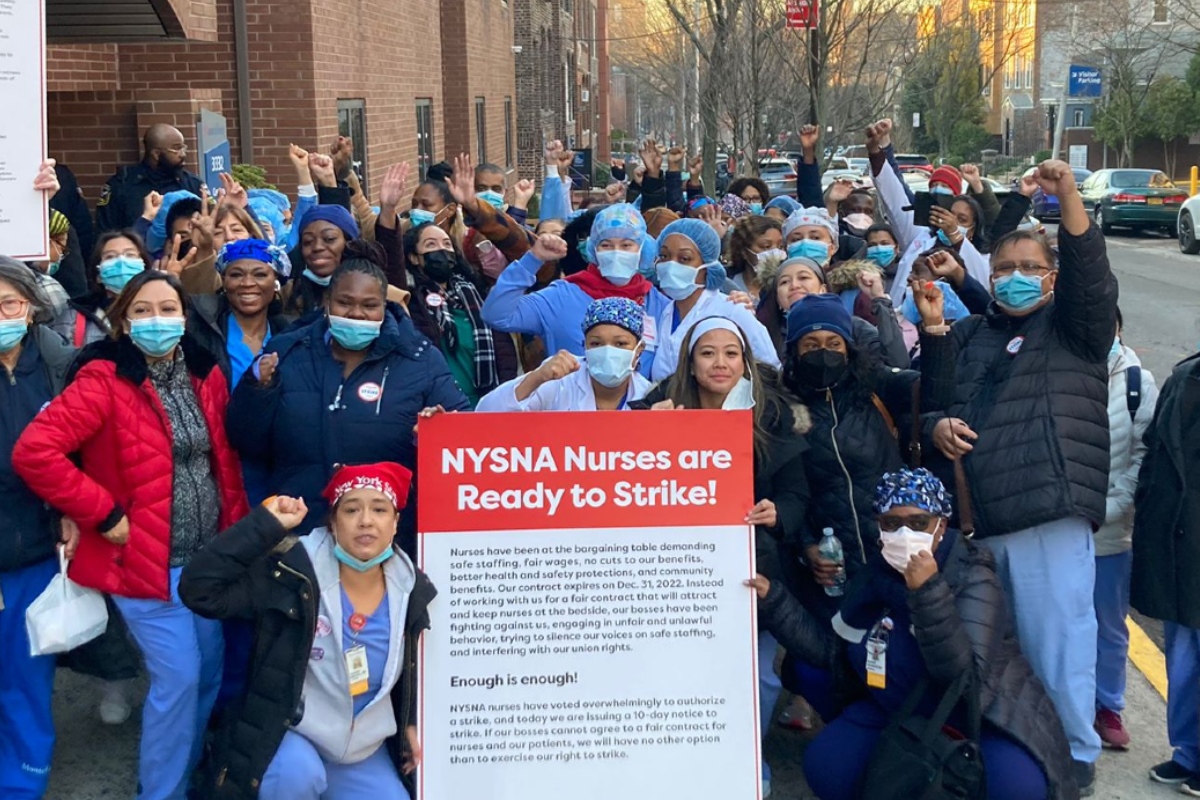 Since 2013, Michelle Gonzalez has worked as a registered nurse at the Montefiore Medical Center in the Bronx, delivering critical care at the Moses Medical ICU. The 33-year-old was born and raised in the borough, and she currently lives in the same Norwood neighborhood where the hospital was built. 
Joining Montefiore was the fulfillment of Gonzalez's childhood dream. But from the moment she started as a nursing assistant in 2011, senior staff told her she'd joined at a turning point in the hospital's history: Nurses were receiving far less support than they had in the past. And over the years, she says she's witnessed this institutional neglect firsthand. So after more than a decade on the job, she's preparing to strike. "Healthcare workers are struggling to deliver care," she said, "and we have asked kindly for change, to no avail."
Since as early as 2015, Montefiore management has directed that patients be placed in the hospital's hallways, spurring calls from elected officials to alleviate overcrowding and the launch of a state-level probe. In 2016, hospital workers described treating patients with life-threatening illnesses or extremely contagious conditions in common hallways; five years later, some said two or three nurses could see up to 70 patients a day. And those conditions haven't improved, according to Gonzalez. Just last month, she was horrified when a patient in a hallway bed had to have their clothing removed to be bathed, exposing their naked body in public rather than in the privacy of their own room.
"I truly believe, at this point, that we are treating animals better than we are treating these hallway patients," Gonzalez said. 
Nurse burnout, exacerbated by COVID-19 and recently deepened by the "tripledemic" of COVID, RSV, and the flu, has contributed to a spike in labor actions in the medical field: Since 2020, there have been more than 70 strikes in healthcare facilities nationwide over inadequate pay, patient-to-nurse ratios, and other staffing concerns. And in New York, a controversial set of staffing laws allows hospitals to override nurse recommendations about how many patients should be under a single provider's care. Years of frustration over some of these issues led Gonzalez to join the thousands of nurses from many of New York City's largest private-sector hospitals who are preparing to strike on January 9, following the expiration of their contracts on New Year's Eve. Unless new contracts are agreed upon before next Monday, Gonzalez and other nurses throughout the city will be standing at the picket line.
In December, 98.9 percent of the nurses organized under New York City's New York State Nurses Association voted to authorize a strike. The full strike would have included some 16,000 workers citywide, but some institutions have already responded to the threat. One hospital network, New York-Presbyterian, came to a tentative agreement on December 31 with NYSNA; nurses at Richmond University Medical Center and Maimonides Medical Center reached tentative agreements on January 5. 
But Montefiore has so far held out. Hell Gate reached out to the organization with a list of questions, including how the hospital is preparing to maintain patient care in the case of a strike. A hospital representative declined to comment on the record. But according to NBC New York, some of the hospitals with strike notices are spending "tens of millions of dollars in nonrefundable down payments to have traveling temporary nurses on reserve" should their employees walk out. NSYNA also says that hospitals including Montefiore have attempted to intimidate union members, leading to official charges filed with the National Labor Review Board. In an interview with OptOut New York, the union's executive director described a citywide campaign to spy on nurses or prevent them from speaking to the press. 
Gonzalez is an executive committee member of the Moses NYSNA team and a part of the negotiating committee that has been in bargaining talks with management at Montefiore for the last three months. She told Hell Gate that the most important demands for the hospital's nurses are better staffing ratios—and tangible enforcement of those rules. Previous promises to staff up, she said, have failed to produce results. 
"If nurses felt like we could trust that our hospitals would hire expeditiously, like they said the last time, we wouldn't be going out," she said. "This strike is because when nurses' contractual ratios are being violated, it puts patients and nurses at risk, and we can no longer continue placing our licenses and mental health on the line because we are short-staffed and dealing with sick patients who all deserve excellence, time, and our presence of mind."
Staffing and supply shortages have led to a decline in the quality of care, Gonzalez told Hell Gate. For instance, oxygen is often pulled from "healthier" patients and given to those in emergency situations. This practice, which has existed for years, became more common once COVID-19 hit. And, she said, the hospital figured out ways to create spaces for more patients, yet never increased the number of nurses or support needed to provide them adequate care.
The nurses have included proposals in their talks with the administration that include the addition of 62 nurse practitioners to Montefiore's Bronx campuses, to help solve the issue of overcrowding in the ER. She told Hell Gate that despite evidence showing that improvements to primary and preventative care reduce ER visits for patients, Montefiore management says they are unable to "operationalize" the addition of more nurses, or any of the proposals the nurses recommend. 
Montefiore has not directly commented on the union's numbers or allegations, though in a recent statement a representative said NSYNA refused to consider an "equitable offer" from the hospital, including an 18 percent wage increase and more registered nurses in the emergency room. In response, NYSNA president Nancy Hagans wrote in a statement, "If Montefiore can afford to pay its executives so much, they can hardly cry broke when it comes to negotiating a fair contract with frontline nurses."
Montefiore is one of the largest private employers in the Bronx, and operates ten hospitals and more than 200 clinic locations in the Bronx, Westchester County, and the lower Hudson Valley. The hospital, founded in 1884, describes itself as an "active corporate citizen" focused on "community-based care." But according to NYSNA, Montefiore, which serves more than two million people, distributes over two-thirds of its resources to its Westchester hospitals—a smaller and whiter minority than its Bronx patient population.
Despite over 60 percent of the medical system's resources going into White Plains Hospital, NYSNA says, pricing and charges for Bronx patients at Montefiore faced one of the highest increases across all city hospitals since 2015—the average price a patient pays across the board at the hospital has skyrocketed 164 percent in less than ten years. And it's not exactly as if the organization is broke: In 2020, according to Crain's, the system's president, Dr. Philip O. Ozuah, made over $6 million. Last year, Montefiore paid $38 million for a development site in White Plains.
Against the backdrop of all this spending, the hospital's refusal to meet the nurse's demands for better patient-to-nurse ratios feels particularly frustrating. According to Gonzalez, in recent years, Montefiore's management made financial promises to improve staffing for the nurses. In 2018 and 2019, when the nurses last entered into contract negotiations, the hospital committed to spending $66 million over four years to increase the number of full-time employees and improve nurse ratios. But since 2019, the number of nurses at the hospital has decreased. In 2018, there were 3,200; by 2022, that number dropped to 2,700. 
"We want more than just empty promises," said Gonzalez. "We want substantive change, for ourselves and our community."
Nurses are not the only Montefiore workers who have been pushing for better working conditions. In November, the hospital's medical residents and fellows announced plans to unionize and fight for better wages. And in October, former cleaning staff that maintained the medical complex filed a class-action lawsuit against the medical center as well as the staffing agency that hired them over unpaid overtime.
"We are all tired of administrative higher-ups telling us that there is nothing they can do whilst getting millions of dollars in salaries and purchasing more and more real estate farther and farther away from the Bronx," said Gonzalez. And for her and other nurses, it's about the institution's priorities, particularly as the medical system engages in such high-profile partnerships as a Montefiore-sponsored concert series at Madison Square Garden featuring Billy Joel. 
"They know how to operationalize concerts at Madison Square Garden. They know how to operationalize buying up real estate in the Bronx, buying up real estate all the way up to upstate, all the way down to Hudson Yards," Gonzalez told Hell Gate. "They know how to operationalize all kinds of things, but they can't figure out how to operationalize things that are actually going to help the community."

Olga Marina Segura is a freelance writer and the author of "Birth of A Movement: Black Lives Matter and the Catholic Church." She is the creator of Bronx Frontlines, a weekly bilingual newsletter written by Dominican women in the Bronx.
Stay in touch
Sign up for our free newsletter