What's Your Deal
When Your Waxer is Also Your Therapist
Waxers like Tisha Gloss don't just rip off pubic hair—they often dispense life advice, too.
10:49 AM EDT on July 29, 2022
"Fancy is the best thing that's ever happened to my coochie," says Katie Alvarado, who's sprawled, face-up, on a pink bed.
Tisha Gloss, aka Fancy, dangles a hot wax strip over Alvarado. "I'm outlining a triangle," she says. The cerologist squints. "But it's looking more like a martini glass."
Gloss, 34, has been waxing what she calls coochies, cats, kooter mamas, and vajayjays for ten years. Her one-room salon, above a law office on East 204th Street in the Norwood section of the Bronx, is a skylit, coconut-scented oasis.
Homemade oils, bottles of rosé, and bags of Doritos line the room. A full-length mirror leans against the wall, scribbled with quotes from Cardi B ("My personality is humongous") and City Girls. 
For 75 minutes, Gloss and Alvarado tackle life's tough questions: Do you have to be in a specific sort of mood to chew gum? How do you share a bed with a man and actually sleep well? Finally, Alvarado wondered, should I get a vagacial—a spa treatment for the vulva?
Alvarado warns Gloss not to be late for her 30th birthday party that night.
"Knees to your chest," Gloss instructs.
Their salon talk goes deeper than one might expect. Earlier this year, Alvarado called Gloss for advice on whether to get an abortion. She booked a wax service that day just to discuss the matter in person. 
"I try my best to be a listening ear" for clients, Gloss told me. "I let them come to their own decision by giving them a safe space to think freely and speak with pure intentions."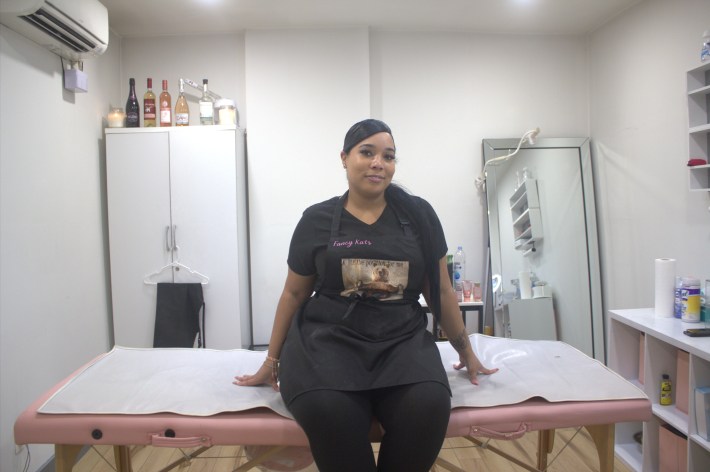 Other service providers—barbers, nail techs, bartenders—play the somewhat strange role of de facto therapist for their clients. The dynamic is just as true for cerologists, whose work is arguably more intimate: The expectation for service workers to play counselor is "unconscious" says Chanel Holcombe, an aesthetician in Yonkers, and she finds it "rewarding and debilitating at the same time." 
"I know if someone shares their story with me, there's a trust in me not only for the service I'm providing but for my outlook and insight on life," she said. A client once cried so hard to Holcombe about her child's illness that she prayed on the spot.
"That was five years ago, and I still wonder what happened with that mother and her little girl," she said.
Gloss doesn't just offer life advice; at times, she's a healthcare advocate. (And as with Alvarado, sometimes she is both at the same time.) Years ago, a client came in with throbbing bumps on her vulva, thinking it was a spider bite. Thanks to Gloss' recommendation to visit a doctor, the woman learned she had an STI. Other times, she'll note that a client smells like they might have bacterial vaginosis, and she regularly urges clients in their late thirties who've never gone to see an ob-gyn to make an appointment.
"You have to experience those things to really explain them," Gloss said. "Some people don't know how to speak up for themselves, and you have to be a voice."
As for the emotional consults, they take a toll. "Sometimes I realize I took that person's whole day home with me," Gloss noted. "I'm yelling at my man because of something my customer's boyfriend did." After years of getting regular texts from clients in the middle of the night—seeking advice on a fishy smell or an angry sister-in-law—Gloss draws stricter boundaries now, and only replies on workdays.
One sunny afternoon, one of Gloss' regulars, a JetBlue flight attendant on a 30-hour layover, walks in. "How you doin' Fancy?" she called out. 
"Workin' for the Birkin!" Gloss replied.
Gloss' family and friends nicknamed her Fancy when, at 15, she watched Kelis's music video for her song "Bossy"—a few times per day. She decided she wanted to be her own boss.
Growing up in the Bronx, Gloss said, "You don't get to see many people live out their goals and accomplishments," leaning over the wax bed in fuzzy pink slippers one afternoon.
She added, "Where we come from, you don't have the opportunity to be soft and walk with feminine energy. A lot of us travel outside of this borough for that feel and that experience."
Gloss got her first Brazilian wax in her early twenties, while working as a receptionist at a European Wax Center on the Upper East Side.
After seeing the salon's cerologists driving nice cars, "the bells in my head started to go off," Gloss said.
She took a 75-hour course and written exam to get her own state wax license. Soon, Gloss started making $800 per week—money she hadn't come close to before, she says. In 2020, she rented her current space, right before the COVID-19 pandemic hit. 
Even after losing a few months of income while salons were closed, Gloss reopened without raising her prices, which she said helped maintain customer loyalty. Women who came in a few weeks pregnant now push baby strollers into the salon. They even offer to help pay for each other's services when someone's having a rough time. Gloss throws in a free wax now and then, though she knows she can't afford to make a habit of it.
Now, inflation is forcing Gloss to finally up her fee. The $40 she used to spend on 5,000 wood sticks is now $100, and wax prices have tripled. Some clients help, bringing gloves from the hospitals they work at or candles to decorate the place.
Still, business appears to be booming. From 10 a.m. to 8 p.m., five days a week, Gloss waxes 10 to 15 customers seeking a variety of services: nipples for $10, full butt for $20, booty facial for $80, and full body—from the neck down—for $225. Gloss is meticulous about her work, fulfilling requests for offbeat shapes; one customer even asked her to glue on a peacock feather. Even on a bad day, she says, "I see my first customer, and I'm good." Though Gloss won't reveal how many clients she has, she said within ten minutes of opening up her schedule, she's booked out for months. "My notoriety comes from word of mouth," she explained. 
On a recent summer day, sometime after Gloss cackled about her dog Bougie's favorite food (McDonald's chicken nuggets) and before Beyoncé's "Break My Soul" came on, the conversation turned to weightier matters.
"It's kids killing kids these days," one customer said, referring to the Longwood 11-year-old shot dead in May by a teenager.
"You remember going to your family's house and they untied the old telephone wires and you used that as a jump rope?" Gloss replied. "They were playing football in the middle of the street, watching out for cars. Everybody looked out for everybody."

Bahar is a reporter based in NYC, particularly skilled at self-deprecation. Her mediocre work has appeared in The Guardian, The Lily, The Village Voice, Vogue, and other outlets.
Stay in touch
Sign up for our free newsletter