The State of New York
What the Hell Is Happening at the NY State Court of Appeals?
Democrats screwed up New York's top court. But unlike the Supreme Court, we can actually do something about it.
6:49 PM EDT on May 5, 2022
When the Court of Appeals, the highest court in New York State, voided the Democrat-drawn House and State Senate maps in April, it was a reminder that local jurisprudence can still have a profound impact on everyday life. The shock ruling not only upended the political calendar—federal and some state primaries will be shifted to late August—but possibly imperiled the House Democratic majority in Washington, which was counting on Democrat-friendly districts in New York to safeguard incumbents and flip several seats.
It also shone new light on an incredibly powerful court that most New Yorkers, so attuned to the machinations of the U.S. Supreme Court, only dimly understand. Clarence Thomas, Amy Coney Barrett, Samuel Alito, Brett Kavanaugh are household names for anyone who watches cable news; Janet DiFiore, Michael Garcia, Anthony Cannataro, and Madeline Singas are not. For a long time, the Court of Appeals was even an afterthought for the many political organizations and nonprofits that regularly try to influence state policy.
For the average New York liberal who rages about the 6-3 conservative majority on the U.S. Supreme Court about to overturn Roe v. Wade, it may come as a surprise that the highest court in New York is hardly more friendly terrain. Today, the court is dominated by a chief judge who is a former Republican and ally of the disgraced Andrew Cuomo, controlling a bloc that consistently makes controversial rulings on a variety of criminal justice and housing cases.
Unlike in Washington, where Democrats barely cling to their Senate majority, Democrats in New York hold a supermajority in the State Senate, making the Court of Appeals' composition all the more galling for any supporter of criminal justice reform or tenants' rights who pays attention to how they rule on cases. Last year, this supermajority rammed through two moderate-to-conservative Democratic judges. One faced fierce opposition from some progressives and interest groups. Another was largely ignored.
Court of Appeals judges do not serve lifetime appointments and there are seven judges instead of nine. They must step down at the end of their 14-year term or if they reach the retirement age of 70. The State Senate votes to confirm the judge the governor nominates. A Commission on Judicial Nomination screens candidates for vacancies on the court and produces a slate of nominees from which the governor chooses to send to the Senate for confirmation.
Today, as New York tilts left, a firm 4-3 majority on the Court of Appeals has consistently ruled against the rights of vulnerable defendants and tenants. This is partially the fault of Cuomo, who was governor for more than a decade and appointed six of the seven judges. One judge, Shirley Troutman, was appointed by Kathy Hochul, Cuomo's successor.
The judges, for the most part, came through a political and legal pipeline where the carceral lobby has much more influence than criminal justice reformers and other progressive interest groups. For most of his tenure, Cuomo was a skeptic of these movements, prioritizing judges with tough-on-crime backgrounds or deep establishment ties.
To truly understand the Court of Appeals, it helps to know the aforementioned DiFiore. Since 2016, she has been the chief judge, supervising both the Court of Appeals and the entire court system of the state. DiFiore was a close Cuomo ally from Westchester, where the former governor used to live. Before ascending to the Court of Appeals, DiFiore was the Westchester County District Attorney. In 2005, she ran and won as a Republican, before switching parties and winning as a Democrat in two subsequent elections. A conventional prosecutor, she did draw plaudits for revisiting the case of Jeffrey Mark Deskovic, who served nearly 16 years after being convicted of raping and killing a classmate before being exonerated with DNA evidence.
As Cuomo faced down the numerous sexual harassment and assault allegations that would end his political career, he tried to have DiFiore jointly choose, with Attorney General Letitia James, an attorney to conduct a review of the cases. James rejected the idea. DiFiore was also close enough to Cuomo to be one of the individuals who surreptitiously received priority COVID testing in the early days of the pandemic.
According to those familiar with the workings of the Court of Appeals, DiFiore's imprint is everywhere. She has dramatically slowed the number of cases the court reviews, relative to her predecessors. She spearheaded the ruling that erased the districts drawn by the Democratic leaders in the legislature.
Her jurisprudence on other matters leans decidedly right.
In 2020, just as COVID was ravaging New York, DiFiore's court ruled in Regina Metro Co., LLC v. New York State Division of Housing and Community Renewal that rent-controlled tenants who had been illegally overcharged by landlords could not collect rent claims retroactively. Landlords had been hiking rents while enjoying a tax break, known as J-51, which was intended to maintain affordable housing.
The Court of Appeals, in their ruling, voided part of the sweeping pro-tenant package that passed the Democrat-controlled legislature in 2019. The majority, to the horror of tenant advocates, decided it was unconstitutional for the legislature to make landlords pay for overcharges. The precedent will impact how tenants navigate the court system for years to come.
Another housing ruling in 2021 dealt a huge blow to homeowners facing foreclosure. The court's decision in Freedom Mortgage Corporation v. Engel opened the door for lenders to renew foreclosure suits against borrowers that had once expired. The number of impacted homeowners could be in the tens of thousands.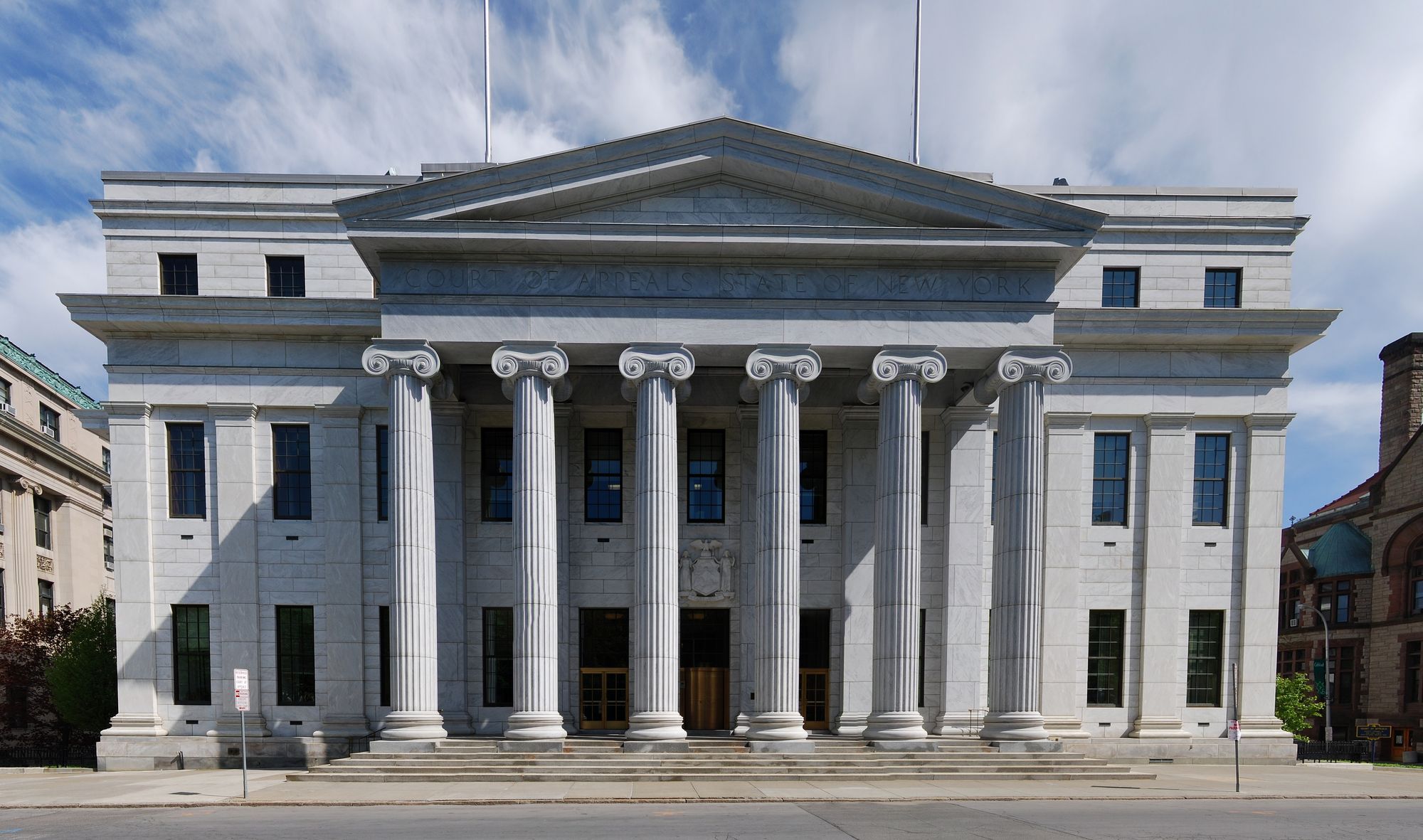 On criminal justice, the Court of Appeals has been regressive by modern standards, overwhelmingly siding with the prosecution over defendants. Only two judges, Jenny Rivera and Rowan Wilson, routinely dissent against the conservative majority. While those convicted of crimes can request that the court consider the legality of their conviction, the current court routinely declines to hear those appeals. The number of criminal appeals accepted by the court is at its lowest point in years. In 2013, the court heard 259 criminal appeals. In 2020, that number dropped to 96.
In 2019, the court's majority held that police can chase someone down and apprehend them if they see the person drinking something from a paper bag and the person flees. In 2018, the court ruled that if a defendant pleads guilty, they can never get the conviction vacated later on the ground of actual innocence, no matter how much evidence is presented to prove innocence. The court, for reasons unclear, did not consider the growing body of evidence concerning false confessions.
Most egregious, perhaps, was the Omar Alvarez case, decided in 2019. When Alvarez was 19 years old, he was charged and convicted of several violent crimes, including murder, and sentenced to 66 2/3 years to life. His appointed appellate lawyer filed a brief riddled with typos and grammatical errors, one bereft of any citation at all to support its legal claims. The lawyer failed to seek review of a de facto life sentence without parole imposed on a teenager.
Alvarez, by then in his 40s and gravely ill with cancer, filed a motion alleging that his appellate lawyer ineffectively represented him. The Court of Appeals affirmed his conviction in a brief decision. Rivera and Wilson furiously dissented. Taking the unusual step of attaching a link to the brief, Rivera wrote that it "violates every rule about effective advocacy taught to law students across the country."
Rivera's tenure on the court is complicated as well. As of April, she has refused to get vaccinated against COVID-19 and has been working remotely. The Commission on Judicial Conduct could ultimately boot her from the court. A courts spokesperson confirmed today that her status has not changed.
If a comparable judge doesn't replace her, the outlook for progressive jurisprudence could be dismal. DiFiore's allies on the court include Michael Garcia, a Cuomo-appointed Republican who once served as a U.S. attorney for the Southern District and helped lead ICE under George W. Bush. In Garcia's case, Democrats are not entirely to blame. Like  DiFiore, he was appointed when Republicans still controlled the State Senate.
Anthony Cannataro and Madeline Singas, two allies of DiFiore filling out the Court of Appeals bench, were confirmed in 2021, when Cuomo's political prospects were declining and Democrats had built up a Senate supermajority. Few paid attention to Cannataro, a little-known civil trial court and administrative law judge with no reform credentials. Chosen to replace the late Paul Feinman, the first openly gay judge to serve on the Court of Appeals, Cannataro was elevated over a roster of more left-leaning candidates in part because he was openly gay, a priority for advocates in the legal community.
Progressive politicians and criminal justice reform groups did mobilize aggressively against Singas, who served as the Nassau County District Attorney. A conservative Democrat in the mold of DiFiore, Singas was a vocal advocate of giving judges the power to detain people based on their perceived "dangerousness." When nominated to the court of appeals, she was dogged by questions about her role, years earlier as a young prosecutor in Queens, in which the DA's office withheld evidence that would have exonerated three men falsely accused of murder. The men would spend decades in prison before their convictions were finally vacated last year.
Progressives and socialists in the Senate voted against Singas but couldn't overcome support from most of the Democratic caucus. Michael Gianaris, the deputy leader of the Senate and a strong ally of leftists like Alexandria Ocasio-Cortez, defied his cohort and pushed Singas through the body. The two are old friends from the tight-knit Queens Greek-American community.
Singas and Cannataro joined DiFiore and Garcia in striking down the Democrat-drawn House and Senate maps. For the Senate Democrats who voted to confirm the two newest judges a year ago, it was an ironic and bitter pill to swallow.
For progressives, hope is on the horizon as DiFiore nears retirement. In 2025, she turns 70, and will need to retire at the end of that year. Assuming Democrats still hold a healthy majority in the State Senate, they will have a chance to exercise their leverage anew in the near future. If the Supreme Court is a lost cause, the Court of Appeals doesn't have to be.
*This post has been updated to reflect the fact that Madeline Singas did not fight to preserve cash bail. Singas advocated that cash bail be replaced with a dangerousness standard. The original story also stated that as a Queens prosecutor, Singas witheld evidence in a case. While she did have evidence that would have bolstered the defense of three men whose convictions were ultimately overturned, those cases were prosecuted not by her, but by her colleagues in the Queens District Attorney's office. Hell Gate regrets the error.
Stay in touch
Sign up for our free newsletter