The State of New York
Governor Kathy Hochul's Beautiful Bumpass Home
Our 57th governor has extolled the beauty and virtues of New York's many lakes. Why does she own a home on this man-made, 17.5 mile-long lake in Virginia?
1:50 PM EDT on August 22, 2022
Roughly a year ago, as I was listening to our former governor drone on about "New York Loving" and how the attorney general was unfair and why he was resigning, I was reading as much as I could about our new governor, Kathy Hochul. I knew that she was from Buffalo, that she used to be a conservative Democrat, and that she and her old running mate didn't always see eye to eye. Now I was learning that she had a house in…Bumpass, Virginia?
The Post's story about Hochul's $2 million real estate portfolio mostly focused on her two condos on Lake Erie in Buffalo, and the hilariously creepy interior photos for a real estate listing that look straight out of an "Unsolved Mysteries" reenactment. 
But what was this sweet pile in Virginia? Property records show that the Hochuls purchased the lakefront home in 2008, when the governor was still Erie County clerk. The house is roughly a nine-hour drive from Buffalo, which is a long haul for a vacation spot, even for someone who took pride in visiting all 62 of New York's counties by car. The closest major airport is Richmond International, where the concessions are run by Delaware North, the entertainment conglomerate where the governor's husband, William, is an executive.
It seems that the Hochuls made a wise investment—the home, nestled on an acre of land on the shores of Lake Anna, is now assessed at $822,700, a nearly 20 percent increase from last year. A cursory Zillow search of homes for sale near the Hochuls show that they are selling at much higher prices. ("This Virginia Lake Town Was Just Named the Best Place to Buy a Vacation Home—and You Can Make $80,000 in Rental Income," Travel + Leisure recently told us.) The couple reported a 2021 income just shy of $1 million.
As lieutenant governor and as governor, Hochul has extolled the beauty and virtues of New York's many lakes, from Saranac to Placid to Cayuga to George. So how has Lake Anna, a man-made, 17.5 mile-long interloper below the Mason-Dixon and 80 miles south of D.C., found its way into Hochul's heart?
Earlier this summer, I was in the "neighborhood" (within 50 miles or so) visiting family, and decided I'd pay the Hochul's Virginia home a visit, to try and understand this unique body of water that was beguiling enough to earn the love and cash of the most powerful person in the Empire State.
As with the start of any successful road trip, I recommend listening to George Benson's "Breezin'" for the duration of this blog post.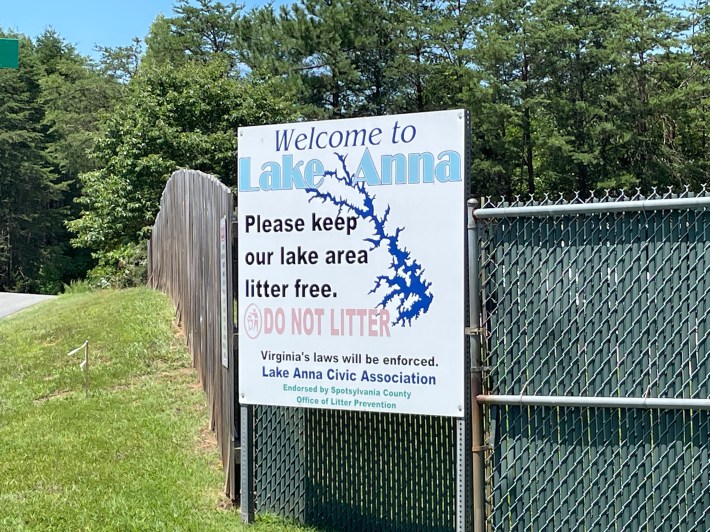 Lake Anna came to exist 50 years ago because a nuclear power plant needed water to cool off. The Virginia Electric and Power Company (now Dominion Energy) dammed the North Anna River so that water could flow through the North Anna Power Station in Louisa County. Families living in the 18,000 acres in Louisa, Spotsylvania, and Orange counties that would become Lake Anna—mostly Black Virginians—were displaced.
"I think there's probably a big degree of people who lived in what is now Lake Anna who have that sense of displacement much in the way that other immigrant communities have, in that they can't return to because it's now underwater," Katelyn Coughlan, executive director of the Louisa County Historical Society, recently told Lake Anna Connections.
In 1968, workers began excavating and constructing the power plant, and by 1972, the lake was ready to be filled up, a process projected to take three years. Instead, with the help of Hurricane Agnes, it took a mere ten months. Virginia stocked this new lake with more than five million fish.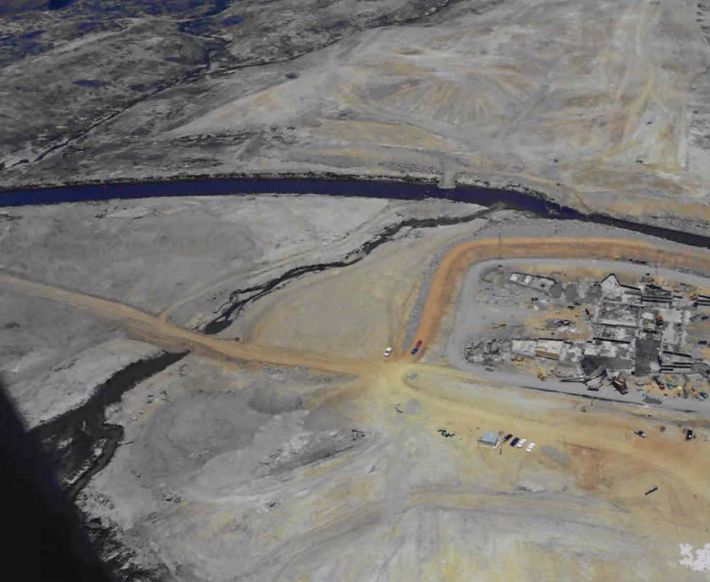 Lake Anna is actually two distinct bodies of water separated by three dikes: the 9,600-acre Lake Anna Reservoir, aka the "public side" or "cool side," and the 3,400-acre Waste Heat Treatment Facility, aka the "private side" or "warm side," where Governor Hochul's home is. 
When the nuclear plant is running at maximum capacity, more than two million gallons of water flow from the cool side into the plant, condensing steam back into water, which passes into the warm side. The private side is around 14 degrees warmer than the public side, and stays above 70 degrees, even in the colder months. "It's sort of like having your very own little piece of Florida right here in Virginia," per the Lake Anna Breeze.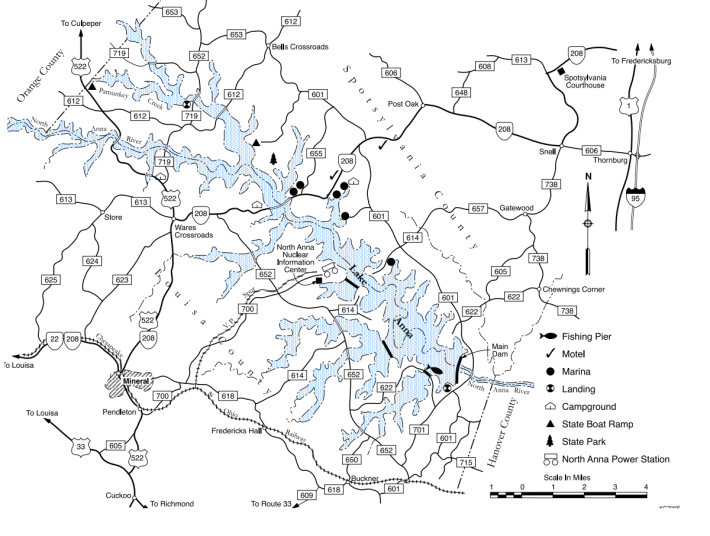 As its name implies, the private side has no public boat launches or marinas or commercial enterprises of any kind. Every finger of the land, located just off of the highway, is seemingly part of a different development, which in turn has its own homeowners association with a high-falutin name (the Hochuls' is "Foxwood Manor").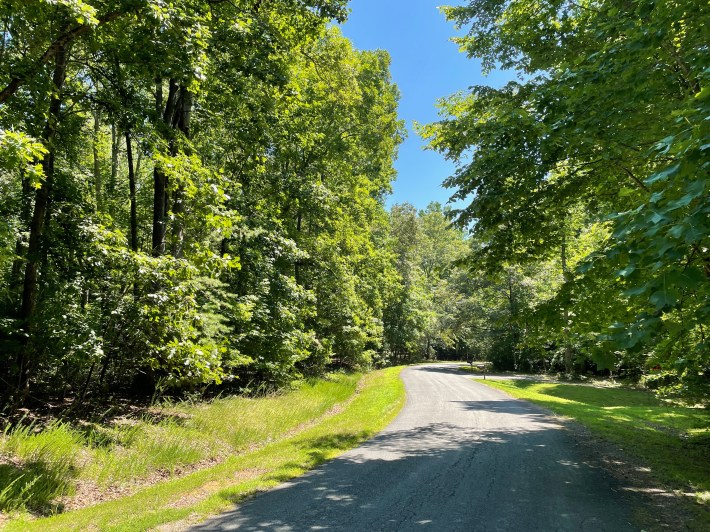 This is golf cart and pontoon boat country, but with an oddly suburban twist. (It's also Trump country: The former president outperformed Biden nearly two-to-one in Louisa County in 2020.) And on a hot Tuesday afternoon in July, it was also pretty quiet, except for the distant drone of a lawnmower and a red-eyed vireo making its presence known.
I approached the Hochuls' next-door neighbors. A Jeep with Connecticut plates sat at the end of the driveway, and a puzzled teen answered the door. Were they aware that the governor of New York could in theory show up at any moment?
"We're just renting this for a week. It was on Airbnb," the teen said. "Vrbo!" a shouted voice corrected from deeper in the house.
Why did they choose Lake Anna? "We just thought it looked nice." Is it? "Yeah." Then he had to go enjoy his vacation.
Another neighbor who had owned a home at Lake Anna since 2006 was also surprised to learn that arguably the most powerful governor in the country had a home a few dozen yards away. 
"I didn't know he was the governor of the state of New York," said the neighbor, whom we'll call Sarah. (She asked to not be named—it's a small neighborhood after all). We quickly noted that Kathy Hochul was our first woman governor. "I should be more informed about who the governor of New York is," Sarah replied. "Is she Democrat or Republican?"
Sarah said she was a "longtime Republican" from the D.C. area, who recently started voting for more moderate candidates. "I'm fiscally very conservative, but socially more liberal," she assured us. "I thought you were gonna ask me about the nuclear power plant, because that would be the most controversial thing going on down here."
Remember that rare East Coast earthquake in the summer of 2011? (We felt the concrete floor below our desk in DUMBO move, an unforgettably unnerving sensation. Then we got back to blogging.) The epicenter of the 5.8-magnitude shock was in Virginia, 12 miles south of the nuclear power plant at Lake Anna, and was strong enough to "make 117-ton canisters of spent fuel skitter a few inches on their storage pad," as the Times put it. After that earthquake, Dominion increased the plant's capabilities to withstand a stronger one. The utility initially wanted to build a third nuclear reactor at the site, but those plans are apparently on hold, though the company has applied for an extension to operate its current reactors until 2058, an application that several environmental groups are opposing. 
But that stuff didn't come up at the most recent Foxwood Manor HOA meeting in May, Sarah said. The big topic was the proliferation of vacation rentals, and the strain that packed houses put on the septic systems around the private side: "If you overload a septic system, it's going to leach into the lake." 
Did the Hochuls weigh in? "I can tell you they were not at this meeting," Sarah said.
We finally strolled down to the Hochul home. No one was there. That's a shame, because it was a beautiful day to sit out on the dock.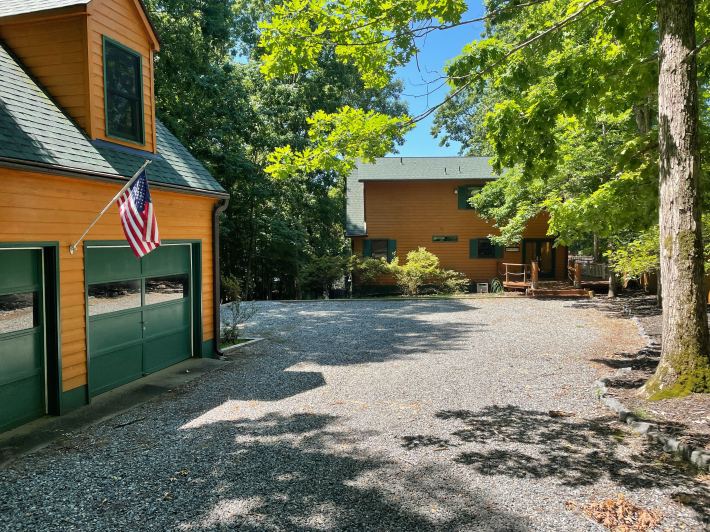 Before I left Lake Anna, I needed some road trip crackers. You know, Captain's Wafers or Cheese on Wheat. (I will also settle for Toasty.) My only real option was the Elk Creek Country Store a few miles down the road. The store was packed with people buying gas and pizza and some fried chicken. 
They also had some bait and tackle, and T-shirts for those who wanted to display their Bumpass pride. (The town is named after a gentleman with a French surname, and is now pronounced "bum-PISS.")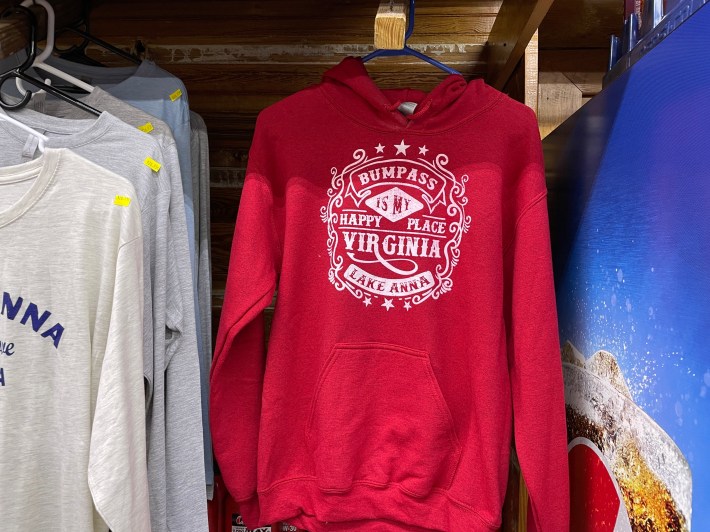 I met Don in line for a sandwich. "What can I do for you?" he asked me.
Don told me he was originally from northern Virginia, and had spent 30 years in the Marines flying helicopters. He now lives on the public side of Lake Anna. "Welcome to Disneyland," he said of the region. "It's crazy down here. It's Virginia." 
I asked him if he knew that the governor of New York liked it down here too. He did not.
"It's a little strange," Don said. "But it's a great place to be, which is why I retired here."
Don got to talking to me about the cool side and warm side of Lake Anna. "My son used to put on a swimsuit and a life vest and jump over into the warm side and just hang out," Don explained. "He called it 'diaper time.' I don't know why."
I shook his hand, thanked him for his time, and walked back into the parking lot, the blistering hot sun on my neck and the words "diaper time" ringing in my head. (Later, a friend speculated that this was in reference to the son wearing a life vest like a diaper, perhaps an homage to the "It's Always Sunny" bit.) 
Does the 57th governor of New York ever get to enjoy "diaper time"? Unfortunately, not often. 
The governor's office told Hell Gate that the vacation house has mostly been used, especially during the pandemic, by Hochul's two adult children, who live in the DMV. While Hochul worked in D.C. in the late '80s and early '90s for Rep. John LaFalce and Senator Daniel Patrick Moynihan, and may have visited the area then, the purchase came much later, when some of her siblings and other family members bought places around Lake Anna (Hochul is the second-eldest of six). According to her office, the last time the governor was down south was in late July, for her granddaughter's baptism.
Chris is an editor at Hell Gate. He spent nearly a decade working for Gothamist, and his work appears in New York Magazine and Streetsblog NYC.
Stay in touch
Sign up for our free newsletter