Cultural Capital
Vagabon Will Return to New York
On her new album "Sorry I Haven't Called", Laetitia Tamko excavated a bodacious new sound from a pit of grief.
4:21 PM EDT on September 21, 2023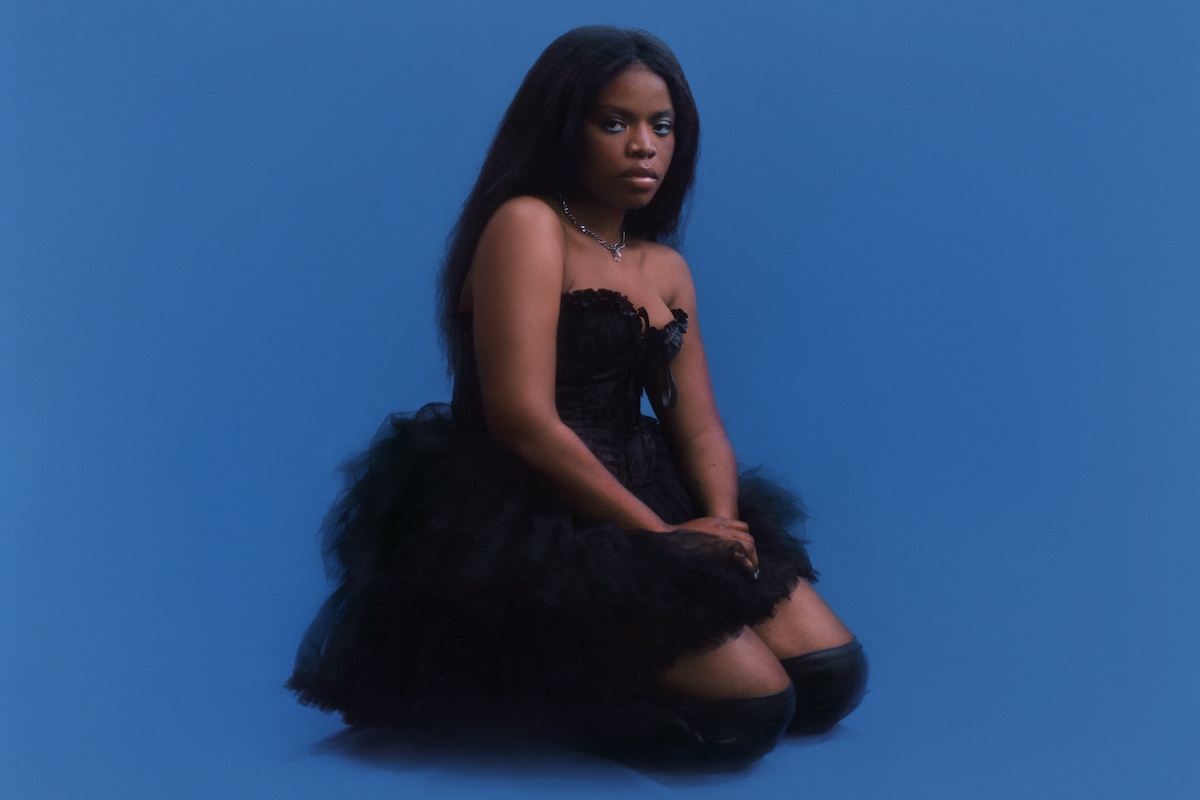 In 2021, New York's Laetitia Tamko, better known as the musician Vagabon, moved to a town in the German countryside following the passing of her close friend Eric Littman. Littman was a producer on albums from across the late 2010s Brooklyn music scene in which the Cameroonian-American Vagabon emerged as a star. Littman became a collaborator in her agitations against the boundaries of the 2010s Brooklyn DIY sound—Bushwick, Shea Stadium, Silent Barn, Mitski, all that. That segued into Tamko being swept up in that whole "women in indie rock" narrative frenzy everyone was drooling over back then. But though she came from a DIY era, she told Document Journal recently she didn't sign up for all the aesthetic signifiers under which she had come to be lumped in. That discontent budded on Vagabon's synthy 2019 self-titled release, and blooms on her latest album, "Sorry I Haven't Called."
In the lead up to "Sorry I Haven't Called," which came out last week, Tamko has stepped out with a new flamboyance, calling listeners to the dancefloor. The album itself is full of gossamer pop built atop high-tempo instrumentals that bubble into dance breaks and beat drops, a seemingly incongruous output from days she described as away from home and bereft, secluded in a German cottage. We spoke over Zoom, and she told me about excavating Vagabon's bodacious new sound from a pit of grief.
The interview has been edited and condensed for clarity.
Hell Gate: What's your life in Germany like? Is that a place you went to to find solitude? 
Vagabon: I went to find solitude, for sure. I don't speak German, and I moved to a small countryside village. I had two of my German friends holed up in the house by the lake with me, and we made music for approximately 14 hours a day. All I did was cry and make music. And being in this way of life that felt simple to me, not having my usual routines, my phone not working, being with two people I really love, taking walks in the forest and making our own meals, having enough space and quiet to hear myself think and process, informed so much of how I came to even make an album in the first place. Prior to going there, I was so bereaved from the loss that had just happened to me and my community, and the loss of my musical collaborator as well, I didn't even want to make music. It really was a saving grace for me. 
I read your interview in Document Journal, and you talked about getting swept up in the narrative of the "women in indie rock" moment, and how you felt a little cornered by that. I do see you as part of the latter-day indie DIY scene that existed when I first moved to New York. Is being a "New York artist" important to you, or is that another imposition?
It's definitely something I care about. It's where I grew up, it's where I call home. It's where I was immersed in all different kinds of art and culture and when I met all of my friends that I will have for a long time, and it's an inherent part of who I am. I'm pretty connected to that part of my identity.
Are there things you miss about NYC? I'm sure the answer is yes.
Everything. It's where I want to be, and where I've spent so much time. Even in my time living in Germany, I yearn and long for New York, everything about it, from all my favorite food to my friends and my community, to walking 70 blocks on a summer day. All of it is how I feel like I've come home. Anything other than that feels like I'm in transit. I haven't collaborated with anyone in New York recently, but I always stop by Alex Tumay's studio, or pop in on Jaboukie. I have my rituals that I always do when I'm back in New York.
You've been embracing a new musical idiom in every album, and this album is obviously influenced by dance music. Do you find it intimidating to approach new styles? And what was approaching dance music production like?
It's not intimidating for me at all, because it's not something contrived that I'm thinking of in advance. I don't know what type of record I'm going to make until I'm making it, and it reveals itself to me as I'm making it. So oftentimes, I'm surprised by what it ends up sounding like. 
So no, I'm not often intimidated by it, because I think that as long as it's coming from a pure and authentic and purely curious place, it has something that the listener can grab from it. I'm a music fan, and I'm curious about how to expand my musical knowledge and my skill as a producer and a songwriter, and I end up doing that in ways that's like, okay, what's something that would challenge me or make me excited about learning, and that's how we arrive at the different genres. It's never really that intentional. 
What did the dance music style bring out in you, emotionally and musically? Why do you think the album went that way? 
I was questioning my own reservedness, as a person but also as an artist. I was challenging my need for privacy as a way of not feeling too exposed. I think my previous albums are really vulnerable, but I still felt really reserved making them, and afraid to show certain sides of me. It's easier for me to show a sadder, more somber side through my music than it is to show the sides of me that are laughing with my friends, or taking things easy, or having presence in the good stuff in my life. This album was about archiving and documenting that change, of wanting to capture my personality in a way that I haven't felt confident enough to do in the past.
There's always this tension between dance music and archiving. It's interesting that to document this period in your life, you ended up at an idiom that's generally associated with ephemerality.
I think there's a lot of sensuality on this album, which is something that always felt like private stuff, something that's reserved for you and the people involved, not something you share. In choosing this form of presenting these songs, I was writing a lot in high BPMs—I was at 150 BPM, when I'd never even been above 90, and for me that was meant to evoke that energetic feeling. 
I can't ever not write a song like "Anti-Fuck," it just comes so naturally to me to write a song like "Anti-Fuck" and pour my heart out. But the album is about giving honor to the people that I used to be that still remain in me, but maybe take more of a backseat, and who I am now and the different stories I have to tell. My hope is that my catalog, as it continues to grow, that all these albums will be snapshots into where I was as an artist at the time. Of course, I want people to love it and sing it in their rooms, and I want to hear "Made Out With Your Best Friend" at a gay club, but I do think I'm putting notches in my belt.
With this album, what I heard was a sound that I can hear played in Brooklyn, and that may just be my projection, but I wonder if that's the yearning for New York, making music that can serve that function for your New York community.
When I go to raves or dance parties or I think about Detroit house, or how many queer people have pioneered dance music all over to the globe, it would be impossible to not have it be an homage to what me and my friends like to do. You know, in the way that when I was seeing headlines like, "Vagabon's a Black indie rocker!" and that's never been something that I said about myself, but that's how people were seeing me. 
I want "You Know How" to play in a gay club, and that's one of my dreams, and I want "Made Out With Your Best Friend" to be a queer anthem, I want those things. But also for me, it's a record where I'm expressing stuff that I, whether the world agrees or not, felt I couldn't say. Like that it would be untoward to speak sensually. That's just me and my internal governing system, and how I grew up. So I want these songs to feel like something to commune over.
I'm curious about the live presentation. Who's on stage with you right now?
I'm the only one on stage right now. As I'm touring with Arlo Parks in Europe, I'm doing these songs solo, which is a really cool set, because what I've heard from fans and peers who've come to see the show, is that they've been hearing the songs differently than they appear on the record, and hearing the words and hearing the emotion. I'm playing with keyboards, drums and guitar, and sound design stuff. I really appreciate live instrumentation. 
Of course, with this music that's a bit more dancey, it's natural for there to be more electronic elements, but I still like to perform and play instruments on stage, it's one of my favorite parts of performance. I approached the arrangements very similarly to how I approach my production work. Especially coming from an underground scene where I've been playing shows longer than I've made albums, the incentive is to give a reason to get the fan to come to the show, and not just stream it online. I think about that when I'm arranging: What can I give the fan live that they can't get on the record? That tickles my production brain, and I start removing elements, making decisions about what I really want people to hear.
So how are you thinking about the full band shows?
I have an amazing band that will be coming with me on the U.S. headline tour that I'm starting in a month. I have a saxophonist who's playing throughout the set, and we're using the saxophone almost as an ambient instrument to weave through the set, which is something that makes coming to the live shows a special experience apart from the album. We like to play instruments on stage, I like to play with people, I like to have my hands busy when it calls for it, so we're really excited.

Adlan has written for The New York Times Magazine, The New Yorker, Pitchfork, Study Hall and more.
Stay in touch
Sign up for our free newsletter