Cultural Capital
The U.S. Open Qualies and Queens
For a week, it's just barely worth all that the U.S. Open has taken from a borough it mostly ignores.
1:03 PM EDT on August 30, 2022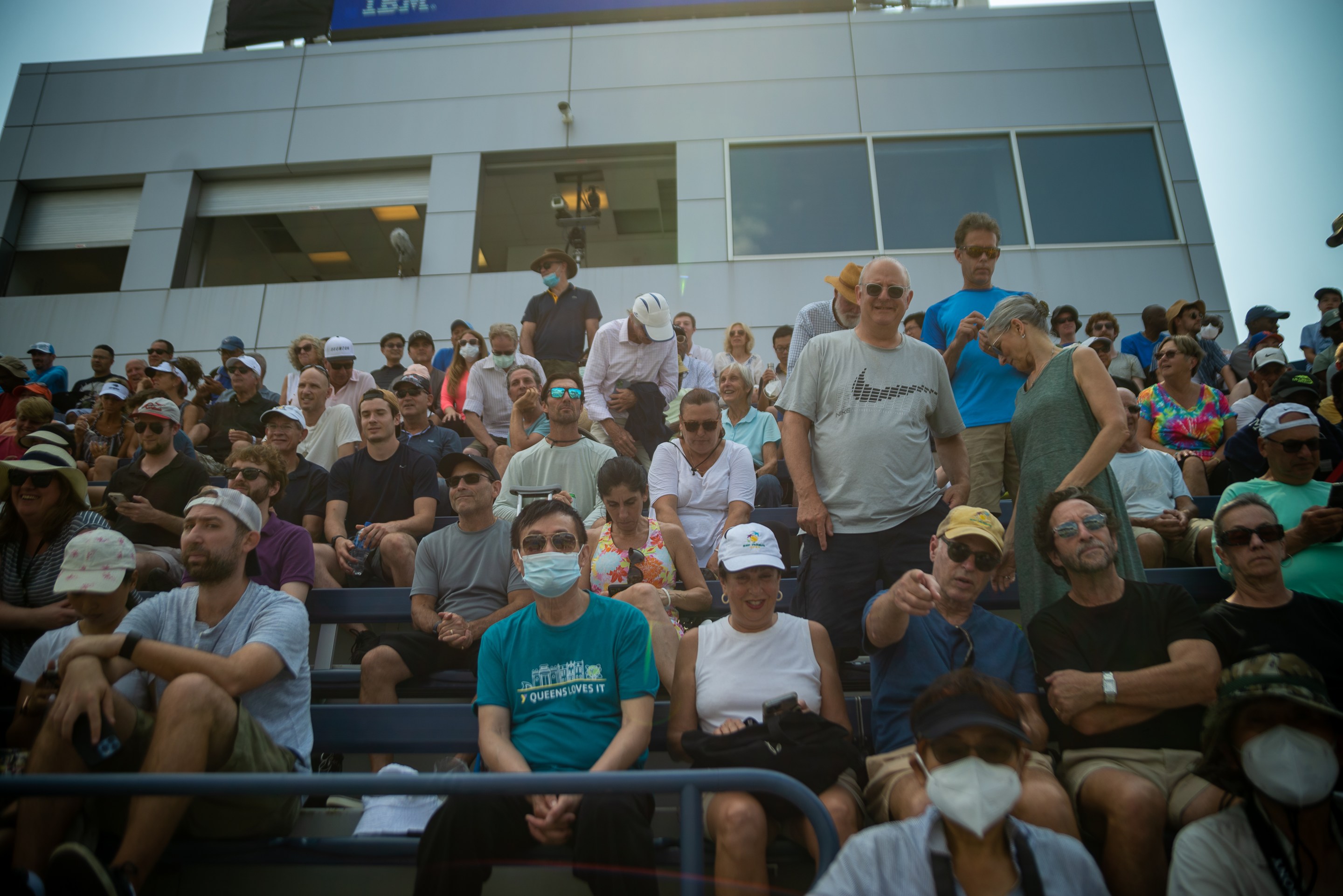 It's late summer in Flushing, Queens, which means that once again, Flushing Meadows Park has gotten its annual facelift—there are budding flowers in the ground, rotted planks along the 7 train concourse have been replaced, and the sprinklers at the Unisphere are on full blast. The NYPD has set up its command center next to the Queens Museum, to protect and fortify the most forbidden part of Queens's heavily used and barely maintained jewel of a fairgrounds—the USTA Billie Jean King National Tennis Center.
In other words: It is time for the U.S. Open to begin, and, if only for a few days, to be truly open to the public surrounding it. On Friday, I attended the qualifiers, where some of the greatest tennis players in the world (but not the best) play a series of matches against other great players in order to snag one of the few remaining spots in the tournament. These are days of desperation, hope, anger, and maybe, at the end of it, relief—that you, your manager, your family, and your swing mechanics coach didn't come all this way for nothing. If you make it through the gauntlet of qualifiers, you get to play in one of the four best tournaments in the world, with the most boisterous crowds, in the best city on earth. It's a very cool experience for players, and that's not even considering the money. (The further you get in the qualifiers, the more money you make. And if you get to round one, you make at least $80,000.) For spectators, all this drama playing out in front of them is wonderfully free. And that's why it's the only part of the tournament that's actually for the people of New York City.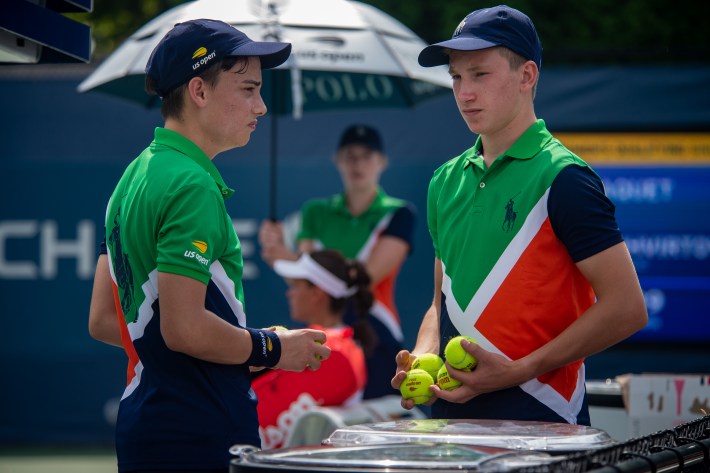 To say that the United States Tennis Association is a bad neighbor to the rest of Flushing Meadows Park would be to overstate the relationship. The USTA is not so much a neighbor to the park as it is an off-limits campus occupying a huge swath of the park's space, and one that's closed for 11 months of the year, only to reopen for three weeks to become an orgy of corporate sponsorship, accommodations for suburban commuters, and, mainly, a television event to help CBS kick start their fall TV lineup. The rest of the park, in which I grew up skating (ice, roller, and board) and playing baseball, soccer, and hockey, is one of the most trafficked and wonderful places in the city—it's also chronically falling apart, with a buried river that floods it during even the most mild of downpours, and turf that's ripped like an eighth-grader's jeans. At times, the USTA has offered the park a few million here and there for upkeep—but only when the borough's leaders agree to lop off another piece of public land for private use. The USTA claims it's "public'' land, because people can pay a lot of money to use some of the courts. But the complex is mostly dormant and unused—all the while, the USTA has skirted paying taxes to the City by keeping its actual headquarters upstate. Its executives make obscene amounts of money, while operating as a nonprofit. 
"For our community in Queens, the USTA is nothing more than a gated community walled off from the local residents," said a local community organizer in 2013, when the USTA was expanding to its current massive footprint. 
But those bad feelings, those resentments, briefly fade when you're watching wildly competitive tennis a mere 10 feet away from the court, and are allowed to roam the grounds of the USTA's campus at will. It almost makes the "gated community" worth it. 
In 2021, without anyone in attendance, British teen Emma Raducanu stormed through the qualifiers to make it to the main draw. This was impressive in its own right, but what happened next was unprecedented—Raducanu went on to win the whole tournament. For players in this year's qualifiers, her run had to be in their minds. If she could come from out of nowhere, why not them?
Entering the campus from the 7 train is easy during the qualifiers. You zip through security, and are suddenly in a place unlike anywhere else in the park. The sheer number of courts boggles the mind—there's two giant stadiums, several smaller ones, and courts with bleachers and raised viewing areas lining the outside of the campus. On the inside, there are Ralph Lauren stores, a pavilion by Chase offering virtual experiences, and a concert venue. When the tournament actually starts, this will all be extremely packed by people paying upwards of $70 for just a grounds pass—but now, there's space to breathe. This is the time for eager teens and retirees and freelance journalists to wander and wonder at it all. This is the time for amateur photographers carrying very large photo lenses.
On Court 9, which is simply a tennis court with some bleachers along the side, there were older folks with seat cushions, pale people with shirts draped over their heads, and the coaches and entourages for each of the Europeans currently fighting for their professional lives on the court. By 11 a.m., the temperature had reached into the 90s, and even hotter on the court where 17-year-old Czech Linda Fruhvirtová found herself. It was tough to tell if anyone in the stands had picked a side yet, but by the end of these matches, the crowd usually does.
The underdog, Fruhvirtová, was facing off against France's Chloé Paquet, who was also trying to get into her first U.S. Open. But they appeared to be going separate directions—Fruhvirtová was possibly on the way up into a life of automatic bids and high-salaried sponsorships. Paquet might already have peaked, just outside the top 100 players in the world. If they lost this match, they would go home; if they won—they'd be in the Open. But for the fans, the stakes are quite low during the qualies; while one or two fans might have pumped their fists at every point, there was a lot of nodding or nodding off. (It's quite soothing to watch the ball go back-and-forth, back-and-forth.)
Ten feet away from them, on court 10, the Italian Riccardo Bonadio and the German Maximilian Marterer were smashing balls unfathomably hard. At this range, you begin to consider what an errant shot would feel like right to your temple. They barely missed the lines they're supposed to stay within, gunning serves over 100 MPH, and returning them with line drives.
But fans rarely stay through a whole match, always scanning nearby courts for matches nearing a dramatic conclusion, or to see a towering professional tennis player walk among the mortals. 
Taylor Fritz doesn't have to worry about qualifying. He's the highest-ranking American player in the world, and on Friday, it was his turn to go to a lowly bleacher-lined court and hit a practice round. In a crowded tennis campus, it's not especially hard to figure out who the players are. They're tall (apologies to Diego Schwartzman), and they're incredibly fit and oh so tanned. Fritz, a bro from San Diego, gamely signed tennis balls and posed for a non-stop line of fans waiting for a selfie after finishing a few hits with a fellow pro. 
What's different about the U.S. Open, I asked. 
"Definitely the amount of fan access, it's like, wow," he told me, trying to finally break free of their hold and retreat to the player's-only area. (Unfortunately, I didn't end up getting a selfie.) 
"I'm not going to wash my hand," teenager Saje Vijay Menon said after he bumped fists with Fritz. Menon and a few of his friends from the John McEnroe Tennis Academy in Syosset came down for the qualifiers, and would be there each day next week. I asked about school starting and they just shook their heads—this was school. They each pointed to the other when I asked who would go pro. 
On a much more crowded court, the tall American Christopher Eubanks was wilting in the heat. He smashed his racket into the ground, as he saw his chance to qualify for the U.S. Open slowly disappearing during his final set. But tennis is weird, and is a game of runs. You never know what might turn a match around. Once Eubanks got a new racket, he battled his way back. The three-time tournament qualifier, now with a home crowd firmly behind him, found the groove and won the match, just as the skies began—blessedly—opening up. 
As rain intermittently interrupted play on Friday, you could take your pick of refreshments—$15 sandwiches, or the $22 Honey Deuce, "the official drink of the U.S. Open," which is vodka, Chambord, and lemonade. (Or you could just stick with the free stuff and live off of energy drink samples and this thing called water, though the Honey Deuce, with its three weirdly soothing honeydew balls, was quite good, I have to say.)
Back on Court 9, after a two-and-a-half hour match, Fruhvirtová was on the verge of victory. She was about to win, but Paquet had stormed back to break serve, right before the crack of thunder stopped play. When it resumed an hour later, Paquet looked tense and severe. Fruhvirtová, on the other hand, was drinking a Coke. While the tiny zambonis driven by the Ralph Lauren-bedecked ball people had dried the court, the two sat silently waiting courtside. Once they took the court again, Fruhvirtová quickly finished off the older Paquet. 
For Paquet, the loss marked abject failure. She quickly slung her racquet bag onto her shoulder and left the court. No one hounded her for an autograph. 
For Fruhvirtová, she stood around breathing it all in, to scattered applause. 
"Unbelievable," she said, cracking a massive smile and picking back up her half-finished Coke, possibly envisioning Raducanu's path ahead of her to glory. 
Returning to the 7 train, past the now-completed yard work and the now-fixed boards on the concourse, lined by giant billboards advertising expensive watches and Emirates Airlines, one wishes it could always be qualifiers week. During those days, there's a touch of humanity, and people to interact with in the walled garden—real life, in what amounts to an off-limits, mostly useless part of a crumbling and beloved public park. Wouldn't it be nice if it could always be like this?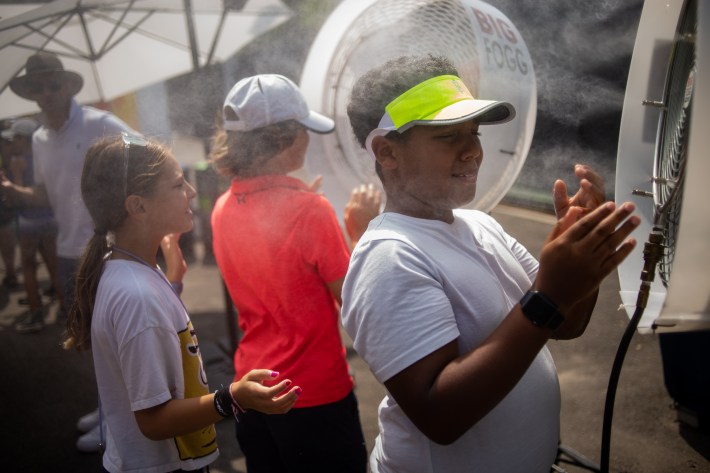 Max Rivlin-Nadler is a co-publisher of Hell Gate. He's reported for Gothamist, The New York Times, Village Voice and NPR. You can find him walking his dog, Stiva, or surfing in the Rockaways.
Stay in touch
Sign up for our free newsletter