Going Places
New York's Suburbs Now Have Better Transit. So How About Some More Housing?
Billions of dollars have gone to make a commute to NYC from its suburbs easier. Will Long Island and Westchester hold up their end of the bargain?
3:50 PM EDT on October 27, 2022
By the end of this year, Long Island Rail Road trains will roar into Grand Central Terminal for the first time in its history. The project, East Side Access, was paired with a new third track on the system's Main Line, which will increase service dramatically for the country's largest commuter rail system. And by 2027, Metro-North trains will enter Penn Station, with a similarly unprecedented capacity upgrade.
The combined projects, the result of billions in taxpayer dollars, are the biggest down payment the state has made on transit outside of New York City in decades. It's been pitched as an economic game-changer, one that could bring countless new jobs (and people) to the region.  
The only problem? Few people can actually live near the suburban train stations.
This is the result of "home rule," a longstanding law in New York that affords municipalities the ability to regulate zoning, and inarguably has its roots in racist redlining.
Home rule is a consequential barrier to building more housing in a state that has been in a housing crisis since the late 1960s. At the moment, 3.2 million New Yorkers, including one million Long Island residents, live within a half-mile of a train station—but at least 30 stations are located in areas where apartments are prohibited, and others are in locations where multi-family housing altogether is prohibited, according to state officials. 
Last January, in her first State of the State address, Governor Kathy Hochul released a "comprehensive five-year housing plan," which included a commitment to propose legislation to "kickstart transit-oriented development," or TOD—a term that boils down to allowing developers to build bigger projects near transit hubs. That legislation would require municipalities to rezone areas next to rail, with the state providing assistance in changing the ordinances as well as subsidies for development.
Instead of parking lots, we'd get five- to six-story apartment buildings, with reduced space for cars, next to busy LIRR or Metro-North stations. It's a win-win—not only would it help address the state's yawning housing gaps, but also, our climate problem. Suburban sprawl's link to car dependency—a key contributor of carbon emissions—is well known. Want to drive your car less? Live closer to reliable transit.
But even this commonsense shift in priorities was met with massive backlash from local representatives. "Our leaders in Albany hate our safe streets, our good schools, and our suburban way of life," Barbara Donno, the mayor of Long Island's Plandome Manor, wrote to residents. (The Plandome station, off the Port Washington branch, is right in town.) Even if the governor's proposal would allow for local input into the new housing complexes, it didn't matter. "Our infrastructure and environment under this bill would be under attack," said Robert Scorrano, the supervisor of Somers, a town in Westchester County. 
A few months later, the transit-oriented housing plan was abruptly dropped from the budget, along with other key planks of Hochul's housing plan. At the time, some experts cited first-year friction as the reason; other sources later told me an election year against a Republican from Long Island had cooled the governor's ambition. The governor's office said more discussion with localities was needed.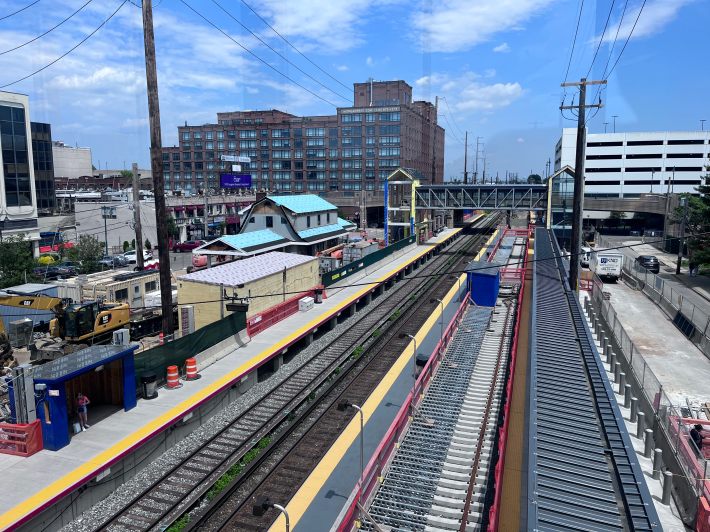 Regardless of the reasoning, a chance to increase the supply of affordable housing has gone nowhere, and now, the stakes couldn't be higher. The state's housing crisis is growing more acute—the region requires an estimated 772,000 homes for lower-income residents to keep up with demand, in what is now being described as modern history's worst housing market. The political divide between YIMBY and NIMBY camps on Hochul's left flank remains. And the climate emergency is only worsening.
So, what happens next? Is TOD DOA? Or is 2023 its year?
Will Burns, a spokesperson for Hochul, said in a statement that the governor was "proud" of the $25 billion in last year's budget to build out or preserve 100,000 units of affordable housing, largely through a mix of capital and subsidies. But Burns said nothing about Hochul's abandonment of TOD, or whether she'd recommit to it next year. In a recent Q&A, the governor said she'll "be working on housing" in January when next year's budget talks start—assuming she can defeat Long Island Republican Lee Zeldin in a few weeks.
The MTA is experimenting with TOD on their own property, as I reported in 2018 for Bloomberg CityLab. In Harrison, the first site, the MTA sold a parcel of its land and helped coordinate development there. Other parking lots were said to be under consideration in Westchester and Long Island. More recently, an MTA-owned parking lot near the Westbury LIRR was built up into a parking garage, and a developer was recently chosen to build a mixed-use project there.
Marcel Negret, a senior planner at the Regional Plan Association, which has been pushing for TOD for years in the tri-state region, said that he hasn't heard of any new bill being worked on. (A separate piece of legislation from Manhattan State Senator Brad Holyman, which would limit home rule near train stations, is still in committee.) Most members are thinking about the November midterms, and then what to prioritize when Albany returns from recess. 
"We're kind of up in the air right now," said Negret. "But we're finally seeing a lot of these investments that have been taking decades to come online, and we don't have a way to align our land use decisions and make the most out of these investments."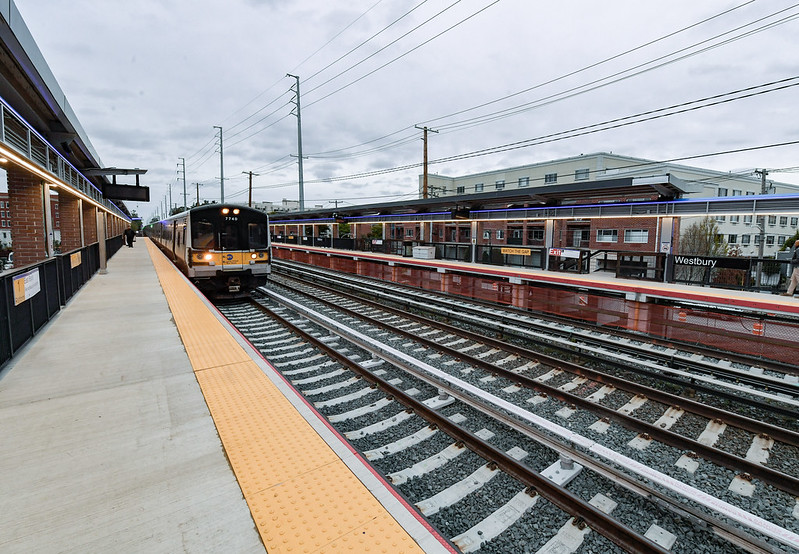 At its core, New York City is essentially one big Transit-Oriented Development—its skyscrapers sprout above the subway stations, and most New Yorkers can walk to a transit stop. Car density mirrors transit proximity. Rezonings centered around areas with good transit access are often contentious (the current squabble over Innovation QNS, in my own backyard, is one such example) but typically, they slug their way to eventual approval.
Outside of the city, things are much more piecemeal, and dependent on who's in charge: A mayor or board members who are more accepting of density could lead to new apartments in one town, but in the next town over, if local officials are opposed, there might be none. My own hometown of Floral Park is finally seeing a new apartment building open in an underutilized parking lot next to the LIRR station. But for years, there was nothing. 
The state has provided incentives once the political will is there—a new mixed-use development called Wyandanch Village, near the Wyandanch station on Long Island, is one such example. But people have to want to take advantage of these incentives. Take the case of Huntington, a wealthy Suffolk County suburb that needed 13,614 homes by 2020, according to a 2008 county study, but only allowed 1,400 to be built in that time period. 
"We plan transportation at a regional level. We have to plan housing at a regional level," Annemarie Gray, the executive director of the pro-housing group Open New York, told Hell Gate.
Gray, who most recently served as a land use advisor to Mayor Eric Adams, said that TOD was something Open New York was "definitely going to be paying a lot of attention to" when Albany resumes session in January. The calls for housing reform nationwide, added Gray, hastens the need to act. "There's a broad consensus that we have a really big problem on our hands, right?" she said. "So it comes down to exactly which solutions we can really pass soon."
A few examples exist outside of New York. California just passed a law that bars mandatory parking minimums, which have been found to drive up housing costs, for any construction within a half-mile of a rail station or two converging bus lines. And the state has authorized counties and cities to build in "transit-rich areas," and offered incentives to do so.
To get any significant bill across in New York, the framing and strategy will clearly have to change. "Part of what's happening now is finding that common ground and language," Negret told me. Instead of pitching TOD as a pro-housing measure, he said, perhaps it becomes an "anti-sprawl" bill, highlighting sprawl's known costs to air quality and open space.
The building of the Main Line's third track—a formerly stalled project that finally broke through—could serve as a template for TOD. The LIRR's third track was decades in the making—there was quite literally sixty years of debate about it before its opening this month.
In the late aughts, the MTA paused efforts to build the third track in the face of staunch opposition from residents and elected officials. But it was revived by Governor Andrew Cuomo, and communication shifted—the agency instead began focusing on mitigating impacts and tailoring benefits to specific municipalities, like submerging street-level crossings, renovating stations, and adding landscaping.
Similarly, TOD will need to think local, said Negret. The coalition that fought for housing reform this last year may have been seen as too Gotham-centric. It likely doesn't help that State Senator Hoylman, the sponsor of the current TOD bill, represents Manhattan. 
"The strategy is to make sure that you're reaching out to those groups that are representing more suburban interests, or have a base there," Negret told me. "We can't say, 'Here's what we think must happen—sign onto it.'"
John Surico is a journalist and researcher who focuses on our changing cities. He teaches at NYU's Arthur L. Carter Journalism Institute, and his reporting can be regularly found in The New York Times, Bloomberg, and other outlets. He is the scholar-in-residence at Central Park Conservancy's Institute for Urban Parks.
Stay in touch
Sign up for our free newsletter