Cultural Capital
The TikTok NPC Streamers of SoHo
Is someone yelling 'New York City glizzy' into an iPhone on a streetcorner a sign of the apocalypse?
5:27 PM EDT on September 15, 2023
On a recent summer day, passersby at one of the busiest intersections in SoHo would have beheld two brothers, Ellis and Harrison Flint, with their phones propped against the brick walls of luxury fashion storefronts as they livestreamed on TikTok, alternately making robotic gestures and shouting slogans.
"It's corn!" Ellis, wearing a black tank top and black shorts over black tights, with a fringe of pink hair hanging over his eyes, yelled repeatedly as he stood outside of the Prada store. "It's corn!"
Across the street, in front of the Hugo Boss store, Harrison was streaming too. Handsome like a '90s boy band member with a bleached buzz cut, a silver chain around his neck and silver earrings dangling on both sides, he had his own catchphrases. "Nothing like a New York City glizzy, bro!" he'd call out, referring to a hot dog, or, "I love dance music!" Shoppers mostly gave the two confused glances, but some gawked and took photos of them. 
People attuned to the summer's internet fads would have known what the brothers were doing—the Flints are NPC streamers, a genre in which a content creator will mimic a non-player character in a video game. During their livestreams, these content creators idle like a background villager in an Elder Scrolls town would, until a viewer interacts with them by throwing them a virtual token via TikTok's reward system, in which case they'll perform a line of dialogue and one of the animations they've come up with for their character. In the last few months, NPC streaming has become a viral trend on TikTok, popularized by the user PinkyDoll, whose catchphrase "ice cream so good," which she would say whenever a user gifted her a virtual ice cream cone, has become its own meme. (It can also be lucrative—each virtual reward is worth a few cents of real money, and PinkyDoll reportedly makes up to $7,000 per day.)
The shouting about hot dogs and corn were reactions to the corresponding virtual rewards viewers were steadily awarding the brothers. Ellis, who goes by butterflynpc on TikTok and boasts in his bio that he's the "First ever NPC in New York City," dances enthusiastically, offers hugs, promises that he's your best friend, and sniffs imaginary roses. Harrison's character is a loutish Manhattan guy telling his bros he wants to go clubbing at TAO, but who can also be made to pull out a microphone and emphatically croon a line or two from a song like Miguel's "Adorn," a surreptitious advertisement for his fledgling music career.
On the day I went to see the streamers myself, Harrison had just received several hot dogs, and was stuttering his catchphrase on purpose, like a machine glitching out as it tries to to execute multiple commands at once: "N-n-nothing like a…nothing like a New York…nothing like a New York City glizzy, bro." Later, he took out a cigarette. Between puffs, he snapped his attention back to his phone screen, and sneered, "I told you I'm bad, bro!" The cigarette was simply another audience reward.  
I walked up, and Harrison averted his gaze from his phone, looking me full in the face. Before I could even get a question out, he seemed to lose interest in me. "I'm just an NPC, bro," he told me, and went back to making exaggerated blowjob motions with his hands and mouth; someone watching his stream had just given him a hot dog.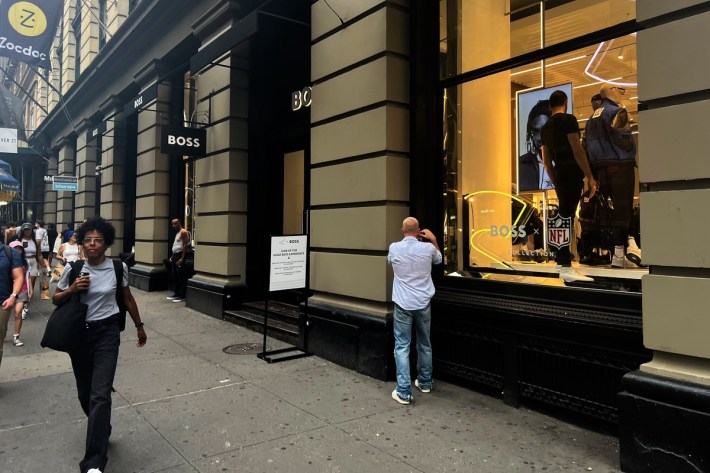 The first NPC streamers that caught public attention broadcast from home; PinkyDoll will famously "break character" by yelling at her misbehaving son off camera in French (she's Quebecois). 
But the Flint brothers are introducing an unpredictability into NPC streaming by performing in public, at the intersection of two of SoHo's most crowded streets—anyone could walk up and do what they want on their streams. When they do, it's caught on video; recently, one guy tested Butterfly's patience, telling him to take that shit back to L.A. (the brothers are from Forest Hills). 
There's something that really disturbs people about NPC streaming. Other TikTokers have made videos mocking the Flint brothers for doing this, in public in New York especially, decrying what the world has come to. "Are we headed for a societal collapse?" TikTok user TrustdCritics asked. "I feel like I am watching the world end," one person wrote about the experience of watching PinkyDoll's streams.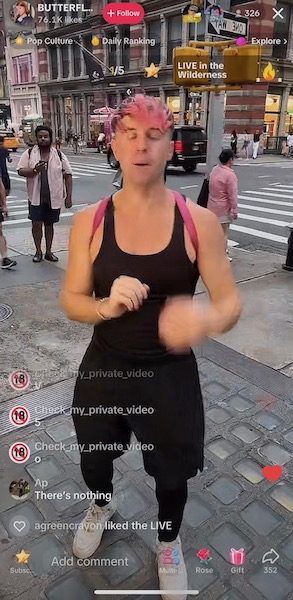 The popular use of the term "NPC" began as a politicized, Trump-era right-wing internet insult roughly equivalent to "sheep." That some of us are now willingly acquiescing to that identity seems to confirm peoples' greatest anxieties about the dehumanizing force of the internet. Most of us are scrambling to see ourselves as the "main character"; that there are people out there who happily succumb to NPC-hood must be the result of some grand psy-op, a sign that some fundamental battle for the future of humanity has been lost and that the techno-dystopia we all anticipate is imminent, or even already here. 
Or maybe it's just a fad, yet another way for young people who feel comfortable opening themselves up to ridicule to make money. 
Harrison told me that while Butterfly, his brother Ellis, is more into tech, Harrison has always been into theater and different kinds of creative expression–to him, this is just another way to express himself. When I got Butterfly on the phone a few days later after seeing him in Soho, he was cagey. He refused to confirm his age (I later found out he's 33 from his old college football page), or how much money he's making from streaming ("I'm just the Butterfly NPC," he told me when I asked him if he's benefiting financially). I asked what inspired his look, and he said it was just his style. I asked how long he's been streaming, and even on that, he was vague, and I started to wonder if he was in character in that very moment.
I didn't feel like I was speaking to a harbinger of doom. He did tell me about some visions he has for the future of his Butterfly NPC character (such as it is): NFTs, cartoons. He launched into a loopy spiel about technology being able to connect with people around the world, and how kids in poverty in Africa could improve their lives through expressing themselves on the internet.
The grandiosity, and lack of logistical specificity of these notions made something click for me. I asked if he's a Web3 guy. He confirmed he was. Then he asked me what I think New York will become in the future, and I said that there'll probably be more extreme collisions of internet culture and real life, like what he and his brother are doing. Hearing this, Butterfly began to break character and liven up—maybe that made me sound like a profound believer in the metaversal possibilities of the future, or whatever, and he started asking about my own dreams, saying that my insight meant I've "got the eye" and since I've "definitely got the passion," that the way I think and my perspective "could go global."
I could, he said enthusiastically, even become an NPC streamer myself, and started brainstorming an NPC persona for me, imagining me with my debut novel at Times Square. "As a writer," he told me, "you could even create hypermemes."
Adlan has written for The New York Times Magazine, The New Yorker, Pitchfork, Study Hall and more.
Stay in touch
Sign up for our free newsletter