The Cops
The NYPD Is Greeting Vigils for Jordan Neely With Brute Force
And arresting journalists and activists documenting the crackdown.
2:29 PM EDT on May 9, 2023
New Yorkers who have taken to the streets and subway stations over the last few days to protest the killing of Jordan Neely have been met with overwhelming force by the NYPD. Scores of police officers—including the unit that was found to have repeatedly abused its power during the 2020 protests—have shown up to relatively small demonstrations, violently arresting participants, journalists, and even a longtime advocate known for monitoring the NYPD. Meanwhile, Daniel Penny, the ex-Marine who choked Neely to death, has yet to be charged with any crime.
"Since 2011, I've been monitoring protests. This is the first time they ever decided to go after me," said Jose LaSalle, founder of the Bronx-based Copwatch Patrol Unit, who was arrested at a protest on Saturday. "So I was like, whoa, the game just changed right now."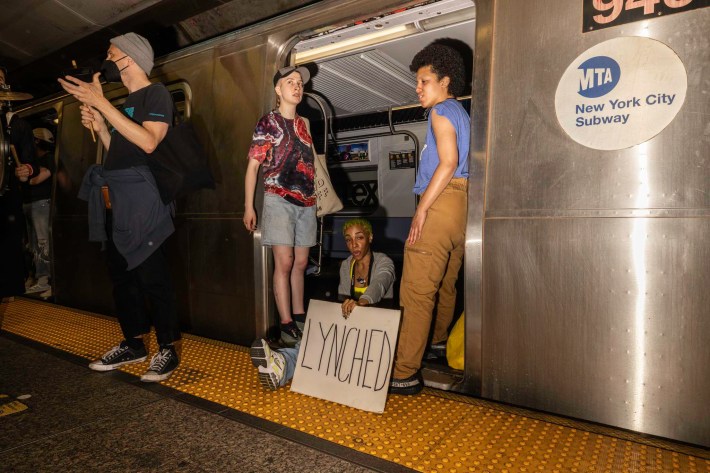 Late Monday night, the NYPD justified their combative posture by pointing to what they are calling a "Molotov cocktail" that they said was found at a vigil for Neely earlier that evening. "This is something that's dangerous," NYPD Chief Jeffrey Maddrey said at an extremely dimly lit press conference in front of police headquarters. "It could hurt members of the department. It could hurt other protesters. It could hurt innocent people who are passing by." But as of that press conference, all that was known about the alleged weapon was that it's a glass bottle with a rag and liquid in it—Maddrey admitted that the NYPD has yet to run any tests on what that liquid actually was.
Saturday's event, a show of solidarity and mourning in the wake of Neely's killing, started at the Broadway-Lafayette station and ended up at the Lexington Avenue-63rd Street station, where a group of protesters jumped down into the Q Line tracks to stop subway service.
After a few minutes, protesters climbed off the tracks and began to leave of their own volition. That's when witnesses say the police pounced.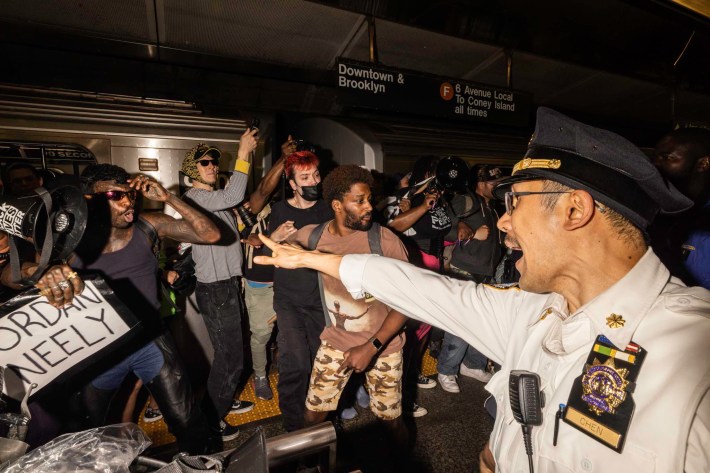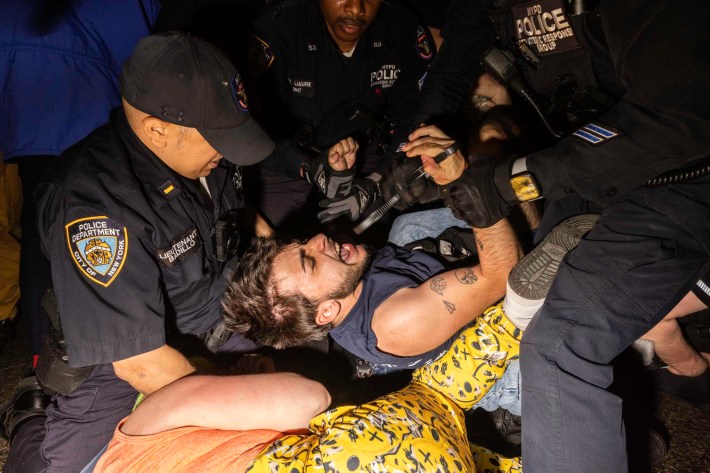 "It's such an odd thing for arrests to happen when people are peacefully dispersing—we're not even talking about property damage or graffiti," Derrick, a protester who saw the arrests and said he was shocked by their intensity, told Hell Gate. "I was right in front of three awful, awful, awful arrests, some of the most brutal arrests I've ever seen—two young folks who were very small, and they were just beaten by huge police officers for no reason! There were like five, six police officers on each person. Just a sea of bodies." 
The group of protesters followed the police and the people they arrested aboveground to the NYPD vehicles at 63rd Street and Third Avenue. As the group watched the detainees get carted away, the police started making more arrests.
"They played the LRAD and said to get off the street, but everybody was on the sidewalk, and they continued to grab people on the sidewalk in just the most vicious way," said Derrick, who asked that we not publish his last name due to law enforcement concerns. "They started making it seem like they were leaving, they walked across the street, and then they ran at us. The NYPD hasn't even released the names of the other two folks who participated in the murder of Jordan Neely—it's pretty remarkable that they're gonna criminalize protests and not criminalize murder."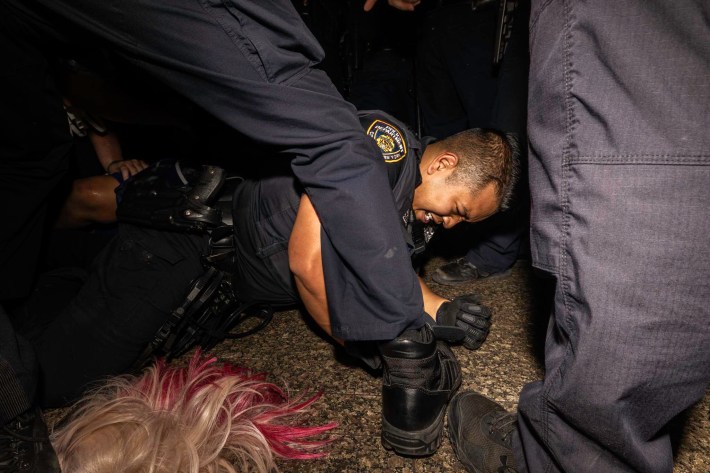 A spokesperson for the NYPD's press office told Hell Gate that 13 people were arrested on Saturday on charges that included resisting arrest, obstructing governmental administration, assault, trespass, and "unlawful interference with a railroad train." They added that "there were injuries to five officers" during the protest. The police are also looking for six people present at Saturday's protest in the Lexington-63rd Street subway station. 
LaSalle, the CPU founder, was among the 13 arrested. A video posted to CPU's Instagram page shows two cops grabbing LaSalle as he films the aftermath of the initial arrests. Someone in the background shouts, "Are you stupid? Jose!" at the police as they wrench LaSalle's hands behind his back. 
LaSalle said he ended up fainting in the transport vehicle after his arrest, and was eventually taken to the hospital, where he was held until Sunday morning. "Before you know it, they all jumped on me," he said. "They grabbed my legs, took me down. I'm a big guy, but they were some big guys. The only thing I kept saying to myself was, 'I do not want to faint, I do not want to faint.' I kept telling them, 'I'm losing air, I can't breathe,' and one of the officers was like, 'Well, you're talking, so you can breathe.' I was like oh, it's like that."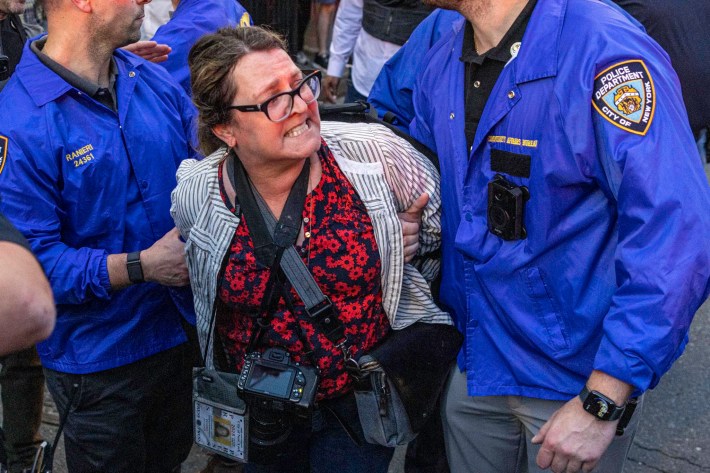 On Monday, the NYPD arrested 11 more people, including freelance photojournalist Stephanie Keith, at a vigil in Neely's honor at the Broadway-Lafayette subway station.
The vigil was organized in part by Warriors in the Garden, a group that was targeted by the NYPD during the summer of 2020, when police staged a five-hour stand-off outside the apartment of one of the group's lead organizers and arrested others affiliated with the group.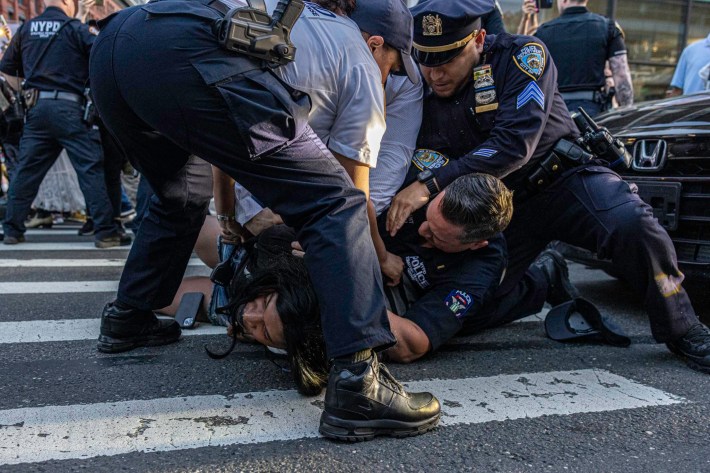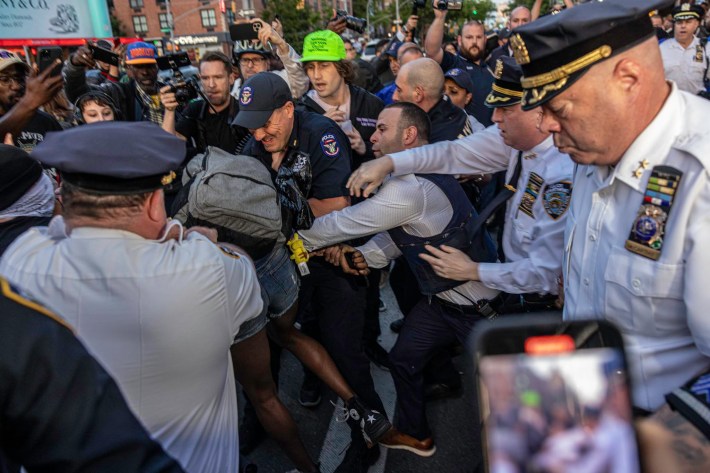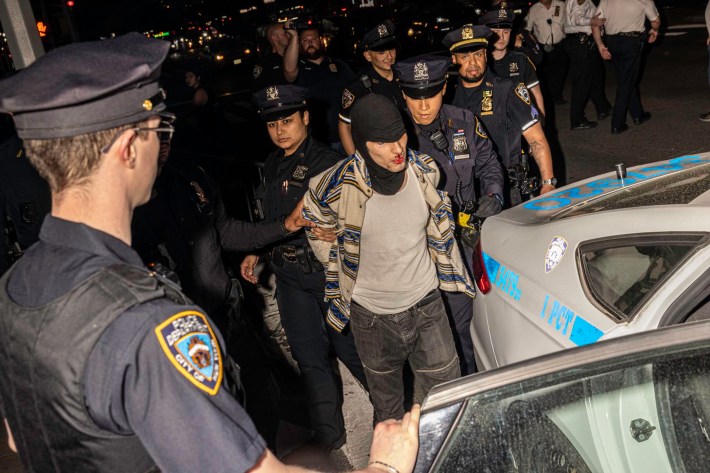 During Monday night's press conference, Maddrey stood alongside Deputy Chief John Chell, who ordered the arrest of photojournalist Keith. Maddrey called Neely's death "senseless" and said he wanted to make it "clear" that "we respect people's right to protest, we respect their First Amendment rights, but we will not tolerate people breaking the law." 
He added, "More importantly, we will not tolerate people bringing weapons and dangerous substances to peaceful protests," referring to a "Molotov cocktail" that Maddrey specified was found on the ground. So far, no further details about the alleged weapon have emerged.
While a Molotov cocktail was reportedly used to destroy an NYPD vehicle during the summer of 2020, Maddrey's assertion also recalled the instance when then-NYPD Commissioner Dermot Shea insisted, erroneously, that demonstrators protesting the death of George Floyd had strategically placed bricks around town. (Earlier on Monday night, Mayor Eric Adams pinned the blame for the "Molotov cocktail" on "agitators coming from outside our city.")
"As far as the reporter, the reporter interfered in at least two arrests in the middle of the street, and they got very physical. The third arrest—she interfered a third time, so she was placed under arrest," Chell said about Keith.
Keith, who has worked on Hell Gate assignments, declined to comment on her arrest, citing pending criminal charges for disorderly conduct. But Keith told Gothamist that she was "not even near the arrest, I didn't even see it."
LaSalle said that from his perspective, the NYPD seemed eager to make as many arrests as possible. "It's like they've been holding back for so long, that on Saturday, they couldn't hold back no more," he said. "It was like, hype. We were recording them and monitoring them and watching them, and we were seeing them very agitated. They was full of some type of testosterone, they were just ready. 'Grab him!' or 'Go get him!' It was a different feeling from SRG than we've felt in a while out there, during these protests."
Stay in touch
Sign up for our free newsletter