Cultural Capital
The Final Smhoakstock
A long-running 36-hour collaborative jam session drops its curtain, as the era of DIY spaces in Brooklyn also draws to a close.
12:56 PM EST on December 13, 2022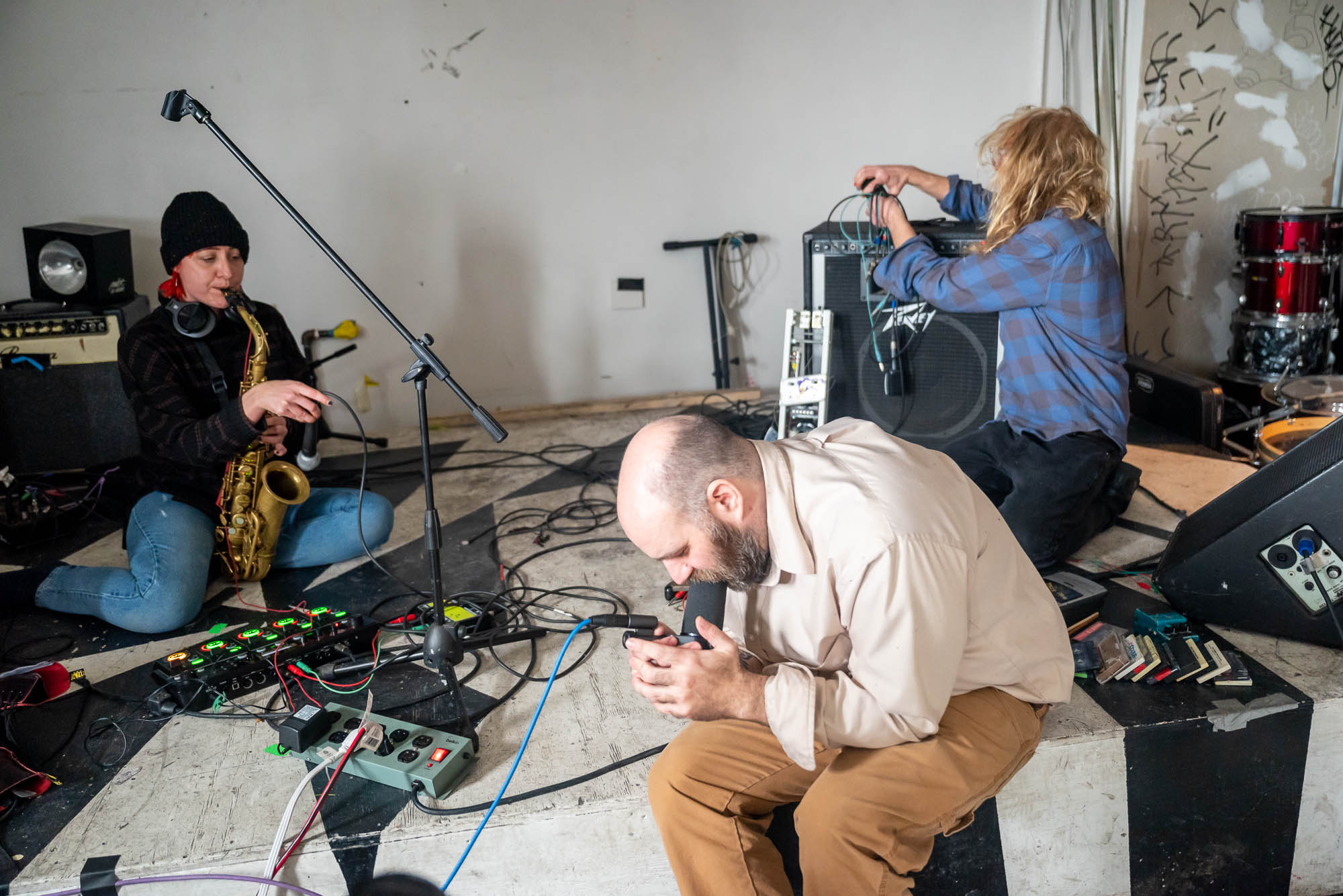 Here is a sentence that could've been written at any point over the last 20 years: It was nearing midnight on a cold, rainy Sunday evening in December and harsh noise music was blasting inside of a North Brooklyn warehouse. 
It was the kind of rough, unfinished Brooklyn art space that might be a bit of a dying breed. Perched to the left of the venue's small stage behind a makeshift DJ booth was the artist Smhoak Mosheein (real name: Eli Lehrhoff; his stage name is a play on the device that emits fake fog in clubs), who had been awake, give or take, for over a day and a half. It was coming up on the end of the 36-hour collaborative jam session he had been leading, which was just one component in the twelfth and final edition of Smhoakstock, Lehrhoff's annual feat of durational strength.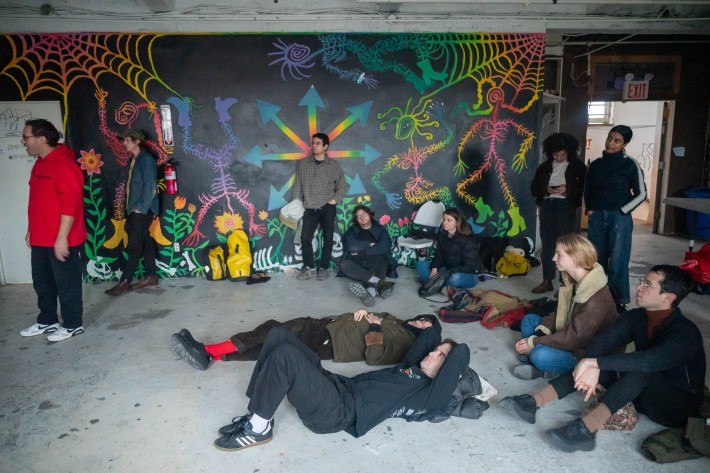 "I feel like the beginning and the end of these 36 hours have been disasters, while almost all of the middle have been icing—maybe that's the cake part," Lehrhoff, who currently lives in New Jersey and works as a creative consultant but has spent over 15 year on-and-off in the city, told me around the end of the jam. He was surprisingly lucid, all things considered. "I haven't figured out where the metaphor is," he continued. "But I feel like that's fitting."
Once a year for over a decade, Lehrhoff has been pushing both his ears and his body for extended periods of time. The first Smhoakstock happened at Secret Project Robot, the now-shuttered Brooklyn outpost of the roving music and art scene, on November 11, 2011. Lehrhoff spoke of both his love of the jam and his "naive ego" as inspiration for the first iteration. 
That performance, along with the following year's, were anchored by what the artist referred to as an "OCD" focus on the date's numerological significance. The event started at 11:11 in the morning, ended at 11:11 at night, and included a 49-minute break for lunch. The final length of the performance? Eleven hours and 11 minutes.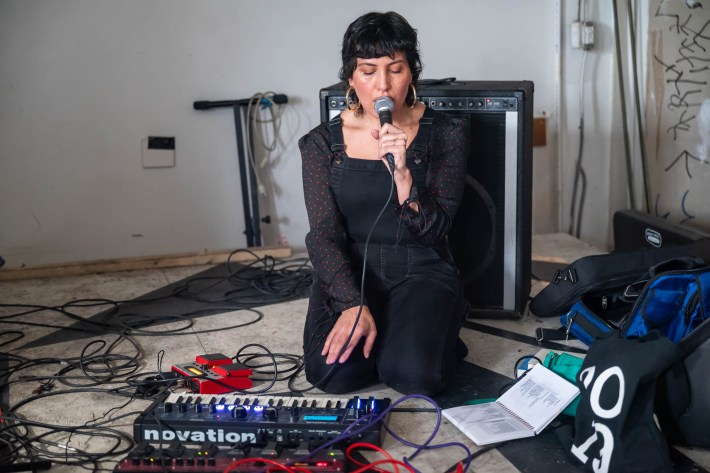 "I'm very fixated on numbers and dates—less these days, but at that point I was pretty nuts with it," he explained on Saturday afternoon, talking about the first two years of the event. He had an end date in mind since the third iteration: The event takes place on December 12 each year, and most years managed to have participants in multiples of 12. "And so, having it be on 12/12/12 and having it start exactly at midnight and end exactly at midnight was the important part."
Its twelfth year was always meant to be its last. 
As the years went on, numerology faded and collaboration became the focus. The list of the musicians Lehrhoff has jammed with is so long and extensive that it could connect the whole of New York's underground music scene to a single degree. The event moved between a number of DIY venues: The now-shuttered East Williamsburg space Shea Stadium served as its home for years, as did the Bushwick outpost Silent Barn, another now-closed space which began its life in the Ridgewood building that now houses the music venue Trans Pecos.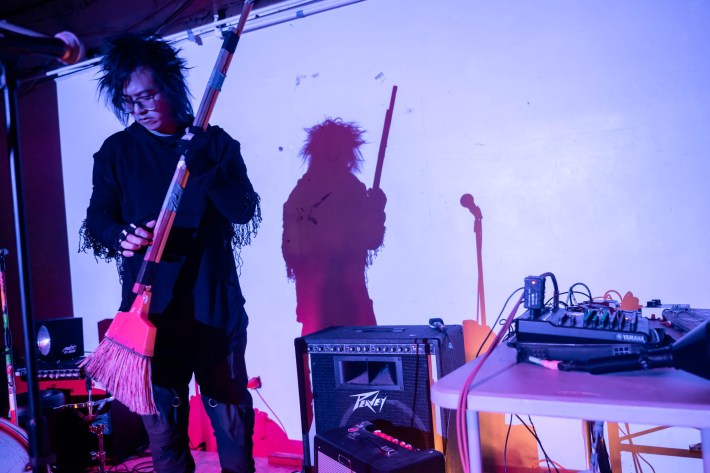 The show has charted the comings and goings of alternative spaces in Brooklyn, where there's currently a surplus of clubs and licensed venues but a slight dearth of the kind of DIY venues that at one point defined subterranean music in the city. Throughout it all, Smhoakstock accrued a sort of legend within the scene it arose from. "It definitely started as a masochistic action—I'm going to jam for this long, why don't you guys join me so I don't die," Lehrhoff said. "And it accidentally became a community thing."
COVID-19 forced the show, which has been livestreamed since year two, fully online. "I hated it at first because no one could hang out, so all the social part of it and all the jamming part of it were out," Lehrhoff said. But the artist told me he was able to ultimately enjoy the virtual marathon on his own terms. "It became," he said, "What if one guy ran MTV and cut out the businessmen?"
For Smhoakstock's grand finale this year, Lehrhoff threw in everything but the kitchen sink. In totality, the program ended up being 12 days long. The first nine, from December 1 to 9, were filled with pre-taped content and broadcast online for 12 hours a day. They featured everyone from the performer Abbie From Mars, who is in her early twenties, to Brian Chase from the Yeah Yeah Yeahs, who instructed viewers on how to play drum parts to classic Guns N' Roses songs. On the day following the durational jam, there would be one more block of streaming and then a more formal concert.
When I arrived early Saturday for the first day of the jam, the venue was mostly empty, save for performers, staff, and perhaps one or two audience members. There were murals on the wall and errant graffiti tags. The smell of stale alcohol mixed with corner store nag champa. The building is set to get knocked down this summer.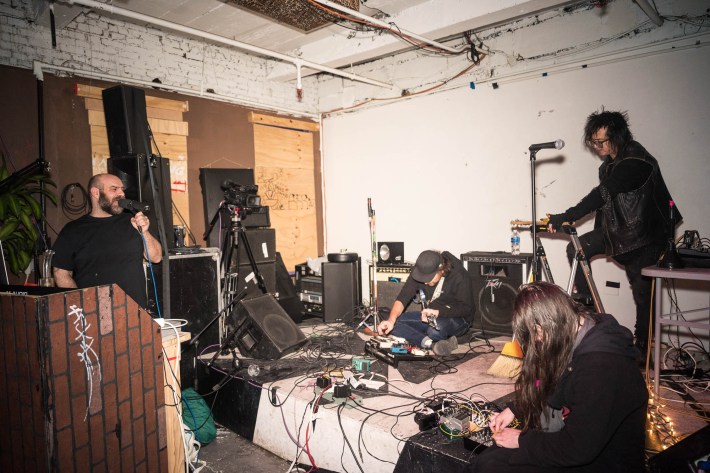 At the DJ booth that would serve as Lehrhoff's command center for the next 36 hours, there was a microphone on a swivel stand—the type you might see at a radio station—a large Mac computer monitor, and a collection of electronic gear. Performers moved in and out of the action on the stage; Lehrhoff was the one constant.
When I returned a little after midnight, Jeremy Krinsley, Mike Sheffield, and Messica Arson were in the middle of a techno-leaning jam using electronic contraptions with a lot of wires. The video artist Perston Spurlock projected warm psychedelic graphics behind them. The music wasn't too loud to have a conversation. The vibe was cozy; the venue served rice. Lehrhoff told me had to take a break from jamming because his hands were cramped up. I sat on the floor and watched the music.
A roving-player jam ecosystem can be quite delicate. One roster change has the ability to quickly transform the music, and by proxy the entire atmosphere of a room. "Somebody comes in, and then if the wrong person comes out, you get a real, like, 'Oh, what will we do,'" Lehrhoff said. It's this precariousness that makes the situation exciting. It also facilitates musical connections only possible through Lehrhoff's imagination—and extensive Rolodex. "There are at least three people who made sure to get each other's numbers because they want to start a band," Lehrhoff noted.
I tried coming back a little before sunrise, but Lehrhoff didn't pick up his phone to let me in, so I fired up my mobile Twitch stream and watched the musician Mikey Gags play a set of drone music for a few minutes before heading home. Only later did I find out this was the chunk of time Lehrhoff (and venue employees) was using to attempt to get some sleep—"some" being the important modifier here. He told me he got about a half hour's worth.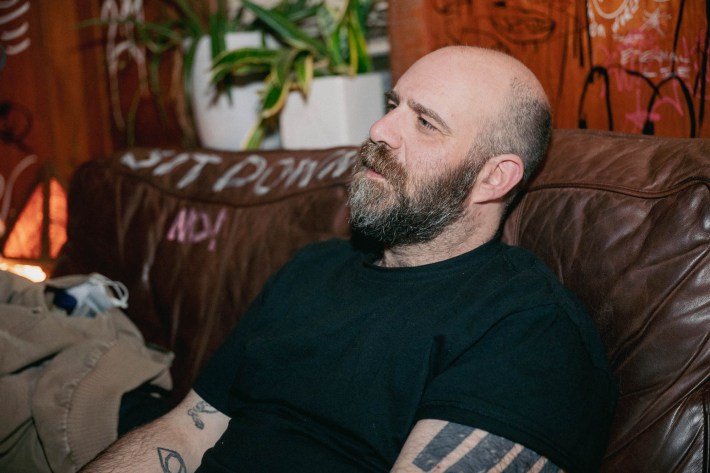 When I popped in around 11 later that morning, the trio of Arrien Zinghini, LM Brenner, and Alex Hadjiloukas were playing dissonant and noisy jazz on sax, guitar, and drums, respectively, to a modest audience. I asked Lehrhoff, who was still sitting things out, how much caffeine he had consumed. To my surprise, the answer was none. The artist told me he had been surviving on a trinity of substances: water, savory foods, and weed. "This is deeply embarrassing but very true—I have some New York Sour Diesel to keep me level and up. I have some Durban Poison for when I want to get into it. And then I have some indica for the end of the show," he explained.
I arrived back at the venue close to quitting time. Lehrhoff was moving in and out of a jam with his longtime collaborator sTo Len (a founder of the Williamsburg gallery Cinders) and the musician hyacinth. It was harsh and extended—COVID-19 forced a few of the final evening's performers to cancel. As I sat in the back room of the venue with Lehrhoff, the artist reflected on the project as a whole. "I do pretty much every part of it except run the sound," he said. "During the nine days I did literally everything. And it's also, like, I could've figured out a way to do this show where my face was never on camera, but I didn't," he continued.
"The mix of narcissism and self-hatred and the fact that it's some sort of dark punishment—it does make me laugh when I think about it," he said.
Stay in touch
Sign up for our free newsletter