Cultural Capital
No Gods, No Ticketmasters: A Taylor Swift Ticket-Buying Journey
One Swiftie's journey into the heart of Ticketmaster darkness.
1:15 PM EST on November 18, 2022
October 21, 2022
Taylor Swift releases her tenth studio album, Midnights. She announces a spring and summer stadium tour across the country, her first such tour in five years. 
Various Swiftie cells are activated across New York City, as thousands of group chats strategize to obtain tickets, by any means necessary. Their adversary is the Ticketmaster, which, after merging with the LiveNation in 2010, is now the only way to obtain entry to a major concert in the United States without resorting to the dark and torturous arts of the resale market. In an alleged "effort" to combat bots, Ticketmaster requires fans to sign up to receive "Verified Fan" codes, 1.5 million of which will be sent out on the night of November 14 to give recipients access to the presale at 10 a.m. on November 15. A second presale for Capital One credit cardholders is set for 2 p.m. on the 15th. A general sale is set for 10 a.m. on November 18. 
The rules are simple: once you enter the presale queue, you don't get out. 
One such Swiftie cell tried to defeat this system. This is their story.
November 14: Day
After several weeks of nonstop strategizing, I (Citizen Swiftie), along with four of my friends from college, have submitted all our Verified Fan information and are patiently waiting to receive our Verified Fan codes. We are true Verified Fans. There's no question about our legitimacy—one member of our group paid $12 to see Swift in 2007, when she was still a teenaged country music singer. We have blasted Taylor Swift after breakups, we have been attacked online by Swifties out to eat their own, we have had Spotify do a wellness check because we listened to Evermore in its entirety five times in one day in December 2020. We ARE Swift fans. 
We have already booked a hotel room in Philadelphia for May 13, a neutral location to accommodate two members of the group coming from Washington, D.C., though we will accept MetLife in the dreaded Meadowlands if necessary. We have blocked out hours of ticket-buying time on our work calendars. We have forfeited all other social obligations. We are confident that Verified Fan will recognize us as the true deservers of the presale. 
November 14: Night
Verified Fan waitlisted all of us. But we believe in the cause—resistance was to be expected. 
November 15: 10 a.m.
Despite Ticketmaster's brutal rejection of our verified fandom, we are not dissuaded. We have amassed four Capital One credit cards ahead of the 2 p.m. presale, including two cards that belong to a boyfriend, who probably had no idea he was actually dating a cadre of crazed Swifties instead of one normal person. We have rearranged afternoon meetings to facilitate this change in schedule. We are prepared. We have no choice but to be prepared. 
2 p.m.
Ticketmaster is not prepared. The Verified Fan presale devolved into such chaos that Ticketmaster crashed, and they moved the Capital One presale to 2 p.m. on the 16th.
November 16: 10 a.m.
As the Swiftie fandom navigates the ashes of the Verified Fan presale, we Capital One warriors ready ourselves for a bloodbath anew. We are bathed in the blood of easy credit. The holder of one card has a meeting at 2 that she can't push, so I log into her Ticketmaster account ahead of the sale and set myself up to hit the 5/26 MetLife date, in the dreaded Meadowlands. Three others have been assigned the remaining MetLife and Philly dates, including the poor boyfriend, who is not invited to the concert with us and by this point probably wishes he'd dated a Lana del Rey fan instead. Our faction already shows signs of splintering—we now have formed a Taylor Swift Frontline Defenders spinoff group chat and a Zoom room in case we need to strategize tickets in real time, and not throw decisions to the group at large.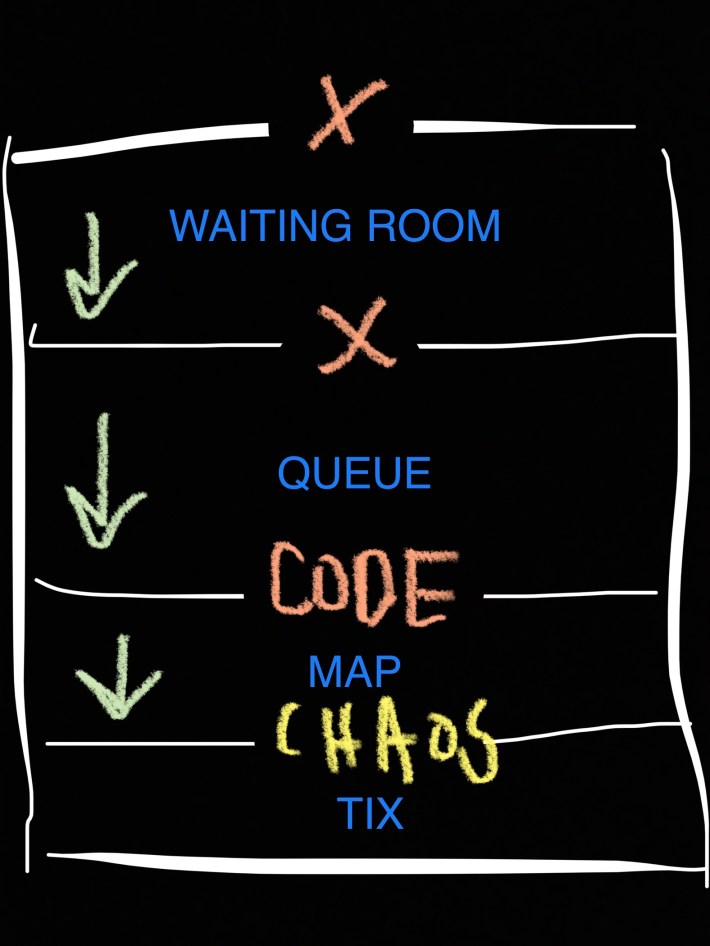 1:50 p.m.
Ticketmaster crashes twice, but the waiting room is open. The Braveheart speech plays in my head as I ready my cursor. Fight, and yes, we may die (not get tickets). But isn't it all worth it for that one chance to tell Ticketmaster to… take our money? 
2 p.m.
QUEUE IS OPEN…and we all have 2,000+ people ahead of us. Perhaps we should have been more focused on subterfuge towards other fans. 
2:20 p.m.
My queue moves pretty fast, knocking me to below 1600 people early on in the battle. The others in my group are moving more slowly, but I can't turn back to help them. We have a premade seating arrangement chart, and I am prepared to grab whatever seats are available.
2:30 p.m.
My queue is stalled at 1,223 people.
2:40 p.m.
Are all 1,223 people ahead of me actually snails? Not so Swift, my friends. 
2:50 p.m.
Am convinced there's actually a "Weekend at Bernie's" situation ongoing and all 1,223 people in front of me in the queue are just corpses laid across their keyboards. Did not plan for this contingency. 
2:58 p.m.
One of the Frontline Defenders in our group breaks through for the Philly show. Huzzah! She tries to get 5 tickets, but Ticketmaster won't let her purchase that many together. She opts to get 2 and then 3, but has made a tragic mistake. After she purchases the first two, Ticketmaster kicks her out and sends her to the back of the queue, where she's now line-waiter 42,000.
3:05 p.m.
After what feels like 1,000 years of being stuck at 1,223, my MetLife queue goes through—and there are literally no tickets available. Not one. Why Ticketmaster made me wait in the queue for an hour for a sold-out show is just one of many reasons that I am now a single-issue voter and it is burning Ticketmaster to the ground and dancing on its ashes. Perhaps politics as normal aren't up to the task. 
4:00 p.m.
The second line defenders finish their useless meetings and decide to try their luck with the Nashville and Denver queues. We plot out vacation dates and flights. We know this is all just coping at this point. The defenders get through, but tickets disappear as soon as they add them to their cart. As tickets slip away, so does my will to proceed. My fervor is extinguished. I will never see Taylor Swift live. I will never scream, "It's me, hi, I'm the problem, it's me" with my sequin-clad princess and a bunch of teens in a football stadium. Life is meaningless. I await death. Which is, as I am oft reminded in moments like these, inevitable. 
5:00 p.m.
But the radical spirit is tough to break. My group has worked out a "hack"—Ticketmaster lets you wait in more than one queue at once, as long as you keep the queue open in a different tab. Idiots! Why didn't we realize this sooner. This explains how bots have managed to steal all the tickets and sell them for $12,000 on StubHub. But we are just as smart and driven as the soulless robots and we will beat this system, too. We decide to try for the LA shows, because Taylor is worth a cross-country flight. But now I have to meet someone for a drink and I'm not optimistic the West Coast queues will treat us better, so I opt out. 
6:30 p.m.
I look at my phone during drinks and have hundreds of notifications. In my absence, my friends have booked two pairs of tickets for separate shows in Los Angeles. A third friend has also purchased three $500 tickets on StubHub for the Philly show. I have no idea whose cards these are all going on. We decide to try for the general sale on Friday morning anyway, in case the StubHub tickets are fake and we can get real Philly tickets.
I light a candle for Taylor—my heart is battered, but still pure. 
November 17, 2022
The cowards at Ticketmaster cancel the general sale. "We had no idea how many people would try to get tickets!" they claim, despite the fact that Taylor Swift is the biggest star on the planet and if you even lightly criticize her on Twitter at least 7 million people will jump into your mentions and tell you to kill yourself. 
Idiots! 
There is a brief public reckoning. Members of Congress call out the LiveNation/Ticketmaster monopoly. Swifties threaten to dismantle the company by hand. Taylor is mostly silent, but many of us in the community hope she is preparing a warrior's response. Perhaps the silence is saying all that's needed—go forth my valkyries!
As for the valiant group chat, there are at least some tickets at hand, even if they require us to fly across the country and attend separate concerts. We knew not everyone would make it to the promised land. We do not know if the StubHub tickets are real, or how many months it will take to pay them off, but we await them eagerly. It has been a difficult journey, and there are still miles to go. But we will see Taylor…In this world or the next!
And soon enough, apparently, we will have our day in court!
Rebecca Fishbein is a writer living in Brooklyn. She has written for The New York Times, Gothamist, Jezebel and The Cut, among others, and is the author of Good Things Happen to People You Hate.
Stay in touch
Sign up for our free newsletter