Cultural Capital
Summer Minerva Is Queering Italian American Heritage, One Film Screening at a Time
Through her documentary "Summer Within" and pilgrimages to Italy for queer Italian Americans, the artist from Staten Island is bringing awareness of an age-old Italian third gender community to the States.
11:00 AM EDT on September 18, 2023
Summer Minerva was teaching three friends about the galli, a sanctified class of eunuchs in the Roman Empire who castrated themselves with sharp pieces of flint, when the manager returned to their table. She'd been trying to sweet-talk him into sending the group free drinks at this waterfront restaurant none of them could really afford, where they decamped after the daytime screening of Minerva's documentary "Summer Within" at the Long Island International Film Expo. Minerva was in a celebratory mood—she had finally shown her film, a personal memoir of finding queer belonging in her maternal grandmother's homeland of southern Italy, just outside her own hometown, New York City. (The film later won "Best Documentary" at the Expo.) 
"Pull up a chair," Minerva told the bald-headed manager, gold flecks on her dress sparkling in the sun as she sipped a Bloody Mary. "We're just talking about ritual castration." The man chuckled nervously. "I'll leave that to you," he said, and fled, only to return later with free shots and dessert. 
"I was just totally reinforcing every kind of trans stereotype," said Minerva afterwards with a laugh. She shook her head. "Whatever."
History lessons, self-deprecation, and the tragicomedy of navigating the world as a non-binary transfemme: It's a typical day with Summer Minerva, a 35-year-old artist and organizer from Staten Island, and it neatly sums up the themes of "Summer Within," her first film. Venturing from New York to Naples and back again, the film features conversations with historians, transgender activists, and Minerva's closest relatives. It weaves Minerva's personal quest for self-understanding and deeper knowledge of her Italian heritage with a broader narrative about the femminielli, a type of "third gender" people who are revered in southern Italy for performing rituals meant to bring luck to the community, and fulfilling traditionally feminine roles like childcare.
Minerva began work on the film in 2017, and was soon joined by the director and producer Adam Golub. "Summer Within" has now been screened in Naples, Seattle, Maine, Tennessee, and Texas, with several more upcoming dates in other cities. According to Minerva, viewers of her documentary in the U.S. have been surprised to learn about the historical sanctity of gender variance in Italian culture, and many LGBTQ+ people have messaged Minerva to thank her for depicting her own transgender narrative with so much vulnerability. "They feel like they can see themselves in my character," she said. "They finally see themselves represented on screen."
The film was roaringly received in Naples, where 300 people showed up to attend a screening in an abandoned 17th-century orphanage. But for Minerva, who now lives in Asheville, North Carolina, the Long Island showing was a special homecoming. To her, it was "a bridging of the worlds," given that the island is an Italian American stronghold, where multigenerational families like Minerva's flock by the dozen to neighborhood pizzerias, continue to celebrate Columbus Day with an Italian heritage parade with nary a mention of Indigenous Peoples Day, and emphasize the importance of passing on family names (Minerva was born with her father's). During the screening, she hopped between different sections of the theater, alternately seeking and avoiding the reactions of her parents and cousins—all of whom later gave glowing reviews. 
"That film is the way people should think about life: loving, caring, and sharing," said Anthony Minerva, Summer's father. "That's a movie that should bring people together."
"We need Robert De Niro to see it!" interjected Lisa Minerva, Anthony's cousin's wife, who is from Long Island. She appreciated the film's "portrayal of being queer—like it's not shameful. That's what you want to expose to people."
"The blue-collar Italian American Catholic mindset is so alive on Long Island," said Minerva. Yet her film "confronts people with a different reality," she noted. "They think they have an idea of what it means to be Italian. And this film brings a new idea…You don't have to be what they've shown you."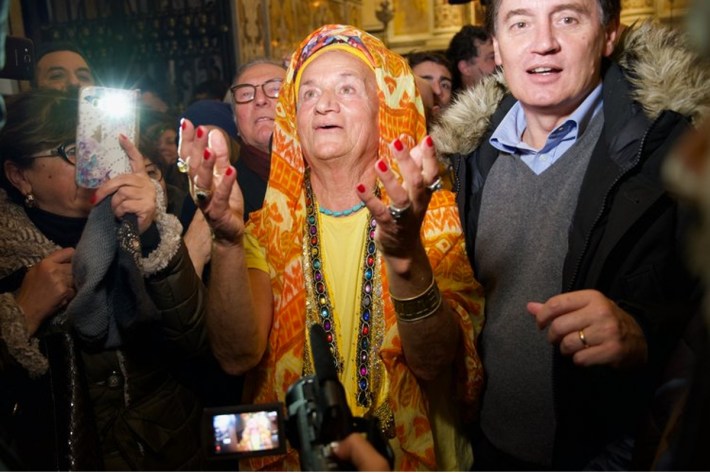 Think of Italian American culture, and most people will probably default to pasta, mob dramas like "The Godfather" or "The Sopranos," and the heterosexual drama of "Jersey Shore." A man calling himself "Lil Mo Mozzarella" has racked up half a million TikTok followers by peppering his pizza reviews and run-ins with Snooki with heavily accented catchphrases like "fugazi" and "how ya doin'!" Of course, most of this has little to do with Italy. Like other white ethnic groups that migrated to the U.S., Italians have lost or transformed aspects of their heritage through generations of living in diaspora. What they have left, as a writer noted in a recent essay for the Baffler, often feels like "performance of a shared identity…exaggerated to the point of caricature."
Minerva was always searching for more. Growing up in Staten Island, in an Italian American milieu where Catholicism reigned and boys were expected to behave with masculine bravado, Minerva said that she felt "like an anomaly, a strange mutation of some kind." She preferred to emulate her sister. But she also felt "a sense of incompleteness," in that much of what she associated with being Italian—a love of baseball, gelled hair, "thug-like behavior"—came from relatives who had never lived in Italy. 
Through the stories of her mother's mother, Minerva's only Italian-born grandparent, she knew their family had left behind an entire world of deeper roots and practices, ones that she believed could help heal her sense of dislocation. She's fond of a passage by the Italian American writer Gay Talese, in which he mused that becoming "an assimilated American" is a neverending process: "You get over it. But you don't ever quite get over it." 
Then, on a trip to Naples in 2016, she found the femminielli. Or rather, in a way, they found her. 
As she walked the streets of that southern Italian town, people kept calling her "femminiello." She Googled the term, and learned that it refers to a longstanding Neapolitan lineage of people who are assigned male at birth who embody feminine attributes. Far from being marginalized, the femminielli (who historians speculate are cultural descendants of the Roman galli) are largely seen as lucky beings who play privileged roles in southern Italian traditions like the Catholic festival of Candelora, which celebrates the "purification" of the Virgin Mary as well as the turning from winter to spring, and the tammurriata, a folk tambourine dance.
Minerva began seeking out the femminielli, making multiple months-long trips to Italy. She became fluent in Italian and learned the tammurriata, as well as other regional dances. For the first time, she saw herself reflected in Italian culture, and in turn, the femminielli recognized her as one of their own, a process she documents in "Summer Within." This exchange gave Minerva "a profound sense of place in the human story," she said. "I've learned and relearned how important it is for us all to connect with the stories of our ancestors, no matter how far back we need to go."
Inspired by her time in Italy, Minerva founded the Sacred Gender Project in 2017, through which she facilitates workshops and rituals around the U.S. for queer Italian Americans to learn about, as she puts it, "aspects of their ancestral culture that have been erased due to assimilation" and "the mystical past of our queer southern Italian transcestors, and finding home in the process." In 2019, she led her first trip to Italy, during which six participants met a variety of Italian scholars, artists, and activists before joining the femminielli in their procession up Montevergine, a mountain outside of Naples, to partake in the Candelora rites.
Anthony Scudese was on that trip. On a visit to a mountain hot springs, Scudese, who is from New Jersey, broke down in tears. She recalls "feeling like I was deprived of something, having felt isolated in the suburbs and not connected to my Italianness." Looking down at the beautiful Mediterranean coast, Scudese wondered what it'd be like "to be near people that look like me [and] maybe have an easier connection to this third gender," the femminielli. Scudese had always viewed her queerness and Italian heritage as "two completely separate worlds that will never meet." Today, she feels nourished by the knowledge that "our culture, however whiteness has consumed it to be, also contains celebrations of gender diversity."
Minerva considers each screening of her documentary a ritual, with the film as "the main tool to alchemize and create the feeling of belonging." As part of her work to connect the dots between diasporic queer Italians and those living in Italy, Minerva co-edited the book "Italian Trans Geographies," a collection of essays that will be published by SUNY Press in October. That same month, "Summer Within" will come all the way home when it screens at the College of Staten Island on October 12.
Next February, Minerva will lead the second Sacred Gender Napoli Pilgrimage to Italy. But she has something else to do while she's there. Last year, after she screened her film in Naples, Minerva's Neapolitan lover proposed, and they were married shortly after. It wasn't a legal marriage, but rather part of a centuries-long tradition of femminiello "weddings," in which femminielli are integrated into Catholic culture through ritualized, often campy ceremonies. In a follow-up ritual, she will "give birth," nine months after her wedding. 
Minerva used to wonder if she was engaging in "cultural appropriation," as she put it, of a Neapolitan tradition she wasn't born into. But through conversations with locals who have widely celebrated her work, she learned that sharing their tradition with the diaspora "is actually really important to its survival." She sees the upcoming ritual birth as symbolic of her full inclusion as a femminiello, as well as a mark of trans motherhood.
By bringing more queer Italians to Naples, she said, "I'm giving birth to a new culture."
Delilah Friedler is a transgender journalist and DJ living on occupied Indigenous lands in Brooklyn. She's written on queer community and climate justice for Rolling Stone, Mother Jones, Slate, Pitchfork, Vice, and more. Follow her on Instagram at @delilah.at.night.
Stay in touch
Sign up for our free newsletter