Cultural Capital
Needles In Your Ears, Radical History On Your Mind
Standing on the Corner hosts auricular acupuncture sessions inspired by the Young Lords.
10:19 AM EDT on March 29, 2023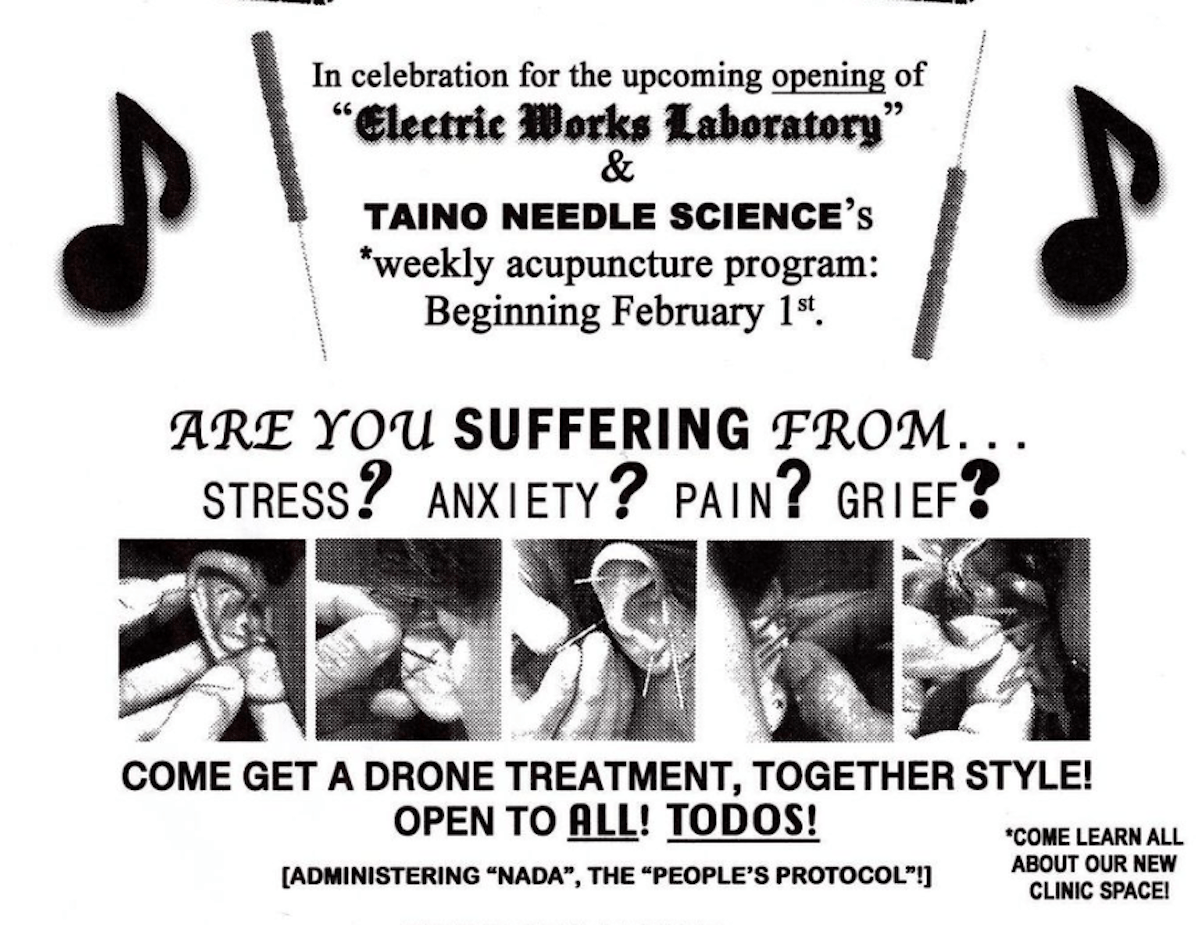 On a recent Wednesday evening, a quick elevator ride through Performance Space New York's building in the East Village brought me to a makeshift waiting room outfitted with a reception desk. The experimental music collective Standing on the Corner had turned part of the floor into the Taíno Needle Science Institute, described as an "acupuncture clinic, doubling as a guerilla academy." Running until June 30, the free clinic, also dubbed the "Electric Works Laboratory," is inspired by public health initiatives spearheaded by the Young Lords, Black Panthers, and other activist groups in the 1970s. At the moment, it's offering free weekly auricular acupuncture sessions, an ear-centric treatment used to ease pain, calm the mind, and relieve addiction withdrawal symptoms.
"One of the most revelatory aspects of acupuncture is that it reveals that the medicine and chemicals the body needs to heal itself is already there inside, one only needs to know which point to press to release it," Standing on the Corner's Gio Escobar explained over email. "The mission of the Laboratory is similar, to access the medicine that is already inside us as a people, Black and Puerto Rican—to designate our cultural healing technologies: music, poetry, movement, performance…and to offer these arts back, not as 'art,' but as medicine."
A window in the reception area offered a look into the lab, but its view was obstructed by an advertisement for Taíno Needle Science crammed with text in both English and Spanish. "Dedicated to the work and power of Dr. Mutulu Shakur," one corner of the window announced. "We welcome him Home, Free at Last!" I filled out a series of intake forms that asked somewhat typical health-related questions—"Are you experiencing pain at this time?" (Yes); "If yes, is your pain…Emotional? Physical? Both?" (Both)—as well as more abstract ones. ("Please fill in the brain diagram below with the troubles eating at your mind.")
Upon completing the paperwork, myself and seven other guests were brought into the brightly lit lab. We each took a seat in a semicircle facing a mirrored stage covered with synthesizers, electric organs, and chimes. Behind the setup was a wall covered with screens showing live CCTV footage of the room from every angle, which purposefully evoked a surveillance system. (The intention, Escobar explained, was to "subvert this technology and the images it produces by using it to show one's healing happening back to themselves.") Elsewhere in the room was a mural linking the indigenous Taíno people to their modern-day New York descendants, model ears, charts of acupuncture points, Puerto Rican flags, and a stack of instructional VHS tapes for "China Zhenjiuology."
The session began with the plinking of a xylophone piped in through a PA system, followed by an announcement of the date, time, and weather, along with a message: "Remember, health is not mysterious." Standing on the Corner took their positions onstage and led by Escobar, who wore sunglasses and a blue sweater featuring a portrait of Che Guevara, the three instrumentalists began to perform a minimalist but subtly funky piece.
I've received forms of acupuncture since I was a preteen for a variety of ailments and in a variety of settings, from a private room decorated with crystals and dreamcatchers in the Florida Panhandle to community acupuncture in a gigantic, sterile space in Manhattan's Financial District. But no matter the location, the ideal acupuncture soundtrack is atmospheric but entrancing enough to lull a needle-covered individual lying prone into lucid relaxation, rather than straight to sleep. In this tradition, Standing on the Corner's half-hour set never rose beyond a soothing drone, the continuously held notes conjuring relief and contemplation and lulling attendees into repose. 
Meanwhile, we cleansed our ears with alcohol wipes and were assigned to a pair of AcuDetox specialists. Mine was a former Young Lord, a soft-spoken older gentleman. As he gently tapped five needles into my ears, he explained that each would stimulate a specific point connected to the nervous system, kidneys, and liver, all promoting a state of calm. 
This auricular approach is the cornerstone of the National Acupuncture Detoxification Association (NADA), and studies support its effectiveness. As one research study noted, "NADA protocol when combined with traditional treatment improves QLES [Quality of Life and Satisfaction], feeling better about oneself and improved energy, likelihood of employment upon discharge, and decreased alcohol use at three month and six month follow up." But until somewhat recently, the Black and brown developers of the method were whitewashed from the narrative. Through the clinic and future programming, the Taíno Needle Science Institute hopes to reaffirm the practice's radical roots—which can be traced back to a community-led health care revolution a few miles uptown.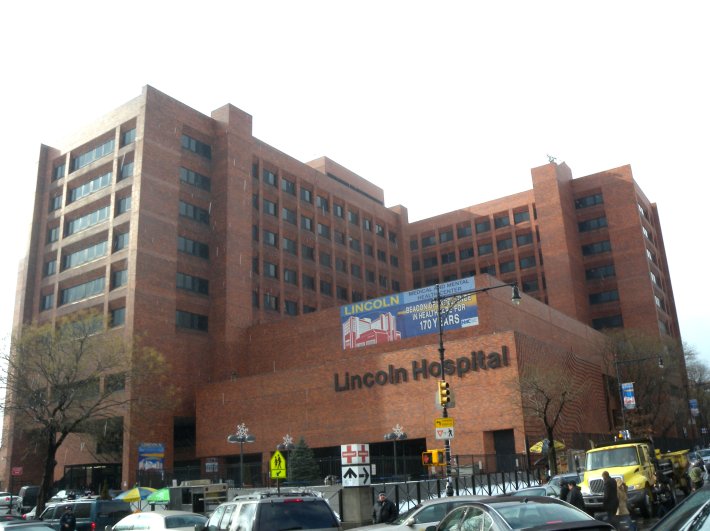 By 1970, the South Bronx was in a state of severe decline fueled by inadequate healthcare, rampant drug addiction, failing infrastructure, and substandard housing, all of which disproportionately affected Black and brown residents. The neighborhood's sole major medical facility was Lincoln Hospital, and with barely one bed for every 4,500 residents, it was ill-equipped to treat the epidemics facing the community. Not that anyone was exactly eager to be a patient there: The hospital had been condemned years earlier and was known locally as the "butcher shop" due to its bloodstained facilities. The building was crumbling, roaches popped out of pill cups, and children would return home with lead poisoning.
In the early hours of July 14, 1970, on the heels of spearheading several initiatives that improved sanitation and health care services, the Young Lords occupied Lincoln Hospital. At a press conference, the Young Lords reiterated their demands, which included: "No cutbacks in service or jobs," "immediate funds from the NYC Health Services Administration to complete the building of and fully staff the new Lincoln Hospital," "door-to-door health services for preventative care," and "self determination of all health services through a community-worker board." After a 12-hour standoff with the NYPD, the Young Lords peacefully departed. But the life-or-death stakes of their cause were underscored just five days later when a local Puerto Rican woman named Carmen Rodriguez died during a routine abortion after doctors failed to consult her medical chart.
Four months later, on November 10, the Young Lords returned to Lincoln Hospital alongside members of the Black Panthers and other local activist groups. They took over the sixth floor and established a community-oriented drug treatment clinic that would be known as the People's Drug Program, and later, Lincoln Detox. From the start, the clinic fought the isolation of addiction by building a community space where patients could receive therapeutic treatment as well as a political education. The latter program was directed by a young revolutionary named Mutulu Shakur, who led studies of texts including "Capitalism Plus Dope Equals Genocide" by Black Panther Michael Tabor and "The Opium Trail: Heroin and Imperialism," a booklet that characterized drugs as a tool of oppression exploited by capitalism.
To this end, while the clinic initially administered methadone for addiction treatment, they soon sought out a chemical-free way to detox. Methadone therapy has been proven to block cravings and relieve symptoms, but it is itself an addictive opioid, albeit one that is tightly regulated by the government. Then and now, some critics consider it to be a form of oppression by Big Pharma, "liquid handcuffs" that replace one addiction with another rather than address the broader societal problems that lead to drug use. "Methadone," Shakur later wrote, is "chemical warfare being waged against Black people."
As explained in the documentary "Dope Is Death," Shakur was intrigued by an article about a Hong Kong doctor who successfully used electrified auricular acupuncture to relieve patients' withdrawal symptoms. He also found inspiration in Maoist China's barefoot doctors, an amateur medical force that provided health care in rural communities.
Acutely aware that their clientele had valid reasons to distrust the Western medical system, Shakur and others at Lincoln Detox hoped that auricular acupuncture could offer an empowering alternative. A handful of staffers, including Shakur, began learning more about the practice, and went on to study at the Quebec Institute of Acupuncture before eventually developing the method used by NADA. 
While there are no hard numbers that convey the effectiveness of Lincoln Detox, testimonials in documentaries like "Dope Is Death" reveal how the program empowered patients and practitioners alike to take control of their own health care. But after a series of setbacks including slashed funding, allegations of financial mismanagement, and the death of a doctor that some Young Lords believed was an assassination, Mayor Ed Koch effectively shut down the Lincoln Detox Center in 1978.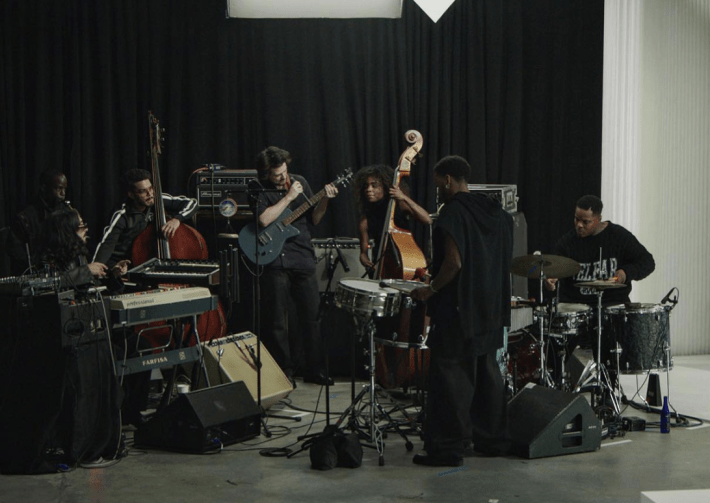 But the spirit of Lincoln Detox lives on at the Taíno Needle Science Institute, where the members of Standing on the Corner hope to apply the lessons of the past to "our modern times, pains, and anxieties." The lab's services feel especially necessary at this moment. In January, New York City's health department released data that found that 2021 overdose deaths were the highest since reporting began in 2000. Racial disparities in healthcare continue to persist and have even widened in addiction treatment. While acupuncture tends to be seen as a luxury alternative medicine reserved for those who can afford specialized treatments, the NADA protocol only requires five needles, sterilization tools, and a trained practitioner. At the end of the day, maybe health care rooted in community, compassion, and creation isn't that radical of a concept after all. 
"What we are offering is merely one option in a network of health care providers and harm reduction agencies doing this work," Escobar said. "I can dig the need to fade oneselves out sometimes, but I recognize an urgent need for detoxification from more than just drugs; as a society, we are hooked on all kinds of dope that don't come in powder and that can't be cooked into a rock."
The half-hour auricular acupuncture session flew by in a daze. Attempts to take notes felt futile and counterproductive to connecting with my body. So I shut my eyes until the set came to an end; someone came around the room and took our portraits for a future photo wall. Then, our needles were removed and we cleared the room as the next group of guests took our places.
I didn't notice any effects of the treatment until the person who had been sitting next to me asked how I felt. As I attempted to answer, it was as if language had vanished from my brain, which was not to say that I was disoriented, at least not in a bad way. I felt thoroughly, if unremarkably, present with myself. I felt great, ready to return as soon as possible.

Quinn Moreland is a music, art, and culture writer based in Brooklyn. A former Pitchfork staff writer, her work has appeared in the Nation, New York Magazine, Bookforum, and more.
Stay in touch
Sign up for our free newsletter