Cultural Capital
Solange Brings Gospel Royalty Together at BAM
"Glory to Glory" presented a survey of Black worship music.
2:31 PM EDT on April 13, 2023
"Look at our dresses," said gospel royalty Twinkie Clark to a humming audience at BAM last Friday, gathered for the fifth event of Solange Knowles's performance series El Dorado Ballroom. Twinkie Clark sat at a Hammond organ beside her three sisters, all four in flowing black gowns and bedecked in gold jewelry. "Solange fixed us all up tonight."
Solange seems to prefer being a student to being a star, more willing to present than perform. Even after an acclaimed breakthrough with 2016's "A Seat At The Table," she downsized to the reflective followup 2019's "When I Get Home," and since then has only performed sparsely, releasing no music in the intervening four years. 
At BAM, Solange's series El Dorado Ballroom, which kicked off in February, seeks to recapture a historic Black Houston, Texas, venue (itself named after a historic venue in Harlem) on the BAM stage; in May, Gianna Reisen's ballet "Play Time," set to a jazz score by Solange, will be debuted by the New York City Ballet at Lincoln Center. Houston and New York are two of a constellation of cities Knowles seems to work out of (her movements are quite lowkey)—Houston being the place of her birth, and New York being the site of her career's renaissance in the early 2010s. Her era of performing with the Dirty Projectors and hopping on stage at the Apollo with Blood Orange segued into dreaming up bespoke events on a monumental scale with New York's loftiest cultural organizations–she's the first Black woman to compose for the NYC Ballet, conducted a takeover of the Guggenheim, and hosted Performance Space's spring gala in 2019—alongside smaller collaborations, like her work with the fashion designer Wales Bonner on a show called "Devotional Sound" at St. Peter's Church in 2019. 
Such is her power that she can make a series at BAM out of a moodboard. El Dorado Ballroom, rather than exclusively featuring throwbacks, seems to imagine a variety show plucked from the annals of Black composition and performance. It opened with a concert from R&B singer Kelela, and will close in September with recitations of classical and opera works by Julia Perry.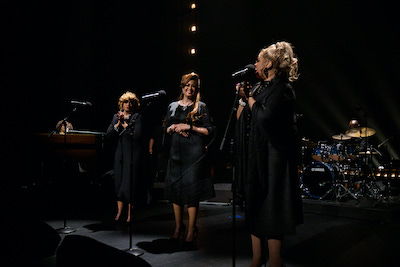 On stage at BAM, the polished brass of Angella Christie's saxophone gleamed like gold under the stage light, and Christie, the first performer, shredded the blues scale, a redemption for smooth jazz. I wondered if that was how Jesus would play the saxophone, sharp and loud and in primary colors, holding it with a right hand and testifying with the left. The audience would, at times, get ahead of her on a gospel standard, singing in harmonies that would float up to the stage before the sax-playing even started—response, then call.
The following performance was a sharp turn. Exuberance became tension as the lights were set low. As a choir of silhouettes assembled on stage, their conductor Malcolm J. Merriweather, the choral director of the New York Philharmonic, walked down the center aisle of the audience. When he arrived at the stage, he did an about face towards the crowd and belted in his own tenor. Together, they sang from midcentury jazz composer Mary Lou Williams's startling chimera "Black Christ of the Andes," but the hush that fell over the crowd didn't last long. "BAM crew!" someone shouted in appreciation as the pianist Artina McCain arrived to join the choir, and the crew hustled to wheel her piano and bench to the stage.
We couldn't keep quiet. Even when the curtain fell on the piano performance, someone behind me started vocal riffing prodigiously. Then the crowd waited restlessly for the night's headliners, the Clark Sisters, led by the aforementioned Twinkie Clark. 
Twinkie shared the stage happily with her young niece, inviting her to shakily sing the Clark Sisters's "Pray for the U.S.A." alongside the legendary and virtuosic Sisters themselves. Though their black dresses honored Good Friday, and though their performance was dedicated to Jesus, there was something right about seeing them deliver their honeyed harmonies on this secular stage, an exaltation of gospel, America's most sophisticated compositional tradition. As the Sisters cut off notes with perfect precision, only to then at times get in the zone and just freak out in melisma, their voices pierced through a Friday night in Brooklyn, and adorned it with glory.
Adlan has written for The New York Times Magazine, The New Yorker, Pitchfork, Study Hall and more.
Stay in touch
Sign up for our free newsletter