What's Your Deal
Skrillex Week With the Subway DJ
Hanging out with Naveh Halperin, aka the Subway DJ, I learned how he makes a moment happen.
4:18 PM EST on March 8, 2023
On the night of Valentine's Day, Naveh Halperin was hovering conspicuously by a rack of Citi Bikes outside of Good Room in Greenpoint, leaning on what looked like a carry-on suitcase. Halperin is better known as the Subway DJ, and the "suitcase" is really a speaker affixed to a trolley.
It was "Skrillex Week"—Good Room was hosting the first of several pop-up Skrillex shows, and across the street, a massive line of noisy club-goers waited to be let into the show that would be held inside: a triple-header DJ set with the aforementioned EDM producer, who would be releasing two albums that Friday, along with the British electronic musicians Four Tet and Fred Again.
Halperin, a tall, slender 33-year-old, was there at the invitation of DJ Fred Again, sort of. He had gotten on the DJ's radar last year, after taking a request for a song from a drunk British guy who ended up being Fred Again's brother, and for his tour in New York City last fall, Fred Again's team had enlisted Halperin to preview his album on the streets of New York. 
Now that Fred was back, Halperin planned to work the February shows as he usually does, playing songs afterwards for the drunk crowd, and then posting videos of those crowds on his Instagram account. Fred himself had DMed Halperin, asking if he was around. The upside of collaborating for the superstar DJs seemed clear: They would get free publicity. Halperin, who wasn't paid for these efforts, would get a higher profile for his Subway DJ persona, and hopefully the ability to continue doing it. "The goal is always changing a little bit," he explained to me. "One of the goals is to make a living doing this, and not have to do anything else. And sometimes I feel like I have achieved that goal, and other times I feel like I haven't."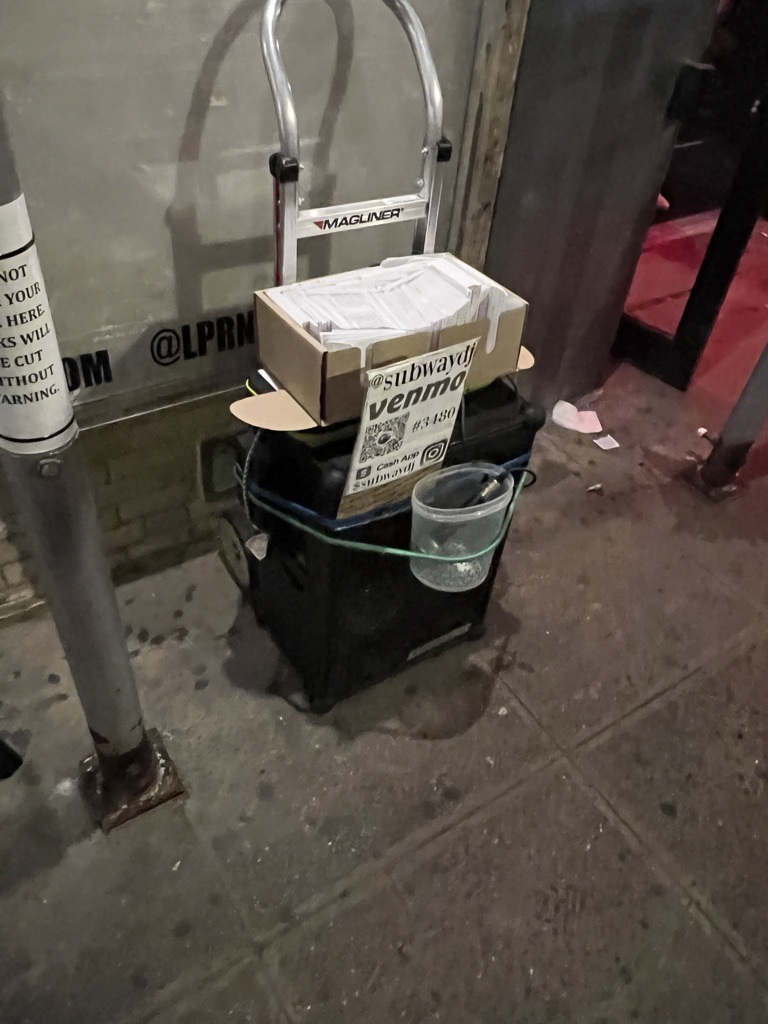 Even if you don't know the name Subway DJ, you've likely seen his work. That seemingly impromptu post-concert Celine Dion singalong at the Barclays Center subway station? It was prodded into being by the Subway DJ. And if you want to know where the biggest party is in New York on any given day, you might want to find the Subway DJ. His followers—more than 10,000 on Instagram—look to Halperin to see the 2023 version of a merry New York trickster. He has a tendency to pop up seemingly everywhere, and his videos capture the revelry he provokes. Halperin comes off as a sort of brazen hangout hero, a poster boy for the ideology that going out in this city doesn't have to require making appointments to spend $75 at an event, only to then head straight home. You can just go outside, he suggests, and almost effortlessly rely on serendipity—there's a place you can party in the city, full of the most excitement you could imagine, right on the street, so long as you can vibe it into being.
It's aspirational, in a way—Halperin just hangs out, and it somehow earns him money, clout, and access. He is a wizard of the life-changing magic of just being a guy who's around.
I tagged along with Halperin during three nights of Skrillex Week, wanting to see how he makes a moment happen. And what I saw was that the machinations required by the celebrity DJs did not fit with the Subway DJ's roguish methods. Ultimately, the power of the Subway DJ comes from making things happen on his own.
That evening, Halperin was nervous about getting inside—someone on the DJ's team had sent Halperin a vague Instagram DM that suggested he'd be able to get inside the venue, but Halperin didn't actually know if he had been put on the list. In his first acquiescence to the rules of Skrillex Week, he decided not to play music for the rowdy line: "I feel like it's just not a normal thing people do when they're supposed to be in a venue." Plus, there was the fact that Good Room was right next to the NYPD precinct where he'd been detained last year, after he showed up at Diplo's pop-up show and got his speaker confiscated. (In a sign of Halperin's growing fame, Diplo himself had paid Halperin's fine.) 
"That's literally the precinct," he said worriedly, gesturing to the NYPD outpost.
The cops didn't bother him that night, but Halperin's speaker-suitcase seemed like precisely the kind of thing that venue workers would be hesitant to let in, and cause a whole kerfuffle at the door. I asked, why not just ask if he's on the list? Well, he explained bashfully, he was excited about the rest of the week and didn't want to call in a favor too early. After 20 minutes of abject loitering, I saw him come up with a plan to circumvent calling in his favor. He started cracking some jokes with security, then asked where the crew loads in. Buying it, security pointed him through a door. Halperin walked forward and shot me a look. "You good?" he asked. Hell yeah. We walked into the sold-out show, guest list be damned, and in seconds were close enough to the stage to watch three superstar DJs perform while picking at a giant bag of Skinny Pop.
"I'm usually on the outside," Halperin celebrated. "It's like I don't belong here!" He had snuck in places before, right? "Yeah," he said, then paused. "I usually chicken out though," he admitted. He offered what could be seen as the Subway DJ's motto: "Just say yes to the moment," Halperin said. "You don't even have to lie or anything." 
Halperin is a nondescript white dude in jeans and a gray t-shirt; that night, it was the speaker that got him recognized: "Are you the Subway DJ?" It was the guy on Fred Again's team whom Halperin had been coordinating with; it turns out he hadn't been put on the list after all. The guy apologized for forgetting to put him on the list, seemingly baffled on how Halperin managed to get in. 
At the end of the show, Halperin filed out with the rest of the audience. Once outside, people began calling out: "Subway DJ!" Halperin smiled and greeted his fans, but refrained once again from playing any music. "This is just the beginning," he promised me. "This week is going to be crazy."
Even though he would play music at the parties he threw in college at Brandeis, Halperin never thought of himself as a DJ until he moved to New York and started DJing—literally—in the subway. When subway ridership tanked during the pandemic, he started to get creative with where he would show up, playing music at protests and, as he was on Valentine's Day, after concerts. The moniker "Subway DJ" is a bit of a stretch—Halperin used to actually lug around decks, but what he does now is play music off of his phone and through his speaker, taking Spotify requests from any rowdy crowd he can find, for tips either in cash or via Venmo. Those tips go a long way toward supplementing his various other gigs, from driving for UberEats to tutoring students in Hebrew. "It always felt like, this is a thing that's tethering me to feeling like I'm not living my full self," Halperin said. "For a few years, it always was a contrast of, can I make it in music or do I have to keep teaching Hebrew?"
By Thursday night, Halperin's notoriety had earned him a spot as part of the official guerilla marketing for Skrillex Week—after the Good Room show, two of Skrillex's label managers had WhatsApped him and offered him the opportunity to create a seemingly spontaneous moment that would go viral, as part of a series of hammed up videos being planned for that week. Halperin was told to show up, with his speaker in tow, at the second Skrillex show at Le Poisson Rouge near midnight, the same time that Skrillex's new albums were dropping.
If you read Paper Magazine's Skrillex "tour diary," you would have seen what resulted from this collab: a photo of what looks like bootleg CDs, slyly captioned "@subwayDJ handing out bootleg 'Quest For Fire' CDs before the album drop outside of Le Poisson Rouge in West Village," implying the stunt was a success. But I saw how this moment cooked up by Skrillex's managers really went down: how more than one British manager insisted that the superstars wouldn't deign to show their faces until the Instagrammable moment had been orchestrated, all while instructing Halperin to only play three specific songs ("Rumble" to get the crowd going, then "TOO BIZARRE (juked)," and then "RATATA" for the guys when they came out). At one point, the venue requested that Halperin actually not stand right by the exit but by the chocolate shop next door—"We'll send people your way," he was told. And then inevitably, after 20 minutes of sporadic music playing, the cops shut the whole scene down before a single vibe was caught; Halperin meekly gave back the box of CDs without giving out more than a few. (I took one.) "That was kind of a fail," Halperin grumbled. He later told me that Skrillex's managers had "made it seem like [compensating him] wouldn't be an issue." He added, "But then after it went down, they basically ghosted me." (Hell Gate has reached out to Skrillex's managers for comment, but they have yet to respond as of publication time.)
On Saturday, Halperin decided he had had enough of being on the inside—he wanted to go back to what he does best. He worked the crowd, playing EDM for those waiting outside of Madison Square Garden for the finale of Skrillex Week, a sold-out show in New York City's most famous venue. He was recognized by a concert attendee and handed a floor ticket; Halperin decided to see the concert after all. He found a place to stash his speaker while attending the show—another person who recognized him, a co-owner of the nearby Salsa Sabrosa dance studio, let him stow it there. As the show was winding down, he sprinted back outside to get ready, saying, "I need to capture the crowd right as they're getting out of the show."
He mulled over which exit to set up at. One of the Garden's exits is "less trouble," he said, but it's also the one fewer people come out of. He ended up picking the one that was more trouble, where a drummer playing for tips is usually posted up. "I've had past experiences where he's been territorial," he said of that busker.
Halperin the man is not always as daring as his persona, but rather than needing a platform given to him by a celebrity, it was the times that he surmounted his own shyness that I saw him become the mythic Subway DJ. That night, he started playing Fred Again songs, and people began jumping up and down and yelling the lyrics. A few tips came in through Venmo. People began DMing him on Instagram to find out where he was at. Times Square security tried to shut him down, but he led the crowd heroically to Herald Square. This is where he thrives.
I asked him how much money he made. "I probably made $100 or more in tips," he said. "Nothing crazy."
Update (3/10/2023, 11:08a.m.): After publication, Skrillex's managers reached out to Halperin and paid him.
Adlan has written for The New York Times Magazine, The New Yorker, Pitchfork, Study Hall and more.
Stay in touch
Sign up for our free newsletter