Cultural Capital
Rev. Billy on the 'Soul Death of Shopping' and Finding the 'Wilderness Area in Ourselves'
The protest stalwart talks about being "being intimate with this apocalypse," ahead of the Stop Shopping Choir's show at Joe's Pub this weekend.
5:13 PM EST on December 9, 2022
The white-haired, roaring Reverend Billy Talen, with his ever-present Stop Shopping Choir, has been a New York City staple for over twenty years, appearing at rallies, strikes, occupations, and everywhere capitalism might be showing a sign of weakness. This weekend, Billy and the Stop Shopping Choir return to Joe's Pub for their first show there since the pandemic. 
Billy describes the demographic makeup of the choir as a subway car—​​there's a high school teacher, two professors, a trumpeter, lawyers, a dramaturg, and two City workers in healthcare, among others. But much has changed since the choir last took the stage—COVID-19 upended the world order, a strike wave has washed across the country, and the fight for environmental justice has become all the more pressing. In response, Reverend Billy has founded the Earth Church, a space in a defunct bank in the East Village where the Stop Shopping Choir practices. It's also where Billy holds a weekly service on Sunday afternoons, extolling the virtues of anti-consumerism and stressing the urgent and moral need for climate action. (Billy also generously shares this space with a tiny worker-owned local news outlet.)
That outlet spoke to Reverend Billy on the eve of this weekend's performance (a scattering of tickets are still available!), about how his choir and practice has shifted, and the "soul death we call shopping."
Hell Gate: You've been a fixture at rallies, protests, and strikes in New York City for a long time. Just this week, I saw you give a speech at the New School strike. What inspired you to rally the strikers?
Reverend Billy: My message was about the power of community. There's a spiritual binding in the struggle for justice. That secular approach is better than having a God narrative. It's you and me and we're helping each other have a better life and that has spiritual content. That's a pretty dry phrase, I realize, not very good preaching. 
The way the president of the New School is dealing with this strike, from my understanding, is just realpolitik, it's just shoving. Just pushing. That's all he knows because he's not in the community. But down on the ground, you have an ecosystem of generosity, and that's the biggest threat to power. Eventually what will happen is that the people hiding behind their prestige and money at the top of the pyramid, after a while, the enticement and seduction of real sincerity and direct human touch that's going down on the ground with the solidarity of the strikers, that will become more and more interesting to the people higher up. The adjuncts will win. Friendships, solidarity in the struggle for justice—that has all sorts of ways in which it becomes powerful in a structurally constricting institution like the New School. I used to teach there, and I would encourage everyone while striking, to become closer to one another. Make a family out there—because when I was an adjunct, we didn't really know each other because they kept us so exhausted. But now they have a chance to get more and more powerful with each passing day. 
In your years of attending events, rallying crowds, and speaking out, what have you seen changing in social movements lately? What stands out?
Angela Davis was supposed to give a talk in Nyack, New York, but some right-wingers got the college to cancel it. But the local young people took her over to another venue, and five hundred people showed up. And one of the first things she said was that "we're finding so much beauty on the Earth," and it connected her to all the freedom struggles. It connected what happened to her that day, the dramatic insult of it, it connected her to the young people that were rallying around her. All that drama and she found a way to reach out to all freedom struggles—and that described to me where we ideally find ourselves right now in the justice struggle, the melding together of issues. We have to be aware of the whole.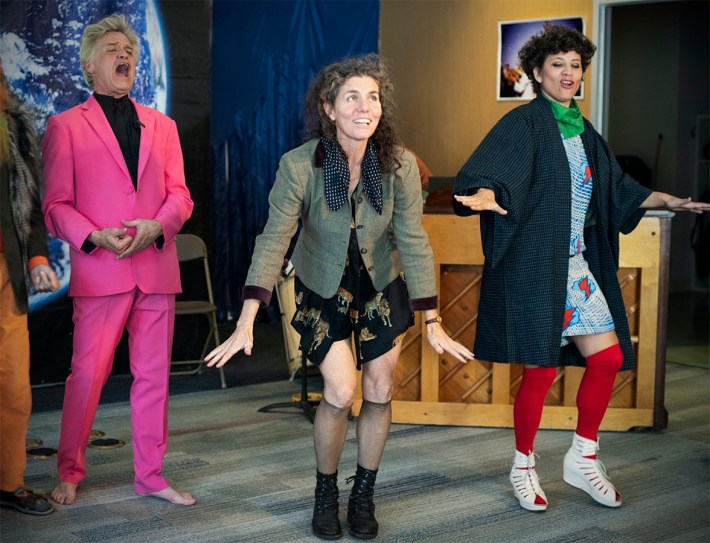 To that end, why do you believe that the message of anti-consumption is stronger than ever? 
The budget of the Pentagon is $800 billion. The budget of corporate marketing is almost $500 billion. We're structurally unable to respond to the end of life on this planet. We're not bringing the Earth's crisis into our personal lives in such a way that we think it has anything to do with the next week or month of our lives. We're not being intimate with this apocalypse. We're not being honest. 
That might have something to do with the fact that we're each being bombarded with 10,000 advertising events in New York City, if we own a computer. That's shopping, baby. That's the environment of shopping. Shopping is the world we live in. Civil society just can't take the environmental movement seriously. 
Each of us has a wilderness area in ourselves that we carry around. There's a wisdom there. It doesn't get erased by consumerism, by capitalism. We still have it, and we can work together to bring it out into what we do everyday. At this point, we have to. We have to stop each other and say enough. The bullshit stops here. We have to literally stop shopping. That whole mindset. That whole soul death that we call shopping. 
The choir's been around for twenty years now, and you've made a big change in the past year. You moved to a permanent space—the Earth Church in the East Village. How has that changed your performances?
This is a real experiment for the Church of Stop Shopping. The weekly rhythm of many religions, I really respect that more than I used to. You have a day and a half to relax and wash the dishes, and then you're working on next Sunday's psalms and preachings. We've had saints visit us—Christian Smalls from the Amazon Labor Union visited, we had a memorial for Barbara Ehrenreich. We've kicked it up to another type of experience for our twentieth year. If you have that weekly gathering of community, then the community becomes tighter during the week. We're helping each other in a more direct way. We see each other's children, see each other's crises, each other's glories, and birthdays, and celebrations. 
For years, we were a mid-level New York-based performance troupe that would go and make a living touring. We'd perform in Athens, in London, and elsewhere, and that's a different orientation. There's a lot more space between shows and it's more performative. 
The weekly gathering just feels right to us right now because of the crisis of the Earth. We're a stones throw away from East River Park, this scandalous clear-cutting in the middle of New York City, so we have the Earth right there—but in our church, we say, "We are the Earth," there's no border between us and the Earth. And we ask the Earth to save us. We really need that weekly support now. 
Why does the Joe's Pub show have a special place in your heart? 
This is the seventh year we've been doing it. I always thought about it when I lived in Minnesota, in California, I always thought about performing at the Public Theater. So there's that aspirational thing that performers have, but also it's special—because it's not just performance there, it's a place of invention, of modern, diverse theater that has a tremendous presence across the city, and a performance space that's trying to have a political conscience. 
Max Rivlin-Nadler is a co-publisher of Hell Gate. He's reported for Gothamist, The New York Times, Village Voice and NPR. You can find him walking his dog, Stiva, or surfing in the Rockaways.
Stay in touch
Sign up for our free newsletter