Morning Spew
Reports of Weed's Uncoolness Have Been Greatly Exaggerated
In the underground market, 4/20 still looks good.
9:30 AM EDT on April 21, 2023
There's a basement in the Lower East Side where you can page through shelves of art books and buy expertly branded weed products—if you have the address. That's where the people behind Fortune World, the unlicensed cannabis dispensary whose flyers paper temporary fencing around lower Manhattan, are unwinding on Thursday night after a very productive 4/20 in New York's cannabis gray market. The unlicensed company just released a new strain of weed with Epiphany, a local grower and longtime collaborator. Buds of the aptly named LES Runtz are available in a charming custom Ziploc bag baggie featuring a grinning, cartoon F train smoking a blunt, which totally flies in the face of legal weed's marketing regulations, which specify that no cartoons or bright colors are allowed. It feels safe to call it: In New York City, weed is still cool. Hell yeah.
Despite the fact that there are literal storefronts selling cannabis on every block in certain parts of the city, the beating heart (and affordable, untaxed price points) remains in the "if you know you know" market—and the thing about being in the know is that it's really fucking fun. The guys behind Fortune World have been selling weed in their native New York for decades via courier service. Kyle, Fortune World's main proprietor, is also providing weed for a few parties tonight—but he's happy to be at his home base, smoking with his "family" and chatting with customers. "This is more of what I'm trying to do," he says between consulting with his friend behind the counter and watching a bald man with head tattoos roll a cigarette. Kyle and his collaborators didn't open their subterranean storefront until earlier this year, after the number of weed bodegas exploded and it became clear that with the right operation, something like this—a white-walled boutique space with a Persian rug in the corner and a teeny tiny TV playing backwards music videos—could fly under the radar while gaining esteem via word of mouth. C'mon. That's sick.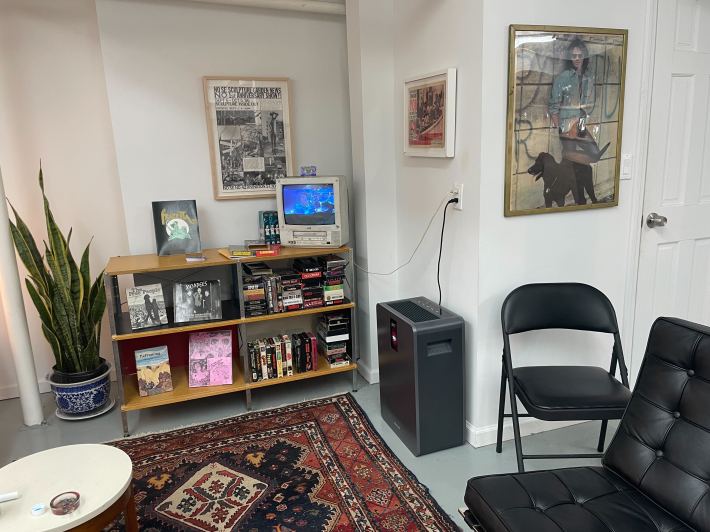 Of course, the ineffable hipness comes with the negative side effects of a scene, like a flurry of high-low collabs that sound like Instagram market Mad Libs and the nagging sense that somebody somewhere is keyed into a more interesting party than the one you're attending. (Good Fortune hasn't collaborated with any brands on the level of Playboy or Nike, but they are providing pre-rolls for a Perfectly Imperfect party, so they're en route.) The air in the basement is smoky—obviously—but the mood is subdued. As the occasional customers buzz in and peer into the glass display case next to the counter, Fortune World and friends (one guy is visiting from Puerto Rico, but he swears it's not for 4/20) sit around a table on the other side of the room that's scattered with free pre-rolls and matchbooks and stickers. If you know a guy, the man behind the counter (in a Fortune World shirt and hat, obviously) will offer you two tiny 5 mg gummies in another custom baggie printed with an image of Andy Warhol's Flowers on the back. They chat about all of the different things happening tonight: a fashion show for a Korean streetwear brand that also sells weed, a 420-themed rave in Bushwick, and a Fortune World-affiliated DJ set a block and a half away that Telfar Clemens may or may not be involved in. 
It feels clear that this is a special moment for weed in the city. It's legal to smoke on every public sidewalk and it's easier than ever to buy, but so far, New York has escaped the fate of other major cities that have legalized recreational cannabis: Weed commerce still has its own flavor here, an old school cool that has evaded corporatization thanks to the vacuum created when weed was legalized in 2021 and when actual licenses were issued in earnest. Weed as wellness? Uncool. Mega-companies that run dispensaries that look like the Genius Bar? Uncool. Cracking down on the unlicensed sellers who've thrived because of the slow-ass rollout of the legal market? Uncool. Waltzing into a bodega and walking out with the world's weirdest vape and some exotic chips? Cool. Getting stoned before work, being a little bad at your job, and pissing off a New York Post columnist? Cool. And the sense that it's all ephemeral, even as it thrives, is probably the coolest part.
And now, some heady links for your Friday: 
A new outlet owned and run by journalists covering New York City, with a mixture of blog posts, features, columns, and investigations.
Stay in touch
Sign up for our free newsletter