Power
Workers Say REI's New Union-Busting Law Firm Lacks the Co-Operative Spirit
REI SoHo labor organizers told Hell Gate they see corporate's decision to hire union-busting Morgan Lewis as an act of desperation.
11:24 AM EDT on August 9, 2023
Walk into REI's flagship store on the corner of Houston and Lafayette and you might spot a button on one of the employee's uniforms urging you to ask them about their recent pay cut. Provocative, right? That's the goal, according to members of REI SoHo's union leadership, who told Hell Gate they want as many people as possible to strike up a conversation about what's been going on in their workplace—a steep wage cut that went into effect in June, a colder attitude from  management, and a general barometric shift in bargaining tactics for the first REI location in the country to unionize, back in March 2022. And all of these changes, according to union leadership, stem from REI's decision this spring to retain historically anti-union law firm Morgan Lewis, most recently in the spotlight for representing Amazon during their union-busting campaign in Bessemer, Alabama.
"For a while, it seemed like maybe we were in a constructive place, a place of good faith," Tyler Mulholland, a member of the REI Soho Union's organizing committee, told Hell Gate. "Now, there's bad blood running. We had established a nice momentum with Perkins Coie [the law firm that previously represented REI during bargaining], and the process has severely slowed." 
Neither Morgan Lewis nor REI responded to a request for comment from Hell Gate.
Workers say the wage cut was the first sign that things were going to be different with Morgan Lewis at the helm of bargaining. Back in November 2022, Graham Gale, a member of the REI SoHo unit's bargaining committee who's been involved in the union since its inception in October 2020, said the unit staged a four-hour walkout when every REI location except for theirs was offered a new benefits package that included a wage hike. "Pretty much immediately after that, at our next bargaining session, we were presented with a side letter agreement," they said. The gist of that agreement was that the unit would give up their right to strike in exchange for the same benefits being offered to the rest of REI's outposts.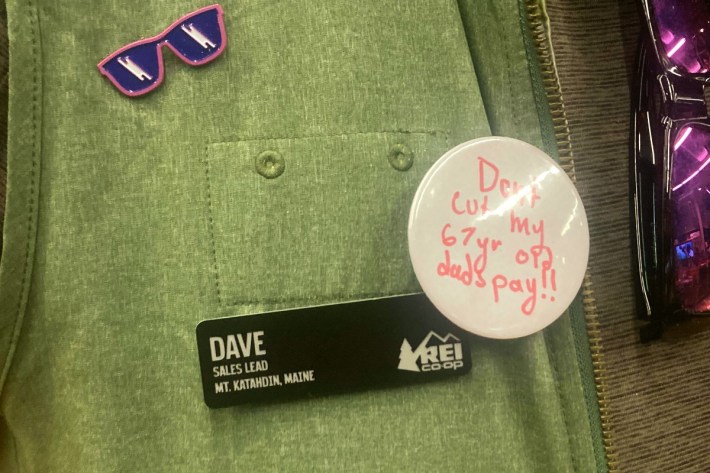 That agreement came to an end in June, but workers at the SoHo location were still surprised to see their wages drop back down to the place they were at the end of last year. "Some people's rates were cut by 20 percent," Mulholland said. "People who have been here longer, that raise that they initially gave us was structured to reflect that time. So conversely, it's the most tenured, most experienced employees who had their wages cut by the most." He also noted that unit members were told about the wage cuts individually, via email, and only found out that it was a store-wide situation by communicating through union channels. 
Members of the SoHo unit's bargaining and organizing committees say the change in law firms has since become palpable across the negotiating table, where REI and the union have been bargaining a contract for close to a year. "REI's been pretty obstinate in bargaining this whole time," Steve Buckley, who is also a part of REI SoHo's organizing and bargaining committees, said. "But with Morgan Lewis, it feels like a lot of saying the quiet part out loud." Rather than trying to build a relationship with the union, Buckley said, union members have come to the conclusion that Morgan Lewis is more interested in dragging bargaining out and making the process as painful as possible. 
"We have a bunch of unfair labor practice charges, and one of their lawyers was just like, 'Hey, the [National Labor Review Board] is favorable for now, so you might get a ruling you like today, but this process can go on for a while, and I don't know if that's gonna be true in 18 months,' and it's like, so you're threatening to appeal ULPs to a Trump board on the off chance he gets elected for a second term? As the chief representative of this progressive company? It's a little jarring—it's definitely not how Perkins Coie was getting there," he said. 
On top of that, small, relatively simple asks—like including employees' pronouns on their name tags—have become pain points, and the unit has had trouble solidifying bargaining dates with REI and Morgan Lewis, a big shift from the weekly cadence they say they struck up over the past year when bargaining with Perkins Coie.
That shift in attitude at the bargaining table has also bled into the store. "Managers are much quicker to discipline employees or coach employees over small things" since Morgan Lewis entered the picture, Gale said. "There's a heightened level of surveillance—they're watching us on the store cameras and saying, 'Oh, you were one minute late coming back from your lunch break,' or 'You went back into the break room after you said your lunch was over.'" They also said the store's managers began cracking down on union talk at the store's daily morning meetings as of earlier this month. "We were like, 'Why not?' We've been doing this for two years. Why is it suddenly now that we can't talk about union stuff?" they said.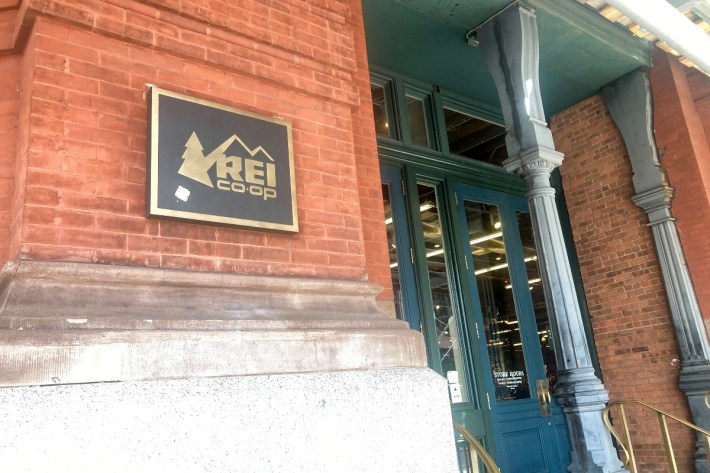 REI SoHo union members report  the because REI has been a member-owned co-op since the company was founded in 1938 as the "Recreational Equipment Cooperative," the company has a patina of progressivism. But that's not what they're seeing while negotiating a contract. 
"Their values and their whole kind of aggressive, inclusive image that they spend a lot of money to make the typical American think that they have, that's certainly was a reason why I applied," Mulholland said. But he said changes under CEO Eric Artz and other REI leadership have left him disillusioned—which is why the company's choice to retain a firm like Morgan Lewis didn't surprise him. "It's disappointing, but I think it's illuminating," he said. "I think the layperson who shops at REI might be [surprised], but I don't think many people who have worked there, especially for the last two or three years, were."
According to Gale, that's exactly how the average shopper has responded when unit members, handing out literature about their union hardship fund, have caught them leaving the store. 
"People are disappointed, they're angry, people's jaws have dropped when we tell them what REI is doing," Gale said. "There is a true, extreme emotional response that people have where they're just like, 'Oh, my God, I am so sorry.' Like, 'I thought REI was like a good company,' you know?"
As negotiations drag on, REI SoHo's union leaders are trying to keep the company's actions in perspective—and keep in mind that what happens at their store is likely to set the tone for the rest of the unionized locations across the country, in Chicago, Cleveland, Berkeley, Boston, Maple Grove, Minnesota and Bellingham, Washington. With the exception of a contested election in REI's Eugene, Oregon location, "we've won these [union elections] by comfortable margins everywhere," Buckley said. "It would be cheaper and easier for everyone involved if they would just work really hard at getting a contract in SoHo—but they don't seem interested in doing that. All of this really is just about power, and who has it and who doesn't. REI has lost a lot of power in losing so many elections, and we're gonna keep winning them and gaining power until we get a contract."
Stay in touch
Sign up for our free newsletter