Fresh Hell
Voguing for O'Shae Sibley
"He would have loved this."
1:20 PM EDT on August 8, 2023
Even when the crowd obscured the dancers at the vigil on Friday, you could hear the chant they moved to: "Ooooooo'Shae Sibley!" Waist-length braids swung as dancers strutted and spun, toes pointed skyward as they dipped into death drops, and wrists flicked in staccato above the hundreds of people bobbing and wiggling to the music pumping from a nearby speaker, clutching signs and craning their necks or holding their phones aloft to record the action.
The numbers denoting gas prices on the Mobil sign glowed in the background as an overcast afternoon in Midwood faded into a blue summer night. At the base of the sign, mourners dropped off bouquets of flowers—roses and lilies, hydrangeas and carnations—and homemade posters, all in tribute to the 28-year-old man stabbed to death days earlier and feet away from the street where the crowd was repeating his name over and over to the rhythm of thrumming ballroom beats, clapping hands, and the shake of a tambourine.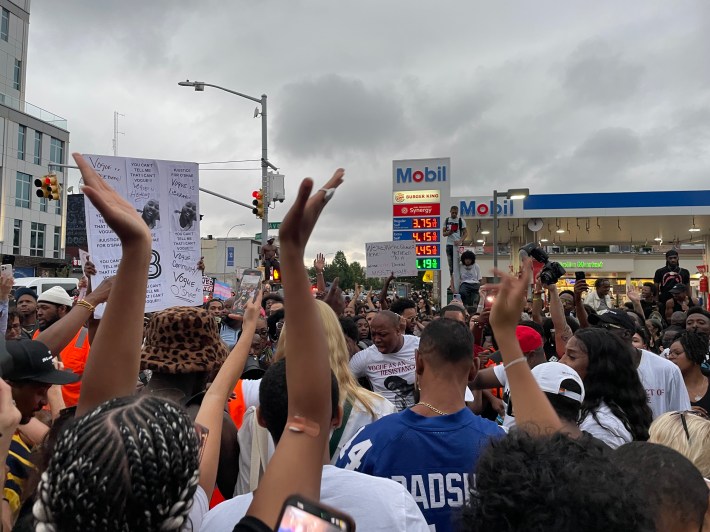 The righteous outpouring of energy—not quite joy, but something lighter than catharsis—that animated the dancers and the throng of onlookers only accentuated the horror of Sibley's death, the death of a Black, queer man, a working artist, a beloved member of House of Du'Mure-Versailles in New York City's ballroom community. 
On July 29, 17-year-old Dmitry Popov allegedly stabbed Sibley to death after an altercation with Sibley and his friends, on their way back home from a nearby beach, voguing to music across the gas station parking lot. The crowd cheered when, during the speak-out portion of the event, someone announced that earlier the same day, Popov was arrested after turning himself in to the police. Two days after the vigil, he was charged with murder as a hate crime and criminal possession of a weapon. 
"I know some people that knew O'Shae Sibley," Sįn, an attendee who's active in the city's street protest scene, told me. "I heard about it the same day when it happened. It even hurts more because it's Islamic people that did this, because I'm a born and raised Muslim, and just hearing about how they were like, 'We're Muslim, we don't support this!' and telling O'Shae to stop dancing… I never knew that dancing was a crime. I'm just really disappointed." (While initial reports quoted one of Popov's companions as saying he was a Muslim, Popov's attorney has since described the teenager as a "good Christian boy.")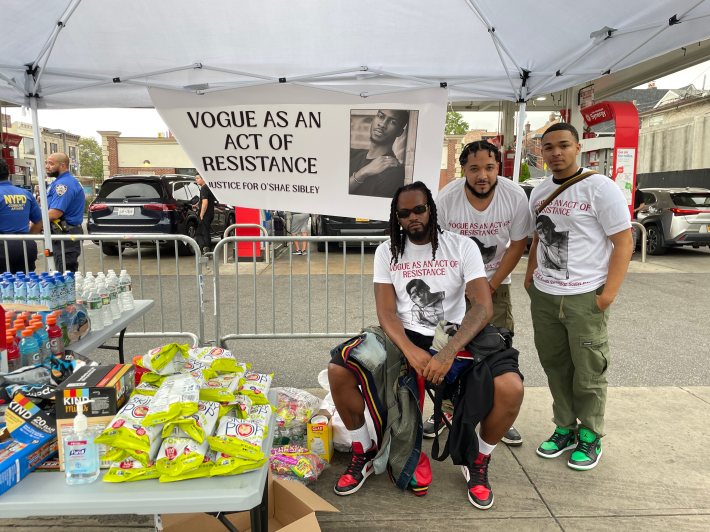 The mourners were summoned by a coalition of LBGTQ advocacy and ballroom-related nonprofits, including NYC-based community organization and street protest mainstay Black Trans Liberation, and marshaled by dayglo vest-wearing volunteers, who blocked off the boundaries of the action with their bikes and their bodies while an outer ring of cops watched, arms crossed. Among the glittering crowd, it was easy to feel underdressed—some attendees showed up in skin-baring clubwear and full faces of photoshoot-ready makeup. I watched one attendee reassure a marshal that she was comfortable on the precipice of a curb in six-inch, rhinestoned platform heels. At least three people wore merchandise from Beyoncé's Renaissance tour—especially poignant, because that heavily ballroom-influenced album was reportedly the soundtrack of Sibley's last happy moments with his friends, before his murder. 
Behind a pair of tables stocked with free snacks and drinks for vigil attendees, three House of Gorgeous Gucci family members guarded a box of shirts with a black and white photo of Sibley printed on them, along with the words "VOGUE AS AN ACT OF RESISTANCE / JUSTICE FOR O'SHAE SIBLEY." None of them live in the city, but they said they were already in town for another ballroom event and decided to stop by and pay tribute to Sibley after hearing about the vigil online. "New York is the mecca of ballroom," Jeter, one family member, told me. "We're all part of the community, the ballroom scene, and O'Shae was a part of the community. It could have been any of us."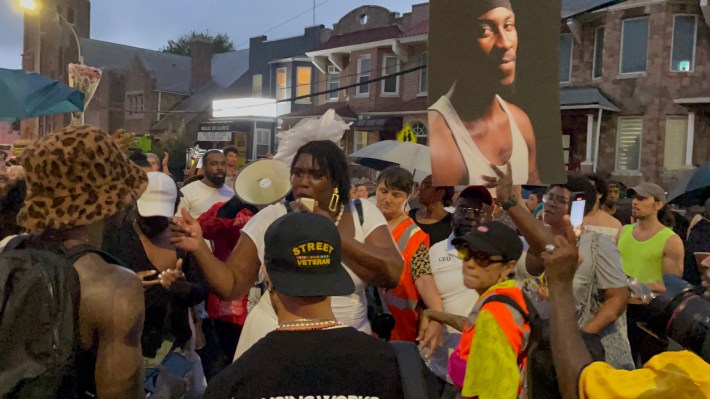 Before the dancing, speakers led the crowd in chants like "Black lives matter," "Black trans matters," "Black queer matters," and talked about the shockwave of pain Sibley's death sent through all of the communities he was a part of—the city's Black community, the dance community, the ballroom community, and his personal circle of family and friends and neighbors. "We are still mourning—it has not been a full week!" Qween Jean, founder of Black Trans Liberation, said to the crowd through a megaphone. "But we will not sleep on it, we will not stay home, we will not live it sorrow; we will gather ourselves, we will gather our neighbors, we will gather our families, we will armor them with love, we will armor them with protection, and we will be in the streets until there is justice."
After around an hour, the music switched on, and the dancing began. People climbed light poles and perched on top of cars for a better view of the voguing. Nicky told me she regularly attends marches and actions organized by Qween Jean and Black Trans Liberation, and has been regularly involved in street protests in the city since 2020. "I love seeing this many people coming out to support one of our siblings, but it's hard," Nicky said. "There can't just be outrage when someone dies. There's constant and ever-present reason to be outraged right now."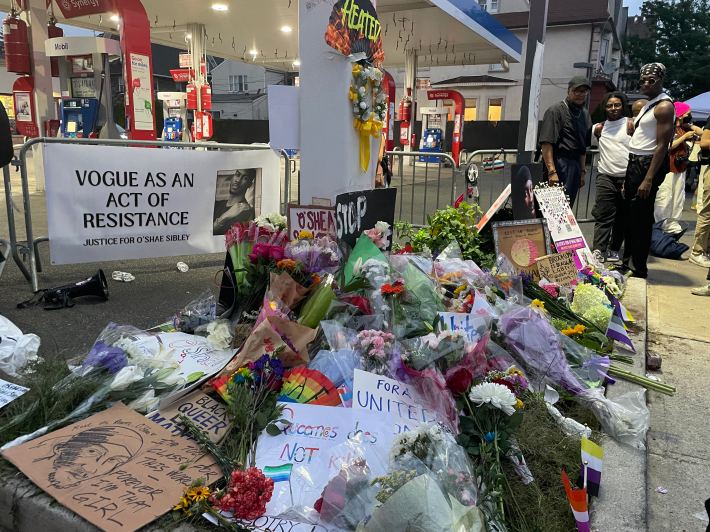 Soon, the giant circle surrounding the dancers splintered off into smaller groups as people chatted with each other, or swung by the pile of flowers and signs to lay down their own offerings or capture the scene on their phones. "He would have loved this," one attendee said to her friend, as she snapped a photo. "This is beautiful."
Just before the gathering was slated to end—organizers and the NYPD apparently agreed on a 8:30 p.m. curfew—a light rain set a ripple of nervous energy through the crowd, spurring the organizers to take the show on the road and lead the crowd away from the gas station. The procession danced its way to the Kings Highway station—pausing a few times in the middle of the street to throw ass—before stopping in front of its entrance for a few more minutes of impromptu voguing in front of an irritated-looking cadre of Community Affairs officers.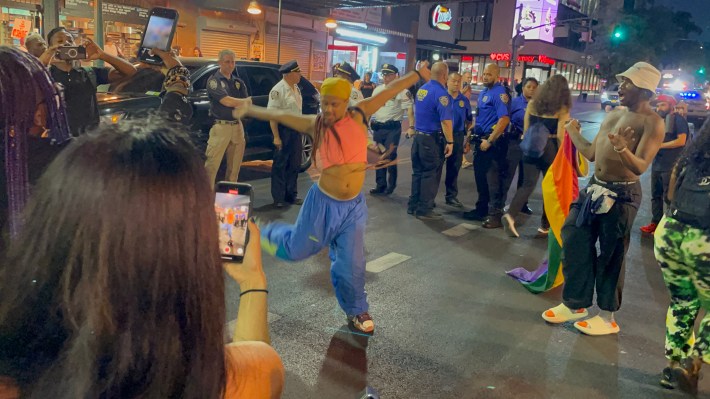 At last, after a final prayer for safety for everyone under the bridge, and a few quick rounds of "1-2-3-4-5-6-7-8-9-10-11 FUCK 12!" the crowd disbanded, and surged into the station through the emergency exit door, held open by one attendee who beckoned everyone else in.
Stay in touch
Sign up for our free newsletter