What's Your Deal
'This is Everything for Us': Old Timers Day at the Giglio Lift
What is the giglio? The literal answer is a massive metal spike plastered with religious iconography; the arguably more correct one is a mood and a lifestyle.
2:56 PM EDT on July 21, 2022
First of all, it's pronounced "gee-leo," as in: Between 85 and 90 strong men assembled in North Williamsburg on Sunday afternoon to lift the giglio (gee-leo!) for the third and final time since 2022's Feast of the Giglio began on July 6. 
Second, what is the giglio? The literal answer is a massive metal spike plastered with religious iconography; the arguably more correct one is a mood and a lifestyle. Picture a radio tower, maybe 65- to 70-feet high, populated with freaky mannequins and a brass band. Each summer, men from the neighborhood's Italian American community gather to hoist it into the air while their friends and family cheer. The lift is an annual ritual imported from Italy at the turn of the 20th century and fêted each year with a 12-day carnival that consumes whole blocks surrounding Our Lady of Mount Carmel Church, which hosts the festivities. 
This past Sunday, Old Timer's Day, marked the event's conclusion, and also my giglio debut. Though I've walked by the feast many times in the past nine years, I have never seen the strongmen float their prized giglio through the crowds. It makes an impressive spectacle, not least for the longevity of the lift.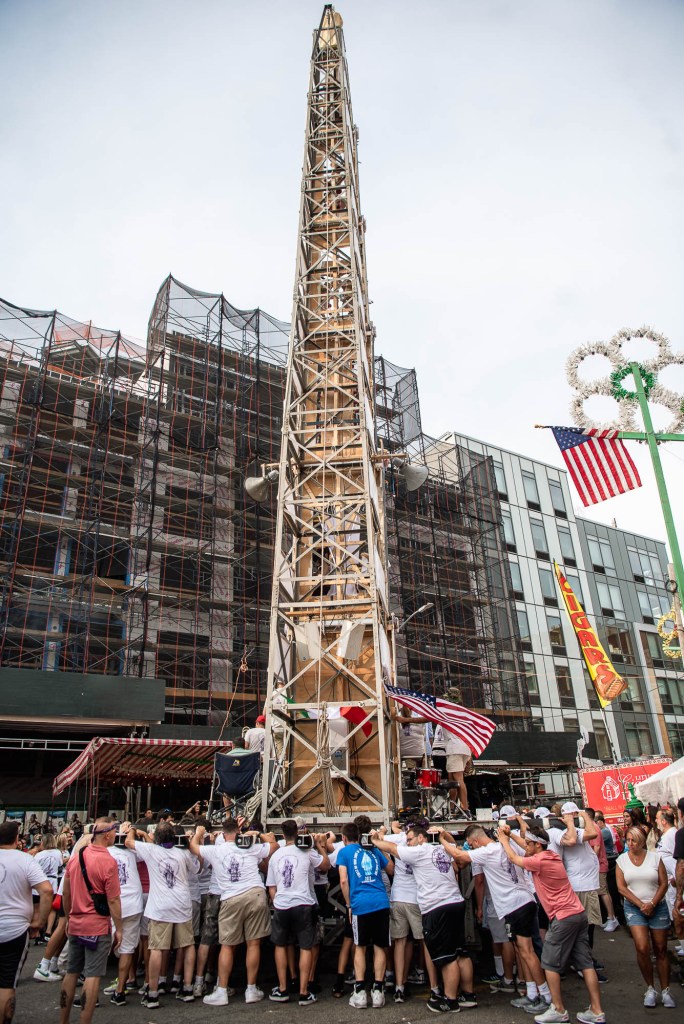 Because the giglio, if you were wondering, weighs four to five tons. It has been adoringly accented with flowers and giant frozen bells and cherubs carved from Styrofoam, all papier-mâchéd to fetching effect. On its hand-decorated edifice, you can see the Virgin Mary and her infant Jesus, along with two life-sized plastic boys blowing their plastic horns. At the giglio's peak sits the saint at the center of the feast, outfitted in cloth vestments that flap around as the obelisk bobs between stalls selling braciole and cigars. At its base, there's a platform big enough for a whole giglio party to ride along: Monsignor Jaime Giganetiello, OLMC's pastor, holding court and taking occasional phone calls; a maestro to emcee proceedings; plus the trumpets and the saxophones and the trombones. There was also a sound engineer, who spent the duration of the lift rocking placidly in his camping chair, apparently unmoved as the band played its giglio songs. He was the only one. "I love the giglio!" I heard a man behind me cry as the tower surged toward the sky. By his own admission, he wasn't even Italian, but then, the giglio is easy to love.
"This is a tradition that has been going on for over 100 years," Monsignor Gigantiello told me. "It connects us with all those people who we've loved and have died, our parents and grandparents. Because we grew up with this. And we come here and we know they're not here, we know they're here in spirit. And that gives us a little uplift."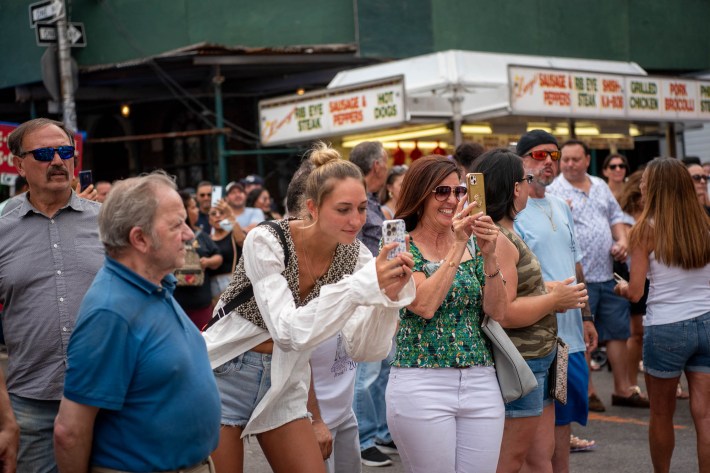 OLMC's giglio tradition dates back to 1903, making it just over two decades older than Manhattan's possibly better-known San Gennaro feast. (Suck it, Little Italy.) According to OLMC, and many other attendees who stopped to talk with me, the feast came to Brooklyn with Italian immigrants from the town of Nola, as a tribute to their patron saint San Paolino (Saint Paulinus if you're Catholic). Legend has it that in 410 AD, San Paolino—then the bishop of the Diocese of Nola—offered himself up to a group of marauding pirates in exchange for a townsperson's young son, taken as a slave during an invasion. The pirates accepted and returned the kid, but when they discovered all of San Paolino's selflessness, they sent him home too. Upon his return, the people of Nola showered him with giglio, or lilies, an outpouring of gratitude that evolved into tall, flower-strewn spires like the one seen in Williamsburg today. In Nola, as in Brooklyn, troupes of men walk their glorious giglios through the street, in what VisitNaples.eu calls "a dance of spectacular impact." 
I agree. Generally speaking, performances of machismo and Catholicism (I was raised Catholic) are two things I would prefer to avoid; they are also the two central themes of the giglio lift. This is a men-only event, apologies to everyone else, with pro-law enforcement undercurrents: I was standing directly behind the police line when Giganetiello invited us all to please clap for our boys in blue.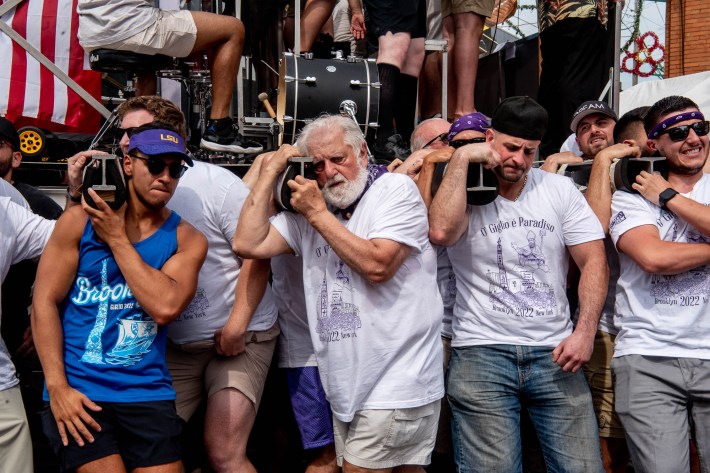 It's all very phallic, but despite the prayers and the patriotism, the giglio still swept me easily into her thrall (and the giglio herself is definitely a she). She is indecently charming when she does her giglio dance, a cheeky up-and-down bob in time to the "Rocky" theme, for example. Sometimes, she would veer slightly, but thrillingly, off course, menacing the clam bar or the tinsel flowers sprouting from the lamp posts; moments of suspense that left me no choice but to root for the giglio and her guard. Sometimes, the singer riding on the platform would serenade the giglio, lovingly, with the voice of a candle-lit red sauce joint. 
Though I was an outsider struggling to understand exactly what was going on, everyone I spoke to graciously accommodated my questions and answered them with gusto. While I have no claim to the heritage that binds longtime giglio-heads to the feast, their enthusiasm is contagious. It makes for an alluring ambiance, all these guys wandering around with stogies and draped in tricolor flags and outfitted in newsboy caps, and the smirking priest in sunglasses, wheeling and dealing from his perch on the float. The gratuitous masculinity of the day didn't bother me so much in the end. There were too many sights to absorb. 
Maybe this is mob-mentality at work, but do you want to see a bunch of sweaty men bounce an orca's weight in angels and scaffolding on their backs? Of course you do. 
Throughout the three-hour display, I marveled at the relative grace with which the paranza—which is to say, members of the platoon under the giglio—maneuvered the behemoth, marching it up Havemeyer Street to turn the corner at North 8th, then shimmying it back down again. Each man on the poles shoulders about 100 pounds, spectator Sammy Consolazio estimated: "Maybe 125 pounds, depending on the day of the lift." He speaks from experience. Consolazio's decades-long involvement with the feast began when he was eight or nine years old. Now retired from lifting, becoming a paranza was the achievement of an early dream. "If you grew up in the area, as a young kid, you look up to most of the lifters," Consolazio said. "So for me, I never really wanted to be a leader of the giglio, it was only about the opportunity to get under the giglio and lifting it."
"Really," he added, "it was a true honor to be a lifter." 
His successors take the role seriously, working in tandem to rotate the giglio in full turns or, more exciting, to make it do its giglio dance. That choreography came at the direction of a capo, who operates much like a coxswain.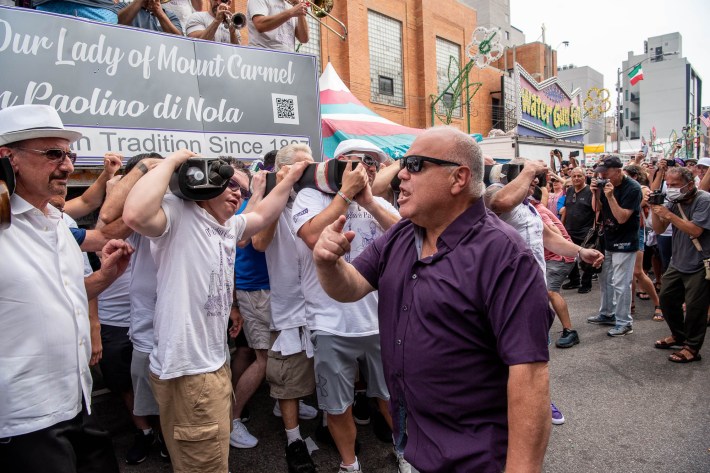 This year's number one capo, Anthony "Tippy" Croce, explained the giglio hierarchy this way: "You work in the church, you work in the feast, they recognize you, they make you a lieutenant," he said. All the men in pink shirts, Croce told me, were lieutenants. "You stay as a lieutenant long enough, you become an apprentice capo." From there, he continued, "It's a matter of every two years, getting closer and closer. From apprentice, you become number three, number two, and then number one." And to be the number one? "It's one of the greatest feelings in the world," Croce said, "next to the marriage of my wife, birth of my children and my grandchildren." 
After next year, Croce will ascend to Old Timer—a giglio rank of the highest order, if I am understanding it correctly, and not an age class assigned to the day's lift, as I initially assumed. When I arrived, I expected to see a bunch of burly elders clustered around the poles, but actually the paranza skewed young: I saw as many vapes represented under the giglio as cigarettes and cigars.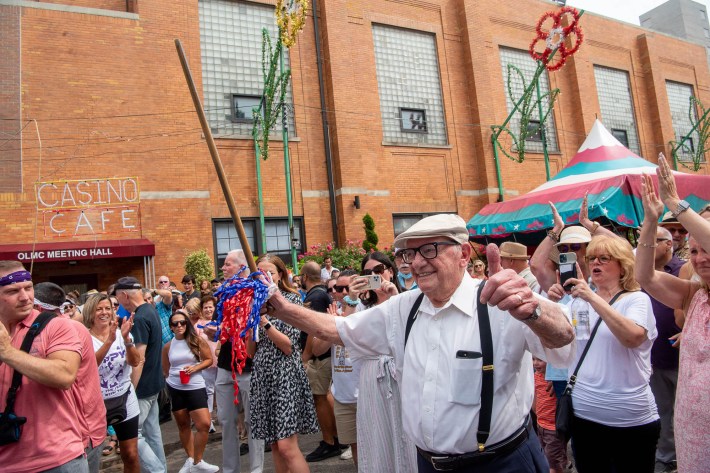 Another of gentrification's Williamsburg-based crimes: bleeding the neighborhood of its strapping young Italian American men and thereby depleting its pool of lifters. Since the festival's inception, the honor of hoisting the giglio has been handed down patrilineally, generation to generation."It's a right of passage," said Deacon Michael Chirichello, as the men massed around the giglio. "My first lift was when I was 13 years old, 44 years ago." Boys start young, with a much smaller giglio in a special, kids-only lift. "Once they get tall enough and old enough, about 13, 14, they get onto the pole," Chirichello explained, "but not every lift." Senior lifters man their poles for 30 or 40 years. "They let the young guys come in, do a lift here and there." All aspects of the giglio, then, require patience and camaraderie. You will need these things even if you are just there to watch.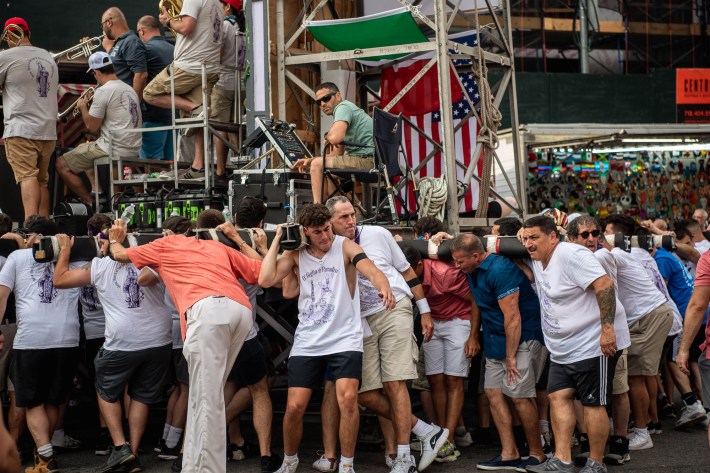 Because even though the dancing took about as long as it takes to watch "Titanic" (three hours and 14 minutes), you only go up the block and back again. Even with an assist from a fresh-squeezed giglio lemonade, I felt ready to collapse before the paranza had even embarked on their return lap. If my knees were giving out, how were the lifters faring? 
"I go to Nola, Italy, every year and I lift the giglio there. I've been doing it for 20 years," breezed Anthony Casalino, a multi-generation lifter I cornered just after they crashed the giglio to the ground for the last time this year. He shrugged off my question about the state of his shoulders. "Listen," he said, "I'll hurt for a couple days, but I was here last Sunday, I was here Wednesday, two days of hurt, no big deal because the whole year, we wait for this. This is what it's all about for us. This is our heritage, this is our family, this is everything for us."
Stay in touch
Sign up for our free newsletter