The Cops
The NYPD Held a 28 Minute Meeting About Public Safety in Tompkins Square Park
"We're not gonna solve the problems of the world! We just want the park closed at midnight!"
5:50 PM EST on November 17, 2022
NYPD Deputy Inspector Ralph Clement, the commanding officer of Manhattan's 9th Precinct, began a meeting about quality of life concerns in Tompkins Square Park with a simple message: it has always been thus. 
"It's the same complaints, right? Needles, the homeless, the garbage, the vermin infestation," Clement told the crowd. "I open up my command log from the 1900s, from the 1800s, it's the same thing: 'Tompkins Square Park: homeless, noise.' Same thing." 
Around three dozen people had gathered in the park at 10 a.m. on a Thursday morning—an odd time for a meeting if you want to maximize attendance, but one that apparently worked for the NYPD, Parks Department, and the Sanitation Department, all who had representatives in attendance. 
These same city agencies have swept dozens of homeless encampments from Tompkins and its surrounding streets over the last year—and have faced stiff resistance from some housing advocates and community members. The prevalence of syringes in the park has prompted a wave of breathless local news coverage. 
"What bothers me is that I don't want this to be framed as a 'get rid of the homeless problem.' Because that's not what this is," Susan Lashley, one of the residents who showed up to the meeting told Hell Gate. "It is a drug and criminal problem, where we've got criminals coming in from all around the other boroughs and even out of state specifically to come here because they have heard that anything goes here and this is a 24 hour party."
Lashley added, "I'm an old punk rocker. And I've lived here forever. And for me to come out here and say all this stuff, you know it's out of control."
Overall crime in the 9th Precinct is slightly lower than the citywide figures, according to the most recent NYPD statistics. But Clement wanted those gathered to know that his officers have stepped up enforcement. They recently issued 22 summonses for drinking in the park, and recently spent two weeks on a drug bust that netted them some heroin, cocaine, and $834 in cash. He has even moved officers around in an effort to address the complaints of parkgoers, because apparently this part of Manhattan is in what the city deems a "revitalization zone."
"I took my officers off of Avenue D," Clement explained. "You know how dangerous that avenue is, right? Most of my homicides, shooting homicides are on Avenue D. So I'm reallocating—and this is how important this revitalization zone is, the park is to me—instead of having six to eight officers on Avenue D, I only have two officers on Avenue D from my field training unit. The rest are allocated here along Avenue A and Avenue B."
But he added there was only so much he could do. "We do not have the element of surprise anymore. You know why? We don't have plainclothes officers anymore," Clement said. (The NYPD has not responded to our request for clarification on this point, or to our question about "revitalization zones.")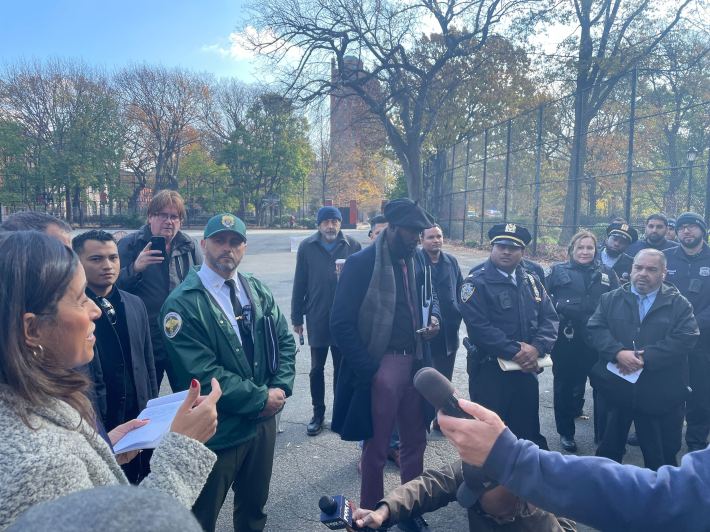 While some told the assembled officials that they wanted to see more cops in the park enforcing the law, others felt the problem was more upstream.
"It's gotta be housing! People need housing!" Judith Rubenstein said when it was her turn to speak. "The police department has more clout than I do, but somebody has to find the money and the money's there." Another woman noted that having a safe injection site near Tompkins would give people a place to go to safely use drugs.
("Two hundred fifty thousand empty apartments and they wanna kick homeless people out the fucking park!" a man shouted during the meeting, exaggerating slightly.)
Garret Rosso, a park volunteer who oversees the Tompkins Square dog run, insisted that the biggest problem was the NYPD inconsistently closing the park at midnight, allowing unsavory things to happen after dark.
"We're not gonna solve the problems of the world! We just want the park closed at midnight!" he cried. "We've been given the runaround for months! The constituents in this neighborhood are residents. We're doctors, we're lawyers, we're executives, we work for a living. We need the park closed!"
The NYPD and the Parks Department have not yet decided who is responsible for closing the park every night, though there is talk of Parks taking it over from the cops, though more discussion is needed.
"That's something that's been discussed with the police department," a Parks rep said. "We can't commit to closing the park every night at midnight because of the safety hazard."
In her public comments, Councilmember Carlina Rivera tried to strike a balance. "It's true about gang activity on Avenue D and some of the crime there. And it is a very serious issue. So I do not want to discount that," she told the group. "I agree in terms of substance abuse, the lack of housing, I have a bill to address warehousing, I passed legislation to address short-term rentals and the abuse by Airbnb. There's a lot of things attributed to our housing crisis with people experiencing homelessness and we have also addressed safe injection sites in the council."
After just 28 minutes on a blustery morning, the meeting was adjourned. 
"I hope I don't sound like a Republican," Rosso told me after the meeting was over. "If we're gonna use this park as the de facto gathering place for many of the folks who are sheltering, we've got to have support staff here to deal with it. Park staff are not trained to do this."
Van Asher, a harm reduction coordinator for Housing Works, said his group has installed three syringe collection bins in Tompkins, and that he's been pulling about 32 pounds of needle waste out of the park every month.
"It's very reminiscent of the mid-'90s, where what was going on similarly was a housing crisis," he said. 
Asher, a self-described former homeless drug user in the Lower East Side, has been a harm reduction advocate since 1992. He said that as users have been pushed out of shelters and other public spaces to use, they've had to adapt. 
"Everyone's going, there's this huge upsurge of drug use. There isn't. There is an upsurge of people seeing it," Asher said. "Their blinders have been ripped off to what's really going on in New York. And people are like, Oh, I don't want to see this. And it's like, okay, well, these are your neighbors."
Mayor Adams has voiced his support for safe injection sites, and the two that currently operate in upper Manhattan have been successful in reversing hundreds of overdoses. Governor Kathy Hochul has said that she needs to see more evidence before allocating state money to create more. In the meantime, Asher said that people can call Housing Works if they see syringe litter in the park they'll come to pick it up.
"We have people calling all the time saying like, 'Oh, there's syringes everywhere!' And I go, Okay, well, how many are there? 'Well, there was that [one] syringe.' And it's like, okay, there's just so much fear and stigma."
Chris is an editor at Hell Gate. He spent a decade working for Gothamist, and his work appears in New York Magazine and Streetsblog NYC.
Stay in touch
Sign up for our free newsletter