Power
NYC's UPS Workers Are Ready to Strike
"You're making like $200 a week, maybe $300 if you're lucky. It's impossible to live off of what they're paying."
7:40 AM EDT on July 15, 2023
At 7:30 a.m. on Friday morning, dozens of UPS workers, most dressed in their brown uniforms, amassed under the large tree that canopies the corner of Foster Avenue and East 105th Street in Canarsie, Brooklyn. Behind them loomed their employer's large Brooklyn facility. It was lightly raining, and the temperature was rising, but spirits were high—they had all amassed before their shifts began, to send a message to UPS brass: They're ready to strike. 
"We are the foundation of UPS," Antoine Andrews, who has worked 20 years as a UPS package car driver, told Hell Gate. Shouting for the group's attention, he began wrangling workers across the street and into the rain. "If we don't get a just contract, we're simply going to shut 'em down," he said.
Andrews was one of dozens of UPS workers who woke up early that morning and made their way to Canarsie to engage in a practice picket of their warehouse, learning the do's and don'ts of the picket line while also putting pressure on their employer. This is the second week of such actions across New York City and in Long Island, but these workers aren't striking—yet. At the end of July, if UPS and the Teamsters union, which represents UPS's 340,000 workers, can't come to an agreement for a new contract, the practice picket will become a real one. (The Teamsters have declared it "imminent," but a deal to avert the strike may still be possible.) But Friday, as their signs clearly stated, they were "Just Practicing for a Just Contract."
"We're practicing so that we're all on the same page if the actual strike comes," said Chris Cappadona, 27, a UPS package car driver in Brooklyn, over the deafening shrieks of whistles and chants. "It also shows that we're all out here in solidarity before the contract's even up."
Friday's cooling morning rain was a relief to UPS drivers like Cappadona, who have been working as city temperatures have crept above 90 degrees over the past few weeks. For decades, UPS workers have struggled during summers without air conditioners in their package cars or warehouses. But in recent years, the climate crisis has fueled more intense and frequent bouts of extreme heat around the country. Last year, dozens of UPS workers came down with heatstroke, and at least one driver—a 24 year old in California—died in the back of his package truck after collapsing from heat exhaustion. 
Cappadona, who was hospitalized for heat stroke last summer during his delivery route, said the company is still pushing workers too hard. "It's like 120 degrees in the back of the truck," he said. "They sent me out one day last week with 231 stops in 90 degree heat."
He added, "I try to go slow, I try to protect myself, but you can only do so much for yourself, you know?" 
On July 31, the five-year collective bargaining agreement covering UPS's workers will expire. Despite progress on some of the workers' key demands, negotiations between the union and UPS broke down on July 5, and the union leadership has vowed to strike should their demands not be met in a new contract by the end of the month. Last month, UPS workers voted 97 percent in favor of strike authorization. UPS did not respond to a request for comment, but company spokesperson Glenn Zaccara recently stated, "We remain confident that we will reach an agreement that is a win for our employees, our company and customers, and the union."
If a new contract isn't agreed upon come August 1, the 8,000 UPS workers represented by the New York Teamsters Local 804 will join their union siblings on actual picket lines nationwide, in what would be the second-largest strike against a single employer in United States history. UPS workers are demanding the abolition of a "two-tier" wage system among drivers, which created a second class of workers that receive worse pay and fewer protections despite performing similar work; an end to supervisor harassment, excessive overtime and forced sixth days of work; and air conditioning and other heat protections in vehicles and warehouses.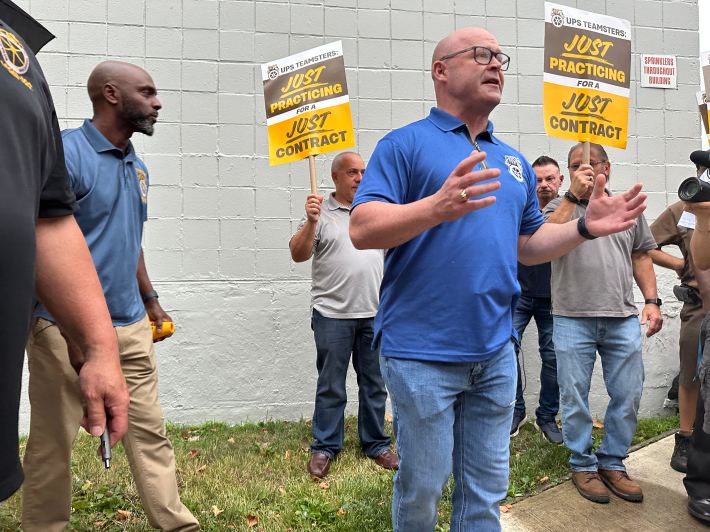 Shortly after 7:30 a.m., Sean O'Brien, the general president of the international Teamsters union, arrived, greeting rank-and-file members with handshakes and kicking off the picket with a short speech. He walked the line mere feet before he paused to grant the members of the news media with some words. "We are ready to strike," O'Brien told Hell Gate as we hurried to catch up with workers. O'Brien, who is touring UPS facilities across the country to build unity among the ranks, gestured to the bustling crowd. "I mean, what do you think?"
Tentative agreements on many of the workers' demands, including AC in new package cars, have been reached between the company and union. But talks broke down earlier this month over one of the union's most consequential demands: significant raises for UPS's part-time employees, who comprise 60 percent of the workforce and whose wages can be as low as $16 an hour. 
"You're making like $200 a week, maybe $300 if you're lucky," Alicia Simon, who has been a part-time package sorter at the Foster Avenue UPS facility for a year, told Hell Gate. "New York is extremely expensive right now. It's impossible to live off of what they're paying. People have kids, people have rent."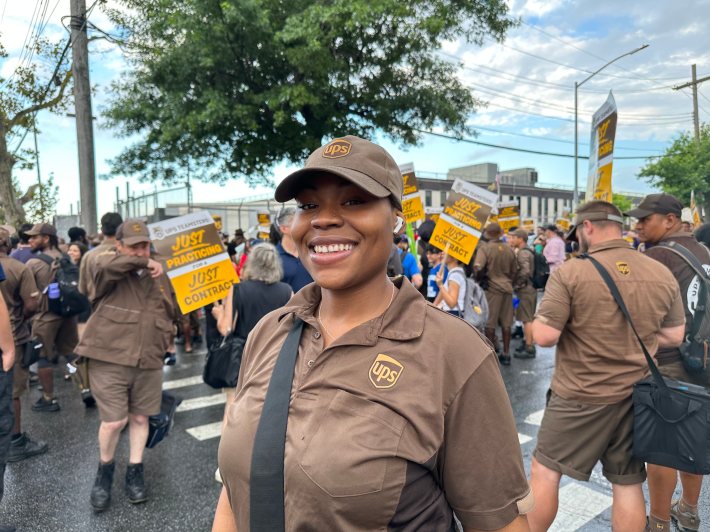 Simon said she wants higher pay, but also more hours. She joined the practice picket before an extra shift that she was picking up—something she said she felt lucky to receive, as part-timers are only guaranteed three to four hours of work every day. "It's very frustrating," Simon said. "I'm trying to look for another job on the weekend. Meanwhile, I'm in school in the morning, and then I have to come here to work." 
"I don't feel like our work is worth the little money they pay us," Simon added. "At this point, I'm ready to strike."
O'Brien stressed that part-timers weren't rewarded for their essential work during the pandemic. "Our part-timers didn't get any hazard pay," O'Brien noted. "All the while, UPS's stock went up, CEO bonuses went up, and those people didn't even touch a package." 
"This job should be over $23 an hour," he added. "Now's our time to get rewarded, and we're gonna do that."
By the time workers began walking off the line and into the facility, rain had given way to blue skies, but a crowd remained—the practice picket was kept up by the dozens of supporters who had attended in solidarity. Nurses, teachers, other unions' staffers, and members of the city's varied socialist groups lent their bodies, voices, and signs to the UPS workers. 
"This fight is about raising standards for all workers," said Jessica Ramos, a New York State Senator in Queens who attended the practice picket. "The Teamsters have done that historically, and it's incumbent on all of us to make sure that we are helping them get the strongest possible contract."
"All we are asking for is increased wages for part-timers, because they're living in poverty, and we can't accept that," said Andrews, who is a full-time driver. "This practice picket is showing the company that we're serious."
He added, "It is time the company give us what we want—what we deserve."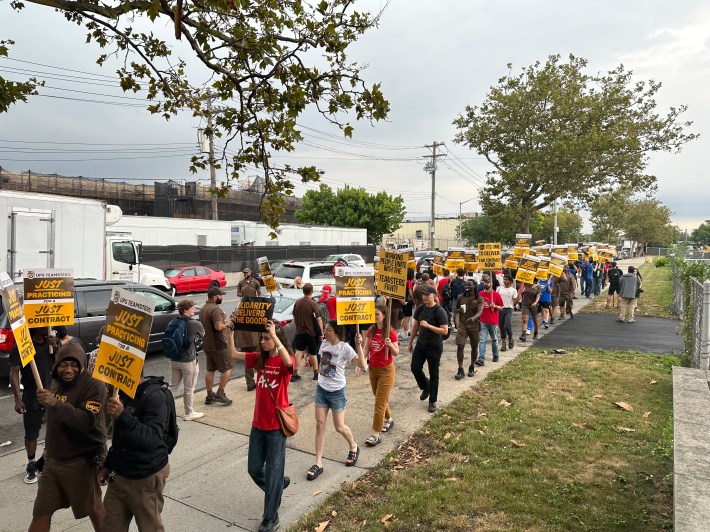 Teddy is a journalist from Brooklyn covering labor and economics. He is a financial correspondent for Deutsche Welle Business and his work has appeared in The Nation, DW.com and elsewhere.
Stay in touch
Sign up for our free newsletter