Power
What the Hell Is Going on With NYC Schools Funding?
Parents, educators, and public school advocates have spent the summer battling for the restoration of funds.
9:28 AM EDT on August 6, 2022
Since this boiling hot summer began, parents, educators, and public school advocates have accused Mayor Eric Adams of tricking the city council into slashing the schools budget by over $370 million, adding enormous stress to a strained and unequal system. City Council Speaker Adrienne Adams has demanded that Adams "stop this charade that harms our students."
Adams, who has had to deal with almost daily interruptions during public events from people bemoaning his cuts to the school budget, has stood behind the budget passed by the vast majority of the city council, and has accused his critics of lying: "Some people who are talking about this are being disingenuous. This is not a cut."
Karla Reyes, who teaches high school in lower Manhattan, told Hell Gate at a rally to restore the funding this week that "the City has been mismanaging its budgets, lining the pockets of the NYPD instead of putting money where it should go, into affordable housing, and fully funding the schools. The cuts were made to use this crisis in a way that paves the road to privatization to our public schools." 
On Friday, a state judge ruled that the cuts violated the City's own rules in determining a school budget, and that the City must revert back to last year's education budget until the city council passes the budget again—just for schools, not for other City agencies. And this time, they've got to follow the correct procedure.
How did we get here? Can the city council really redo just one portion of a $100 billion budget? What does this mean for education funding for the upcoming school year?
At the beginning of the pandemic, when NYC schools went fully remote and everything was even less certain than it is today, the method that the City was using to determine school funding, the Fair Student Funding formula, was pretty much suspended. Instead, school funding was determined based on pre-pandemic attendance levels. The City helped keep the schools running through a mix of its own budget and federal COVID-19 relief money. 
When schools returned for their first full in-person year this past September, enrollment had fallen by more than 50,000, meaning that 9.5 percent of the city's students were gone, a plunge that was not distributed equally among New York City schools. The de Blasio administration kept up funding to public schools by again dipping into the City's reserves, and using millions in federal relief funding the City had received to do just that. 
Going into this year's budget negotiations between the new administration and the city council, Adams was prepared to slash school funding by more than $200 million this year and an additional $175 million next year, citing declining enrollment, the drying up of federal COVID-19 relief money, and the City's unwillingness to stretch itself financially to make up the gap. Adams inserted these cuts into his executive budget, and they were still there when the council passed the budget in mid-June, two weeks ahead of schedule, and without much opposition about the school cuts. The council speaker and the mayor shared a warm hug. (The budget process also skipped a key part of determining school's funding, which we'll circle back to later—it's important!)
Soon after the budget was passed, the City began informing educators that positions for next year were being eliminated—and the cuts were hitting schools in low-income neighborhoods the hardest. Schools that were being given money for working with children with learning disabilities were given more money under the Department of Education's formula, but those were exactly the kids who were leaving the school system. In turn, for the schools that were facing reductions, the cuts were extremely significant. A study by NYC Comptroller Brad Lander showed that on average, a school facing a cut was seeing an eight percent loss to its budget. And while some schools saw increased enrollment, and would get more money, 77 percent of schools were getting cuts of some kind.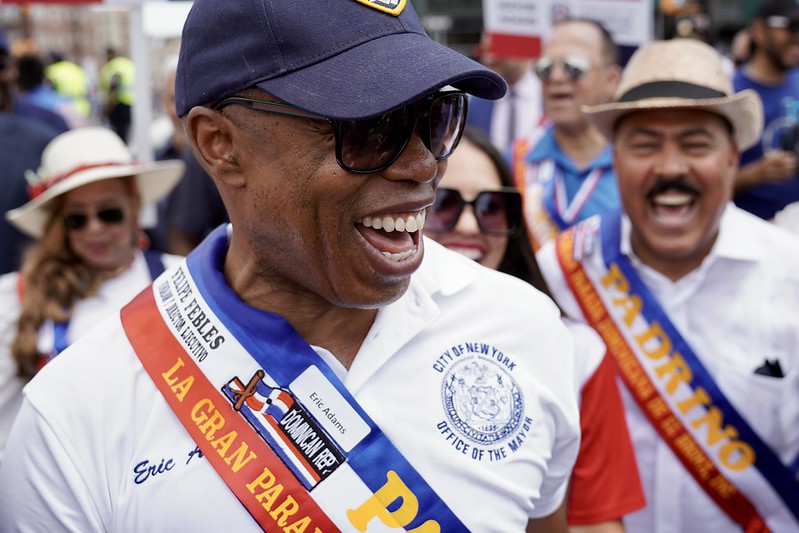 Within weeks, the very same city council members who voted to cut school funding when they voted "yes" on the budget, were now demanding that the Department of Education restore that funding, using money it had been allocated elsewhere (like remaining federal COVID-19 relief money). 
Councilmembers who voted for the budget admitted they weren't paying close attention to what the Adams administration had done: base the decrease in funding on last year's uniquely low enrollment numbers. These councilmembers appeared not to realize that once this upcoming school year began, there would be more automatic cuts based on the DOE's Fair Student Funding formula. 
And so began a depressing litany of apologies. 
"The DOE has the power to stop this," Councilmember Rita Joseph, who notably voted for the budget, said at a rally in July. "DOE leadership has talked a lot about the need to restore faith in our public schools and increase enrollment. Well guess what? If schools lose funding, students are going to leave."
"I want to start by acknowledging how deeply regretful I am of my budget vote," Councilmember Shahana Hanif said at the same rally. 
"I wasn't aware that it would produce this insanity of so many layoffs and so many excesses," said Councilmember Gale Brewer. "We didn't have all the facts that we needed. We will get them."
Before the vote, the six left-wing dissenting councilmembers had already raised alarms about the cuts to school funding being included in the budget. Astoria Councilmember Tiffany Cabán noted that the budget "contains big cuts to our public schools, disproportionately affecting schools in low-income communities of color, which have long been underfunded and overcrowded."
Post-budget approval, Mayor Adams, now facing pissed-off teachers and parents, stood firm and dismissed their concerns. In mid-July, when protesters accosted him about the schools funding at an unrelated event, he got angry. "See, this is the clown, this is the clown," Adams said.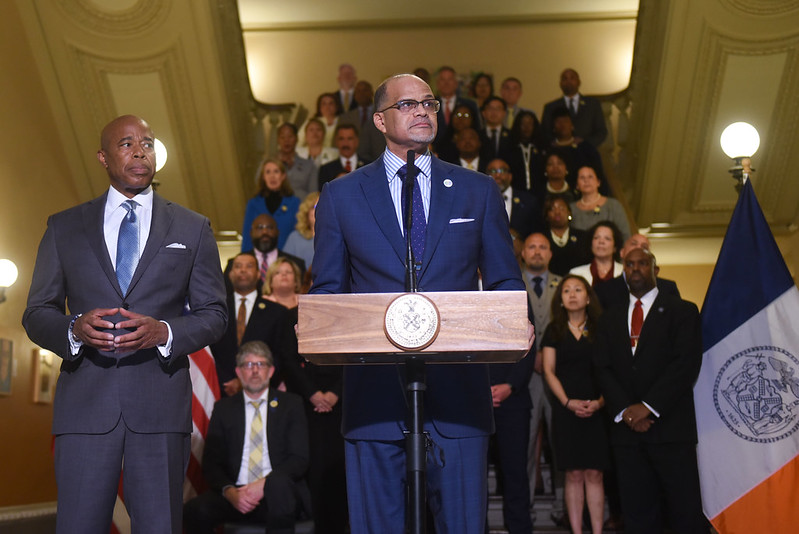 Here is a great place to pause and note that the inner workings of the Department of Education are shrouded in mystery. How exactly it applies its Fair Student Funding formula, what tweaks it makes each year, and how individual funding decisions are made, aren't very transparent. Both the public advocate and the comptroller's office told Hell Gate that they haven't been able to get any information from the Department of Education on how it's determining cuts, and why money can't be reallocated to keep up staffing. Instead, they've hit a brick wall, in the form of New York City Schools Chancellor David Banks, and his boss, Mayor Adams. The cuts, both men say, are here to stay. (The pandemic has been a boon for charter schools in NYC, with enrollment surging. Adams was the choice of the charter movement, with a charter-backed super PAC spending $6.3 million to help get him elected). 
But there are some ways that New Yorkers provide oversight of the Department of Education—one of them being the Panel for Educational Policy. The PEP, a group largely appointed by the mayor, is supposed to give input to and have oversight over the school system's budget, and issue a vote on it even before the city council does. (Because the mayor largely controls the PEP, this is more of a symbolic rubber stamp.) Stiil, for whatever reason, the budget was done in haste, and PEP never voted on the budget before it was passed. 
Which brings us to the lawsuit filed by a group of parents and teachers alleging the City violated its own rules in skipping the PEP vote, which led to yesterday's order to restore funding to schools at last year's level, until the city council draws up a new education budget. 
City Hall has maintained it's done nothing wrong—after all, during twelve out of the past thirteen years, the mayor at the time had invoked an emergency to pass the budget without PEP voting on it first, and none of those budgets had been invalidated. 
According to the judge, it's now up to the city council, which has already been involved in a drawn-out battle between regretful councilmembers and the mayor himself, over how best to restore the budget. With just weeks to go before the start of the school year, and thousands of positions left unfilled, it's shaping up to be another chaotic beginning to the New York City school year.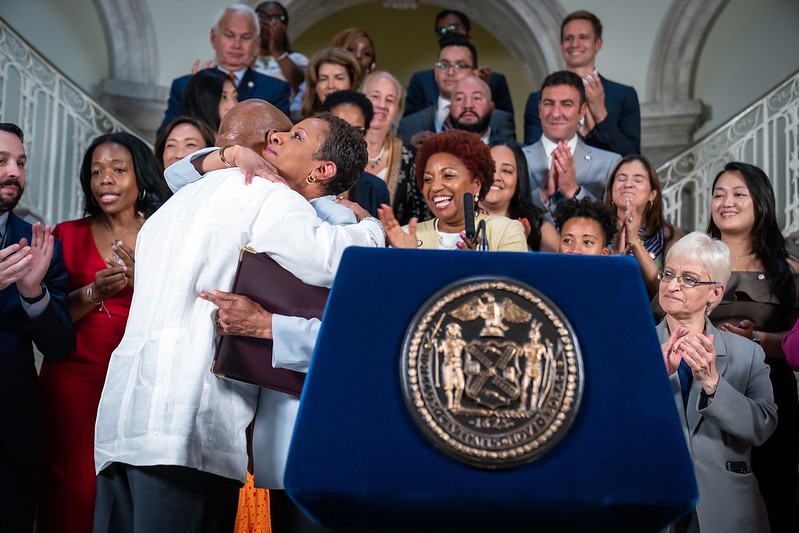 To make matters even more chaotic, it's also entirely unclear whether the judge can even legally order the city council to redo the budget. The Adams administration has already indicated they intend to appeal the decision. Early Saturday morning, City Hall sent out a blistering statement, blaming the city council for reneging on the budget agreement and "repeatedly issuing misleading and irresponsible statements."
That's a lot of ground to cover, but what's maybe missing here is the fact that this didn't really need to happen in the first place. Comptroller Brad Lander has said that given increases in tax revenue this year, the City could both restore funding to schools and put money aside in its "rainy day" fund. And given that federal stimulus money must be spent by 2025, this is, one would assume, precisely the situation where these funds should be used. 
In a city awash in federal relief money, benefitting from a surging income tax base, and with a need to shore up schools facing declining enrollment from falling further behind, was Adams truly terrified about our financial future? Or was there a deeper motivation for a decision that would make the City's public schools worse? 
The only person who can answer that question currently lives in Gracie Mansion, and the reasons, well, they helped get him there.
The initial version of this post incorrectly identified New York City Schools Chancellor David Banks as a "former CEO of a charter school network." While Banks's former employer, Eagle Academy, fundraises independently, much like a charter school, all of its schools are within the New York City public school system. Hell Gate regrets the error.
Max Rivlin-Nadler is a co-publisher of Hell Gate. He's reported for Gothamist, The New York Times, Village Voice and NPR. You can find him walking his dog, Stiva, or surfing in the Rockaways.
Stay in touch
Sign up for our free newsletter