Paying Rent
NYC Rents Are Officially 'Scary.' Help is Not On The Way
A proposed law in Albany could slow down New York's runaway rental market. But none of the power brokers seem interested in passing it.
4:46 PM EDT on May 23, 2022
Last year, with pandemic-era rents in New York City falling to actually livable levels, journalism graduate student Youcef Bounab packed his room in Hell's Kitchen and headed south for a two-bedroom on East 14th Street.
It was an old building, one of those NYC Specials—the second bedroom was a few cheap walls hacking a windowless chunk off the living room; heating that comes and goes as it pleases, and the occasional rat or two. In December, the ceiling in his room fell in. He's still waiting for his landlord to fix it.
Still, despite the abysmal condition his apartment was in, Bounab couldn't complain too much. After all, he was paying $1,800 a month for a two-bedroom in Manhattan. This was a deal you didn't think twice about. But a few weeks ago, with his lease expiring, his landlord sent him a text.
His new rent would be $3,800 a month.
"I didn't receive his text as a notification of a rent hike. I received it as an order for displacement," Bounab said. "It's just a way to kick me out."
Bounab's story isn't rare these days in New York City, or around the country. Rents were down, now they're back up. Way up.
Taylor, a graduate student living on adjunct professor pay, lives with a roommate in a two-bedroom on the Upper East Side. She told me her rent jumped from $2,800 to $3,550. "I had a lot of anxiety about moving to New York because I heard what everybody hears about living here—you pay thousands of dollars for a shoebox full of rats," Taylor said. "When I found this place for us that was within the budget, I felt very fortunate to live somewhere that feels calm, looks clean, and doesn't have a pest problem. Now I'm concerned about our budget not being enough to cover that!"
Patrick, who lived with roommates in a two-bedroom in Hell's Kitchen, told me they got a hike from $2,475 to $3,495. Instead, they moved to Crown Heights for a relative deal of $3,000. "It's crazy to think we can't afford Manhattan when we all make above double the minimum wage, so it's scary to think about how bad others have it," Patrick said.
My own rent in Greenpoint went up $400 a month in February.
In previous housing dips—like 2008's Great Recession and before that, the post-9/11 chill—rents rose gradually as the mood of the market slowly shifted. The COVID deals are now ratcheting up dramatically—once the COVID vaccine hit, the flocks of renters who fled the city returned, and landlords have no incentive anymore to keep rents reasonable.
But this isn't just rents rebounding to pre-pandemic levels. This is a case of spring-loaded rents trampolining past what they've ever been, all at once. According to StreetEasy's rental indices—which go back to 2007—March 2022 had the highest rents on record for Manhattan ($3,469), Brooklyn ($2,876), and Queens ($2,228), in each case a few hundred dollars more per month than the previous high in late 2019.
New York City is a city of renters; two-thirds of its population are tenants, or roughly five-and-a-half million people. Take out the 500,000 New Yorkers living in NYCHA, and the two million in rent-stabilized apartments, and you're theoretically talking about three million people being handed drastic rent increases all at once.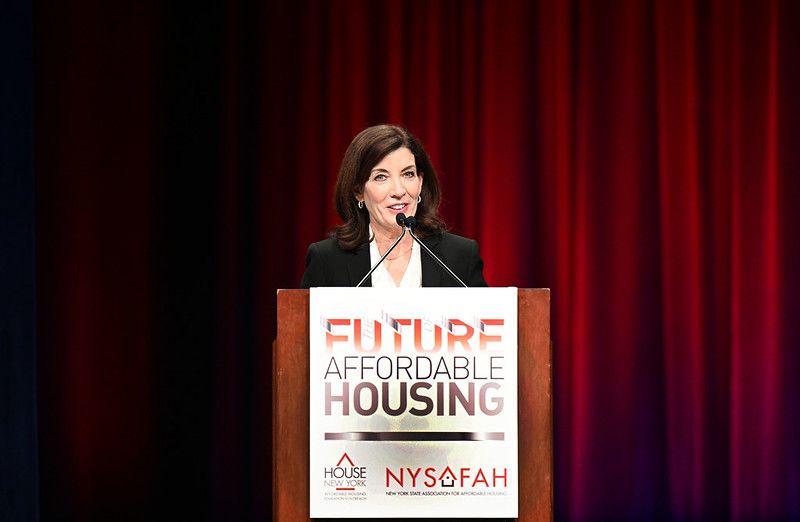 What's also frustrating about the rapid, record rent hikes is that they're coming after 2019, when New York passed one of the most robust tenant protection rent reforms in state history.
Among the protections for those in non-stabilized apartments that passed in 2019: no more application fees or being put on a tenant blacklist; a cap on how much landlords can charge for building improvements; and a cap on late fees. In addition, landlords must perform a "reasonable effort" to re-rent apartments before they can charge a lease-breaking tenant, and landlords must give 30-, 60-, or 90-days notice (depending on how long the tenant has been in the apartment) of a rent increase over five percent.
"You get more time in court to fight eviction [and] some fees no longer apply, even though a couple of those stipulations got rolled back," said Oksana Mironova, a housing policy analyst with the Community Service Society. In 2021, real estate brokers won a court battle to reinstate the scourge of broker's fees. And other parts of the law suffer from both limited state enforcement and a lack of awareness by tenants, who often feel pressured to do whatever a landlord asks of them.
While the reforms were touted as a major shift, one notable thing they did not do was limit how much a landlord can raise rent for non-stabilized tenants. This is why activists are now fighting for legislation known as "Good Cause."
Good Cause has two key elements. The first sets boundaries on the reasons why landlords can evict their tenants (broadly speaking, if you pay your rent on time and don't damage the property, you can't be evicted). The second part would have the biggest impact, and is a major reason why it was cut out of the 2019 reforms. Landlords would have to justify in court any rent increases over three percent or 150 percent of the consumer price index (whichever is higher), essentially creating de facto rent control throughout New York. For instance, Bounab's rent would have gone up about $50 instead of $2,000.
A common argument against Good Cause is that it will incentivize landlords to no longer perform basic maintenance on their properties. But advocates for the bill think that even with runaway rents, buildings are still in terrible shape.
"You could say our buildings aren't kept up anyway, so it's kind of a false threat," said Assemblymember Emily Gallagher, who represents Greenpoint, Williamsburg, and parts of Fort Greene. "You're either proud of your building and want to take care of your tenants, or you're not, and maybe you shouldn't be in the landlord business."
Good Cause isn't some unprecedented legislation. In fact, New York's peer in unaffordability already has it.
After decades of organizing on the local level and successfully passing laws throughout California for city-based rent control and anti-eviction regulations, the tenants' rights movement in the Golden State added a major backstop in 2019, when legislation was passed to cap rent increases at a maximum of ten percent per year.
Housing activists have tried to push lawmakers to pass Good Cause before the legislative session ends on June 2. They have held rallies in Albany and forced arrests in the statehouse building. Top lawmakers are unmoved.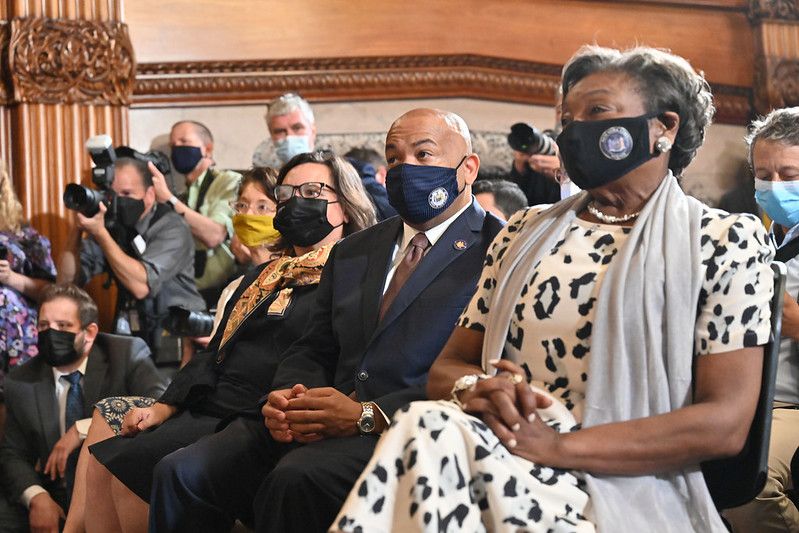 Senate Majority Leader Andrea Stewart-Cousins told WNYC's Brian Lehrer that she doesn't "think that the current iteration will actually be able to pass." Assembly Speaker Carl Heastie, Governor Kathy Hochul, and Mayor Eric Adams have been silent; none responded to requests for comment from Hell Gate. In a talk Hochul gave to an affordable housing trade group last week, the governor didn't mention Good Cause. (In her State of the City Speech on Sunday, City Council Speaker Adrienne Adams said she wanted to allocate an additional $4 billion for affordable housing, roughly double what Mayor Adams has proposed.)
For landlords, it's politically expedient to keep aggrieved tenants cycling through apartments and eventually out of the city.
"New York's primary industry is real estate, and landlords don't want to give tenants any rights. They don't want the runaway profits to stop, and they have a lot of power in New York State, and give a lot of money to elected officials," said Andrea Shapiro, Director of Programs and Advocacy for the Met Council on Housing. "But there are more of us than there are of them."
Stay in touch
Sign up for our free newsletter