City of Immigrants
New Yorkers Looking to Help Migrants Are Greeted With Security, Red Tape
In the East Village, volunteers work to overcome confusion outside one of the City's respite centers.
10:30 AM EDT on June 7, 2023
As thousands of migrants continue to arrive from the southwest border each month, and with state and federal aid lacking, Mayor Eric Adams has beseeched New Yorkers to step up and lend a hand to the city's newest residents.
"During crises there are two types of New Yorkers—there're those who play I gotchu, and stay on the outside and complain, and then there're those who roll up their sleeves and just get stuff done," the mayor said in September. "That's who we are."
But lending a hand hasn't been all that easy for those New Yorkers looking to help the hundreds of people who are staying at the "respite center" at the former St. Brigid School in the East Village. Volunteer groups say that they've had to deal with unresponsive staff, threats from security guards, and an ever-rotating group of private contractors and City supervisors who are overseeing the site, just to distribute items like food and clothing.
"My staff has been harassed by the Office of Emergency Management while trying to do clothing distribution, but when people don't have shoes or socks, it's not acceptable," State Assemblymember Harvey Epstein told Hell Gate.
Epstein, whose district office is across the street from St. Brigid, coordinated with City Hall to take a tour of the center last month, but was barred by security, and physically restrained from entering. Eventually, Epstein was able to enter the center last Friday. 
"We have been asking for a point of contact for over a week, and there's just no person in charge at all," Epstein added. "We've been asking for there to be an intergovernmental person on site to help coordinate this type of community support, and that just hasn't happened." 
During our visit, we watched as an employee from Verizon approached the staff of MedRite, an urgent care company now contracted to run the respite center, offering to connect the center with free Wi-Fi so asylum seekers could have internet access—crucial for looking for work, finding housing, and continuing or beginning the asylum application process. The group NYC Mesh has also been trying to set up Wi-Fi at the building. But both Verizon and NYC Mesh were turned away.
"We have this miracle that literally delivers the world of information to you through the air, and it would be incredibly easy for us to be able to expand that network to St. Brigid," said Rob, a volunteer with NYC Mesh, who asked we withhold his last name because of his current employment. "If only we could get access to the building, we could make life a lot easier for people in a tough situation."
NYC Mesh has a hub site for its network directly across the street from St. Brigid. To bring the internet into the respite center would only require NYC Mesh volunteers to enter the site, put a receiver on the roof of the building, and run a cable down to a router in the basement. So far, their efforts in getting permission, or even finding the right person to speak with, have been fruitless. 
"We're happy to help, but we can't even figure out who's in charge," Rob said.
The respite centers, rolled out hastily by the Adams administration last month, are meant to help relieve the City's crowded shelter system. The center at St. Brigid School, which has been vacant since its closure in 2019, is part of an effort by the City to identify unused spaces, especially those connected with faith-based groups, to provide shelter to migrants.
Because the centers are run by the Office of Emergency Management, and not the City's Department of Homeless Services, they aren't required to provide much in the way of services or infrastructure. On the day we visited, we were told over a hundred migrants were being housed on cots in the basement of St. Brigid, and more people were in other rooms throughout the building, which has no showers. During the day, staff members at the site accompany migrants to a community pool on East 10th street, where they're allowed to bathe.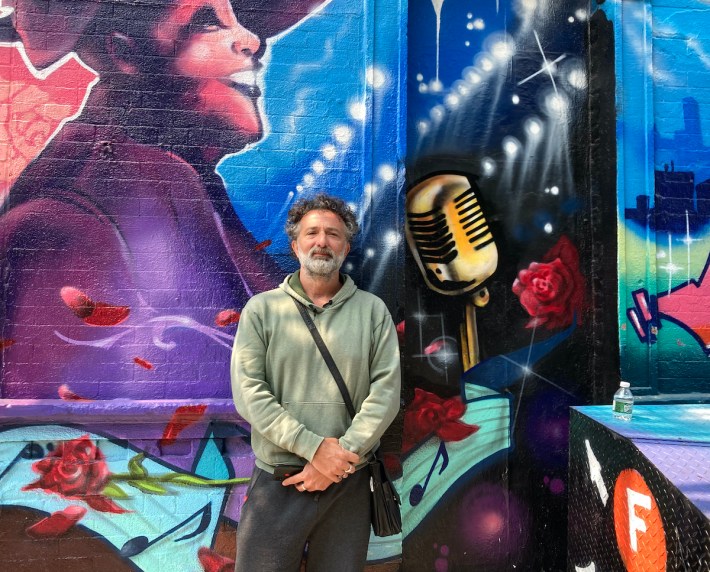 City Hall has referred to the respite centers as a "waiting room" for migrants before they're placed in more permanent housing. But several people Hell Gate spoke with on Tuesday had been there for over a week. 
Mo, a migrant from Turkey who only gave his first name, told Hell Gate the respite center wasn't a "bad place," and that food was consistently available and the staff was friendly and helpful to migrants. 
"I've been translating for a lot of the guys," said Mo, who speaks several languages after living in Germany and Spain for several years. "And everybody wants to keep me around to keep helping people out here."
He said he considered himself to have a "luxury hotel" situation in the center because he was on the third floor, and only sharing a room with eight other men. In the school's basement, the cots were stacked almost right on top of one another. Mo described how City officials keep pitching migrants on taking buses up to Albany, but "no one wants to leave."
"They're just letting people know it's an option if they want to go," he said.
At the corner of Tompkins Square Park, Hell Gate spoke with a group of migrants from Mauritania. Through Google Translate, they said they had crossed into the United States in California, and came to New York a few days ago. They had no clothing or belongings, but were appreciative that the respite center was clean and safe. But they wished that the center had Wi-Fi, so they could begin the online application process for a work permit. 
City Hall did not respond to a request for comment. 
New York City's efforts to house and feed migrants has been remarkable—no other city in the United States has devoted as many resources to marshaling hotels, expanding shelters, and creating navigation centers. The mayor, in turn, has called on the federal government to step up and provide more funding. But the City has long struggled to integrate community and mutual aid groups into the response to the arrival of migrants, even as groups have stepped up to offer support. Last summer, City Hall clashed with community and mutual aid groups that were trying to assist migrants at the Port Authority Bus Terminal. In Brooklyn, City Hall failed to engage community residents before it began quietly placing migrants in school gyms. 
On Tuesday morning, volunteers put out collapsible tables in front of the school, as security guards helped migrants form a line to be able to receive items like shoes, bags, and phone chargers. But to even be allowed to distribute clothing on the sidewalk took careful negotiation with MedRite, according to volunteers.
"It's understandably challenging with a group of City and state agencies, and their contractors, trying to sort out a difficult situation that's been thrust upon them," said Laura Sewell, the executive director of the East Village Community Coalition, who has been helping with clothing distribution. "But our community has been a help-oriented community since the 1800s, so when something like this happens in our neighborhood, we're going to try to find a way to help without ruffling too many feathers."
Sewell, who is already planning on being part of another clothing distribution on Thursday, believes the City has an opportunity to tap into groups already doing the exact kind of work that migrants would benefit from. 
"With each site, just setting up a pipeline of communication, pointing out who we talk to each day, would be the move," Sewell said. "The people are here now and they need help, and we're here to give it."
Max Rivlin-Nadler is a co-publisher of Hell Gate. He's reported for Gothamist, The New York Times, Village Voice and NPR. You can find him walking his dog, Stiva, or surfing in the Rockaways.
Stay in touch
Sign up for our free newsletter