What's Your Deal
Meet the Car With the 'New York Bathroom Vibe'
Last week I was walking down the street and stopped cold when I saw this thing.
8:43 PM EDT on June 29, 2022
Last week I was walking down Rivington Street and stopped cold when I saw this thing.
Every person who passed it snapped a photo or took a video. A woman driving a minivan stopped in the middle of the street to admire it. "Tell me that shit ain't fire!" she remarked to another man standing on the sidewalk who was also gawking at it. "Can you imagine driving that shit?"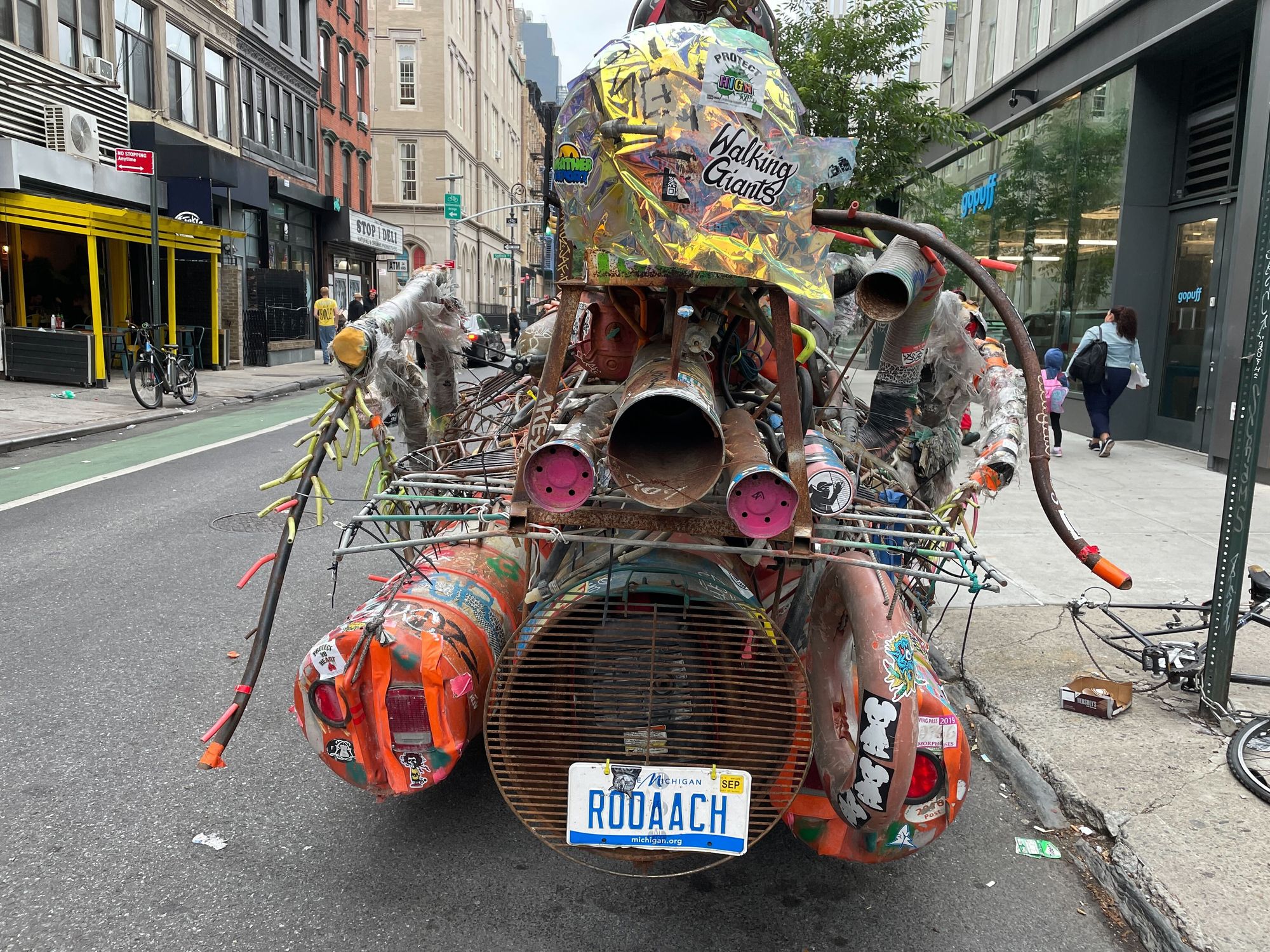 I had some time to kill, so I waited for its minder to arrive and ran its Detroit plates ("ROOAACH"). There was only one "no standing zone" ticket, issued in early May in Midtown. How could that be?
Lots more people passed, but no sign of the driver. "Everyone's trying to figure out whose car that is," a GoPuff delivery worker told me on his smoke break. "I haven't seen 'em."
After around 30 minutes, it started to rain, so I left a note with my contact information in the driver's seat, which was easy, because this vehicle doesn't really have any insulation from the elements. You can just stick your nose inside and smell the ancient mysteries embedded deep inside the cloth seats.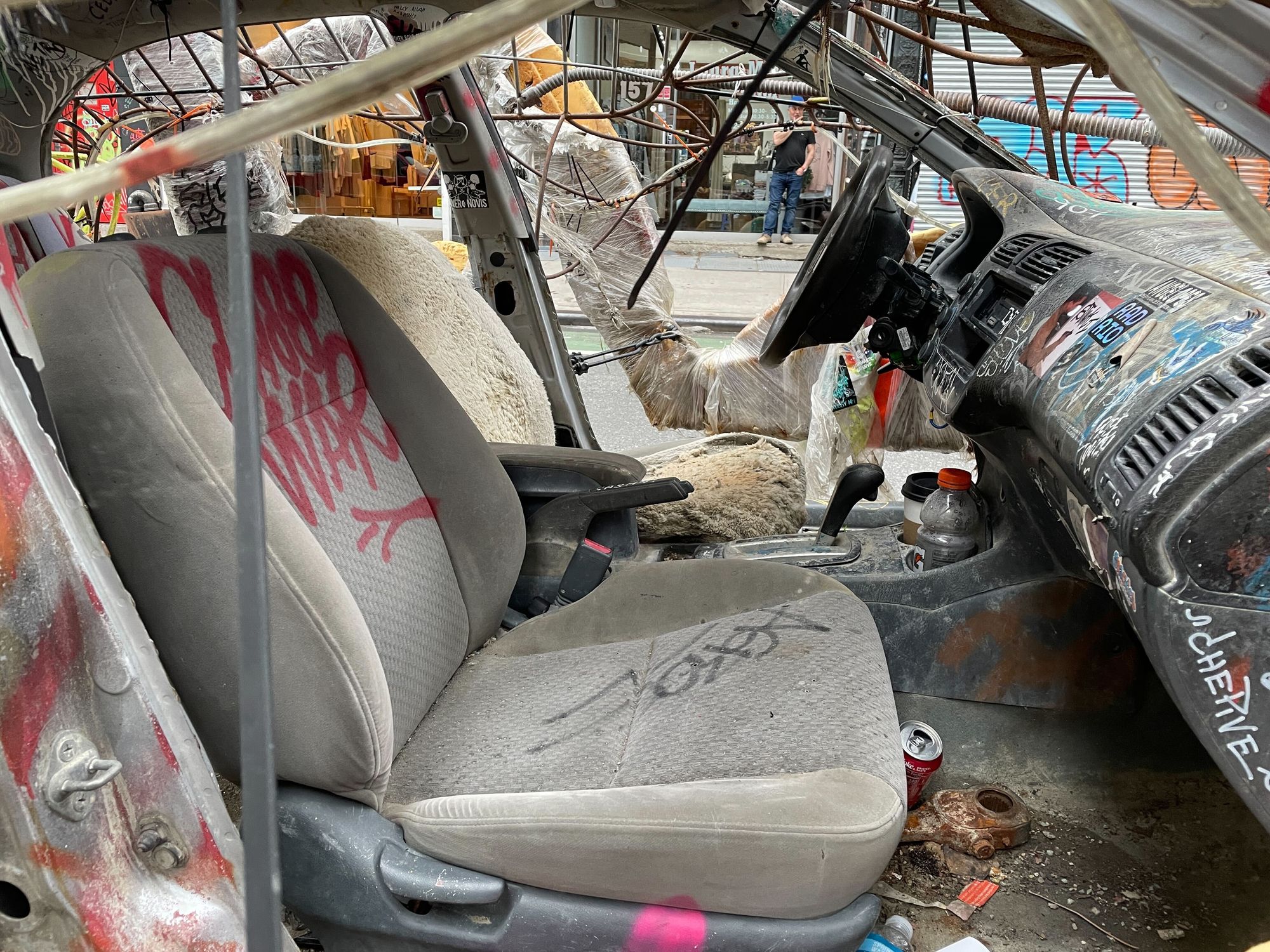 A few days passed without any word, and I concluded that my note failed. They probably crumpled it up and used it to light a molotov cocktail, I thought, picturing the motorcycle guy from "Raising Arizona" behind the wheel.
One night after I exited the subway, I was walking down Grand Street next to Sara D. Roosevelt Park and there it was, again. I yelped and started writing another note, when a tall man wearing coveralls and a beard stopped in front of me.
"Is this your car? I'm the guy who left the note!" I cried.
The man in the coveralls gave me a hug.
He is Detroit-based artist Ryan C. Doyle, who made the car known as the "CarCroach." He spent the early 2000s in New York City doing metal work and making bikes (he is a co-founder of Bike Kill) and going to Burning Man, before moving to the Motor City to start a family.
Doyle was in town—of course—for the NFT.NYC conference. The car, which had been towed to New York from Detroit, is already a little famous.
"You want a ride?" he asked.
Doyle started a generator that sits in an old oil drum fastened to the back of the car, which powers the electronics. We climbed in and it started right up, though the engine sounded a little throaty.
To get to a parking space on Rivington, we passed the Seventh Precinct. NYPD officers outside stood and stared. A cab drove up beside us and a 20-something passenger shouted, "I love your car!"
After we parked, Doyle agreed to sit down for a bleary-eyed chat at one a.m. What follows has been edited and condensed.
OK, tell me about the car. You said earlier it's a 2004 Honda Civic.
It's been totaled three times by the previous owner. And then hit and run by a Detroit city bus.
When did you build it? What was the inspiration?
In 2015, I think. It's a Honda Civic, so I was like, This thing's gonna last forever. I should make it into a cockroach. Just this idea of survival, what we're all going through. That was kind of the metaphor I was going for.
Is your art mainly sculpture?
Yeah, and I do digital and other stuff, a really wide variety of things, unlike most artists who kind of have a thing.
Do you drive the CarCroach around Detroit? Do you get groceries in it?
I probably have. But it's not like that. I've built a lot of other art cars like that for Burning Man. Mutant vehicles.
I'm the artist-in-residence at Recycle Here in Detroit, and it's in the original Lincoln Motor factory. This factory, we're turning into more artist, live/work studios.
So the materials on the car are recycled?
Yep, people bringing in stuff to recycle. There's also some street signs and grilles—it's all a mix.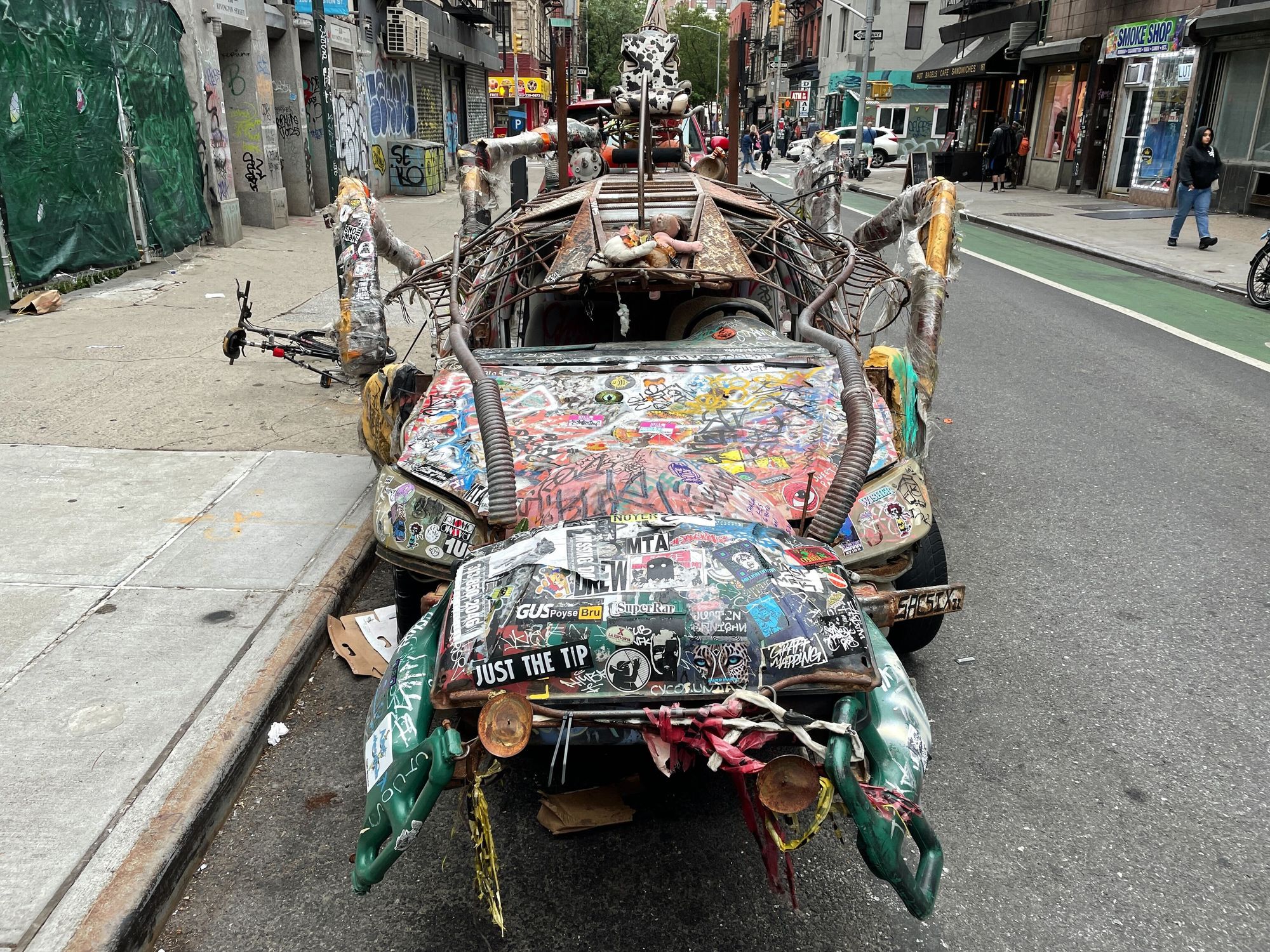 How long did it take to make?
Two and a half weeks.
Where does it rank in the pantheon of all your art cars?
Hmm. It's not the biggest, it's not the most popular, although maybe it's getting more popular now. It just has a vibe of, it's not trying to show off. It's just being it. People can really relate to it.
Kids love it. And with all the graffiti, it has this like, New York bathroom vibe, textures from the New York bathroom.
Burning Man asked me to auction it at Sotheby's last year where they were selling lots of other Burning Man art and things. So we put it up for auction and a doctor from New York who's a Burning Man guy, he bought it for like $24,000. And when he bought it, he was like, Dude, this thing is so cool. I don't want to take it off the street. You got to just keep doing it.
I know you said that you make digital art, but you're also clearly good with your hands. What do you make of the whole NFT craze? As a layperson, I am inclined to think it's a scam.
The coolest part about NFTs is documenting things on a register and a blockchain that isn't an auction house. It did really open that up, to create a provenance of your work. Also, as they sell down the road, you can get royalties, already included, which a lot of artists would never see, because someone else is selling their work. That is really the important part that will stick.
There's three different sections of who buys work—I'm just buying this because I know that it's gonna go up in value, I'm just buying this because it's cool, I'm just buying this to support the artist. But however you want to think about NFTs, it's no different than that, for me. I don't think it's really changed a lot.
I think a lot of people that have watched crypto rise knew it was gonna have a fall in the crypto winter. People prepared for that, it's just like any other investment platform in that respect. It is awesome in a lot of ways, but it also, sure, like the art world is a fucking scam. It's a money laundering haven of tax abatement. But NFTs didn't change that.
I don't want to talk about Beanie Babies, but like, I do. Yeah, that's what it is. And if you're like, Oh, it's Beanie Babies, going into it, maybe you're a little more prepared. One of my NFTs, a flamingo NFT collection that I made, I traded for a Beanie Baby.
So, stuff like that. It's still fun. It's still art. I feel lucky to be able to drive around [in the CarCroach] where the cops kind of let it happen, everyone's pulling out their phone…It's not bad. It makes people happy. And me being able to share that gift, makes me feel alive after years of hard stuff.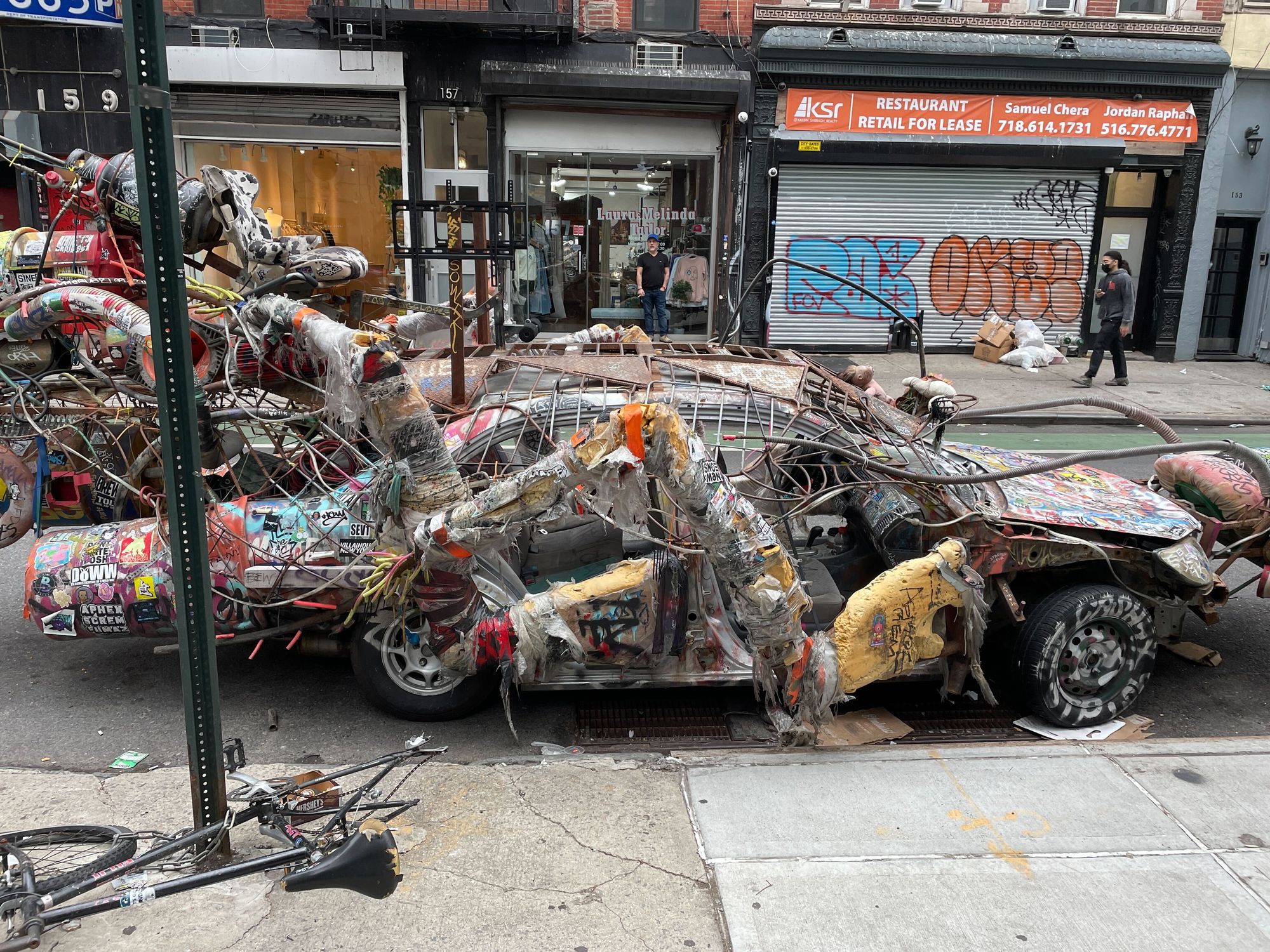 Chris is an editor at Hell Gate. He spent a decade working for Gothamist, and his work appears in New York Magazine and Streetsblog NYC.
Stay in touch
Sign up for our free newsletter