Going Places
MTA's 20-Year To-Do List: Fix All the Ancient, Busted-Ass Stuff, Then Maybe Some New Subway Lines?
Here's what the MTA is going to focus on for the next generation or so.
3:45 PM EDT on October 5, 2023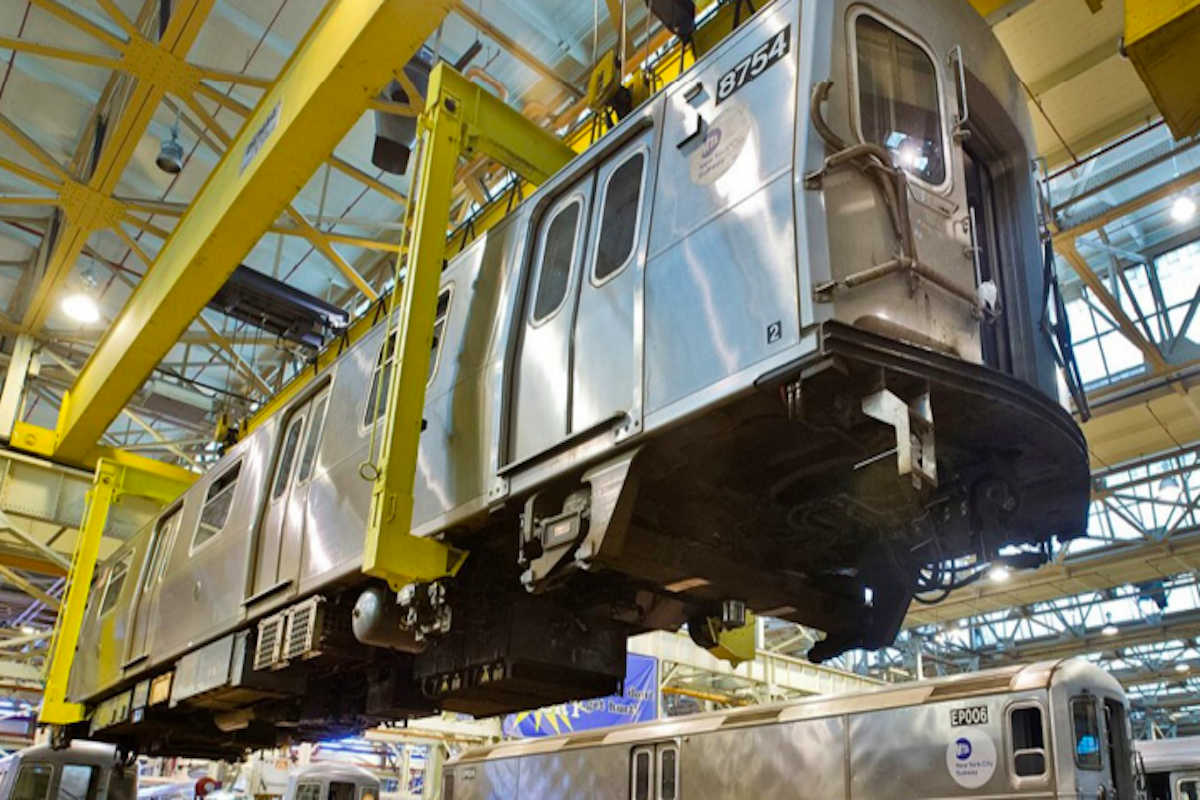 Every five years or so (sometimes more), the MTA releases its 20-year "needs assessment," a document meant to guide the agency in its upcoming five-year capital plan, which decides exactly what the MTA will spend its money on. 
And this time around, the agency is finally in a position to go on the offensive—spared the perennial threat of a financial apocalypse by new dedicated tax revenue, and about to be flush with the $1 billion per year raised by congestion pricing, the MTA is looking to finally improve its oft-crumbling transit system, instead of just desperately trying to hold it all together with sticky tape and glue.
So what does that all look like? The main focus of the MTA's presentation was on making the current system work better, and connecting a lot of its various parts more seamlessly. But there are also some tantalizing hints of expansion.
First off, the MTA makes clear, the area's subways and railroads are old as shit. The report notes that the "deteriorating" double-decker train platforms leading into Grand Central are in danger (not immediate) of collapsing into the railroads beneath it (which are also on top of the new, mostly unused station below that), while more than "75 percent of the New York City subway major power substation components will be more than half a century old" within the next 20 years. That means billions need to be spent on ripping out old signals and electric cables and plugging in new ones, while also rebuilding tunnels across the metropolitan area AND doing the needed work to keep Grand Central from collapsing. That right there is several billion dollars (we won't know the full amounts until the capital plan is released), while also ensuring that weekend and night work on tracks will continue for eternity.
Fair enough. New signals means added capacity, added capacity means (hopefully) more frequent service. But what about the trains themselves? The MTA states that "over the next 20 years, over 3,900 railcars will reach the end of their useful life and will require replacement. Nearly 1,500 railcars currently in operation are already past their 40-year limit." So just keeping trains in good repair will also take a lot of time and money, but will also (in decades) lead to hundreds of those cool new trains (the R211A) with sweet neon lights that are currently running on the A line. Good stuff!
On top of that, the MTA will need to rebuild stations, viaducts, and finally get around to making the entire system accessible to New Yorkers living with disabilities through the installation of hundreds of elevators. Oh, and buses will need to be made all-electric to comply with the state's climate goals, meaning brand new bus chargers will need to be installed at bus depots around the five boroughs. 
When do we get to the fun (new train lines!) stuff? Not yet! Because the MTA will also like to remind you that it also is responsible for a bunch of bridges that also need repairs, even most of them just carry cars (boo!). The RFK Bridge needs a replacement for its old toll plaza area, and suspension cables (important) at the Verrazzano and Triboro bridges need to be dehumidified (which also sounds really important). Also, the MTA needs to spend money on installing all those license plate readers to implement congestion pricing, which in turn will be used to raise money. 
"Interborough Express! Second Avenue Line! Utica Avenue extension! R to Red Hook!" Please stop chanting, because I need to tell you about more really boring stuff that makes the transit system function. The yellow garbage and service trains that spell P-A-I-N as they pull into the station where you're allegedly waiting for a train? Those need to be replaced too, and the offices workers use in our labyrinthine subterranean network are pretty gross and could also use some love. 
TRAINS. NEW ONES. NEW LINES, PLEASE.
Ok, fine. Let's get into it.
Modern New York City was founded in 1898 when the five adjoining counties were consolidated into one city under municipal rule. In 1904, its first subway opened, with the idea that one could get around the city faster if you were to use mass transit instead of owner-operated vehicles. 
OH GOD PLEASE NEW TRAIN LINES PLEASE TELL. 21ST CENTURY, START THERE. 
Between 1904 and 2015, the subways grew to 722 miles coursing through New York City, with the vast majority done before mid-century, and with several hundred miles taken down during the second part of the century as the city tore down many of its elevated subway lines. 
Since 2015, there have been a few additions to the city's transit network—the 7 line extension to Hudson Yards (barf), the Q extension along Second Avenue (cool, maybe not needed?), the extension of Long Island Rail Road into Grand Central (disastrous), and that's pretty much it. 
But more is on the way—the Metro-North is currently at work adding a bunch of stops in the East Bronx along the HELL GATE LINE (which, hell yeah!), and the MTA is expanding the Second Avenue Subway to Spanish Harlem (actually useful). 
So what's the MTA going to get working on next? Some projects, like the Interborough Express, a light rail line that would connect most of the east-west subway lines (17 in all) in Brooklyn and Queens and be a game changer for the outer boroughs, now seem destined to happen; the governor has thrown her weight behind it, and, in turn, the MTA is following orders and stacking the deck in its favor. "This project scores well in many metrics, including cost effectiveness," the assessment states. 
Meanwhile, the poor QueensLink, which would connect western Queens to the Rockaways, looks to be something the MTA is actively opposed to and has no interest in sending money on, as it lacks an institutional champion. The project, the assessment finds, "has a high cost and serves a relatively modest number of riders."
Penn Station Access, which would send the Hudson Line of the Metro-North into Penn Station along Amtrak's right-of-way along the west side, also appears to have some serious backing from the MTA's analysis. And phase three of the Second Avenue Subway, which would run from 57th Street down to Houston Street along Second Avenue, and finally create the T train, also gets high marks from the MTA. 
A Bus Rapid Transit project along Utica Avenue (instead of a train extension), also gets a passing grade. And finally, the MTA will not be extending the W to Red Hook. Don't make them think about it ever again. 
When will any of this happen? Will you be able to ride the new train lines with the new subway cars into the shiny, accessible station? Probably not—or more likely, none of this will happen at the pace or scale that we need it to. But as the MTA makes clear again and again in the report, for the city to have a functioning transit system and to stave off the worst impact of congestion and polluting car traffic, it has to keep reinventing and improving itself. And that means, ultimately, that while some things will improve, the Q train will be forever fucked on the weekends. We're sorry. 

Max Rivlin-Nadler is a co-publisher of Hell Gate. He's reported for Gothamist, The New York Times, Village Voice and NPR. You can find him walking his dog, Stiva, or surfing in the Rockaways.
Stay in touch
Sign up for our free newsletter