Fresh Hell
Marjorie Taylor Greene Barely Lasted 10 Minutes in Downtown NYC
A group of NYC elected officials were there to offer Greene some Bronx cheers.
2:26 PM EDT on April 4, 2023
Over the weekend, shortly after the New York Young Republican Club announced they would be protesting Donald Trump's arraignment with guest of honor Marjorie Taylor Greene, Brooklyn City Councilmember Sandy Nurse, along with a friend of hers, decided to stage a noisy counterprotest.
So shortly after 10 a.m. on Tuesday, Nurse, along with Brooklyn Councilmember Chi Osse and Public Advocate Jumaane Williams, strolled into Collect Pond Park in Lower Manhattan clutching bags of orange whistles, which they planned to distribute to other protesters. They were there, along with a smattering of the city's leftists and Resistance liberals, to disrupt the member of Congress from Georgia. 
"I'm just trolling today," Nurse told me cheerfully. "Marjorie Taylor Greene is a despicable person. She's a disgusting person, she spits vile lies, and she incites violence. And we're just here to say, 'You're not welcome here.'" 
Osse chimed in. "She's talking a lot of trash about New York," he said, referring to certain tweets Greene had shot off upon her arrival in the city. To Osse, the day's arraignment of the former president was almost beside the point. "I guess it's nice to see someone of his identity be held accountable for something that he's done in his life," he said. "I'm really here because I detest Marjorie Taylor Greene."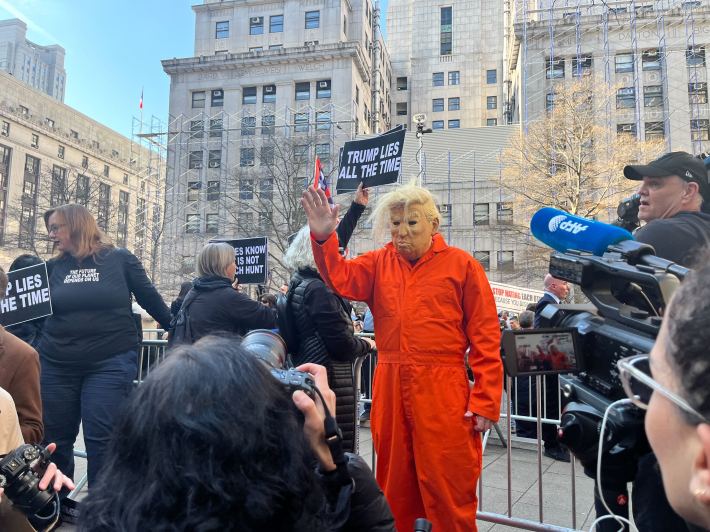 Congressmember Jamaal Bowman arrived soon after and joined the group, ready with his own whistle in hand. When he found out that Greene would be rallying in New York City, his first reaction was, "I gotta go down there," he told Hell Gate.  
Nurse began passing out the noisemakers, as she, Osse, Bowman, and Williams debated if they should head over to where Greene was speaking, on the other end of the park, where dozens of Donald Trump supporters had massed. The two camps were separated by a line of NYPD barricades.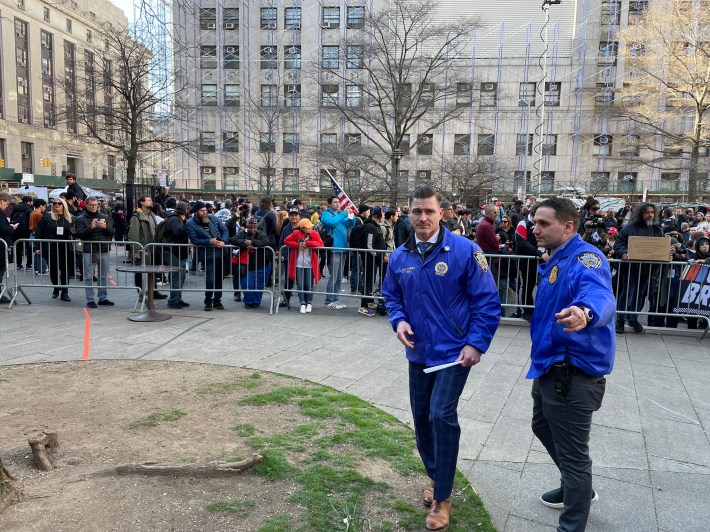 "Do you want to go to the other side?" Nurse asked. "Should we?" Osse replied. Someone shared Greene had just arrived, based on the frantic movements of the hordes of press surrounding the park. "Let's go," Osse said. The group began moving. "It'll be fun to just blow our whistles," Nurse said.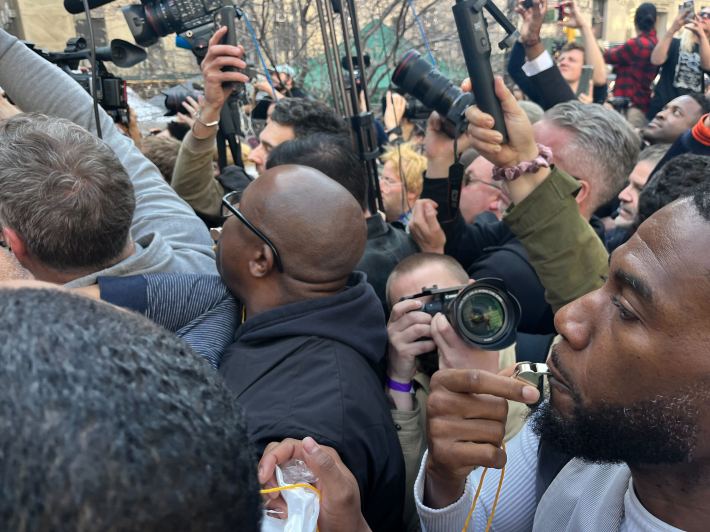 As the group squeezed through the entrance to the other side and shoved their way into the crowd surrounding Greene, bodies pressed so closely that it seemed a stampede might be likely, they began blasting their whistles. "Marjorie hates whistles!" someone began yelling. Greene was still on stage and speaking into a megaphone, though no one except the tallest among us could see her, or even hear her among all of the whistling and shouting. (Not all of the noise was coming from the counterprotesters—a Donald Trump supporter, apparently unaware that Greene was even there and speaking, had also been distributing whistles.) "USA! USA!" the New York Young Republicans began chanting. "January 6 was an insurrection!" someone else shouted repeatedly. Osse began laughing. "Yes!" he shouted. "Get the fuck out of here!" someone in the crowd yelled.
Security quickly shuffled Greene off the stage and into a waiting white SUV, which was quickly surrounded by counterprotesters, including the four electeds. "No one wants your fucking hate speech here!" Nurse yelled. "Get her out of here!" Bowman shouted. 
Greene's car sped off. (NBC News reporter Ben Collins, who was able to see the entire speech, told us that it lasted less than 10 minutes.) Surrounded by a scrum of reporters, Bowman seized the moment and turned it into an impromptu press conference. "I was born and raised in New York City. This is the city that I love," Bowman said forcefully to an ocean of cameras. "We will never accept hateful rhetoric in our city. Any rhetoric that is divisive, any rhetoric that uplifts white supremacy, we are pushing back against that in all its forms."
He continued: "Marjorie Taylor Greene needs to take her ass back to Washington and do something about gun violence, do something about affordable housing, do something about childhood poverty, do something about climate change. Do your freaking job, Marjorie Taylor Greene, you don't need to be in New York City talking that nonsense. Go back to your district. What are you doing here? You're here for politics, you're here because you want to be VP."
I asked Nurse if she was pleased. "We just shut Marjorie Taylor Greene down for like 50 bucks," Nurse replied with a smile.
After Greene sped off and the counterprotesters dissipated, I found Joe from the Jersey Shore (he declined to give his last name) wandering in the street in his Trump baseball jersey. 
"I thought it'd be a little bit more organized than this, to be honest with you," Joe said of the rally. He had hoped to hear Greene speak, but alas. "We got here at 10:30, we didn't hear anything." Joe was unclear why she left so quickly. I explained what had happened—the counterprotest, the whistling. "That's it, that scared her?" he replied. "I'm pretty upset about that, but it's New York City." He added, "She's afraid, I guess. I don't know. Sad."
Prior to Hell Gate, Esther was a senior politics reporter at Jezebel and a columnist for the New Republic.
Stay in touch
Sign up for our free newsletter