Cultural Capital
Liturgy Survived the Subculture Wars
Heaven and earth at the back of the TV Eye.
3:17 PM EDT on April 26, 2023
Black metal avant-gardist Haela Ravenna Hunt-Hendrix, lead singer of the band Liturgy, is a real flashback. Interviews with New York musicians tend to follow familiar contours now: housing, streaming, what's fucked up. Not so with Hunt-Hendrix. When I spoke with the 38-year-old recently, shortly before Liturgy's release of their latest album "93696," there's no talk of material conditions—she's a scion of an oil fortune after all. Instead, we spoke almost entirely about how to make undiluted spiritual ecstasy tangible. "There's a long tradition of doing that. That's how musical notation developed in the church in the 1100s," she said, reminding me that all musical transcription is an attempt to wrangle heaven into something legible. I had forgotten what it was like to talk to a real Brooklyn hipster, of the early 2010s mold, all ego and serious about their art. I felt a little guilty to be so refreshed by it.
If you do remember those days, you might recall how Liturgy, when they broke through with their second album "Aesthetica," was pilloried for their liberal arts school approach that cracked open a genre that saw itself as subcultural and obscure. The band at that time included drummer Greg Fox, Tyler Dusenbury on bass, and Bernard Gann on guitar. Black metal fans alleged that the music was inauthentic, shrill and noisy, about which they were wrong, and that Hunt-Hendrix was pretentious, which was and remains more or less true. 
But Liturgy not only weathered that criticism, the band capitalized on their lightning rod of an introduction to become a black metal mainstay in a world where most bands only last an album or two. Part of that longevity is surely Hunt-Hendrix's heady persona, her willingness to burn the sacred cows of the subculture to which she devotes her artistic attention—one Italian commenter on her lengthy vlogs on YouTube about metaphysical philosophy toasted that she's "taught me more than Uni."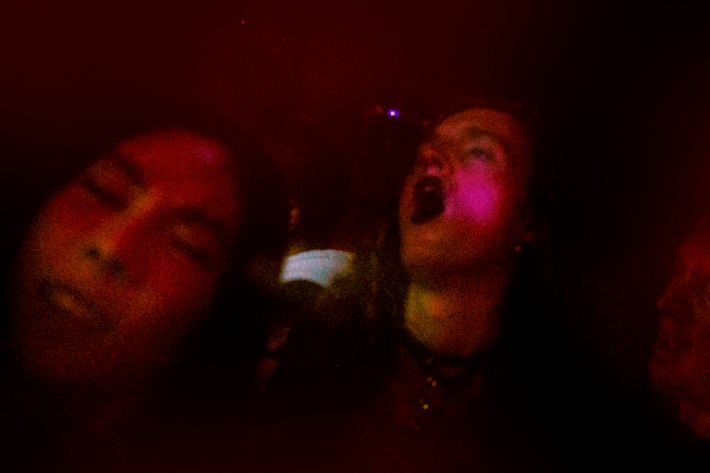 The band has released four more albums since "Aesthetica," and recent Liturgy albums have folded in—somewhat heretically to black metal values—influences from hip-hop and electronic dance music into their sound.  
Liturgy's "93696," which Hunt-Hendrix described to me as a "vision of heaven," is similarly heterodox. It's Liturgy's pandemic album. "In 2020, we spent a lot of time getting the music together, we were probably practicing a few times a week because nobody really had anything to do except for band practice. I think that's part of why the album is so detailed," Hunt-Hendrix told me. She noted that while she uses the collective to describe this process, she wrote all of the parts: "I have a large reservoir of riffs and melodies and rhythmic patterns that I've been writing since I was a teenager." In that time, Hunt Hendrix also replaced the whole band.
On a recent Thursday night, and mere hours before "93696" was to be released, Liturgy's fans—metalheads, scene-y pop punkers, and fatherly hipsters approaching middle-age— congregated in the back room of TV Eye in Ridgewood, all swirling into one mass. They were all trying to reach ecstasy, but people kept opening the door to the bar and letting some shitty old punk song come wafting through.
Hunt-Hendrix had promised me that the show would be an "overwhelming but precise experience that hopefully puts people in touch with God," and a marriage of "Apollonian and Dionysian pleasures." When I asked if there were any unexpected live influences she would be drawing from in the show, her reply was curt: "The Eastern Orthodox Church." (Then she giggled.)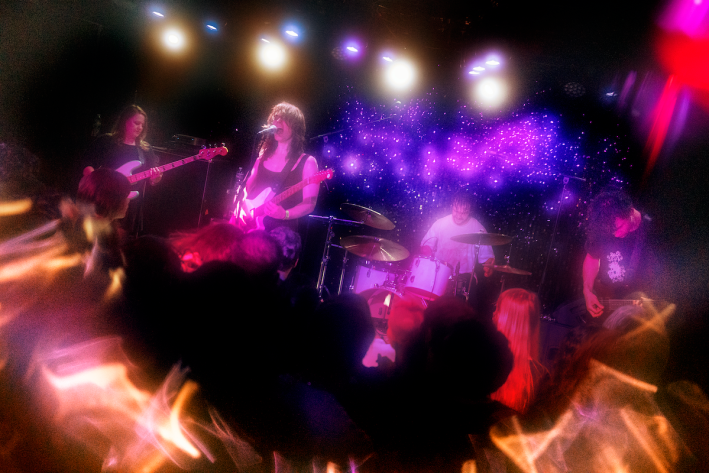 She and her new bandmates Didkovsky, Mario Miron and Tia Vincent-Clark took the stage, without any of the face paint or inverted crosses that are typical of black metal shows, dressed plainly in white T-shirts and black dresses—no pageantry to speak of. After "Djenneration," the first song on "93696," Hunt-Hendrix had specific orders for the sound guy on stage—a little less guitar one in her monitors, a little more guitar two, and a little more vocals. They began "Caela," and drummer Leo Didkovsky thundered in double-time as the process begun. Their eyes never left the stage. The music, though, was too extreme for some—one kid next to me decamped for the bar, telling his friends that the sound was too intense—but instead of trying to injure each other, the rowdiest fans threw their hands ferociously together, forward, on the downbeat. 
In the decade-and-a-half since Liturgy debuted, music subcultures have chilled out about all the aesthetic disagreements that used to cause such acrimony—the unfashionableness of emo, for example. It might be too expensive in the city to spend too much time thinking about that stuff. Outside the show, I ran into Malcolm Hoyt from the "screamo" (his own words) metal band Olth, which opened for Liturgy. Metalheads and hardcore kids used to essentially be rival gangs, but Hoyt tells me he's in a hardcore band with Leo Didkovsky, Liturgy's drummer, and that his girlfriend grew up as an emo kid, and is reintroducing him to all the stuff he came up scoffing at, which is actually pretty good. 
If the old borders of subculture are gone, it may be that we need to find different ways to enact pure artistic devotion. When we spoke, Hunt-Hendrix had talked of heaven, which to her was "a perfect union of form and matter, or mind and body."
"The point of Liturgy has always been to find an authentic synthesis of extreme metal and classical music that is not cringe," she told me, and not just to "slap some strings on a metal song." So that night at TV EYE, there were none of the strings or choral voices from the album, but beside relentless drums there was hyperactive bass, spidery guitar counterpoint that climbed up and up, and her shrieking voice—all of Hunt-Hendrix's ideas manifested here on earth. 
Something was building. Instead of a haze, every element was precise and felt aimed directly at my face, statements that lingered until they weaved together, constructing a diorama around us—even the bass seemed to shimmer brightly, so it was up to Didkovsky's kick drum to pound the room around, and it did, authoritatively. At one point, Hunt-Hendrix throttled a chord at the base of her Stratocaster's neck and shrieked, her brown hair flying everywhere. I saw the light.
Adlan has written for The New York Times Magazine, The New Yorker, Pitchfork, Study Hall and more.
Stay in touch
Sign up for our free newsletter