Cultural Capital
Like Free Jazz? Have a Seat on the Carpet in Clinton Hill
In a non-traditional space in Clinton Hill, Blank Forms is making noise.
3:01 PM EST on December 19, 2022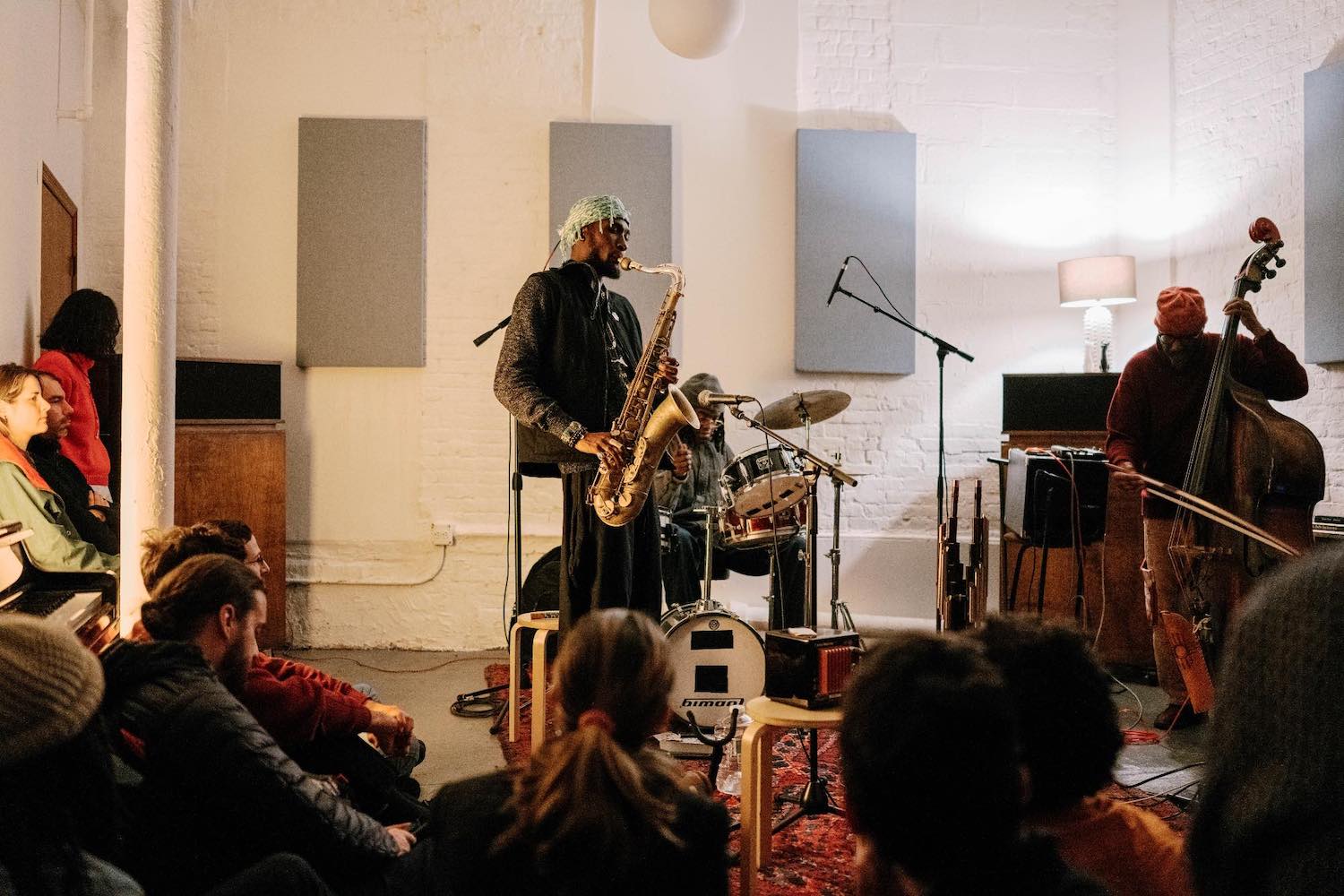 The experimental music nonprofit Blank Forms operates out of a nondescript building near the stretch of Fulton Street above Clinton Hill's southern perimeter. Located next to a comfort food restaurant and across the street from a Seventh-Day Adventist church, it's close to an array of brownstones, new developments, and low-income housing. But most of Blank Forms's neighbors are unaware of the organization's existence.
Since its inception in 2016, Blank Forms has established itself as a force in New York's avant-garde music scene, despite its unassuming setting and a small staff of five. Headed by Lawrence Kumpf, the former artistic director of ISSUE Project Room, it specializes in giving a platform, both live and recorded, to a handpicked group of experimental musicians. Kumpf founded Blank Forms so he could work with select artists more intimately and with more creative flexibility than he was allotted at places like ISSUE.
"I wanted to create a platform that had a broader focus," said Kumpf, and "that could be representative of the myriad different ways the artists I was interested in worked." Blank Forms executes this multidisciplinary approach by acting as both a publisher and a venue, releasing books and recordings as well as hosting performances and exhibitions. In its early days, it would partner with third-party spaces to put on shows. But starting in February 2020, Blank Forms has hosted events at its own Clinton Hill spot, too. COVID temporarily put the brakes on these performances—"I was not so keen on doing livestreamed performances and shit," said Kumpf. But since pandemic restrictions have lifted, live offerings have taken place more frequently on-site, at a pace of about one to two artists or ensembles a month.
Going into its eighth year, Blank Forms has fostered deep relationships with a list of artists that reads like an experimental music treasure map. It has put out albums and books by the likes of legendary jazz trumpeter Don Cherry and guitarist Loren Connors, and has hosted shows featuring everyone from New York avant-garde mainstays like Arto Lindsay to prominent contemporary composers like Korean multi-instrumentalist Park Jiha. Emphasizing quality over quantity, Blank Forms carefully chooses which musicians it partners with, resulting in a prime roster of regulars who repeatedly collaborate with the organization. Since 2018, Swedish artist Catherine Christer Hennix has released multiple records and a two-volume collection of writing through the nonprofit's publishing arm and has performed at three separate Blank Forms events this year.
In December, I attended a live show at Blank Forms featuring saxophonist and multi-instrumentalist Isaiah Collier. During a two-set sold-out gig, Collier performed solo first before being joined by percussionist Michael Shekwoga Ode and bassist William Parker. The performance space, which hosted around 50 people, resembled a cozily lit living room: Attendants sat on carpets or leaned against shelves filled with books and LPs just feet away from the musicians. The audience, many of whom were sitting cross-legged on the floor, watched attentively like grade-school children. The atmosphere was casual and cordial—30 minutes before doors opened, a traveler from Los Angeles who had arrived early offered to buy the Blank Forms staff dinner for all their hard work.
While the first set was marked by Collier slowly building toward different musical moods, the trio jumped between various jazz styles—from arpeggiated bebop to free experimentation and back again—at a rapid clip without always needing to look at each other for visual cues. Though Parker is decades older than Collier and Ode, the three performers played tight like pals who have known each other their whole lives. "Mapping out this intergenerational network is a key aspect of what we do," said Kumpf.
Seth Rosner, an audience member who also founded the jazz record label Pi Recordings, was one of the attendees. Middle-aged with glasses in a button down, he lit up talking about what he just saw. "The space is very intimate," he said. "I think the acoustics are fantastic and it really enhances the connection between the audience and the artist." When I asked Collier after the concert how he would describe the experience of playing at Blank Forms, he responded: "Elevated."
"Every time I've played [at Blank Forms], or been an audience member, I've felt surrounded by something special, something that is unique and deeper than the surface culture of New York," said Nate Wooley, a trumpeter who played at Blank Forms in September. "The audience that Blank Forms puts into their small space is always just right. It is filled with people that left their houses because they want an experience that changes them."
While one might assume that live music's comeback in 2022 was a boon to somewhere like Blank Forms, it has unfortunately coincided with external problems hounding arts nonprofits—inflation and the disappearance of COVID relief from both sympathetic individual donors and the government. "In the two [previous] years there's been a tremendous amount of additional and government support," said Kumpf. "It was almost like we were living in a socialist country for a second." But now, he says, much of that support has dried up and production costs are "three to four times" what they once were.
Corinne Daniel, Blank Forms's deputy director of advancement and the person responsible for developing the nonprofit's resources and community, believes lingering COVID concerns among the public have also made hosting live events more difficult. "It's harder to predict if people will come out to things," she said. To deal with this uncertainty, most Blank Forms shows this year took place at the Clinton Hill spot rather than outside venues so logistics could be easier to control.
Being stationed in Clinton Hill, however, is not something Blank Forms is unhappy about. "Since Blank Forms has been operating in that building, it's been definitely a focus to really establish our ties to the neighborhood," said Daniel. The organization put on a free concert at nearby Herbert Von King Park and has made it a priority to collaborate with local businesses like Tip-Top Bar & Grill, Unnameable Books, and Heritage Wines.
Next year, Blank Forms will be publishing a memoir by former Sun Ra Arkestra trumpeter Ahmed Abdullah, which discusses the intersection of jazz and social protest in Clinton Hill and Bed-Stuy during the 1970s. The East, an important Black nationalist arts space and jazz club mentioned throughout Abdullah's book, was a five-minute walk from Blank Forms's current location.
"We want to continue to draw out these histories, relationships, and intersections between the art and politics of where we're located," said Daniel. After the Collier show, I went to a bodega up the street to grab a Hal's seltzer and chips and recognized a pair of fellow concertgoers inside. It might not be the '70s anymore, but Clinton Hill is still open for free jazz.
Andrew Burton is a journalist living in Brooklyn. He writes broadly on the arts, culture, and politics.
Stay in touch
Sign up for our free newsletter