Paying Rent
No Heat, Bathroom Mushrooms, Bees in the Wall: Life Under One of NYC's Most 'Egregiously Negligent' Landlords
"How is it possible that a city, a system, allows landlords to profit from their bad behavior?"
3:17 PM EST on January 13, 2023
The heat and hot water went out at 709 West 170th Street on Thanksgiving morning.
"It happens all the time," tenant Loyda Irizarry told Hell Gate two days later, as she led a reporter down into the alley next to the Washington Heights building. A neighbor climbed onto the rack of garbage cans and leaned over to open the padlock at the top of the door to the boiler room. Inside, there's a red gauge on the wall with a tiny bit of liquid at the bottom of its tube, indicating that the oil tank is empty, with a black mark drawn a few inches up.
"We have a 2,000-gallon tank, and they only put in 300," Irizarry said, explaining the mark.
Irizarry is a retired teacher who has lived in the building since 1984. Last February, she said, the heat went out while she was recovering from chemotherapy, so she called the landlord's tenant-relations manager.
"You know what she said to me? 'Get a space heater,'" Irizarry said. "I was sick, and it was so cold. I said, 'The boiler's not broken. You don't want to put oil in.'"
Downtown at 331 East 14th Street, another building owned by the same landlord, many of the windows are boarded up. The tenants paid for a new front door lock themselves to keep out people who were sleeping in the halls and leaving needles and feces in the vacant apartments and storefront, according to resident Jillian Heft.
"There was a point where us tenants were outnumbered by intruders," Heft said. 
Meanwhile, she found mushrooms growing on her bathroom floor, watered by a leak upstairs. When the heat and hot water went out recently, she added, the new maintenance man didn't know the code for the padlock to the boiler room. 
"They had a maintenance team, and they fired everybody during COVID," said Peter Griffin, who's lived in the building since 1979.
Both buildings are among 19 in the city owned by Daniel Shalom, aka Daniel Ohebshalom, one of the younger members of a family with a reputation as slumlords that dates back more than 20 years. They are all registered to limited-liability corporations with names like Belmont Ventures, Liberty Ventures, and Highpoint Associates XII, at the offices of Shalom's Keystone Management in the Los Angeles suburb of Sherman Oaks.
On December 20, Public Advocate Jumaane Williams's office named Daniel Shalom—or, technically, Johnathan Santana, the managing agent of Shalom's buildings—as the most "egregiously negligent" private owner on its annual Worst Landlord Watchlist, based on the average monthly number of open housing-code violations in his properties tallied by the city Department of Housing Preservation and Development (HPD). It counted an average of 2,980 violations across 15 of his buildings in Manhattan and Queens—"the most violations of any landlord in the history of the list," more than twice the number amassed in 2021 by David Schorr, that year's worst offender.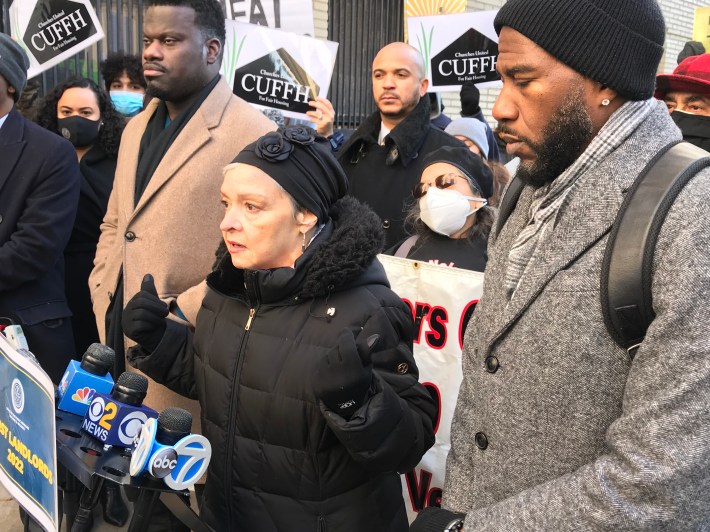 Hell Gate spoke to tenants in five of those buildings, and they gave similar litanies of complaints. Broken front-door locks, and sometimes missing front doors. Ceilings collapsing from chronic leaks. Superintendents sacked at the height of the COVID pandemic and replaced with intermittent contractors. Eviction notices for trumped-up reasons. The landlord demanding that tenants pay rent only by letting him withdraw it directly from their bank accounts, and sometimes taking out more than one month's rent. 
Most of the buildings also have numerous vacant apartments, part of a longtime pattern of warehousing, tenants said. At 104 West 83rd Street on the Upper West Side, only four of the 18 apartments are occupied, and the landlord has been illegally renting the vacant ones out for short stays through Craigslist ads for $2,000 or $3,000 a month, according to Housing Conservation Coordinators tenant organizer Leah James. 
"There are strangers who come into the building every day," said a resident who asked to remain anonymous, showing photos of people with luggage.
Rat infestations are also common throughout the buildings, according to tenants and HPD records—and, at 104 West 83rd Street, a nest of bees inside one tenant's wall. HPD ordered the landlord to "abate the nuisance consisting of bees nest" in October.
At 84-53 Dana Court, a four-story, 37-apartment building off Woodhaven Boulevard in Queens, conditions have been miserable since the Shaloms acquired it in 2006, a tenant who asked to remain anonymous told Hell Gate. As of December 20, HPD listed 89 open Class C "immediately hazardous" violations there, including a broken front-door lock and intercom; defective mortar joints on the roof; no cooking gas; roaches and mice in several apartments; no hot water; scaldingly hot water; no heat; no access to the boiler room; and no electricity in one apartment. 
Michael Shanahan, one of the three rent-stabilized tenants remaining at 331 East 14th Street, said he's had to face what he calls three "non-meritorious evictions," including one for nonpayment in 2007. The previous landlord had charged him an illegally high rent, and the state housing agency had ordered his rent reduced and authorized him to withhold 20 percent of his rent until the overcharge and damages were paid off. 
He had been trying to explain that to Shalom tenant-relations manager Robin Ignico "for months," Shanahan recounted. Once he hired a lawyer who wrote a letter stating that he was legally withholding rent, she "suddenly said it was all just a big misunderstanding."
That case was settled out of court, but it wasn't the last time Shalom tried to evict him, Shanahan said. "It's a strategy. It's harassment. It's bullying."
Ignico is the main company representative tenants deal with. Reached through the Keystone Management phone number posted in the hallway of 331 East 14th Street, she denied that she managed any buildings in New York. She said "no comment" when asked if she worked with Daniel Shalom. She hung up when asked if she worked with Keystone Management. 
Reached by a followup email, she declined to comment. Calls to Keystone Management went unanswered, and a message left with the company asking to speak with Shalom has not been returned.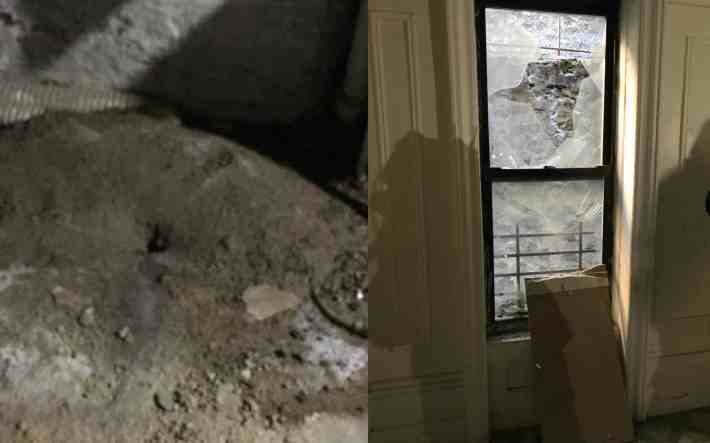 The pattern has been common throughout Daniel Shalom's properties and those of the Shalom clan, tenants and housing organizers say. Fred Ohebshalom, from a family of Persian Jewish rug merchants, got into real estate in the 1970s, and was followed by his brothers and later, various sons and nephews. They are estimated to own at least 100 buildings in New York City, and family members also operate in the Los Angeles area. 
Tenant advocates say the extent of their holdings is hard to determine, because of the multiple family members and their alternating use of Ohebshalom/Shalom surnames, their camouflaging ownership behind multiple property-management companies and the standard practice of having buildings owned by separate LLCs, and occasional overlapping ownership among family members.
Johnathan Santana being named worst landlord by the Public Advocate's office illustrates this. He is listed as managing agent and head officer on the Daniel Shalom buildings' registrations with HPD. But his business address is a coworking space on Fifth Avenue and 27th Street in Manhattan. Tenants do not mention his name; they deal primarily with Robin Ignico, and pay rent to Daniel Shalom's California office.
The Shalom Tenants Alliance, a now-defunct coalition of tenants in the family's New York properties, in 2005 cited Fred Shalom (Empire Management), Jonathan and Ben Shalom (Sky Management), Nader Ohebshalom (Gatsby Enterprises), David Ohebshalom (Big Apple Management, Perceptive Management), and Daniel Shalom (Keystone Properties, based in California). It said they "buy rent-stabilized buildings and then systematically dismantle required building services, forcing out legal residents through harassment, intimidation, negligence, and deception."
That was a common business model for landlords in the years after 1997, when the weakening of the state rent-stabilization law and lax enforcement made it much easier to raise rents on vacant apartments and deregulate them, both legally and illegally. Its more notorious practitioners included Steven Croman, the Pinnacle Group, and Ben Shaoul, who got his start in real estate as an intern at Sky Management in the 1990s.
"You knew when a Shalom bought the building," said Susi Schropp, a former Shalom Tenants Alliance activist whose St. Marks Place building was acquired by Ben and Jonathan Shalom in 2001. Residents endured years of "construction as harassment," she recalled, including the electricity going out regularly, holes being knocked in their walls, and bathtubs in units being renovated left running and leaking into the apartments below. 
Eventually, she said, all the rent-stabilized tenants left except for her and her brother. Today, Ben and Jonathan Shalom advertise it as one of their more than 30 buildings "located in the best neighborhoods of Manhattan."
At 705 West 170th Street, which Daniel Shalom acquired in 2006, they "immediately began their campaign of harassment to get us out," said Jamil Hamed, who lives there with his wife and 1-year-old daughter. They filed eviction cases accusing residents of owing back rent, he said, and some elderly tenants who paid by money order and hadn't kept all the receipts "got scammed out of several months."
But the 2019 state law closing the loopholes that enabled landlords to deregulate vacant apartments rendered the strategy of driving out rent-stabilized tenants to raise rents largely obsolete, says Michelle Nguyen, a Good Old Lower East Side organizer working with the 331 East 14th Street tenants—so Daniel Shalom and some other family members are reverting to a traditional slumlord business model.
The changes, Nguyen said, "gutted the way they could maximize profits from their buildings, so they're just letting them fall apart."
"Deferred maintenance is always a great strategy because it saves money," added Jodie Leidecker of the Cooper Square Committee, which has been working with tenants in a building owned by David Shalom at 185 East Third Street. The elevator there was out of service for a year, she said.
In 2019, the Mayor's Office of Special Enforcement sued Daniel Shalom for allowing vacant apartments to be rented as Airbnb units in three Hell's Kitchen buildings, 410 and 412 West 46th Street and 452 West 36th Street. The suit alleged that led to harassment of rent-stabilized tenants. 
In August 2021, the Office of Special Enforcement announced that it had obtained a $700,000 settlement against Big Apple Management LLC, the property-management firm associated with David Shalom, to resolve allegations of illegal short-term rentals by the owners of seven Hell's Kitchen buildings. The settlement included a permanent injunction, which in similar cases has meant a ban on short-term rentals.
The mayor's press office declined to give further details, citing ongoing litigation. 
Daniel Shalom's lawyer, Simon Reiff, did not return a phone call from Hell Gate.
412 West 46th Street is now vacant because of a fire in 2015, and the rent-stabilized tenants have been moved into 410 West 46th Street without being given leases, says Leah James.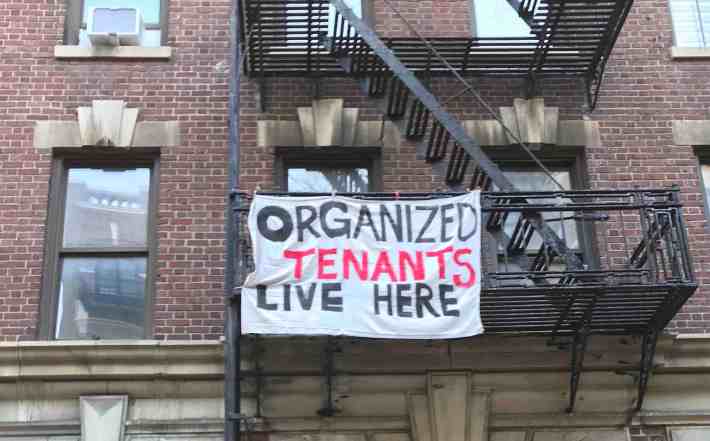 Tenants in nine of Daniel Shalom's 19 buildings have begun organizing over the past two years. Peter Griffin, who was in the old Shalom Tenants Alliance, says "we are working to bring it back."
The two West 170th Street buildings began organizing in August 2021. "We didn't really know what we were doing, but doing nothing was no longer an option," said longtime tenant Gilbert Butcher.
"I was amazed at how self-organized they were," Metropolitan Council on Housing organizer Ben Rosenfield noted. Rosenfeld began working with them last summer. Almost all the 20 or so tenants in the two buildings are now on rent strike.
"I'm the part-time super," tenant Jamil Hamed said. He paid for a new front-door lock and installed it himself, he says, after he complained to Ignico about intruders using drugs and defecating in the halls, and "she laughed at me."
Hamed's building and 84-53 Dana Court were among the 250 buildings citywide "in need of major repair" put into HPD's Alternative Enforcement Program last January. The program, for properties with a high number of hazardous violations where the department has already done emergency repairs, gives landlords four months to correct all heat and hot water violations and all Class C violations. 
At 705 West 170th Street, HPD set a June deadline, but it was extended, according to Hamed, after the landlord hired two contractors for long enough to give the impression they were making the repairs when the inspectors came. As of December 20, HPD listed more than 230 open violations in the 21-unit building, with 53 C violations including broken windows, a leaky roof, a clogged sewage pipe, piled-up garbage in the courtyard, and rats.
At Dana Court, a tenant said he only sees repairs done when HPD is going to bill the landlord for doing them itself.
The vacant 412 West 46th Street has been in the AEP program since 2016. It might be demolished if the landlord doesn't make major structural repairs, according to HPD.
"HPD has been extensively involved with buildings owned by Ohebshalom, including active litigation at 10 buildings and enhanced enforcement through the Alternative Enforcement Program at three buildings," the department said in a statement to Hell Gate. It said it has billed the landlord for more than $700,000, including $162,500 in penalties and more than $475,000 for emergency repairs.
Most recently, according to the department, seven of the buildings were put under an interim consent order, in which the landlord agreed to fill the fuel tanks regularly to their maximum safe capacity, to hire superintendents and a managing agent by December 31, and prepare a list of the repairs needed—or face additional fines and damages. 
Tenants in 705 West 170th Street, 709 West 170th Street, and 84-53 Dana Court have filed "HP action" lawsuits demanding repairs.
At 331 East 14th Street, tenants are trying to get into the city's 7A program, which appoints an independent administrator to take over the building's management. Ryan McDonald, an attorney with Take Root Justice representing them, says the conditions there are so bad they qualify as harassment on the grounds of "creating an unbearable environment" and "not responding to safety concerns."
410 West 46th Street is also applying, says Leah James, and tenants in other buildings are considering it.
"We ideally want the building taken away from Ohebshalom," says Jillian Heft. They offered the landlord a settlement in exchange for things like fixing the front-door intercom and the elevator, hiring a live-in super, and doing regular cleaning, she says. 
Management's response, says Michael Shanahan, read like "a middle finger couched in legalese."
Loyda Irizarry, sitting in a neighbor's apartment at 709 West 170th Street with Butcher, shows a picture of plaster chunks on and by a 3-year-old boy's bed after the ceiling collapsed. 
"How is it possible that a city, a system, allows landlords to profit from their bad behavior?" Butcher asks. 
Steven Wishnia was the last writer published in the old Village Voice and maybe the only person ever who's worked as an editor for both High Times and Junior Scholastic. He's written on subjects from labor and housing to African soccer and the Supreme Court voiding sodomy laws. Author of the novel When the Drumming Stops, he was bassist in the 1980s punk band False Prophets.
Stay in touch
Sign up for our free newsletter