City of Immigrants
Life at a Migrant Respite Center in Midtown: 'Sometimes People Fight Just Because It's So Hot in There'
There's no air-conditioning, conditions are cramped, and inexperienced staff are from a contractor with no experience running shelters.
10:27 AM EDT on July 21, 2023
On a recent Friday, the temperature in Midtown was in the mid-80s, and a group of men and women were huddled on the sidewalk outside of a migrant "respite center" created by the Adams administration, finding some shade under a bus sign. These were some of the 100 residents of a Touro University office building that has been repurposed as a shelter, one of several temporary shelters hastily set up across town to house the tens of thousands of asylum seekers and migrants who have come to New York City from all over the world. 
When it gets hot, the migrants are forced to seek respite from the respite center, which doesn't have functioning air-conditioning.
"There's just a little breeze, but it's very hot in there," Amadou, a migrant from Senegal, told Hell Gate in French. Amadou said in Senegal, he worked in security, and left the country and his family to flee gangs. 
"Sometimes, people fight just because it's so hot in there," said José, a 38-year-old migrant from Venezuela who had been living at the shelter for a month. José left Venezuela because of its "political situation," he said, and he traveled the dangerous Darien Gap to make it to the southwest border. Taken into Customs and Border Protection custody in Brownsville, Texas, he was given one option by local authorities: A bus ride to New York City. 
José and other migrants Hell Gate spoke with described crowded conditions in the Midtown shelter, in which up to 20 people sleep on narrow cots in the same room. Each room in the shelter, a former office building across the street from Moynihan Station, has only one window that can be opened, and they are all crowded with belongings and dirty laundry.
"It's so hot in the shelter, a lot of people just go and sleep outside," said a City employee who has worked at the site, who asked that we withhold their name so they could speak candidly about the conditions inside the respite center. The employee said that their colleagues avoided mid-day shifts due to the stifling heat.
In interviews, migrants staying at the shelter stressed the fact that they can't legally work as one of the reasons they're still there, despite the conditions. "Our only option is a free bed," said José.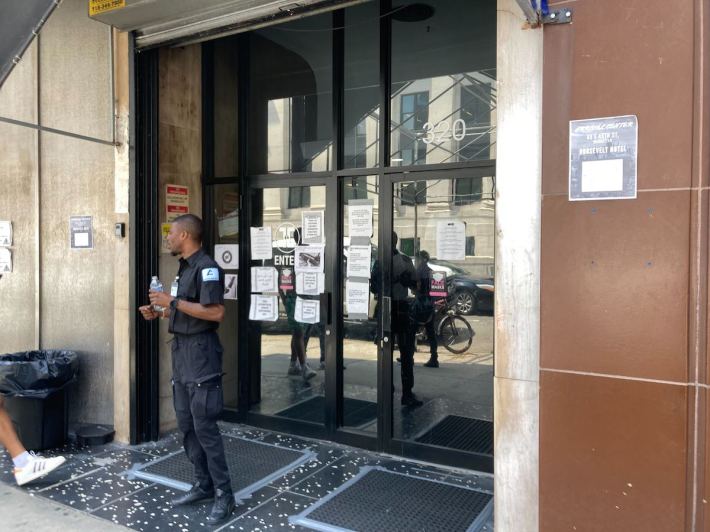 More than 87,000 migrants have entered the City's shelter system since last year, and around 53,000 are still in the City's care, according to numbers shared by Mayor Adams earlier this week. The total shelter population in New York City has crossed 100,000 people, and the Adams administration is scrambling to open up more shelter spaces across the city. 
On Wednesday afternoon, Adams announced that the City will limit stays to 60 days for migrants who are single adults. After 60 days, they will be forced to return to an intake center and reapply for shelter if they still need it. He also said that the City would distribute flyers at the border telling migrants not to come here. 
While housing advocates argue that the City's posture is inhumane, and violates the longstanding right to shelter policy, the Adams administration has maintained that they are providing the migrants with the resources they need to get their asylum cases started, and eventually get work permits while their cases wind through the country's immigration system. 
But, he admitted in a press conference yesterday, the City needed to do more to help asylum seekers with the legal process. 
"We're going to reintensify that and give them the assistance that they need," Adams said. "I don't think any of the asylum seekers...I don't think any want to be in this condition. It's about allowing people to work."
According to the migrants we spoke with, none of this assistance has been occurring at the Midtown respite center. People staying there told Hell Gate that the City has made no efforts to speak to them about how to start their asylum cases, and many of the residents struggle to find information without Wi-Fi. There are no on-site showers; every three days, migrants are taken to a nearby hotel to bathe.
Several migrants from African countries told Hell Gate that asylum seekers from Spanish-speaking countries are given preferential treatment by staff at the shelter, who are employees of the urgent care company MedRite. Announcements are only made in Spanish, and that has led to African migrants missing their shower slots, leaving them without a shower for a week. 
"They don't talk to us, they just talk to the Latinos, they tell them they're going to a hotel to shower," Alassane Niang, a migrant from Mauritania who had been at the Touro shelter for a month, told Hell Gate in French. Niang, who said he left Mauritania after he received threats while working in the construction industry, also said the food at the site often wasn't fresh. Migrants at other sites have also recently been sickened by spoiled food. 
The City employee confirmed that MedRite staff have shown favoritism to Spanish speakers and have lashed out at non-Spanish speakers, while displaying little sensitivity to cultural differences among the people living at the respite center. They told Hell Gate that this past week, one MedRite staffer ordered another City staffer who was wearing a hijab to speak to an Arabic-speaking migrant, "because they speak the same language." (That City staff member is not from an Arabic-speaking country.) 
"They talk to them where it's like 'Scared Straight!'" said the City employee, referring to some of the hostility they've witnessed from staff toward migrants. "They act like it's someone who's incarcerated."
MedRite, the urgent care company that's running the site for New York City Emergency Management, had no previous history of running a shelter before it was chosen by the City this spring. Recently, the company was booted from a City contract for its handling of the MonkeyPox vaccine rollout and in 2016, MedRite was fined by the state for paying for fake positive reviews on Yelp.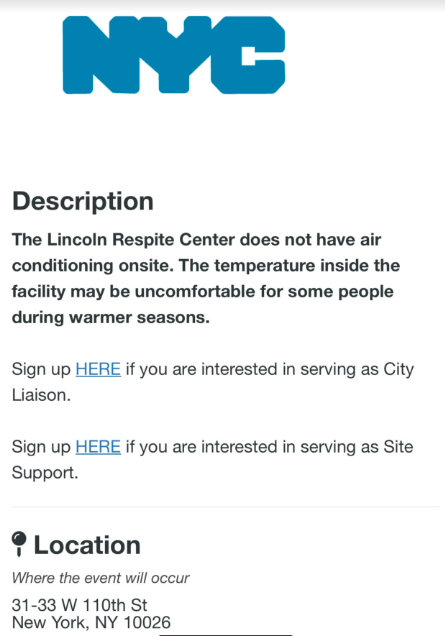 MedRite employees at the shelters run by the company, which includes the St. Brigid School in the East Village, are often young and inexperienced, the City employee told Hell Gate. According to a listing posted by the company on Indeed two days ago, the company is paying $22/hour for 12-hour shifts, and has listed the jobs as "urgently hiring," with Spanish-language skills "preferred." 
"Every site is running out of food," said the City employee, who has worked at multiple shelter sites. "All we're doing sometimes is giving them potato chips and giving them water, and that's this 'emergency water' that was supposed to be good for five years. Nobody likes the water, it has a disgusting taste, and people try to bathe with it."
City Hall did not respond to a request for comment from Hell Gate about conditions at the shelter. Repeated calls to MedRite's corporate office went unanswered. 
Outside of the Midtown shelter, an informal economy has sprung up. While some migrants sell loose cigarettes, others have begun doing food delivery for app-based companies under other people's accounts.
Hell Gate asked a group of Venezuelan migrants what they thought of the mayor's 60-day announcement. 
"What would help people the most is letting people work," replied a migrant who didn't want to be identified. 
"I'm already on the street," said another. "What difference does the mayor make to me?"
Max Rivlin-Nadler is a co-publisher of Hell Gate. He's reported for Gothamist, The New York Times, Village Voice and NPR. You can find him walking his dog, Stiva, or surfing in the Rockaways.
Stay in touch
Sign up for our free newsletter