What's Your Deal
The Legend of Leh-Boy
He's everywhere. But who is he?
4:25 PM EDT on June 10, 2022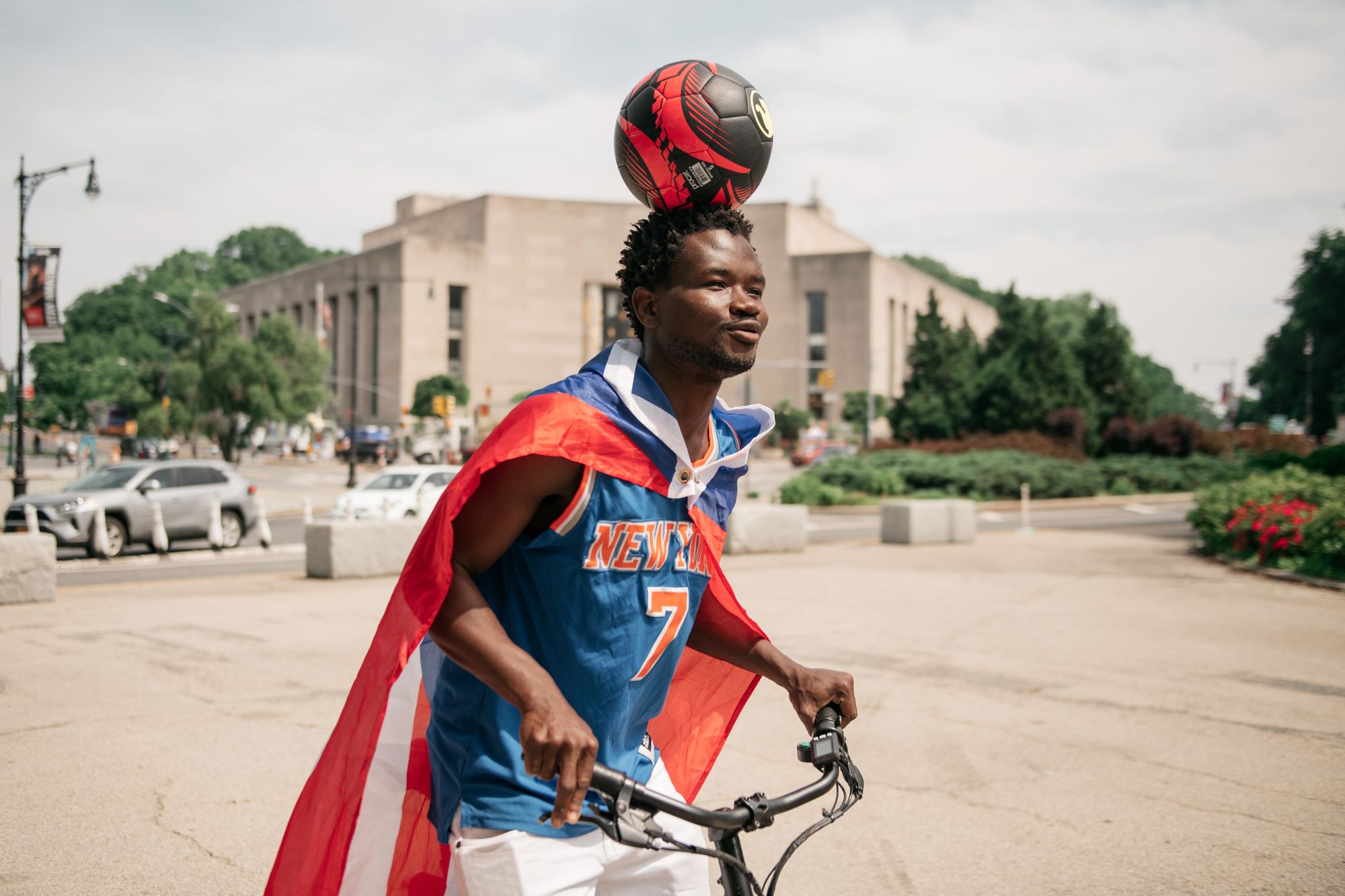 You might have seen him at the George Floyd protests in the summer of 2020, whooping and flying by on his bike, a young man with a…is that a…oh my god, it is! soccer ball perched improbably on his head. Perhaps you were enjoying a sun-drenched weekend in Prospect Park during the dark days of the pandemic, and he appeared, shimmying his hips and arms with abandon, that soccer ball still incredibly, beautifully, perfectly, balanced.
Or you were walking down Atlantic Avenue one evening, only this time he was stripped down to his underwear, his only other accessory a—you guessed it—soccer ball, as he weaved his bicycle in and out of traffic with abandon. There he is, climbing light poles in Washington Square Park, balancing trash cans in Brooklyn Bridge Park, balancing a trash can while standing on a trash can on the Coney Island Boardwalk.
To the awestruck observers who post photos and video of him online he's known as "ball guy," "soccer ball dude," "the dude that rides around Brooklyn on his bike yawping while balancing that soccer ball on his head." New York Nico is a fan, having featured him more than once. The New York Post recently devoted an entire story to a video of him that someone else had posted online, identifying him only as an unnamed "street performer."
If you've found his Instagram account (@makemebalance, where he has a relatively scant 5,117 followers given his ubiquity) you know his name—Leh-Boy Gabriel Brown. You know he was born in Liberia, and that in addition to a love for balancing objects both small and large on his head, he has a penchant to sing (off-key) and for adding somewhat perplexing hashtags (#ukraine, #putin, #nfl, #fruit) to each post, as well as referring to himself in the third-person.
Leh-Boy has become a genuine, certified, New York City Character, one of those people who, when you see them, you can only shake your head, a bit baffled, and smile, before immediately grabbing your phone and turning him into fodder for the content machine.
But for the answers to the important, burning questions—such as, when did he realize he had a preternatural gift for balancing a ball on his head?—you have to go straight to the man, the Leh-Boy, himself.
"One day, I just grabbed the ball and just placed it in the middle of my head. And it just stayed there. It never fell at all," Leh-Boy told me on a recent spring day in Brooklyn, steps from the arch at Grand Army Plaza. At that moment of divine understanding, he was a young child still living in Monrovia, Liberia.
"When I balanced the ball to my head the first time, I realized like, Oh, wow. It was shocking, because it was something that I'd never actually practiced," he told me.
If it was shocking, it was also rather commonplace, and he thought little of it. "In Liberia, you know, it's part of the lifestyle, just balancing things on your head," he said. Is his head unusually flat on top? I asked him. "No," he said. The trick was to keep your neck stiff, and to "put it on your head or whatever, and whenever you feel like it's about to fall, just go in a direction that you feel like it's about to fall in."
This explanation, like much of Leh-Boy's whole vibe, struck me as a genuine, good-natured attempt to help me understand his magic, yet was still shrouded in mystery. I had asked him another question that had been haunting me—why tag all his posts #ukraine or #fruit, for example, when they were neither about Ukraine nor fruit? Why not add some #NewYorkCity tags? He looked at me, as if perplexed. Why not?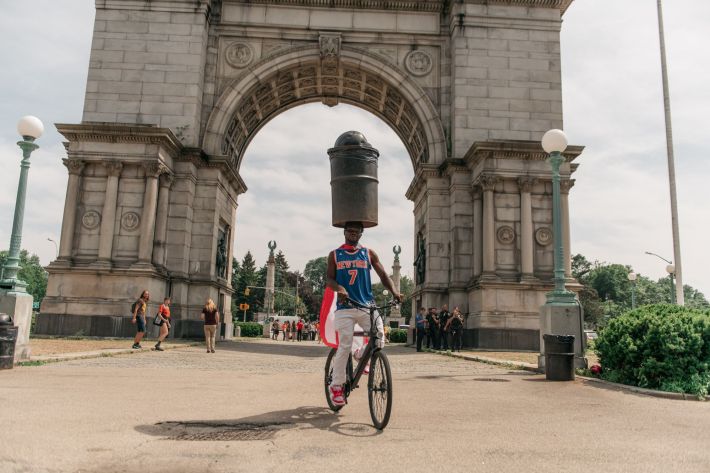 In 2009, 11-year-old Leh-Boy, along with his three siblings, immigrated to the U.S. to rejoin their parents. First they lived in Minnesota, then New Jersey and Massachusetts. In 2019, after what he described as a kind of falling-out with his parents, Leh-Boy moved to New York. He had some friends in the city, who convinced him to move here by telling him that, as he recalled, "welfare is much better [in New York City] than where I was at the time."
According to Leh-Boy, they told him that he could get a city-subsidized rental voucher for an apartment, but only if he first lived in a homeless shelter. First, he said he lived in a congregate shelter for two weeks, and then was moved to a hotel near the Gowanus Canal that had been repurposed as a shelter, before moving to a different hotel-turned-shelter in Sunset Park.
"The most difficult part about being in a shelter is dealing with an individual's personality, your roommate's personality," he explained. "Not picking on people, not bullying people. Not starting conflict with people, just being in your own lane."
He was living in a shelter when the COVID-19 pandemic hit—"Never had an impact on me," he said cheerfully—and then came the resurgent Black Lives Matter protests after the killing of George Floyd. By the summer of 2020, he had already been balancing around Prospect Park for a few months, and "just happened to run into a protest one day, and with the ball on my head."
"It just felt like, I got more eyes on me than everybody else," he said, though he quickly added that the attention wasn't the point, or not the main one, at least. "I felt welcome, just like everybody else," Leh-Boy recalled. He decided he would attend as many BLM protests as possible. "My way of protesting was, you know, just energizing the crowd," he told me.
As for the NYPD, Leh-Boy supports the call to defund the police. "More than defund the police, also disarm the police, too," he said. "My thing is, if your fingers are that itchy, if you're dying to kill somebody, take a human life, go join the fucking military, plain and simple. That means you got that mentality, you know, of a soldier." Recently, he met our former cop mayor at an outdoor event at BAM, and posted a photo of him next to a smiling Eric Adams. He's no fan of our mayor. Instead of speaking up about systemic racism, Leh-Boy wrote of Adams in a comment, "his scary Cover-up-Ex-NYPD-Cop-Bald-Headed-Earring-Wearing-Ass would've rather kept his mouth shut to avoid 'NATIONAL CRITICISM' from within his own (circle) of fellow politicians and both former and current NYPD colleagues."
"Don't sugarcoat it, just call it for what it is," Leh-Boy told me.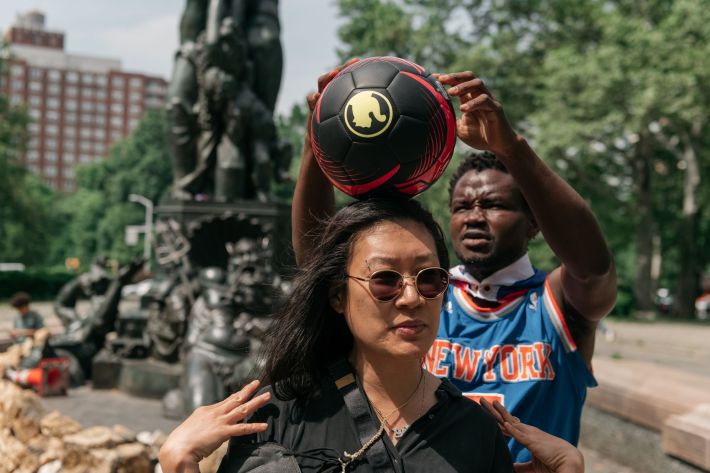 The protests died down, but Leh-Boy kept on biking around the city and balancing balls on his head. He soon branched out into larger, at times more difficult objects—watermelons, which he said are some of the most challenging things he's ever balanced due to their weight and smooth skin (no grip); suitcases; trash cans; tires; even, one day, a giant felled tree trunk in Prospect Park that he claimed a Parks Department employee told him weighed more than 500 pounds.
Could he balance my bike? I had just seen him pick up a trash can and, with seemingly little effort, place it on his head and ride his bike around the plaza, a pleased, almost smug grin on his face. I got a small taste of the adulation he must receive on a regular basis. "Make me balance!" a shirtless bro on his daily jog shouted out when he saw Leh-Boy; some NYPD officers nearby seemed similarly dazzled, taking out their cell phones and recording video of Leh-Boy swooping by on his bicycle.
He picked up my bike and placed it on his head, but determined it would be impossible—the weight was too unevenly distributed. Leh-Boy claims that only one object has ever fallen off of his head—a garbage can full of trash. But even then, there were extenuating circumstances. "It was because I had drunk four cans of beer," he explained, adding, "It was all Heineken, too."
In the summer of 2021, Leh-Boy finally left the shelter system after he received a rental assistance voucher. He now lives in an apartment in Sunset Park. When he's not working or riding through Brooklyn, Leh-Boy spends his time at home, watching YouTube documentaries on paranormal activities and ghost stories, or playing video games. "It's the freedom you have always dreamed of," he said. Around that time, Leh-Boy said, he got a job at an Amazon warehouse in Staten Island, where he's paid $19.27/hour to work the overnight shift. "The benefits is crazy," he told me. (As for the Amazon unionization drive at other warehouses, he told me he had never heard of it.)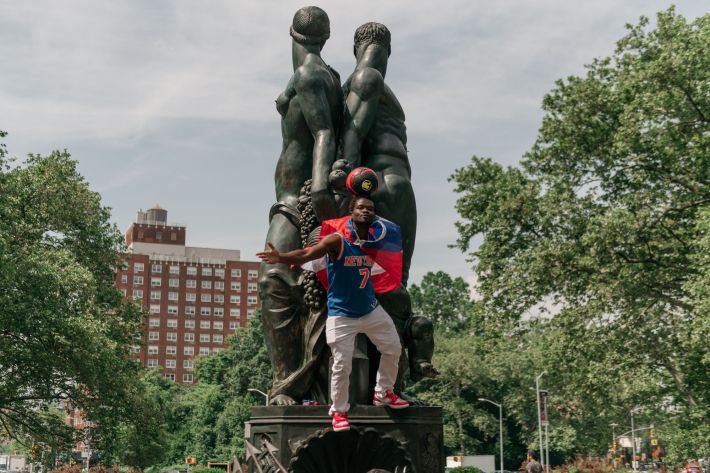 If I had assumed that balancing objects on his head was a true passion, Leh-Boy was quick to disabuse me of that foolish, romantic notion. It was, he told me, a "hobby," a "side hustle" that was a way to bring in some tip money (about $6,780 to date, he said, rattling off the rather specific dollar amount without missing a beat). "It's not something I'm addicted to," he said, noting he sometimes leaves the house without a ball. I wondered why he was working 15-hour shifts at an Amazon warehouse when it seemed he could easily parlay his talent into cold hard cash, say, by enthusiastically joining the influencer economy; after all, various companies, like that of the e-bike he was currently riding, had reached out to him, offering him money and free products. (Of the e-bike, he said, "Don't buy it. You'll regret it. The battery sucks.") He's "not desperate" to become an influencer, he replied. "But if it comes naturally, you know, it is what it is."
Instead, he revealed to me his true dream—to one day join the circus, itself a means to fund the creation of what he called the "Leh-Boy Museum," a roving, real-world booth from which he could sell photos of himself. If Leh-Boy seemed, like all hustling strivers, to be hyper-focused on the money to be made, he had opted to take the hardest route, an admirable quality to be sure, if one that I didn't quite understand. He seemed to want a measure of fame, and the spoils of that recognition, yet was determined to do it his way. The more I tried to slot Leh-Boy into an easily understood archetype, the less he seemed to fit any of them. Maybe that hard-to-pin down quality is what makes someone a true New York City icon.
"I can definitely live without the ball. One thing I can't live without is money," he said. "We live in New York City, right? One of the most expensive places to live." He added, before gliding off toward Prospect Park, the soccer ball atop his head, "A lot of people come in and take advantage of the opportunity, and I don't blame them. I'm one of those people."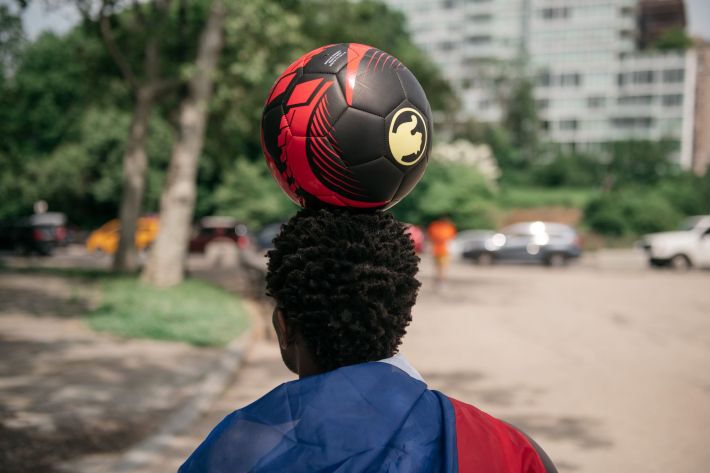 Prior to Hell Gate, Esther was a senior politics reporter at Jezebel and a columnist for the New Republic.
Stay in touch
Sign up for our free newsletter